Abstract
Cancer treatment is an extremely stressful life experience that is accompanied by a range of psychological, social, physical, and practical difficulties. Cancer patients need to receive information that helps them to better understand the disease, assists them in decision-making, and helps them deal with treatment. Patients are interested in receiving such information. The degree of satisfaction with the information received has been associated with positive health outcomes, specifically regarding quality of life, severity of side effects, and psychological well-being. This study investigates a method of guiding cancer patients, in relation to outpatient chemotherapy treatment, using SMS (short message service) text messaging. A smartphone application called cHEmotHErApp was developed, and its primary function is to send out SMS text messages with guidance for self-care and emotional support for oncology patients undergoing chemotherapy. Thus, the main objective of this study is to evaluate the acceptance and perception of patients of the receipt of these SMS messages, as well as to evaluate the possible benefits reported by the participants. Adult patients diagnosed with cancer, who started the first outpatient chemotherapy treatment scheme between August and November 2016 at the School Hospital (HE) of the Federal University of Pelotas (UFPel), were invited to participate in this pilot study. In total, 14 cancer patients were adherent to this study. Each of these patients received a daily text message on their cell phone with some guidance on encouraging self-care and emotional support. Patients reported that, because of the SMS text messages they received, they felt more confident in their treatment, felt more supported and encouraged, and that the text messages facilitated self-care. In addition, patients reported that the SMS text messages they received helped them to take better care of themselves and to continue further treatment.
Access options
Buy single article
Instant access to the full article PDF.
US$ 39.95
Tax calculation will be finalised during checkout.
Subscribe to journal
Immediate online access to all issues from 2019. Subscription will auto renew annually.
US$ 119
Tax calculation will be finalised during checkout.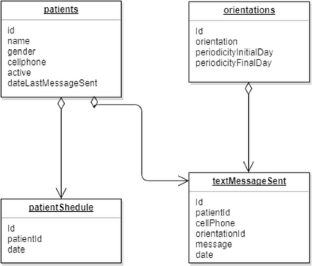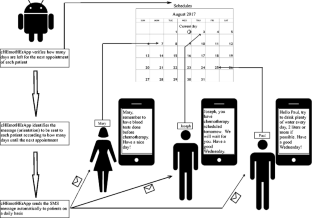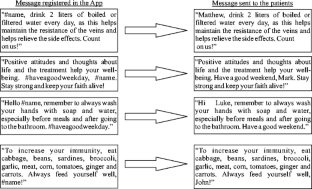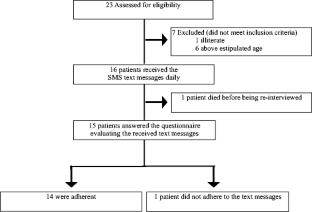 References
1.

Anderson, G. F., Chronic care: making the case for ongoing care. Robert Wood Johnson Foundation, 2010.

2.

Henry, D.H., Viswanathan, H.N., Elkin, E.P., Traina, S., Wade, S., and Cella, D., Symptoms and treatment burden associated with cancer treatment: Results from a cross-sectional national survey in the US. Support. Care Cancer. 16(7):791–801, 2008.

3.

Nasi, G., Cucciniello, M., and Guerrazzi, C., The role of mobile technologies in health care processes: the case of cancer supportive care. J. Med. Internet Res. 17(2):e26, 2015. https://doi.org/10.2196/jmir.3757.

4.

Jemal, A., Siegel, R., Xu, J., and Ward, E., Cancer statistics, 2010. CA Cancer J. Clin. 60(5):277–300, 2010.

5.

INCA., Instituto Nacional do Câncer. http://www2.inca.gov.br/. Accessed 2017–07-24 2017

6.

Tacar, O., Sriamornsak, P., and Dass, C.R., Doxorubicin: an update on anticancer molecular action, toxicity and novel drug delivery systems. J. Pharm. Pharmacol. 65(2):157–170, 2013.

7.

Coates, A., Abraham, S., Kaye, S.B., Sowerbutts, T., Frewin, C., Fox, R., and Tattersall, M., On the receiving end—Patient perception of the side-effects of cancer chemotherapy. Eur. J. Cancer Clin. Oncol. 19(2):203–208, 1983.

8.

Portenoy, R.K., and Lesage, P., Management of cancer pain. Lancet. 353(9165):1695–1700, 1999.

9.

Stone, P., Richardson, A., Ream, E., Smith, A., Kerr, D., Kearney, N., and Forum, C.F., Cancer-related fatigue: Inevitable, unimportant and untreatable? Results of a multi-centre patient survey. Ann. Oncol. 11(8):971–975, 2000.

10.

Larsen, M. E., Rowntree, J., Young, A. M., Pearson, S., Smith, J., Gibson, O. J., Weaver, A., and Tarassenko, L., Chemotherapy side-effect management using mobile phones. In: Engineering in Medicine and Biology Society, 2008. EMBS 2008. 30th annual international conference of the IEEE, 2008. IEEE, pp 5152–5155

11.

Chan, H.–.K., and Ismail, S., Side effects of chemotherapy among cancer patients in a Malaysian general hospital: Experiences, perceptions and informational needs from clinical pharmacists. Asian Pac. J. Cancer Prev. 15(13):5305–5309, 2014.

12.

Carlotto, A., Hogsett, V.L., Maiorini, E.M., Razulis, J.G., and Sonis, S.T., The economic burden of toxicities associated with cancer treatment: Review of the literature and analysis of nausea and vomiting, diarrhoea, oral mucositis and fatigue. Pharmacoeconomics. 31(9):753–766, 2013.

13.

Matsuyama, R.K., Kuhnk, L.A., Molisanik, A., and Wilson-Genderson, M.C., Cancer patients' information needs the first nine months after diagnosis. Patient Educ. Couns. 90(1):96–102, 2013.

14.

Smith, A., Hyde, Y.M., and Stanford, D., Supportive care needs of cancer patients: a literature review. Palliat. Support. Care. 13(4):1013, 2015.

15.

Paterson, C., Robertson, A., Smith, A., and Nabi, G., Identifying the unmet supportive care needs of men living with and beyond prostate cancer: a systematic review. Eur. J. Oncol. Nurs. 19(4):405–418, 2015.

16.

Kotronoulas, G., Papadopoulou, C., Burns-Cunningham, K., Simpson, M., and Maguire, R., A systematic review of the supportive care needs of people living with and beyond cancer of the colon and/or rectum. Eur. J. Oncol. Nurs. 29:60–70, 2017.

17.

Sanson-Fisher, R., Girgis, A., Boyes, A., Bonevski, B., Burton, L., and Cook, P., The unmet supportive care needs of patients with cancer. Cancer. 88(1):226–237, 2000.

18.

Feldman-Stewart, D., Capirci, C., Brennenstuhl, S., Tong, C., Abacioglu, U., Gawkowska-Suwinska, M., van Gils, F., Heyda, A., Igdem, S., and Macias, V., Information needs of early-stage prostate cancer patients: a comparison of nine countries. Radiother. Oncol. 94(3):328–333, 2010.

19.

Husson, O., Mols, F., and van de Poll-Franse, L., The relation between information provision and health-related quality of life, anxiety and depression among cancer survivors: a systematic review. Ann. Oncol. 22(4):761–772, 2010.

20.

Mistry, A., Wilson, S., Priestman, T., Damery, S., and Haque, M., How do the information needs of cancer patients differ at different stages of the cancer journey? A cross-sectional survey. JRSM Short Rep. 1(4):1–10, 2010.

21.

Muusses, L.D., Weert, J., Dulmen, S., and Jansen, J., Chemotherapy and information-seeking behaviour: Characteristics of patients using mass-media information sources. Psycho-Oncology. 21(9):993–1002, 2012.

22.

Neumann, M., Wirtz, M., Ernstmann, N., Ommen, O., Längler, A., Edelhäuser, F., Scheffer, C., Tauschel, D., and Pfaff, H., Identifying and predicting subgroups of information needs among cancer patients: an initial study using latent class analysis. Support. Care Cancer. 19(8):1197–1209, 2011.

23.

Tian, J., Jia, L., and Cheng, Z., Relationships between patient knowledge and the severity of side effects, daily nutrient intake, psychological status, and performance status in lung cancer patients. Curr. Oncol. 22(4):e254, 2015.

24.

Molassiotis, A., Stricker, C., Eaby, B., Velders, L., and Coventry, P., Understanding the concept of chemotherapy-related nausea: the patient experience. Eur. J. Cancer Care. 17(5):444–453, 2008.

25.

ICT., The World in 2009: ICT facts and figures. https://www.itu.int/net/TELECOM/World/2009/newsroom/pdf/stats_ict200910.pdf. Accessed 2017–07-27 2017

26.

ICT., The World in 2015: ICT facts and figures. http://www.itu.int/en/ITU-D/Statistics/Documents/facts/ICTFactsFigures2015.pdf. Accessed 2017–07-27 2017

27.

Kay, M., Santos, J., and Takane, M., mHealth: New horizons for health through mobile technologies. World Health Organ. 64(7):66–71, 2011.

28.

Odeh, B., Kayyali, R., Nabhani-Gebara, S., and Philip, N., Optimizing cancer care through mobile health. Support. Care Cancer. 23(7):2183–2188, 2015.

29.

Koshy, E., Car, J., and Majeed, A., Effectiveness of mobile-phone short message service (SMS) reminders for ophthalmology outpatient appointments: Observational study. BMC Ophthalmol. 8(1):9, 2008.

30.

Jones, K.R., Lekhak, N., and Kaewluang, N., Using mobile phones and short message service to deliver self-management interventions for chronic conditions: a meta-review. Worldviews Evid.-Based Nurs. 11(2):81–88, 2014.

31.

Hall, A.K., Cole-Lewis, H., and Bernhardt, J.M., Mobile text messaging for health: a systematic review of reviews. Annu. Rev. Public Health. 36:393–415, 2015.

32.

De Jongh, T., Gurol-Urganci, I., Vodopivec-Jamsek, V., Car, J., and Atun, R., Mobile phone messaging telemedicine for facilitating self management of long-term illnesses. Cochrane Database Syst. Rev. (4), 2008.

33.

Armanasco, A.A., Miller, Y.D., Fjeldsoe, B.S., and Marshall, A.L., Preventive health behavior change text message interventions: a meta-analysis. Am. J. Prev. Med., 2017.

34.

Holeman, I., Evans, J., Kane, D., Grant, L., Pagliari, C., and Weller, D., Mobile health for cancer in low to middle income countries: Priorities for research and development. Eur. J. Cancer Care. 23(6):750–756, 2014.

35.

ASCO., American Society of Clinical Oncology. https://www.asco.org/. Accessed 2017–07-26 2017

36.

Fjeldsoe, B.S., Marshall, A.L., and Miller, Y.D., Behavior change interventions delivered by mobile telephone short-message service. Am. J. Prev. Med. 36(2):165–173, 2009.

37.

Janda, M., Youl, P., Marshall, A.L., Soyer, H., and Baade, P., The Healthy texts study: a randomized controlled trial to improve skin cancer prevention behaviors among young people. Contemp. Clin. Trials. 35(1):159–167, 2013.

38.

Baker, D.W., Brown, T., Buchanan, D.R., Weil, J., Balsley, K., Ranalli, L., Lee, J.Y., Cameron, K.A., Ferreira, M.R., and Stephens, Q., Comparative effectiveness of a multifaceted intervention to improve adherence to annual colorectal cancer screening in community health centers: a randomized clinical trial. JAMA Intern. Med. 174(8):1235–1241.

39.

Chung, I.Y., Kang, E., Yom, C.K., Kim, D., Sun, Y., Hwang, Y., Jang, J.Y., and Kim, S.-W., Effect of short message service as a reminder on breast self-examination in breast cancer patients: a randomized controlled trial. J. Telemed. Telecare. 21(3):144–150, 2015.

40.

Youl, P.H., Soyer, H.P., Baade, P.D., Marshall, A.L., Finch, L., and Janda, M., Can skin cancer prevention and early detection be improved via mobile phone text messaging? A randomised, attention control trial. Prev. Med. 71:50–56, 2015.

41.

Yap, K.Y., Low, H.X., Koh, K.S., Un, M., Shih, V., and Chan, A., Feasibility and acceptance of a pharmacist-run tele-oncology service for chemotherapy-induced nausea and vomiting in ambulatory cancer patients. Telemed. J. e-health Off. J. Am. Telemed. Assoc. 19(5):387–395, 2013. https://doi.org/10.1089/tmj.2012.0136.

42.

Coursaris, C. K., Spoelstra, S. L., Given, C. W., Sikorskii, A., Majumder, A., DeKoekkoek, T., Schueller, M., and Given, B. A., A health belief messaging framework and a randomized controlled trial of an SMS-based intervention for cancer patient outcomes. In: System Sciences (HICSS), 2015 48th Hawaii International Conference on, 2015. IEEE, pp 2866–2875

43.

Leon, A.C., Davis, L.L., and Kraemer, H.C., The role and interpretation of pilot studies in clinical research. J. Psychiatr. Res. 45(5):626–629, 2011.

44.

Anglada-Martínez, H., Martin-Conde, M., Rovira-Illamola, M., Sotoca-Momblona, J.M., Sequeira, E., Aragunde, V., and Codina-Jané, C., An interactive mobile phone–website platform to facilitate real-time management of medication in chronically ill patients. J. Med. Syst. 41(8):122, 2017.
Ethics declarations
Conflict of Interest
Authors have no conflict of interest to declare.
Additional information
This article is part of the Topical Collection on Mobile & Wireless Health
About this article
Cite this article
Rico, T.M., dos Santos Machado, K., Fernandes, V.P. et al. Text Messaging (SMS) Helping Cancer Care in Patients Undergoing Chemotherapy Treatment: a Pilot Study. J Med Syst 41, 181 (2017). https://doi.org/10.1007/s10916-017-0831-3
Received:

Accepted:

Published:
Keywords
Intervention

Self-care

Text messages

Patient education

Cancer care