Abstract
Childhood Obesity is associated with a wide range of serious health complications and constitutes an increased risk of premature syndromes, including diabetes or heart diseases. Its treatment seems to be complicated. So, in order to help parents we have developed a system that will try to make easier the process of choosing foodstuff for overweight and obese children at the supermarket. To interact with the system, Near Field Communication mobile phones and tags are used. Those tags would have nutritional information such as energy or fat contain of each product. When the interaction takes place, the system will generate an alert determining if the product is adequate for the user diet or not. Decision will be influenced by specific prescript diets, which would have been previously generated by the system based on user profile parameters. At the same time the diet is established, the shopping list would be generated automatically. Therefore, the user could download and print both things at home easily by the PC application. The system also takes into account physical activity of the user. Children mobile phone includes an accelerometer that will detect and collect user activities in order to modify calorical requirements and, if necessary, to change physical activity too. In the future, it would be possible to extend this project system for adults, managing diets not just for obese and overweight, but also to diabetic or celiac people.
This is a preview of subscription content, log in to check access.
Access options
Buy single article
Instant access to the full article PDF.
US$ 39.95
Price includes VAT for USA
Subscribe to journal
Immediate online access to all issues from 2019. Subscription will auto renew annually.
US$ 199
This is the net price. Taxes to be calculated in checkout.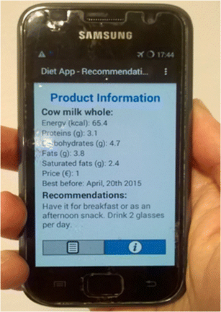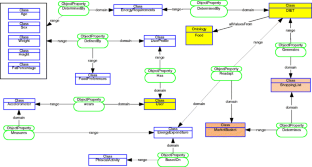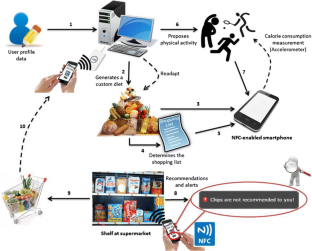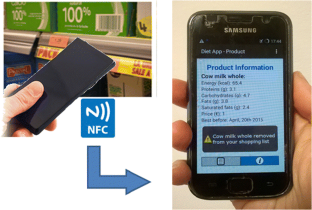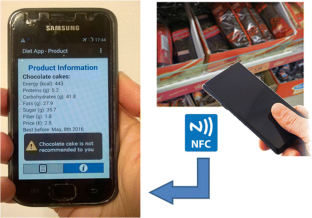 References
1.

World Health Statistics 2014. http://www.who.int/gho/publications/world_health_statistics/2014/en/.

2.

G. Broill, H. Palleis, H. Richter, and A. Wiethoff, "Exploring multimodal feedback for an NFC-based mobile shopping assistant". 2013 5th International Workshop on Near Field Communication, NFC 2013; Code 96541. Article number 6482443.

3.

S. Ciruela, M. Delgado, N. Marín, M. Ros, and A. Vila. "Uso de la tecnología NFC en un mundo marcado para implementar un sistema de Información nutricional ubicuo". E.T.S. de Ingeniería Informática y de Telecomunicación. Universidad de Granada. 2as jornadas Científicas sobre RFID. 2008.

4.

Hutchesson, M. J., Rollo, M. E., Callister, R., and Collins, C. E., Self-Monitoring of Dietary Intake by Young Women: Online Food Records Completed on Computer or Smartphone Are as Accurate as Paper-Based Food Records but More Acceptable. Journal of the Academy of Nutrition and Dietetics 115(1):87–94, 2015.

5.

F. Bert, M. Giacometti, M.R. Gualano and R. Siliquini. "Smartphones and health promotion: A review of the evidence". Journal of Medical Systems. vol. 38. Issue 1. Art no 9995. 2014.

6.

J. Bravo, C. Sánchez, R. Hervás, J. Peláez, J. Fontecha, A. Lillo, G. Chavira and S.W. Nava. "La NFC: una nueva forma de concebir la RFID". Aplicación para grandes superficies. Artıculo para las jornadas Científicas sobre RFID. ISBN: 978-84-612-0541-7. pp. 54. Ciudad Real (Spain). 2007.

7.

J. Bravo, G. Casero, M. Vergara, C. Fuentes, R. Peña, R. Hervás and V. Villarreal. "Supporting clinical information management by NFC technology". 4th European Conference of the International Federation for Medical and Biological Engineering, Springer. pp. 1734–1737. 2008. ISBN:978-3-540-89207-6.

8.

S.W. Nava, G. Chavira, R. Hervás, V. Villarreal, J. Bravo. "Towards simple Interaction in the Classroom: an NFC Approach". IADIS Multi Conference on Computer Science and Information Systems. pp. 279–286.2008. ISBN: 978-972-8924-58-4.

9.

Harris, J. A., and Benedict, F. G., A Biometric Study of Human Basal Metabolism. Proceedings of the National Academy of Sciences (PNAS) 4(12):370–373, 1918.
Acknowledgments
This work is supported by the UBIHEALHT project under International Research Staff Exchange Schema (MC-IRSES 316337)
Additional information
This article is part of the Topical Collection on Mobile Systems.
About this article
Cite this article
Díaz-Hellín, P., Fontecha, J., Hervás, R. et al. NFC as a Childhood Obesity Treatment Tool. J Med Syst 39, 96 (2015). https://doi.org/10.1007/s10916-015-0299-y
Received:

Accepted:

Published:
Key words
NFC

Smartphone

Diet

Obesity

Overweight and childhood obesity