Abstract
Performance measurement is vital for improving the health care systems. However, we are still far from having accepted performance measurement models. Researchers and developers are seeking comparable performance indicators. We developed an intelligent search tool to identify appropriate measures for specific requirements by matching diverse care settings. We reviewed the literature and analyzed 229 performance measurement studies published after 2000. These studies are evaluated with an original theoretical framework and stored in the database. A semantic network is designed for representing domain knowledge and supporting reasoning. We have applied knowledge based decision support techniques to cope with uncertainty problems. As a result we designed a tool which simplifies the performance indicator search process and provides most relevant indicators by employing knowledge based systems.
Access options
Buy single article
Instant access to the full article PDF.
US$ 39.95
Tax calculation will be finalised during checkout.
Subscribe to journal
Immediate online access to all issues from 2019. Subscription will auto renew annually.
US$ 119
Tax calculation will be finalised during checkout.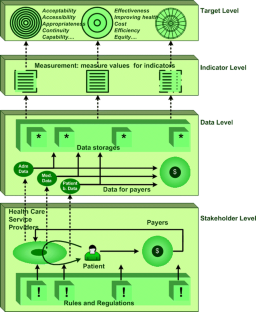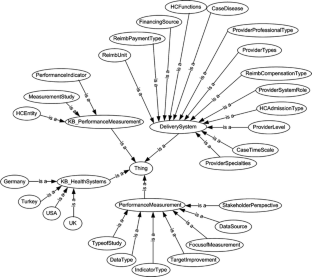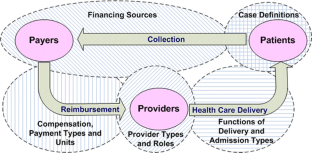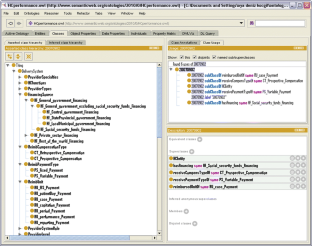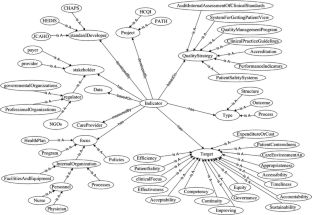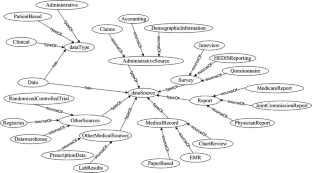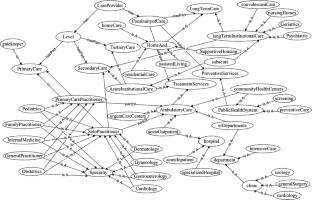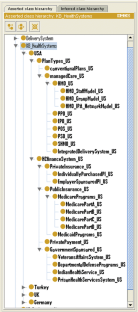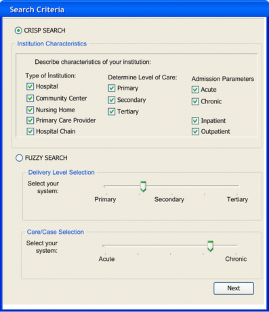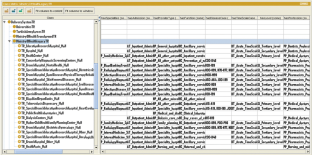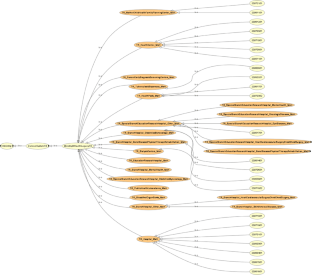 References
1.

World Health Report, Health systems-improving performance. World Health Organization, Geneva, Switzerland, p. 215, 2000.

2.

Kazandjian, V. A., Matthes, N., and Wicker, K. G., Are performance indicators generic? The international experience of the Quality Indicator Project. J. Eval. Clin. Pract. 9(2):265–276, 2003.

3.

Murray, C. J. L., and Frenk, J. A., Framework for assessing the performance of health systems. Bull. WHO. 78(6):717–731, 2000.

4.

Jones, A. M., The Elgar companion to health economics. Edward Elgar Publishing Limited, Cheltenham, UK, p. 584, 2006.

5.

Pandey, D. K., Cursio, J. F., and CAPTURE Stroke Investigators, Data feedback for quality improvement of stroke care: CAPTURE stroke experience. Am. J. Prev. Med. 31(6 supp2):S224–S229, 2006.

6.

Kazandjian, V., and Lied, T., Healthcare performance measurement: systems design and evaluation. ASQ Quality, Milwaukee, p. 234, 2002.

7.

Kirigia, J. M., Emrouznejad, A., Cassoma, B., Asbu, E. Z., and Barry, S., A performance assessment method for hospitals: the case of municipal hospitals in Angola. J. Med. Syst. (32):509–519, 2008.

8.

Unruh, L., and Wan, T. T. H., A systems framework for evaluating nursing care quality in nursing homes. J. Med. Syst. 28(2):197–214, 2004.

9.

Arah, O. A., Westert, G. P., Jeremy, H., and Klazinga, N. S., A conceptual framework for the OECD Health Care Quality Indicators Project. Int. J. Qual. Health Care. Sept., 5–13, 2006.

10.

Edward, K., and Jeremy, H., OECD Health Working Papers No 23, Health Care Quality Indicators Project. Conceptual Framework Paper, DELSA/HEA/WD/HWP, 2006.

11.

Anderson, J., Hackman, M., Burnich, J., and Gurgiolo, T. R., Determining hospital performance based on rank ordering: is it appropriate? Am. J. Med. Qual. (22):177–185, 2007.

12.

Silver, M. P., Geis, M. S., and Bateman, K. A., Improving health care systems performance: a human factors approach. Am. J. Med. Qual. 19(3):93–102, 2004.

13.

Keyes, M. A., CONQUEST 2.0: An emerging clinical performance measurement tool. J. Healthc. Qual. 22(3):29–36, 2000.

14.

Gennari, J. H., Musen, M. A., Fergerson, R. W., Grosso, W. E., Crubézy, M., Eriksson, H., Noy, N. F., and Tu, S. W., The evolution of Protégé: an environment for knowledge-based systems development. Int. J. Hum. Comput. Stud.. (58):89–123, 2003.

15.

Decision support systems, achievements, trends and challenges for the new decade, Mora M., Forgionne G.A., Gupta J. N. D., IDEA Group Publishing, Hershey, USA, 2003. Chapter II:Categorizing Decision Support Systems: A Multidimensional Approach, D. J. Power, Pg 20–27.

16.

Liao, S., Knowledge management technologies and applications—literature review from 1995 to 2002. Expert. Syst. Appl. 25(2):155–164, 2003.

17.

Shue, L. Y., Chen, C. W., and Shiue, W., The development of an ontology-based expert system for corporate financial rating. Expert. Syst. Appl. 36(2, Part 1):2130–2142, 2009.

18.

Musen, M. A., Modern architectures for intelligent systems: reusable ontologies and problem-solving methods. In: Chute, C. G. (Ed.), Proceedings of the AIMA'98 (pp. 46–52). Orlando, FL, 1998.

19.

Taboada, M., Martínez, D., and Mira, J., Experiences in reusing knowledge sources using Protégé and PROMPT. Int. J. Hum. Comput. Stud. 62(5):597–618, 2005.

20.

Bhatt, M., Rahayu, W., Soni, S. P., and Wouters, C., Ontology driven semantic profiling and retrieval in medical information systems. J. Web Sem. 7(4):317–331, 2009.

21.

Marinov M., and Zheliazkova I., An interactive tool based on priority semantic networks. Knowl. Based Syst.. (18):71–77, 2005.

22.

Hartley, R. T., and Barnden, J. A., Semantic networks: visualizations of knowledge. Trends Cogn. Sci. 1(5):169–175, 1997.

23.

Abu-Hanna, A., Cornet, R., Keizer, N., Crubézy, M., and Tu, S. W., Protégé as a vehicle for developing medical terminological systems. Int. J. Hum. Comp. Stud. 62(5):639–663, 2005.

24.

Introduction to Fuzzy Logic using MATLAB, S. N. Sivanandam, S. Sumathi and S. N. Deepa, Springer, 2007.

25.

Baykal, N., and Beyan, T., Bulanık Mantık, İlke ve Temelleri. Bıçaklar, 2004, pp 413.

26.

Evans, D. B., Edejer, T. T., Lauer, J., Frenk, J., and Murray, C. J. L., Measuring quality: from system to the provider. Int. J. Qual. Health Care. 13(6):439–446, 2001.

27.

Koss, R. G., Hanold, L. S., and Loeb, J. M., Integrating healthcare standards and performance measurement. Dis. Manage. Health Outcomes. 10(2):81–84, 2002.

28.

Chen, C., Hong, M., and Hsu, Y., Administrator self-rating of organization capacity and performance of healthy community development projects in Taiwan. Pub. Health Nur. 24(4):343–354, 2007.

29.

Perrin, E. B., Durch, J. S., and Skillman, S. M., Health performance measurement in the public sector. National Academy, Washington, D.C, p. 176, 1999.

30.

Shengelia, B., Tandon, A., Adams, O. B., and Murray, C. J. L., Access, utilization, quality, and effective coverage: an integrated conceptual framework and measurement strategy. Soc. Sci. Med.. (61):97–109, 2005.

31.

Bodenheimer, T. S., and Grumbach, K., Understanding health policy, a clinical approach. Lange Medical Books, McGraw-Hill, The New York, NY, p. 222, 2009.

32.

OECD, A system of health accounts, head of publications service. OECD, France, p. 209, 2000.

33.

Aday, L. A., Begley, C. E., Lairson, D. R., and Balkrishnan, R., Evaluating the healthcare system, effectiveness, efficiency and equity. Health Administration, Chicago, p. 334, 2004.

34.

Penney, C., and Henry, E., Improving performance management for delivering appropriate care for patients no longer needing acute hospital care. J. Health Serv. Res. Policy. 13(1):30–34, 2008.

35.

Bernard, D. B., Coburn, K. D., Miani, M. A., and Miani, M. A., Health and disease management within an academic health system. Dis. Manage. Health Outcome. 7(1):21–37, 2000.

36.

Akıncı, F., Coyne, J., Healey, B., and Minear, J., National performance measures for diabetes mellitus care: implications for health care providers. Dis. Manag. Health Outcome. 12(5):285–298, 2004.

37.

Oleske, D. M., Epidemiology and the delivery of health care services methods and applications. Kluwer Academic/Plenum, NewYork, US, p. 350, 2002.

38.

Protégé ontology editor by Stanford Center for Biomedical Informatics Research at the Stanford University School of Medicine. http://protege.stanford.edu/. Last accessed at: 23.11.2009.

39.

Jegers, M., Kesteloot, K., Graeve, D. D., and Gilles, W., A typology for provider payment systems in health care. Health Policy.. (60):255–273, 2002.

40.

OECD Reviews of Health Systems: Turkey, OECD Publications, France, 2008, pp. 141.

41.

Campbell, B., Reerink, I., Jenniskens, F., and Pathak, L., A framework for developing reproductive health policies and programmes in Nepal. Reprod. Health Matt. 11(21):171–182, 2003.

42.

Westert, G. P., van den Berg, M. J., Koolman, X., and Verkleij, H., Dutch Health Care Performance Report, Centre for Prevention and Health Services Research Public Health and Health Services Division, National Institute for Public Health and the Environment, 2008, pp. 240.

43.

Hajialiafzali, H., Moss, J. R., and Mahmood, M. A., Efficiency measurement for hospitals owned by the Iranian Social Security Organisation. J. Med. Sys.. (31):166–172, 2007.

44.

Ugurluoglu, O., and Celik, Y., How responsive Turkish Health Care System is to its citizens: the views of hospital managers. J. Med. Sys. 30:421–428, 2006.

45.

Tung, Y., and Yang, M., How to effectively implement an indicator system to improve performance from a management perspective: the case of Taiwan Healthcare Indicator Series (THIS) System. J. Med. Syst.. (33):215–221, 2009.
About this article
Cite this article
Beyan, O.D., Baykal, N. A Knowledge Based Search Tool for Performance Measures in Health Care Systems. J Med Syst 36, 201–221 (2012). https://doi.org/10.1007/s10916-010-9459-2
Received:

Accepted:

Published:

Issue Date:
Keywords
Performance measurement

Health care performance

Indicator search tool

Performance measurement ontology