Abstract
Information systems plays an important role in medicine because it helps process more data more efficiently while providing access to more people in different parts of the world. In this research we analyzed the data of legionella pneumophila and other legionella species collected by the public hygiene center (PHC). PHC collected 7,211 water samples from different sources of different locations in different cities in Turkey from year 1995 to 2008. The main goal of this research is to develop a conceptual framework for preventing disease and to design a medical decision support system to help administration assessing the risk of Legionnaires' disease and preventing the outbreaks of the disease. The DSS involves SOM software which was programmed with C# to search for patterns and similarities in data sets by producing SOM risk maps. Thus administrators can decide where to monitor cautiously to prevent the disease.
Access options
Buy single article
Instant access to the full article PDF.
USD 39.95
Price excludes VAT (USA)
Tax calculation will be finalised during checkout.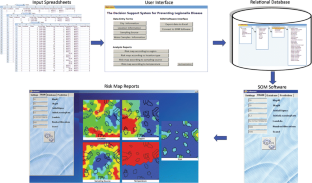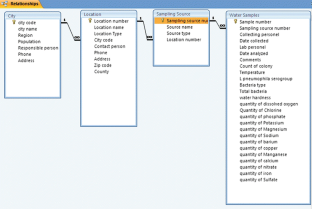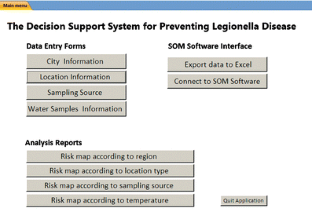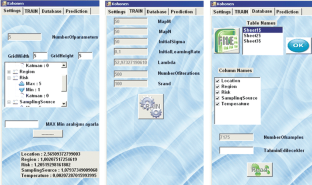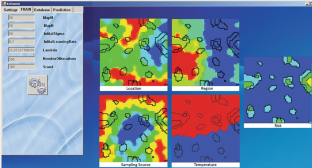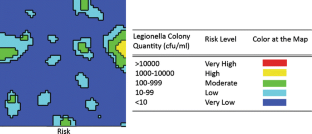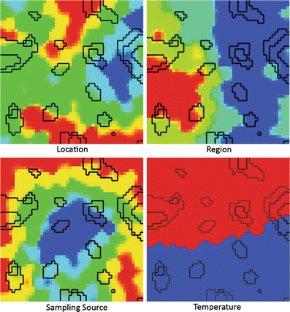 References
Bartram, J., Chartier, Y., Lee, J. V., Pond, K., and Surman-Lee, S., Legionella and the prevention of legionellosis. World Health Organization Press, Geneva, Switzerland, 252 p. http://www.who.int/entity/water_sanitation_health/emerging/legionella.pdf

Stout, J., Preventing Legionellosis. ASHRAE J. 49:58–62, 2007.

Sabria, M., Environmental cultures and hospital-acquired Legionnaires' disease. A 5-year prospective study in 20 hospitals in Catalonia, Spain. Infect. Control Hosp. Epidemiol. 25:1072–1076, 2004. doi:10.1086/502346.

Squier, C., A proactive approach to prevention of healthcare-acquired Legionnaires' disease: the Allegheny County (Pittsburgh) experience. Am. J. Infect. Control. 33(6):360–367, 2005. doi:10.1016/j.ajic.2005.01.012.

Sprague, R. H., and Carlson, E. D., Building effective decision support systems. Prentice-Hall, Englewood Cliffs, NJ, p. 304, 1982.

Sprague, Jr., and Hugh, J. W., Decision support systems: putting theory. Prentice Hall: Englewood Cliffs, NJ., 1986.

Perreault, L., and Metzger, J. B., A Pragmatic framework for decision support. J. Healthc. Inf. Manag. 13(2):5–22, 1999.

Rahimi, B., and Vimarlund, V., Methods to evaluate health information systems in healthcare settings: a literature review. J. Med. Syst. 31:397–432, 2007. doi:10.1007/s10916-007-9082-z.

Short, D., Frischer, M., and Bashford, J., The development and evaluation of a computerised decision support system for primary care based upon 'Patient Profile Decision Analysis'. Inform. Prim. Care. 11:195–202, 2003.

Ruland, C. M., White, T., Stevens, M., Fanciullo, G., and Khilani, S. M., Effects of a computerized system to support shared decision making in symptom management of cancer patients: preliminary results. J. Am. Med. Inform. Assoc. 10:573–579, 2003. doi:10.1197/jamia.M1365.

Bogucki, B., Jacobs, B. R., and Hingle, J., Computerized reminders reduce the use of medications during shortages. J. Am. Med. Inform. Assoc. 11:278–280, 2004. doi:10.1197/jamia.M1531.

Kohonen, T., Self-organizing maps, 3rd edition. Springer, Berlin, 2001.

Vercauteren, L., Sieben, G., Praet, M., Otte, G., Vingerhoeds, R., Boullart, L., Calliauw, L., and Roels, H., The classification of brain tumours by a topological map. Proceedings of the International Neural Networks Conference, Paris, France, pp. 387–391, 1990.

Pan, H. L., and Chen, Y. C., Liver tissues classification by artificial neural networks. Pattern Recogn. Lett. 13:355–368, 1992. doi:10.1016/0167-8655(92)90033-V.

Patel, D., Hannah, I., and Davies, E. R., Texture analysis for foreign object detection using a single layer neural network. IEEE World Congr. Comput. Intell. 7:4265–4268, 1994.

Cios, K. J., Goodenday, L. S., Merhi, M., and Langenderfer, R. A., Neural networks in detection of coronary artery disease. Computers in Cardiology Conference, Jerusalem, 1989. IEEE Computer Society Press, Los Alamitos, CA, USA, pp. 33–37, 1990.

Barbaree, J. M., Breiman, R. F., and Dufour, R. F., Legionella current status and emerging perspectives, 2nd edn. American Society for Microbiology: Washington, DC, USA, 1993.

Şensoy, S., and Ulupınar, Y., 2008, İklim Sınıflandırmaları, Devlet Meteoroloji İşleri Genel Müdürlüğü, Ankara, Türkiye. http://www.dmi.gov.tr/files/iklim/iklim_siniflandirmalari.pdf
Acknowledgements
This research was supported by the Çukurova University Scientific Research Projects Fund with project number MMF2007YL38. We are most grateful for Dr. M. Ertek and Dr. E. Akbaş in sharing their data with us.
About this article
Cite this article
Yüregir, O.H., Oral, M. & Kalan, O. A Decision Support System for Preventing Legionella Disease. J Med Syst 34, 875–881 (2010). https://doi.org/10.1007/s10916-009-9302-9
Received:

Accepted:

Published:

Issue Date:

DOI: https://doi.org/10.1007/s10916-009-9302-9
Keywords