Abstract
In this study, Fast Fourier transform (FFT) and autoregressive (AR) methods were selected for processing the photoplethysmogram (PPG), electrocardiogram (ECG), electroencephalogram (EEG) signals recorded in order to examine the effects of pulsed electromagnetic field (PEMF) at extremely low frequency (ELF) upon the human electrophysiological signal behavior. The parameters in the autoregressive (AR) method were found by using the least squares method. The power spectra of the PPG, ECG, and EEG signals were obtained by using these spectral analysis techniques. These power spectra were then used to compare the applied methods in terms of their frequency resolution and the effects in extraction of the features representing the PPG, ECG, and EEG signals. Some conclusions were drawn concerning the efficiency of the FFT and least squares AR methods as feature extraction methods used for representing the signals under study.
This is a preview of subscription content,
to check access.
Access this article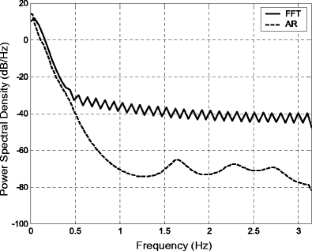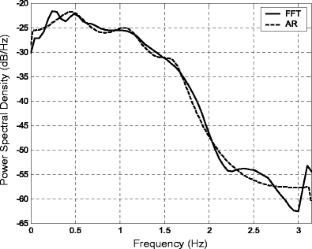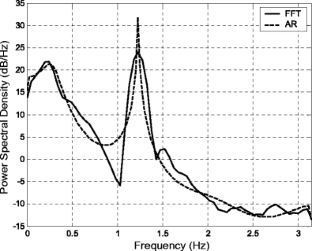 References
Bell, G. B., Marino, A. A., and Chesson, A., Alterations in brain electrical activity caused by magnetic fields: detecting the detection process. Electroencephalogr. Clin. Neurophysiol. 83:389–397, 1991.

Cvetkovic, D., and Cosic, I., Automated ELF magnetic field stimulation of the human EEG activity. Integr. Comput.-Aided Eng. 13:4313–328, 2006.

Tabor, Z., Michalski, J., and Rokita, E., Influence of 50 Hz magnetic field on human heart rate variability: Linear and nonlinear analysis. Bioelectromagnetics 25:474–480, 2004.

Baldi, E., Baldi, C., and Lithgow, B. J., A pilot investigation of the effets of extremely low frequency pulsed electromagnetic fields on human's heart rate variability. Bioelectromagnetics 28:64–68, 2007.

Kwak, N., and Choi, C.-H., Input feature selection for classification problems. IEEE Trans. Neural Netw. 13:1143–159, 2002.

Übeyli, E. D., and Güler, İ., Feature extraction from Doppler ultrasound signals for automated diagnostic systems. Comput. Biol. Med. 35:9735–764, 2005.

Kay, S. M., and Marple, S. L., Spectrum analysis—A modern perspective. Proc. I. E. E. E. 69:1380–1419, 1981.

Übeyli, E. D., and Güler, İ., Selection of optimal AR spectral estimation method for internal carotid arterial Doppler signals using Cramer-Rao bound. Comput. Electr. Eng. 30:7491–508, 2004.

Kay, S. M., Modern spectral estimation: Theory and application. Prentice Hall, New Jersey, 1988.

Übeyli, E. D., and Güler, İ., Determination of stenosis and occlusion in arteries with the application of FFT, AR and ARMA methods. J. Med. Syst. 27:2105–120, 2003.

Übeyli, E. D., Measuring saliency of features extracted by model-based methods from internal carotid arterial Doppler signals using signal-to-noise ratios. Digit. Signal Process 18:12–14, 2008.

Übeyli, E. D., Feature extraction by AR spectral analysis using maximum likelihood estimation: Internal carotid arterial Doppler signals. Expert Syst. 2007 (in press).

Übeyli, E. D., and Güler, İ., Spectral analysis of internal carotid arterial Doppler signals using FFT, AR, MA, and ARMA methods. Comput. Biol. Med. 34:4293–306, 2004.

Akaike, H., A new look at the statistical model identification. IEEE Trans. Automat. Contr AC-19:716–723, 1974.
About this article
Cite this article
Übeyli, E.D., Cvetkovic, D. & Cosic, I. AR Spectral Analysis Technique for Human PPG, ECG and EEG Signals. J Med Syst 32, 201–206 (2008). https://doi.org/10.1007/s10916-007-9123-7
Received:

Accepted:

Published:

Issue Date:

DOI: https://doi.org/10.1007/s10916-007-9123-7
Keywords