Abstract
The rodent family Geomyidae is native to America. It comprises six extant genera with 40 species distributed from Saskatchewan, Canada to northern Colombia. Two subfamilies are included in the family, the extinct Entoptychinae, with a fossil record ranging from the late Oligocene (Arikareean) to the middle Miocene (Barstovian) and the Geomyinae, with a chronological range from middle Miocene (Barstovian) to Recent. Here, we describe a new species of Gregorymys, G. veloxikua, the oldest known entoptychinae, from the late Eocene fluviolacustrine sediments of Santiago Yolomécatl, Oaxaca, Mexico. The record of this geomyid in southern Mexico suggests that the early diversification of superfamily Geomyoidea began earlier than the late Eocene in southern Mexico/Central America. The direct association of several studied specimens with burrows indicates that fossoriality was acquired early in the evolution of the family.
This is a preview of subscription content, log in to check access.
Access options
Buy single article
Instant access to the full article PDF.
US$ 39.95
Price includes VAT for USA
Subscribe to journal
Immediate online access to all issues from 2019. Subscription will auto renew annually.
US$ 99
This is the net price. Taxes to be calculated in checkout.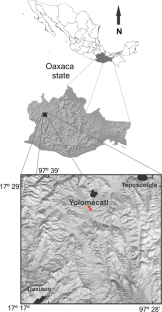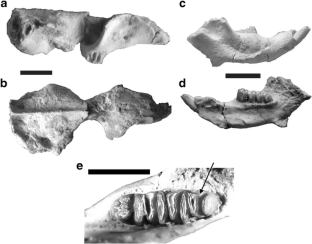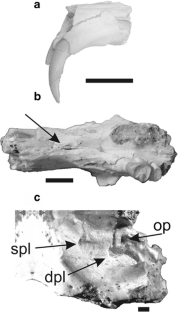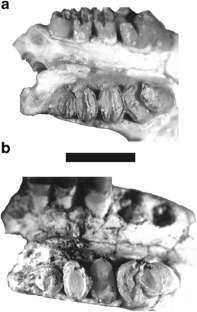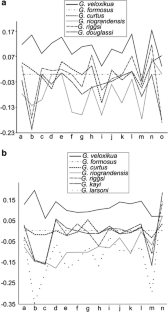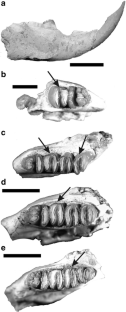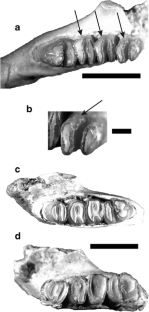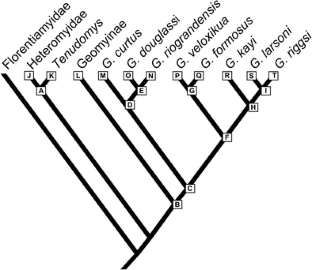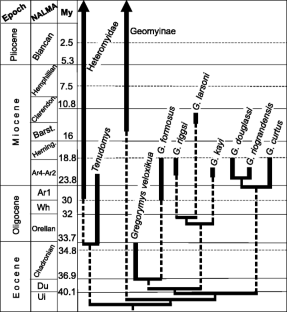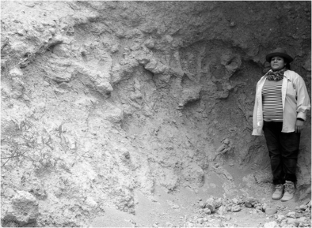 References
Bonaparte L (1845) Catalogo metodico deli Mammalia. Giacomo Pirola, Milan

Bowdich TE (1821) An Analysis of the Natural Classifications of Mammalia for the Use of Students and Travelers. Smith, Paris

Caballero-Morales G (2008) Diccionario del idioma mixteco, Tutu Tu'un Ñuu Savi. Universidad Tecnológica de la Mixteca Press, Huajuapan

Ceballos G, Hafner MS (2014) Family Geomyidae. In: Ceballos G (ed) Mammals of Mexico. Johns Hopkins University Press, Baltimore, pp 245–270

Farris J (1970) Methods for computing Wagner trees. Syst Zool 9:83–92

Flynn LJ, Lindsay EH, Martin RA (2008) Geomorpha. In: Janis CM, Gunnell GF, Uhen MD (eds) Evolution of Tertiary Mammals of North America: Small Mammals, Xenarthrans, and Marine Mammals, vol. 2. Cambridge University Press, Cambridge, pp 428–455

Fries C, Hibbard CW, Dunkle, DH (1955). Early Cenozoic vertebrates in the red conglomerate at Guanajuato, Mexico. Smithsonian Misc Coll 123:1–25

Gawne CE (1975) Rodents from the Zia sand Miocene of New Mexico. Am Mus Novitates 2586:1–25

Gobetz KE, Martin LD (2006) Burrows of a gopher-like rodent, possibly Gregorymys (Geomyoidea: Geomyidae: Entoptychtinae), from the early Miocene Harrison Formation, Nebraska. Palaeogeogr Palaeoclimatol Palaeoecol 237:305–314

Goloboff P, Farris J, Nixon K (2008) T.N.T. A free program for phylogenetic analysis. Cladistics 24:774–786

Goloboff P, Mattoni CI, Quinteros AS (2006) Continuous characters analyzed as such. Cladistics 22:589–601

Hornung-Leoni CT, Sosa V (2008) Morphological phylogenetics of Puya subgenus Puya (Bromeliaceae). Bot J Linn Soc 156:93–110

Jiménez-Hidalgo E, Smith KT, Guerrero-Arenas R, Alvarado-Ortega J (2015) The first late Eocene continental faunal assemblage from tropical North America. J South Am Earth Sci 57:39–48

Korth WW (1993) The skull of Hitonkala (Florentiamyidae, Rodentia) and relationships within the Geomyoidea. J Mammal 74:168–174

Korth WW, Branciforte C (2007) Geomyoid rodents (Mammalia) from the Ridgeview Local Fauna, early-early Arikareean (late Oligocene) of western Nebraska. Ann Carnegie Mus 76:177–201

Martiny B, Martínez-Serrano RG, Morán-Zenteno DJ, Macías-Romo C, Ayuso RA (2000) Stratigraphy, geochemistry and tectonic significance of the Oligocene magmatic rocks of western Oaxaca, southern Mexico. Tectonophysics 318:71–98

Miller GS, Gidley JW (1918) Synopsis of the supergeneric groups of rodents. J Wash Acad Sci 8:431–448

Munthe J (1977) A new species of Gregorymys (Rodentia, Geomyidae) from the Miocene of Colorado. Paleobios 26:1–12

Reid FA (2009) A Field Guide to the Mammals of Central America and Southeast Mexico. Oxford University Press, New York

Russell RJ (1968) Evolution and classification of the pocket gophers of the subfamily Geomyinae. Univ Kans Publ Mus Nat Hist 16:473–579

Santamaría-Díaz A, Alaniz-Álvarez SA, Nieto-Samaniego AF (2008) Cenozoic deformations in the Caltepec fault cover, Tamazulapam region, southern Mexico. Rev Mex Cienc Geol 25: 494–516

Spradling TA, Brant SV, Hafner MS, Dickerson CJ (2004) DNA data support a rapid radiation of pocket gopher genera (Rodentia: Geomyidae). J Mammal Evol 11:105–125

Tapaltsyan V, Eronen JT, Lawing AM, Sharir A, Janis C, Jernvall J, Klein OD (2015) Continuously growing rodent molars result from a predictable quantitative evolutionary change over 50 million years. Cell Rep 11:673–680

Vaughan TA, Ryan JM, Czaplewski NJ (2015) Mammalogy. Fifth Ed. Jones and Bartlett Learning, Burlington

Wahlert JH (1983) Relationships of the Florentiamyidae (Rodentia, Geomyoidea) based on cranial and dental morphology. Am Mus Novitates 2769:1–23

Wahlert JH (1985) Skull morphology and relationships of geomyoid rodents. Am Mus Novitates 2812:1–6

Wahlert JH (1991) The Harrymyinae, a new heteromyid subfamily (Rodentia, Geomorpha), based on cranial and dental morphology of Harrymys Munthe, 1988. Am Mus Novitates 3013:1–23

Wahlert JH, Souza RA (1988) Skull morphology of Gregorymys and relationships of the entoptychinae (Rodentia, Geomyidae). Am Mus Novitates 2922:1–13

Wood AE (1936) Geomyid rodents from the middle Tertiary. Am Mus Novitates 866:1–31
Acknowledgments
We thank the municipal authorities and landowners of Santiago Yolomécatl for the opportunity to prospect their lands. Several students and colleagues helped in the field collecting; thanks to all of you. EJH thanks Jin Meng for approving a visit to the Fossil Mammal Collection of the American Museum of Natural History and Judy Galkin for her kind help during that visit. We appreciate the comments and suggestions of the anonymous reviewers, which contributed to improve this study. This research was funded by Universidad del Mar project 2IR1606, Consejo Nacional de Ciencia y Tecnología, Ciencia Básica 2015-01 project No. 255883, and National Geographic Society/Waitt Grant Program 09-77.
Appendices
Appendix 1
Appendix 2
Unambiguous synapomorphies/autapomorphies of the phylogenetic analysis of selected geomyoid taxa. Continuous characters were optimized using Farris (1970) algorithm for additive characters. During the optimization of a given node, if the ranges of the descendant nodes overlapped, the method counted no steps; if the ranges did not overlap, it counted the minimum distance from one range to the other (i.e., the numeric difference between the two closest values of the two descendant ranges) (Goloboff et al. 2006; Hornung-Leoni and Sosa 2008). Thus, at each node, the values before the arrow are the ancestral states and values after the arrow are the optimized states (ancestral ➔ optimized)
Node
Synapomorphy/autapomorphy
A
0 (p4-m3 length): 7.40–7.60 ➔ 6.0
1 (Width i/P4-M3 length): 0.166 ➔ 0.153
3 (Depth of mandible/P4-M3 length): 0.815–0.833 ➔ 0.810
4 (P4-M3 length): 8.180 ➔ 5.80
8 (Palatal width/P4-M3 length): 0.523 ➔ 0.706
B
1 (Width i/P4-M3 length): 0.166 ➔ 0.208–0.239
5 (Width I/P4-M3 length): 0.190 ➔ 0.244–0.250
7 (Condilobasilar length/P4-M3 length): 5.523 ➔ 4.889–5.163
8 (Palatal width/P4-M3 length): 0.523 ➔ 0.322–0.363
11 (Width i/p4-m3 length): 0.164–0.200 ➔ 0.230–0.243
21 (Hypsodonty of teeth): 0 (brachydont) ➔ 1 (mesodont)
22 (Shape upper diastema): 0 (flat) ➔ 1 (curved)
31 (Incisive foramina): 0 (not greatly reduced) ➔ 1 (greatly reduced)
32 (Position anterior alar fissure): 0 (not dorsal to posterior molars) ➔ 1 (dorsal to posterior molars)
36 (Slope of diastema in lateral view): 0 (not inclined anteriorly) ➔ 1 (inclined strongly anteriorly)
40 (Interparietal width): 0 (wide, or constricted by bullar inflation) ➔ 1 (narrow, unrelated to bullar inflation)
41 (Origin of temporal musculature): 1, 2 (restricted laterally or restricted very far laterally) ➔ 0 (reach midline, or nearly so)
42 (External nares position): 0 (project significantly in front of upper I) ➔ 1 (coincident with I in transverse plane)
44 (Position of optic foramina): 0 (posterodorsal to M3) ➔ 3 (dorsal to M2)
C
12 (Number of cusps on P4 metacone): 0 (three) ➔ 1 (four)
24 (Base of enamel on molars): 0 (not undulating) ➔ 1 (undulating)
27 (Anterostylids on p4): 0 (absent) ➔ 1 (present)
43 (Medial processes of bullae): 0 (do not meet) ➔ 1 (meet)
47 (Postglenoid foramen): 2 (between bones and continuous with posterior alar fissure) ➔ 1 (in squamosal bone and another between squamosal and periotic)
D
7 (Condylobasilar length/P4-M3 length): 4.889 ➔ 4.739
E
4 (P4-M3 length): 8.18 ➔ 7.14
F
13 (Number of cusps on molars metaloph): 0 (three) ➔ 1 (four)
17 (Supraorbital crests/flange): 0 (absent) ➔ 1 (weak)
G
2 (Lower diastema length/P4-M3 length): 0.797–0.841 ➔ 0.927
3 (Depth of mandible/P4-M3 length): 0.815–0.833 ➔ 0.845
6 (Upper diastema length/P4-M3 length): 1.524–1.595 ➔ 1.695
10 (Lower diastema length/p4-m3 length): 0.881–0.910 ➔ 0.958
17 (Supraorbital crests/flange): 1(weak) ➔ 2 (strong)
18 (Depth parapterygoid fossa): 0 (shallow) ➔ 2 (deep)
H
9 (Depth of mandible/p4-m3 length): 0.860–0.921 ➔ 0.70–0.742
10 (Lower diastema length/p4-m3 length): 0.881–0.910 ➔ 0.653–0.742
20 (Form external margin of lower incisors): 0 (rounded) ➔ 1 (flat)
I
0 (p4-m3 length): 7.40–7.60 ➔ 6.80
J
0 (p4-m3 length): 6.0 ➔3.50–4.90
1 (Width i/P4-M3 length): 0.153 ➔ 0.140
3 (Depth of mandible/P4-M3 length): 0.810 ➔ 0.800
4 (P4-M3 length): 5.80 ➔ 3.340–5.00
8 (Palatal width/P4-M3 length): 0.706 ➔ 1.88–1.92
9 (Depth of mandible/p4-m3 length): 0.861–0.952 ➔ 1.142
29 (Rostral perforation): 0 (absent) ➔ 1 (present)
K
2 (Lower diastema length/P4-M3 length): 0.800 ➔ 0.793
9 (Depth of mandible/p4-m3 length): 0.861–0.952 ➔ 0.783
10 (Lower diastema length/p4-m3 length): 0.881–1.142 ➔ 0.766
11 (Width i/p4-m3 length): 0.164–0.200 ➔ 0.148
13 (Number of cusps on molars metaloph): 0 (three) ➔ 2 (two)
18 (Depth parapterygoid fossa): 0 (shallow) ➔ 1 (moderate)
38 (Ethmoid foramen): 1 (M3/M2 junction) ➔ 0 (dorsal to M3)
L
1 (Width i/P4-M3 length): 0.208–0.239 ➔ 0.265–0.327
5 (Width I/P4-M3 length): 0.244–0.250 ➔ 0.275–0.363
18 (Depth parapterygoid fossa): 0 (shallow) ➔ 2 (deep)
20 (Form external margin of lower incisors): 0 (rounded) ➔ 1 (flat)
21 (Hypsodonty of teeth): 1 (mesodont) ➔ 2,3 (hypsodont or hypselodont)
22 (Shape upper diastema): 1 (curved) ➔ 2 (strongly curved)
30 (Narrow grooved palate): 0 (absent) ➔ 1 (present)
33 (Stapedial foramen): 0 (present) ➔ 1 (pit)
34 (Mandibular pit): 0 absent ➔ 1 (present)
35 (Incisor roots): 0 (not extended) ➔ 1 (extended)
45 (Incisor foramen length/diastemal length): 1,2 (0.20 to 0.40 or 0.10 to 0.19) ➔ > 0.40
M
4 (P4-M3 length): 8.18 ➔ 8.4
7 (Condylobasilar length/P4-M3 length): 4.739 ➔ 4.40
8 (Palatal width/P4-M3 length): 0.322 ➔ 0.261
N
4 (P4-M3 length): 7.14 ➔ 6.33
5 (Width I/P4-M3 length): 0.244–0.250 ➔ 0.224
O
5 (Width I/P4-M3 length): 0.244–0.250 ➔ 0.261
6 (Upper diastema length/P4-M3 length): 1.524 ➔1.092
14 (Grooves on I): 0 absent ➔ 1 (present)
P
0 (p4-m3 length): 7.4–7.6 ➔ 9.7
1 (Width i/P4-M3 length): 0.231–0.239 ➔ 0.243
2 (Lower diastema length/P4-M3 length): 0.927 ➔ 1.103
4 (P4-M3 length): 8.18 ➔ 9.88
5 (Width I/P4-M3 length): 0.244–0.250 ➔ 0.240
6 (Upper diastema length/P4-M3 length): 1.695 ➔1.849
7 (Condilobasilar length/P4-M3 length): 4.889 ➔ 4.622
8 (Palatal width/P4-M3 length): 0.332 ➔ 0.336
10 (Lower diastema length/p4-m3 length): 0.958 ➔ 1.122
15 (Accessory cuspid attached to protostylid): 0 (absent) ➔ 1 (present)
16 (Anteroexternal cingular cuspid on lower molars): 0 (present) ➔ 1 (absent)
19 (Position sphenopalatine foramina): 0 (dorsal M1) ➔ 2 (P4)
28 (Sagittal and lambdoidal crests): 0 (weak) ➔ 1 (strong)
Q
0 (p4-m3 length): 7.4–7.6 ➔ 7.3
3 (Depth of mandible/P4-M3 length): 0.845 ➔ 0.966
4 (P4-M3 length): 8.18 ➔ 7.55
5 (Width I/P4-M3 length): 0.244–0.250 ➔ 0.264
7 (Condylobasilar length/P4-M3 length): 4.889 ➔ 5.0
9 (Depth of mandible/p4-m3 length): 0.860–0.921➔ 1.0
44 (Position of optic foramina): 3,4 (dorsal to M2 or dorsal to the junction of M1-M2) ➔ 1 (dorsal to M3)
R
0 (p4-m3 length): 7.4–7.6 ➔ 7.8
9 (Depth of mandible/p4-m3 length): 0.70–0.742 ➔0.653
S
0 (p4-m3 length): 6.8 ➔ 6.6
10 (Lower diastema length/p4-m3 length): 0.653–0.742 ➔ 0.480
11 (Width i/p4-m3 length): 0.239–0.255 ➔ 0.231
T
11 (Width i/p4-m3 length): 0.239–0.255 ➔ 0.288
About this article
Cite this article
Jiménez-Hidalgo, E., Guerrero-Arenas, R. & Smith, K.T. Gregorymys veloxikua, The Oldest Pocket Gopher (Rodentia: Geomyidae), and The Early Diversification of Geomyoidea. J Mammal Evol 25, 427–439 (2018). https://doi.org/10.1007/s10914-017-9383-z
Keywords
Oaxaca

Yolomécatl

Late Eocene

Chadronian

Mixteca

Evolution