Abstract
We describe a new species of Prolibytherium, P. fusus, sp. nov., from the lower Miocene of Pakistan, thus extending the genus to Asia. Prolibytherium is otherwise known only from Libya. This species differs from Prolibytherium magnieri in several basioccipital and atlanto-occipital morphologies. Namely, the posterior basioccipital tuberosities are continuous at the midline and lack the elevated transverse ridge seen in P. magnieri, and the notch formed between the lateral occipital condyles and paraoccipital process is lower. Both species of Prolibytherium have a characteristic ventrally fused occipital condyle at the midline, with a notably fuller circumferential articular surface. Prolibytherium magnieri also has thickened dorsal and ventral arches of the atlas. These specimens also possess a longitudinal groove for the Eustachian tube extending from the alisphenoid canal to the bullae, and a second deep grove isolating the basisphenoid bone from the temporal bone. These, plus several other atlanto-occipital morphologies strengthen the cervical support of the head. This is especially important for Prolibytherium, as the taxon possesses massive aliform cranial appendages. We relate the approximation of the occipital condyles to a convergent state in two giraffids (Giraffokeryx punjabiensis and Schansitherium tafeli), each of which possesses multiple pairs of ossicones, presumably necessitating a strengthened atlanto-occipital joint.
Access options
Buy single article
Instant access to the full article PDF.
US$ 39.95
Tax calculation will be finalised during checkout.
Subscribe to journal
Immediate online access to all issues from 2019. Subscription will auto renew annually.
US$ 79
Tax calculation will be finalised during checkout.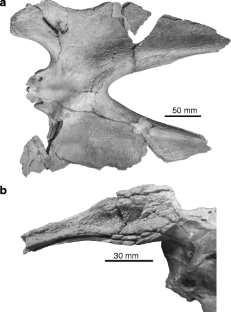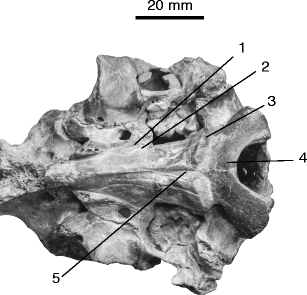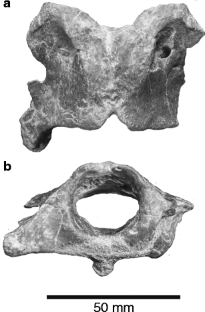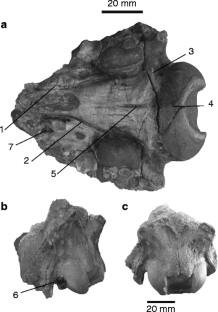 References
Antoine P-O, Métais G, Orliac M, Crochet J-Y, Flynn L, Marivaux L, Rajpar AR, Roohi G Welcomme J-L (2013) Mammalian Neogene biostratigraphy of the Sulaiman Province, Pakistan. In: Wang X, Flynn L, Fortelius M (eds) Fossil Mammals of Asia: Neogene Biostratigraphy and Chronology. Columbia University Press, New York, pp. 400–422

Arambourg C (1961) Prolibytherium magnieri, un velléricorne nouveau du Burdigalien de Libye. Compt Rendu som Soc Géol France 3:61–62

Astibia H, Morales J, Moyà-Solà S (1998) Tauromeryx, a new genus of Palaeomerycidae (Artiodactyla, Mammalia) from the Miocene of Tarazona de Aragón (Ebro Basin, Aragón, Spain). Bull Soc Géol France 169:471–477

Barry JC, Cote C, MacLatchy L, Lindsay EH, Kityo R, Rajpar AR (2005) Oligocene and early Miocene ruminants (Mammalia, Artiodactyla) from Pakistan and Uganda. Palaeontol Electron 8:1–22

Ganey T, Ogen J, Olsen J (1990) Development of the giraffe horn and its blood supply. Anat Rec 227:497–507

Ginsburg L, Heintz E (1966) Sure les affinitiés du genre Palaeomeryx (ruminant du Miocène européen). Compt Rendu Séan Acad Scien 262:979–982

Hamilton WR (1973) The lower Miocene ruminants of Gebel Zelten, Libya. Bull Brit Mus Nat Hist (Geol) 21:76–150

Hamilton WR (1978) Fossil giraffes from the Miocene of Africa and a revision of the phylogeny of Giraffoidea. Phil Trans R Soc (B) 283:165–229

Janis CM, Scott KM (1987) The interrelationships of higher ruminant families with special emphasis on the members of Cervoidea. Am Mus Novitates 2893:1–85

Lindsay EH, Flynn LJ, Cheema IU, Barry JC, Downing KF, Rajpar AR, Raza SM (2005) Will Downs and the Zinda Pir Dome. Palaeontol Electron 8:1–18

McKenna MC, Bell SK (1997) Classification of Mammals above the Species Level. Columbia University Press, New York

Mead CS (1906) Adaptive modifications of the occipital condyles in Mammalia. Am Nat 40:475–483

Morales J, Soria D, Nieto DM, Peláez-Campomanes P, Pickford M (2003) New data regarding Orangemeryx hendeyi from the type locality, Arrisdrift, Namibia. Mem Geol Surv Namib 19:305–344

Morales J, Soria D, Pickford M (2008) Pecoran ruminants from the early Miocene of the Sperrgebiet, Namibia. Mem Geol Surv Namib 20:397–464

Pickford M, Attia YS, Abd el Ghany MS (2001) Discovery of Prolibytherium magnieri Arambourg, 1961 (Artiodactyla, Climacoceratidae) in Egypt. Geodiversitas 23:647–652

Pilgrim GE (1908) The Tertiary and Post-Tertiary fresh water deposits of Baluchistan and Sind with notices of new vertebrates. Rec Geol Surv India 2:139–166

Pilgrim GE (1911) The fossil Giraffidae of India. Palaeontol Indica 4:1–29

Prothero DR, Liter MR (2007) Family Palaeomerycidae. In: Prothero DR, Foss SE (eds.) The Evolution of Artiodactyls. The Johns Hopkins University Press, Baltimore, pp 241–248

Qiu Z, Yan D, Jia H, Sun B (1985) Preliminary observations on the newly found skeletons of Palaeomeryx from Shanwang, Shandong. Vertebr Palasiatic 23:173–195

Sánchez I, Quiralte V, Morales J, Azanza B, and Pickford M (2010) Sexual dimorphism of the frontal appendages of the early Miocene African pecoran Prolibytherium Arambourg, 1961 (Mammalia, Ruminantia). J Vertebr Paleontol 30:1306–1310

Solounias N (2007) Family Giraffidae In: Prothero DR, Foss SE (eds.) The Evolution of Artiodactyls. The Johns Hopkins University Press, Baltimore, pp 257–277

Spinage CA (1968) Horns and other bony structures of the skull of the giraffe, and their functional significance. E Afr Wildl J 6:53–61
Acknowledgments
We acknowledge the NYIT-COM Academic Scholars program. We thank Pip Brewer and Jerry Hooker at the NHM. We thank Eileen Westwig, and the Departments of Mammalogy and Paleontology of the AMNH for access to specimens. We also thank Tao Deng, Zhanxiang Qiu, Banyue Wang, and Sukuan Hou at IVPP. We thank John Barry for discussions on the systematics and geologic information. We also thank Larry Flynn and Michelle Morgan and the Peabody Museum of Harvard. We also thank Everett Lindsay. Funds were covered by NS.
About this article
Cite this article
Danowitz, M., Domalski, R. & Solounias, N. A New Species of Prolibytherium (Ruminantia, Mammalia) from Pakistan, and the Functional Implications of an Atypical Atlanto-Occipital Morphology. J Mammal Evol 23, 201–207 (2016). https://doi.org/10.1007/s10914-015-9307-8
Keywords
Prolibytherium

Atlanto-occipital joint

Basicranium

Ruminantia

Cranial appendages