Abstract
Phenotypic evolutionary rates were measured for craniometric characters in five extant closely related OTUs from the bat genus Myotis (Chiroptera, Vespertilionidae): M. myotis, M. blythii oxygnathus, M. b. omari, M. b. blythii, and M. nattereri using Lynch's and Gingerich's approaches. Cranial shape appeared to be more conservative than cranial size. Estimates for evolutionary rates were found to be lower than expected if the divergence had been produced solely by mutation and random drift. So, it can be concluded that stabilizing selection was the principal factor that maintained craniometric characters during the evolution of the studied species and prevented their greater diversification. The observed differences between the OTUs could be established by random drift or directional selection of rather moderate intensity. The rates of divergence between the ancestors of M. nattereri and the common ancestors of M. blythii and M. myotis apparently were higher than the rates of following divergence between M. myotis, M. b. oxygnathus, M. b. omari and M. b. blythii.
Access options
Buy single article
Instant access to the full article PDF.
USD 39.95
Price includes VAT (USA)
Tax calculation will be finalised during checkout.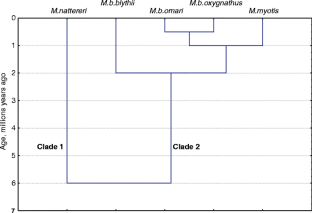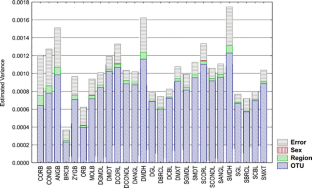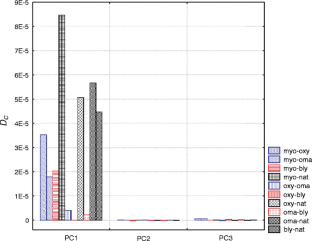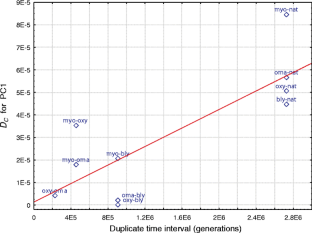 References
Afifi AA, Azen SP (1982) Statistical analysis: a computer oriented approach. Mir, Moscow (in Russian)

Arlettaz R (1996) Feeding behaviour and foraging strategy of free-living mouse-eared bats, Myotis myotis and Myotis blythii. Anim Behav 51:1–11

Arlettaz R, Ruedi M, Hausser J (1993) Ecologie trophique de deux espèces jumelles et sympatriques de chauve-souris: Myotis myotis et Myotis blythii (Chiroptera, Vespertilionidae). Premiers resultats. Mammalia 57:519–531

Arlettaz R, Ruedi M, Ibañez C, Palmeirim J, Hausser J (1997) A new perspective on the zoogeography of the sibling mouse-eared bat species Myotis myotis and Myotis blythii: morphological, genetical and ecological evidence. J Zool Lond 242:45–62

Benda P (1994) Biometrics of Myotis myotis and Myotis blythi: age variation and sexual dimorphism. Folia Zool 43:297–306

Benda P, Horáček I (1994–1995) Biometrics of Myotis myotis and Myotis blythi. Myotis 32–33:45–55

Benda P, Horáček I (1995) Geographic variation in three species of Myotis (Mammalia: Chiroptera) in South of the Western Palearctics. Acta Soc Zool Bohemicae 59:17–39

Berthier P, Excoffier L, Ruedi M (2006) Recurrent replacement of mtDNA and cryptic hybridization between two sibling bat species Myotis myotis and Myotis blythii. Proc R Soc B 273:3101–3109

Castella V, Ruedi M, Excoffier L, Ibañez C, Arlettaz R, Hausser J (2000) Is the Gibralter Strait a barrier to gene flow for the bat Myotis myotis (Chiroptera: Vespertilionidae)? Mol Ecol 9:1761–1772

Castella V, Ruedi M, Excoffier L (2001) Contrasted patterns of mitochondrial and nuclear structure among nursery colonies of the bat Myotis myotis. J Evol Biol 14:708–720

Clyde WC, Gingerich PD (1994) Rates of evolution in the dentition of early Eocene Cantius: comparison of size and shape. Paleobiol 20:506–522

Dzeverin II (1995) Craniometric variation in lesser mouse-eared bat, Myotis blythi (Chiroptera, Vespertilionidae). Zool Zhurnal 74:82–95 (in Russian, with English summary)

Dzeverin II (1995) Sexual dimorphism values of craniometric characters in lesser mouse-eared bat (Chiroptera, Vespertilionidae). Vestnik Zool 1995(5–6):70–75 (in Russian, with English summary)

Dzeverin II (1998) A unidimensional model of phenetic diversity of the Palearctic Myotis species. Biol Bull 25:206–212

Dzeverin II (2007) The regressive trend of complex phenotypic structures in neutral evolution. Vestnik Zool 41:53–69

Dzeverin II, Lashkova EI (2005) An input of heterochronies to the formation of interspecific differences in wood mice, Sylvaemus (Rodentia). Zhurnal Obshchei Biol 66:258–272 (in Russian, with English summary)

Estes S, Arnold SJ (2007) Resolving the paradox of stasis: models with stabilizing selection explain evolutionary divergence on all timescales. Am Nat 169:227–244

Fenster EJ, Sorhannus U (1991) On the measurement of morphological rates of evolution: a review. Evol Biol 25:375–410

Findley JS (1972) Phenetic relationships among bats of the genus Myotis. Syst Zool 21:31–52

Ghazali MA (2004) Functional interpretation of differences in the structure of masticatory apparatus of the mouse-eared bat species, Myotis myotis and Myotis blythii. Vestnik Zool 38(2):39–44 (in Ukrainian, with English summary)

Gingerich PD (1983) Rates of evolution: effects of time and temporal scaling. Science 222:159–161

Gingerich PD (1993) Quantification and comparison of evolutionary rates. Am J Sci 293-A:453–478

Gingerich PD (1996) Rates of evolution in divergent species lineages as a test of character displacement in the fossil record: tooth size in Paleocene Plesiadapis (Mammalia, Proprimates). Palæovertebr 25:193–204

Gingerich PD (2001) Rates of evolution on the time scale of the evolutionary process. Genetica 112–113:127–144

Hendry AP, Kinnison MT (1999) The pace of modern life: measuring rates of contemporary microevolution. Evolution 53:1637–1653

Heppell SS, Caswell H, Crowder LB (2000) Life histories and elasticity patterns: perturbation analysis for species with minimal demographic data. Ecology 81:654–665

Hoofer SR, Van Den Bussche RA (2003) Molecular phylogenetics of the chiropteran family Vespertilionidae. Acta Chiropterol 5 Supplement:1–63

Horáček I (1985) Population ecology of Myotis myotis in central Bohemia. Acta Univ Carolinae–Biol 1981 8:161–267

Horáček I, Hanák V (1983–1984) Comments on the systematics and phylogeny of Myotis nattereri (Kuhl, 1818). Myotis 21–22:20–29

Horáček I, Hanák V, Gaisler J (2000) Bats of the Palearctic region: a taxonomic and biogeographic review. Proc VIIIth EBRS, vol. 1:11–57. Chiropterological Information Center, Kraków

Jones G, Parsons S, Zhang S, Stadelmann B, Benda P, Ruedi M (2006) Echolocation calls, wing shape, diet and phylogenetic diagnosis of the endemic Chinese bat Myotis pequinius. Acta Chiropterol 8:451–463

Kerth G, Mayer F, König B (2000) Mitochondrial DNA (mtDNA) reveals that female Bechstein's bats live in closed societies. Mol Ecol 9:793–800

Kimura M (1965) A stochastic model concerning the maintenance of genetic variability in quantitative characters. Proc Natl Acad Sci U S A 54:731–736

Kinnison MT, Hendry AP (2001) The pace of modern life II: from rates of contemporary microevolution to pattern and process. Genetica 112–113:145–164

Lakin GF (1990) Biometrics. Vysshaya shkola, Moscow (in Russian)

Lande R (1976) Natural selection and random genetic drift in phenotypic evolution. Evolution 30:314–334

Lande R (1979) Quantitative genetic analysis of multivariate evolution, applied to brain:body size allometry. Evolution 33:402–416

Lemos B, Marroig G, Cerqueira R (2001) Evolutionary rates and stabilizing selection in large-bodied opossum skulls (Didelphimorphia: Didelphidae). J Zool Lond 255:181–189

Lynch M (1990) The rate of morphological evolution in mammals from the standpoint of the neutral expectation. Am Nat 136:727–741

Manly BFJ (1985) The statistics of natural selection on animal populations. Chapman and Hall, London

Menu H (1988) Sur le statut taxonomique de Myotis Kaup, 1829 (Mammalia, Chiroptera). Palæovertebr 18:263

Menu H, Hand S, Sigé B (2002) Oldest Australian vespertilionid (Microchiroptera) from the early Miocene of Riversleigh, Queensland. Alcheringa 26:319–331

Petri B, Pääbo S, von Haesler A, Tautz D (1997) Paternity assessment and population subdivision in a natural population of the larger mouse-eared bat Myotis myotis. Mol Ecol 6:235–242

Polly PD (2002) Phylogenetic tests for differences in shape and the importance of divergence times: Eldredge's enigma explored. In: MacLeod N, Forey PL (eds) Morphology, shape and phylogeny. Taylor and Francis, London, pp 220–246

Polly PD (2004) On the simulation of the evolution of morphological shape: multivariate shape under selection and drift. Palaeontol Electronica 7.2.7A:28 pp http://palaeo-electronica.org/paleo/2004_2/evo/issue2_04.htm

Rivers NM, Butlin RK, Altringham JD (2005) Genetic population structure of Natterer's bats explained by mating at swarming sites and philopatry. Mol Ecol 14:4299–4312

Ruedi M, Castella V (2003) Genetic consequences of the ice ages on nurseries of the bat Myotis myotis: a mitochondrial and nuclear survey. Mol Ecol 12:1527–1540

Ruedi M, Mayer F (2001) Molecular systematics of bats of the genus Myotis (Vespertilionidae) suggests deterministic ecomorphological convergences. Mol Phylogenet Evol 21:436–448

Stadelmann B, Jacobs DS, Schoeman C, Ruedi M (2004) Phylogeny of African Myotis bats (Chiroptera, Vespertilionidae) inferred from cytochrome b sequences. Acta Chiropterol 6:177–192

Stadelmann B, Lin L-K, Kunz TH, Ruedi M (2007) Molecular phylogeny of New World Myotis (Chiroptera, Vespertilionidae) inferred from mitochondrial and nuclear DNA genes. Mol Phylogenet Evol 43:32–48

Strelkov PP (1972) Myotis blythi (Tomes, 1857): distribution, geographical variability and differences from Myotis myotis (Borkhausen, 1797). Acta Theriol 17:355–380 (in Russian, with English summary)

Tate GHH (1941) A review of the genus Myotis (Chiroptera) of Eurasia, with special reference to species occuring in the East Indies. Bull Am Mus Nat Hist 78:537–565

Turelli M, Gillespie JH, Lande R (1988) Rate tests for selection on quantitative characters during macroevolution and microevolution. Evolution 42:1085–1089
Acknowledgements
I am grateful to Maria Ghazali for valuable comments, discussions, and help in preparation of the paper. I thank the curators and staffs of the zoological museums, who afforded an opportunity to work with collections. I am indebted to J.R. Wible, P.D. Polly, and the anonymous reviewer for suggestions and criticisms that improved this article. Thanks also are due to V.M. Tytar, E.I. Kozhurina, P.P. Strelkov, and I.K. Rakhmatulina for help and valuable comments. M. Macholán, R. Lande, B.F.J. Manly, E.I. Kozhurina, B. Sigé, I. Horáček, P. Benda, S.R. Hoofer, P. Berthier, A.P. Hendry, S.S. Heppell, and B. Stadelmann kindly presented reprints of articles hardly accessible in Eastern Europe.
Appendix
Appendix
List of the examined specimens:
Myotis myotis
Central Europe and Transcarpathia: ZMMU 74649, 83990, 103902, 103905, 103910; ZMKU 1897-1905; NMNH 230/4, 233/7, 243/17, 245/19, 247/21, 249/23, 841/1.
Ciscarpathia: ZMMU 49163; NMNH 2615/25, 2616/26, 4302/24.
Balkan peninsula: ZINR 35042, 35043, 35044, 48062–48066.
Myotis blythii oxygnathus
Central Europe and Transcarpathia: ZMMU 74647, 83984, 100759, 100760, 100762, 100765, 100768, 100773, 100775, 100776, 100782–100786, 100791, 100793, 100795–100797, 100799, 100801–100803; NMNH 200/6, 201/7, 204/10, 205/11, 207/13, 208/14, 209/15, 211/17, 213/19, 214/20, 216/22, 220/26, 221/27, 222/28, 839/1.
Moldova: ZINR 55662, 55669, 55672, 55673.
Balkan peninsula: ZINR 35050–35053, 48053, 48055–48057.
Crimean peninsula: ZMMU 101031, 101032, 101034, 101035, 101038; ZMKU 1830, 1839, 1844, 1848, 1850, 1873, 1881, 1885, 1890, 1894, 1895, 4888, 4890, 4892–4895; NMNH 5668/45, 5670/43, 5672/45.
Myotis blythii omari
Crete Island: ZINR 35055–35057.
Ciscaucasia: ZMMU 7818, 7819, 7822, 12534, 12535, 29207, 29212, 29275, 46603, 46605, 46606, 46893, 101051, 101052, 135840; VDMU 2257, 2260, 2262; TCH 2/1, 2/2, 1/1.
Northwestern Transcaucasia: ZMMU 83988, 102394–102396, 102398–102400, 102402, 102403, 102405; IZA 207.
Southeastern Transcaucasia: ZMMU 40912, 83986, 101048, 101050, 101054; IZA 177–183, 185, 186, 188, 293, 294, 296, 297, 299, 300, 301, 303, 306, 309, 310, 313, 315, 316, 318, 319, 325, 326, 328–331, 333, 334, 339, 351, 361; NMNH 840/2.
Northern Iran and Southern Turkmenistan (Kopet-Dagh Mountains): ZMMU 83989, 105054; ZINR 11227, 11227bis, 11243, 11244, 11257, 11276, 11289, 11293, 11325, 11330, 59565, 59569, 63906, 63908–63914, 63922, 63925.
Myotis blythii blythii
Eastern Turkmenistan (Kugitang Mountains) and Southern Uzbekistan (the Surkhan-Darya region): ZMMU 94713, 94714, 94716; NMNH 2617/33.
Eastern Uzbekistan (the Dzhizak and Tashkent regions) and Southern Kazakhstan (vicinities of Chymkent): ZMMU 83985, 83987, 94711, 100408–100410, 100413, 100414, 100416–100419, 100421, 100423, 100425, 100428, 100432, 100434, 100435, 100437–100443, 100445–100449, 100452, 150329; ZMKU 3842, 3844; ZINR 62131, 62133, 62134, 62136, 62137, 62139–62143, 62145–62148.
Tajikistan (vicinities of Dushanbe and Peter the First ridge) and Southwestern Kyrgyzstan (Osh region): ZMMU 71109, 71111, 71113, 94712, 111843.
Southeastern Kazakhstan (vicinities of Almaty): ZMMU 100134–100136, 100139, 100141–100149, 100153, 100155–100158, 100164–100167, 100170–100172, 100174, 100176, 100177, 100179, 100180, 100182, 100184–100188, 100191, 100193.
Myotis nattereri
ZMMU 83995; VDMU 199; ZINR 55695, 46638; IZA 610.
Collections acronyms: Institute of Zoology of the National Academy of Sciences of Azerbaijan, Baku, Azerbaijan (IZA); National Museum of Natural History of the National Academy of Sciences of Ukraine, Kiev, Ukraine (NMNH); Tchernogolovka biological station of Severtsov Institute of Ecology and Evolution of the Russian Academy of Sciences, Moscow region, Russia (TCH); Department of Vertebrate Zoology of Moscow University, Moscow, Russia (VDMU); Zoological Institute of the Russian Academy of Science, St. Petersburg, Russia (ZINR); Zoological Museum of Kiev University, Kiev, Ukraine (ZMKU); Zoological Museum of Moscow University, Moscow, Russia (ZMMU).
About this article
Cite this article
Dzeverin, I. The Stasis and Possible Patterns of Selection in Evolution of a Group of Related Species from the Bat Genus Myotis (Chiroptera, Vespertilionidae). J Mammal Evol 15, 123–142 (2008). https://doi.org/10.1007/s10914-007-9071-5
Received:

Accepted:

Published:

Issue Date:
Keywords
Myotis blythii
Myotis myotis
Myotis nattereri

Craniometric characters

Stasis

Divergence

Stabilizing selection

Genetic drift

Directional selection