Abstract
To assess the effectiveness of Visual Thinking Strategies (VTS) in medical education curricula, a pretest–posttest experimental study design was used to evaluate the impact of participating in VTS workshops on first-year medical students. A total of forty-one intervention and sixty comparative students completed the study which included the analysis of clinical images followed by a measurement of word count, length of time analyzing images, and quality of written observations of clinical images. VTS training increased the total number of words used to describe clinical images, the time spent analyzing the images, and the number of clinically relevant observations.
Access options
Buy single article
Instant access to the full article PDF.
US$ 39.95
Tax calculation will be finalised during checkout.
Subscribe to journal
Immediate online access to all issues from 2019. Subscription will auto renew annually.
US$ 79
Tax calculation will be finalised during checkout.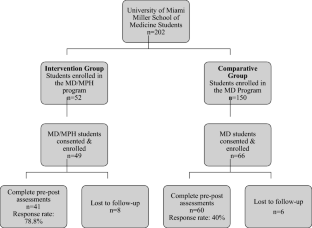 References
AAMC. n.d. "Association of American Medical Colleges (AAMC)." https://www.aamc.org/what-we-do/mission-areas/medical-education/humanities. By integrating arts and humanities, integration of arts and humanities.

Bardes, C.L., D. Gillers, and A.E. Herman. 2001. "Learning to Look: Developing Clinical Observational Skills at an Art Museum." Medical Education 35 (12): 1157–61. http://www.ncbi.nlm.nih.gov/pubmed/11895244.

Bentwich, Miriam Ethel, and Peter Gilbey. 2017. "More than Visual Literacy: Art and the Enhancement of Tolerance for Ambiguity and Empathy." BMC Medical Education 17 (1): 200. https://doi.org/10.1186/s12909-017-1028-7.

Braverman, Irwin M. n.d. "To See or Not to See: How Visual Training Can Improve Observational Skills." Clinics in Dermatology 29 (3): 343–46. . https://doi.org/10.1016/j.clindermatol.2010.08.001.

Deprez, Fabrice C., Julie Coulier, Denis Rommel, and Antonella Boschi. 2015. "Congenital Horner Syndrome with Heterochromia Iridis Associated with Ipsilateral Internal Carotid Artery Hypoplasia." Journal of Clinical Neurology (Korea). https://doi.org/10.3988/jcn.2015.11.2.192.

Dolev, J.C., L.K. Friedlaender, and I.M. Braverman. 2001. "Use of Fine Art to Enhance Visual Diagnostic Skills." JAMA 286 (9): 1020–21. https://doi.org/10.1001/jama.286.9.1020.

Dow, Adrienne, Run Yu, and John Carmichael. 2013. "Too Little or Too Much Corticosteroid? Coexisting Adrenal Insufficiency and Cushing's Syndrome from Chronic, Intermittent Use of Intranasal Betamethasone." Endocrinology, Diabetes & Metabolism Case Reports. https://doi.org/10.1530/edm-13-0036.

Gurwin, Jaclyn, Karen E. Revere, Suzannah Niepold, Barbara Bassett, Rebecca Mitchell, Stephanie Davidson, Horace DeLisser, and Gil Binenbaum. 2018. "A Randomized Controlled Study of Art Observation Training to Improve Medical Student Ophthalmology Skills." Ophthalmology 125 (1): 8–14. https://doi.org/10.1016/j.ophtha.2017.06.031.

Hailey, Dabney, Alexa Miller, and Philip Yenawine. 2015. "Understanding Visual Literacy: The Visual Thinking Strategies Approach." In Essentials of Teaching and Integrating Visual and Media Literacy: Visualizing Learning. https://doi.org/10.1007/978-3-319-05837-5_3.

Housen, Abigail. 2002. "Aesthetic Thought, Critical Thinking and Transfer." Arts and Learning Research 18 (1): 2001–2.

Jaeger, Stefan. 2015. "Detecting Disease in Radiographs with Intuitive Confidence." Scientific World Journal. https://doi.org/10.1155/2015/946793.

Jasani, Sona K., and Norma S. Saks. 2013. "Utilizing Visual Art to Enhance the Clinical Observation Skills of Medical Students." Medical Teacher 35 (7): e1327-31. https://doi.org/10.3109/0142159X.2013.770131.

Kim, Hyun Joo, Hyun Ki Lee, and Belong Cho. 2013. "A Case of Acute Aortic Dissection Presenting with Chest Pain Relieved by Sublingual Nitroglycerin." Korean Journal of Family Medicine. https://doi.org/10.4082/kjfm.2013.34.6.429.

Klugman, Craig M, Jennifer Peel, and Diana Beckmann-Mendez. 2011. "Art Rounds: Teaching Interprofessional Students Visual Thinking Strategies at One School." Academic Medicine : Journal of the Association of American Medical Colleges 86 (10): 1266–71. https://doi.org/10.1097/ACM.0b013e31822c1427.

Kohli, Rosenman M. 2013. "Indiana University Chest X-Ray Collection." https://openi.nlm.nih.gov/faq.php.

Naghshineh, Sheila, Janet P. Hafler, Alexa R. Miller, Maria A. Blanco, Stuart R. Lipsitz, Rachel P. Dubroff, Shahram Khoshbin, and Joel T. Katz. 2008. "Formal Art Observation Training Improves Medical Students' Visual Diagnostic Skills." Journal of General Internal Medicine. https://doi.org/10.1007/s11606-008-0667-0.

Perry, Mark, Nicola Maffulli, Suzy Willson, and Dylan Morrissey. 2011. "The Effectiveness of Arts-Based Interventions in Medical Education: A Literature Review." Medical Education 45 (2): 141–48. https://doi.org/10.1111/j.1365-2923.2010.03848.x.

Reilly, Jo Marie, Jeffrey Ring, and Linda Duke. 2005. "Visual Thinking Strategies: A New Role for Art in Medical Education." Family Medicine 37 (4): 250–52. http://www.ncbi.nlm.nih.gov/pubmed/15812693.

Russell, Stephen W. 2018. "Improving Observational Skills to Enhance the Clinical Examination." The Medical Clinics of North America 102 (3): 495–507. https://doi.org/10.1016/j.mcna.2017.12.011.

Schaff, Pamela B., Suzanne Isken, and Robert M. Tager. 2011. "From Contemporary Art to Core Clinical Skills: Observation, Interpretation, and Meaning-Making in a Complex Environment." Academic Medicine : Journal of the Association of American Medical Colleges 86 (10): 1272–76. https://doi.org/10.1097/ACM.0b013e31822c161d.

Shapiro, Johanna, Lloyd Rucker, and Jill Beck. 2006. "Training the Clinical Eye and Mind: Using the Arts to Develop Medical Students' Observational and Pattern Recognition Skills." Medical Education 40 (3): 263–68. https://doi.org/10.1111/j.1365-2929.2006.02389.x.

Thomas, David R. 2006. "A General Inductive Approach for Analyzing Qualitative Evaluation Data." American Journal of Evaluation. https://doi.org/10.1177/1098214005283748.

Wellbery, Caroline, and Rebecca A, McAteer. 2015. "The Art of Observation: A Pedagogical Framework." Academic Medicine : Journal of the Association of American Medical Colleges 90 (12): 1624–30. https://doi.org/10.1097/ACM.0000000000000801.

Zazulak, Joyce, May Sanaee, Andrea Frolic, Nicole Knibb, Eve Tesluk, Edward Hughes, and Lawrence E.M. Grierson. 2017. "The Art of Medicine: Arts-Based Training in Observation and Mindfulness for Fostering the Empathic Response in Medical Residents." Medical Humanities 43 (3): 192–98. https://doi.org/10.1136/medhum-2016-011180.
Funding
This study was funded by Andrew W. Mellon Foundation CREATE Grant (GR009521)Funding.
Additional information
Publisher's Note
Springer Nature remains neutral with regard to jurisdictional claims in published maps and institutional affiliations.
About this article
Cite this article
Agarwal, G.G., McNulty, M., Santiago, K.M. et al. Impact of Visual Thinking Strategies (VTS) on the Analysis of Clinical Images: A Pre-Post Study of VTS in First-Year Medical Students. J Med Humanit 41, 561–572 (2020). https://doi.org/10.1007/s10912-020-09652-4
Keywords
Visual thinking strategies

VTS

Medical humanities

Visual arts in medical education