Abstract
In comparison to other art forms, dance remains underrepresented in the medical humanities, especially within the academic medical setting. Several factors, including perceived lack of applicability to patient care, contribute to this pattern. This paper contends that, to the contrary, learners across the medical education spectrum stand to gain much from engaging with the movement arts, including improvement of clinically-relevant skills such as physical self-awareness, observation, communication, and mindfulness. This paper makes the case for the nascent subdiscipline of Movement and Medicine, developed by the authors and piloted for inclusion in medical humanities curricula within a medical education context. Movement and Medicine employs a dance-inspired pedagogy to a) promote awareness of personal movement and embodiment tendencies and b) harness that awareness to gain more profound, sensory insight into the embodied experiences of others—experiences of health, illness, or otherwise. This work outlines the research, rationale, and philosophy behind Movement and Medicine; concretely defines the subdiscipline and situates it within the medical humanities landscape; proposes practical approaches to engaging with and applying this material; and describes a Movement and Medicine course developed for one American medical school.
Access options
Buy single article
Instant access to the full article PDF.
USD 39.95
Price excludes VAT (USA)
Tax calculation will be finalised during checkout.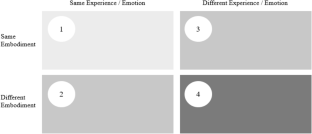 References
Bates, Victoria, and Sam Goodman. 2014. "Critical Conversations: Establishing Dialogue in the Medical Humanities." In Medicine, Health and the Arts, edited by Victoria Bates, Sam Goodman, and Alan Bleakley, 3-15. New York, NY: Routledge.

Case, Gretchen and Daniel Brauner. 2010. "Perspective: The Doctor as Performer: A Proposal for Change Based on a Performance Studies Paradigm." Academic Medicine 85:159-63.

Cole, Thomas, Nathan Carlin, and Ronald Carson. 2015. Medical Humanities. NY: Cambridge University Press.

Davidoff, Frank. 2011. "Music Lessons: What Musicians Can Teach Doctors (and Other Health Professionals)." Annals of Internal Medicine 154:426-29.

DePoe, John. n.d. "Knowledge by Acquaintance and Knowledge by Description". In Internet Encyclopedia of Philosophy. Accessed 7 July 2019. https://www.iep.utm.edu/knowacq/#SH2a.

Eli, Karin, and Rosie Kay. 2015. "Choreographing Lived Experience: Dance, Feelings and the Storytelling Body." Medical Humanities 41:63-68.

Emunah, Renee. 1994. Acting for Real: Drama Therapy Process, Technique, and Performance. New York, NY: Brunner-Routledge.

Engel, George, 1980. "The Clinical Application of the Biopsychosocial Model." American Journal of Psychiatry 137:535-44.

Epstein, Ronald. 2014. "Realizing Engel's Biopsychosocial Vision: Resilience, Compassion, and Quality of Care." The International Journal of Psychiatry in Medicine 47:275-87.

Garland-Thomson, Rosmarie. 1997. Extraordinary Bodies: Figuring Physical Disability in American Culture and Literature. New York, NY: Columbia University Press.

Harris, Anna, and Eleanor Flynn. 2017. "Medical Education of Attention: A Qualitative Study of Learning to Listen to Sound." Medical Teacher 39:79-84.

Hobson, Wendy, Krista Hoffmann-Longtin, Sana Loue, Linda M. Love, Howard Y. Liu,Christine M. Power, and Susan M. Pollart. 2019. "Active Learning on Center Stage:Theater as a Tool for Medical Education." MedEdPORTAL 15:10801. https://doi.org/10.15766/mep_2374-8265.10801.

James, William. 1890. The Principles of Psychology: Volume One. Edited by Francis Zimmermann. http://orfeo.tessitures.org/le-nom-et-la-memoire/les-mots-et-les-choses/knowledge-by-acquaintance/.

Kohn, Martin. 2011. "Performing Medicine: The Role of Theatre in Medical Education." Medical Humanities 37: 3-4.

Mangione, Salvatore, Chayan Chakraborti, Giuseppe Staltari, Rebecca Harrison, Allan Tunkel, Kevin T. Liou, Elizabeth Cerceo, Megan Voeller, Wendy L. Bedwell, Keaton Fletcher, and Marc J. Kahn. 2018. "Medical Students' Exposure to the Humanities Correlates with Positive Personal Qualities and Reduced Burnout: A Multi-Institutional U.S. Survey." Journal of General Internal Medicine 33:628-34.

McLeod, Saul. Last modified 2019. "The Zone of Proximal Development and Scaffolding." Simply Psychology. Accessed July 11, 2019. https://www.simplypsychology.org/Zone-of- Proximal-Development.html.

Parviainen, Jaana. 2002. "Bodily Knowledge: Epistemological Reflections on Dance." Dance Research Journal 34:11-26.

Purser, Aimie. 2019. "Dancing Intercorporeality: A Health Humanities Perspective on Dance as a Healing Art." Journal of Medical Humanities 40:253-63.

Scarry, Elaine. 1985. The Body in Pain: The Making and Unmaking of the World. New York, NY: Oxford University Press.

Schmidsberger, Florian, and Henriett Löffler-Stastka. 2018. "Empathy is Proprioceptive: the Bodily Fundament of Empathy – A Philosophical Contribution to Medical Education."BMC Medical Education 18.

Selzer, Richard. 1996. Letters to a Young Doctor. Orlando, FL: Harcourt Brace and Company.

Sparshott, Francis Edward. 1988. Off the Ground: First Steps to a Philosophical Consideration of the Dance. Princeton, NJ: Princeton University Press.

Thomas, Helen. 2013. The Body and Everyday Life. New York, NY: Routledge.

Woods, Angela. 2011. "The Limits of Narrative: Provocations for the Medical Humanities." Medical Humanities 37:73-78.
Funding
This study was funded by the Rudin Medical Ethics and Humanities Fellowship at NYU School of Medicine.
Ethics declarations
Endnotes
1 While other names and titles for this area of study—namely the broader 'health humanities'—are commonly used, here, the term 'medical humanities' is used as this work is concerned primarily with medical provider education across levels and categories—including undergraduate and graduate, nursing and physician, etc.
2 Note: the field of dance and movement therapy—well-established and practiced—is out of scope for this work. Here, we discuss dance not as a clinical or therapeutic tool, but as a focus for medical humanities scholarship and provider education.
3 We are aware that some specific forms of theater are silent, and that many dramaturgical exercises—within Augusto Boal's Theatre of the Oppressed, for instance—call for silent, movement-based communication. The line between such theatrical art and dance is often blurry, and the specifics of this distinction are complex. Rather than create artificial boundaries, we encourage collaboration and cross-pollination of ideas and dialogue to enhance both disciplines.
4 We appreciate that dance is often set to music which may or may not contain words, and which shapes part of the experience of dance for both performers and viewers. The actual dance itself, however, involves wordless physical movement, expression without language. Music is complementary to, but not necessary for, dance.
5 While the details of their development and application are out of scope for this work, we acknowledge that these (and other) choreography-recording "languages" are exceptionally valid and useful for transmitting movement knowledge and history in certain contexts. However, they are not universally used across the dance world, and not all dancers (let alone lay people) know how to interpret them. These recording systems, therefore, are simply not equivalent to the written language used to write and record literature.
6 According to Scarry, "work" can be an "embodied physical act" even if consisting of non-physical labor but nevertheless engaging the "whole psyche."
7 A physician cannot be expected to have life experiences mirroring those of all his or her patients; furthermore, even if physician and patient do experience the same event (i.e., the same natural disaster), their experiences and reactions will be markedly different due to a variety of internal and external factors. True empathy, therefore—true identification with an experience or emotion—is hard to come by. For this very understandable reason, imagination and theory are invoked as aids.
8 Vygotsky's initial conception of the "Zone of Proximal Development" involves a human, living teacher as facilitator of learning and development in that Zone. Here, we extend Vygotsky's initial definition of "teacher" creatively to encompass an activity: dance (which, of course, often involves other people—teachers, co-participants, etc.).
Additional information
Publisher's Note
Springer Nature remains neutral with regard to jurisdictional claims in published maps and institutional affiliations.
About this article
Cite this article
Shevzov-Zebrun, N., Barchi, E. & Grogan, K. "The Spirit Thickened": Making the Case for Dance in the Medical Humanities. J Med Humanit 41, 543–560 (2020). https://doi.org/10.1007/s10912-020-09646-2
Published:

Issue Date:

DOI: https://doi.org/10.1007/s10912-020-09646-2
Keywords