Abstract
Though graphic narratives (or comics) now permeate popular culture, address every conceivable topic including illness and dying, and are used in educational settings from grade school through university, they have not typically been integrated into the medical school curriculum. This paper describes a popular and innovative course on comics and medicine for 4th-year medical students. In this course, students learn to critically read book length comics as well as create their own stories using the comics format. The rationale for the course, its general content and format, and methods for teaching are described. Finally, the author offers some reflections on why this medium resonates so powerfully with medical student learners.
This is a preview of subscription content, log in to check access.
Access options
Buy single article
Instant access to the full article PDF.
US$ 39.95
Price includes VAT for USA
Subscribe to journal
Immediate online access to all issues from 2019. Subscription will auto renew annually.
US$ 99
This is the net price. Taxes to be calculated in checkout.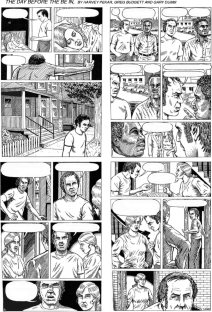 References
Abel, Jessica, and Matt Madden. 2008. Drawing Words & Writing Pictures: Making Comics: Manga, Graphic Novels, and Beyond. New York: First Second.

B, David. 2005. Epileptic. New York: Pantheon Books.

Cunningham, Darryl. 2010. Psychiatric Tales. London: Blank Slate Books.

Dahl, Ken. 2009. Monsters. Jackson Heights, NY: Secret Acres.

Ferrier, Thom. 2010. Fear of Failure: Episode #1. Jafoty Lwyd: Graphic Medicine.

Fies, Brian. 2006. Mom's Cancer. New York: Abrams Image.

Gertler, Nat, and Steve Lieber. 2004. The Complete Idiot's Guide to Creating a Graphic Novel. New York: Alpha Books.

Green, Michael J. 2011. "Teaching and Learning Moments: Comeuppance." Academic Medicine 86 (8):981.

Green, Michael J., and Kimberly R. Myers. 2010. "Graphic Medicine: Use of Comics in Medical Education and Patient Care. BMJ 340:c863. doi:10.1136/bmj.c863.

Gunderman, Richard B. 2011. Achieving Excellence in Medical Education. New York: Springer.

Leavitt, Sarah. 2010. Tangles: A Story About Alzheimer's, My Mother, and Me. Calgary: Freehand Books.

Marchetto, Marisa Acocella. 2006. Cancer Vixen: A True Story. New York: Alfred A. Knopf.

Mayer, Richard E., and Valerie K. Sims. 1994. "For Whom is a Picture Worth a Thousand Words? Extensions of a Dual-coding Theory of Multimedia Learning. Journal of Educational Psychology 86 (3): 389–401.

McCloud, Scott. 1994. Understanding Comics: The Invisible Art. New York: HarperPerennial.

McCloud, Scott. 2006. Making Comics: Storytelling Secrets of Comics, Manga and Graphic Novels. New York: Harper.

Naghshineh, Sheila, Janet P. Hafler, Alexa R. Miller, Maria A. Blanco, Stuart R. Lipsitz, Rachel P. Dubroff, Shahram Khoshbin, and Joel T. Katz. 2008. "Formal Art Observation Training Improves Medical Students' Visual Diagnostic Skills. Journal of General Internal Medicine 23 (7): 991–997. doi:10.1007/s11606-008-0667-0.

Pekar, Harvey. 1986. American Splendor: The Life and Times of Harvey Pekar: Stories. Garden City, N.Y.: Doubleday.

Small, David. 2009. Stitches: A Memoir. New York: W.W. Norton & Co.

Williams, Ian. 2011. "Autography as Auto-therapy: Psychic Pain and the Graphic Memoir. Journal of Medical Humanities 32 (4): 353–366. doi:10.1007/s10912-011-9158-0.
About this article
Cite this article
Green, M.J. Teaching with Comics: A Course for Fourth-Year Medical Students. J Med Humanit 34, 471–476 (2013). https://doi.org/10.1007/s10912-013-9245-5
Keywords
Medical education

Comics

Graphic narratives

Narrative medicine

Humanities