Abstract
Y1−xSmxBa2Cu3O7−∂ (x = 0.00, 0.01, 0.02 and 0.05 wt.%) samples with Nano-CuO have been prepared by the solid-state reaction method. The effects of Sm doped in the YBCO system with Nano-CuO (40 nm) on structural, critical temperature (Tc), irreversibility line (IL), critical current density, JC and flux line pinning force are investigated. We also measured magnetization as a function of temperature (M–T) and magnetic loops (M–H) at constant temperatures of 10, 20, 30, 40, 50 and 60 K up to 10 kG. XRD measurements show that all the sintered samples have orthorhombic structure. The sample with x = 0.01 wt.% Sm substituted for Y on YBCO superconductor improves the critical temperature more than that of the pure Y123 and the other samples. For this sample, the zero field-cooled and field-cooled magnetization as a function of temperature measurements reveals the shift of IL to higher temperatures and magnetic fields. The critical current density and flux pinning force calculated using the Bean's critical state model indicate an enhancement of Jc and Fp for the Sm-doped x = 0.01 sample compared with the sample with x = 0.02 and even the pure Y123.
This is a preview of subscription content, log in to check access.
Access options
Buy single article
Instant access to the full article PDF.
US$ 39.95
Tax calculation will be finalised during checkout.
Subscribe to journal
Immediate online access to all issues from 2019. Subscription will auto renew annually.
US$ 199
Tax calculation will be finalised during checkout.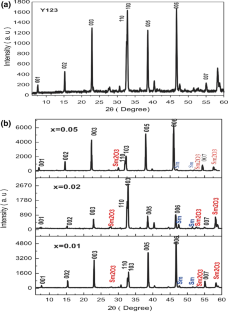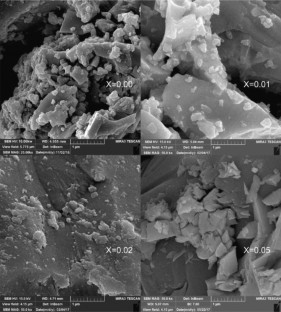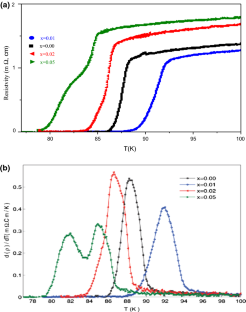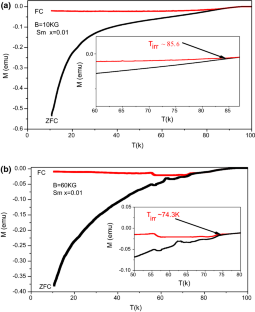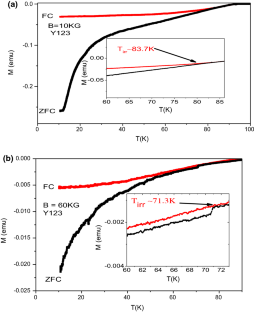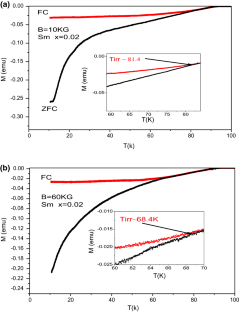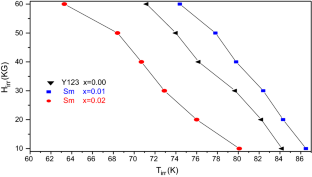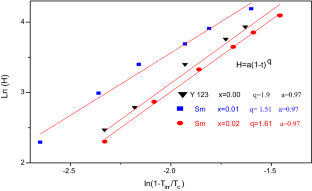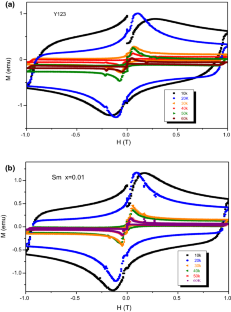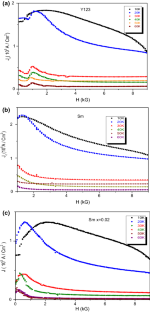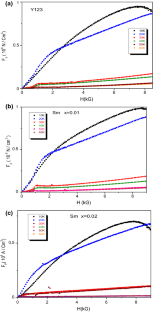 Additional information
Publisher's Note
Springer Nature remains neutral with regard to jurisdictional claims in published maps and institutional affiliations.
About this article
Cite this article
Hajilou, R., Sedghi Gamchi, H. Irreversibility Line and Enhancement of Magnetic Flux Pinning in Sm-Doped Y123 Superconductor with CuO Nanoparticles. J Low Temp Phys 198, 70–89 (2020). https://doi.org/10.1007/s10909-019-02244-0
Received:

Accepted:

Published:

Issue Date:
Keywords
High-T c superconductors

Scanning electron microscopy

X-ray scattering

Irreversibility line

Critical current density