Abstract
The Cryogenic Underground Test (CUTE) facility will be located 2 km underground in the SNOLAB laboratory, near Sudbury (Ontario, Canada). It is primarily designed to test the performances of cryogenic detectors of the Super-Cryogenic Dark Matter Search (SuperCDMS) experiment which will be installed next to CUTE. As a facility, it will also be accessible to scientists developing innovative cryogenic detectors for rare events search like dark matter or double-beta decay. The low temperature required to operate the cryogenic detectors is reached via an advanced dry dilution refrigerator from CryoConcept (France). The 'Ultra Quiet Technique' (UQT®) reduces the vibration transmission by using a proprietary gas-coupled thermal link between the two-stage pulse tube and the cryostat. In order to install the cryostat into a shielding water tank, we have developed a suspension system which decouples the cryostat from the environment with a low stiffness support, making a mechanical low-pass filter with a roll-off below 2 Hz for the vertical attenuation. We report the design choices made for the mechanical architecture to limit the vibration transmission and the material selection to achieve a low radioactive background rate in the detector. The expected background rate is less than 5 counts/day per kg of Ge detector in the 0–1 keV energy range.
Access options
Buy single article
Instant access to the full article PDF.
USD 39.95
Price excludes VAT (USA)
Tax calculation will be finalised during checkout.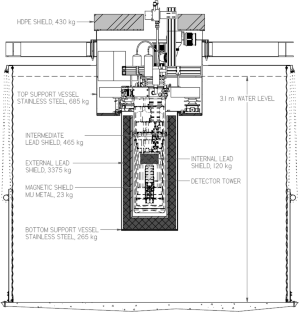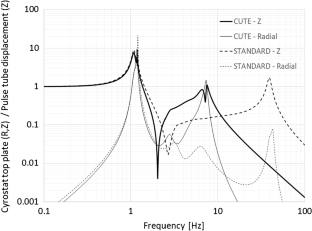 References
R. Agnese, Coll. SuperCDMS, Projected sensitivity of the SuperCDMS SNOLAB experiment. PRD 95, 082002 (2017)

E. Armengaud et al., Background studies for the EDELWEISS dark matter experiment. Astropart. Phys. 47, 1–9 (2013)

E. Olivieri et al., Vibrations on pulse tube based dry dilution refrigerators for low noise measurements. NIMA A 858, 73–79 (2017)

S. Agostinelli et al., GEANT4: a simulation toolkit. NIMA 506(3), 250–3030 (2003)
Acknowledgements
The CUTE project is funded through Prof. Gilles Gerbier's Canada Excellence Research chair in Astroparticle Physics at Queen's University; the authors acknowledge Emiliano Olivieri and Maurice Chapellier (CSNSM), Maryvonne DeJesus (IPNL), Ph. Bonnet and Jerome Lecomte (CryoConcept) for various fruitful discussions on the design choices.
About this article
Cite this article
Camus, P., Cazes, A., Dastgheibi-Fard, A. et al. CUTE: A Low Background Facility for Testing Cryogenic Dark Matter Detectors. J Low Temp Phys 193, 813–818 (2018). https://doi.org/10.1007/s10909-018-2014-0
Received:

Accepted:

Published:

Issue Date:

DOI: https://doi.org/10.1007/s10909-018-2014-0
Keywords