Abstract
We have developed superconducting Ti transition-edge sensors with Au protection layers on the top and bottom for the South Pole Telescope's third-generation receiver (a cosmic microwave background polarimeter, due to be upgraded this austral summer of 2017/2018). The base Au layer (deposited on a thin Ti glue layer) isolates the Ti from any substrate effects; the top Au layer protects the Ti from oxidation during processing and subsequent use of the sensors. We control the transition temperature and normal resistance of the sensors by varying the sensor width and the relative thicknesses of the Ti and Au layers. The transition temperature is roughly six times more sensitive to the thickness of the base Au layer than to that of the top Au layer. The normal resistance is inversely proportional to sensor width for any given film configuration. For widths greater than five micrometers, the critical temperature is independent of width.
This is a preview of subscription content, log in to check access.
Access options
Buy single article
Instant access to the full article PDF.
US$ 39.95
Price includes VAT for USA
Subscribe to journal
Immediate online access to all issues from 2019. Subscription will auto renew annually.
US$ 199
This is the net price. Taxes to be calculated in checkout.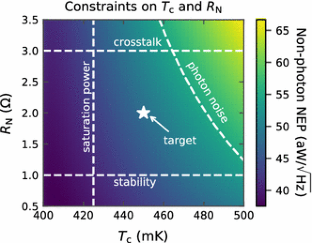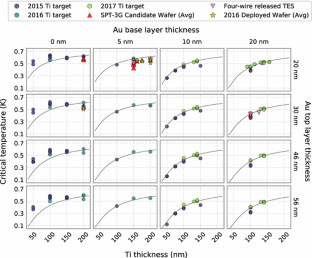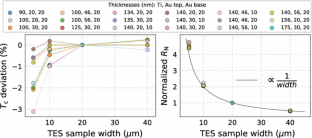 References
1.

A.J. Anderson, P.A.R. Ade, Z. Ahmed, et al., J. Low Temp. Phys., this Special Issue LTD17, Abstract number O-69 (2018)

2.

J. Ding, P.A.R. Ade, A.J. Anderson et al., IEEE Trans. Appl. Supercond. 27(4), 1–4 (2017). https://doi.org/10.1109/TASC.2016.2639378

3.

C.M. Posada, P.A.R. Ade, Z. Ahmed, et al., J. Low Temp. Phys., this Special Issue LTD17, Abstract number PC-23 (2018)

4.

K.D. Irwin, G.C. Hilton, C.E. (ed.), Transition-Edge Sensors - a chapter in Cryogenic Particle Detection, vol. 99 (2005). https://doi.org/10.1007/10933596_3

5.

M.A. Dobbs, M. Lueker, K.A. Aird et al., Rev. Sci. Instrum. 83(7), 1 (2012). https://doi.org/10.1063/1.4737629

6.

A.N. Bender, P.A.R. Ade, A.J. Anderson et al., SPIE 9914. Millimeter, Submillimeter, and Far-Infrared Detectors and Instrumentation for Astronomy VIII vol. 9914, pp. 99141D (2016). https://doi.org/10.1117/12.2232146

7.

Y.V. Fominov, M.V. Feigel'man, Phys. Rev. B 63(February), 094518 (2001). https://doi.org/10.1103/PhysRevB.63.094518
Acknowledgements
The South Pole Telescope is supported by the National Science Foundation (NSF) through grant PLR-1248097. Partial support is also provided by the NSF Physics Frontier Center grant PHY-1125897 to the Kavli Institute of Cosmological Physics at the University of Chicago, and the Kavli Foundation and the Gordon and Betty Moore Foundation grant GBMF 947. Work at Argonne National Laboratory, including Laboratory Directed Research and Development support and use of the Center for Nanoscale Materials, a U.S. Department of Energy, Office of Science (DOE-OS) user facility, was supported under Contract No. DE-AC02-06CH11357. Work at Fermi National Accelerator Laboratory, a DOE-OS, HEP User Facility managed by the Fermi Research Alliance, LLC, was supported under Contract No. DE-AC02-07CH11359. NWH acknowledges support from NSF CAREER grant AST-0956135. The McGill authors acknowledge funding from the Natural Sciences and Engineering Research Council of Canada, Canadian Institute for Advanced Research, and Canada Research Chairs program.
About this article
Cite this article
Carter, F.W., Ade, P.A.R., Ahmed, Z. et al. Tuning SPT-3G Transition-Edge-Sensor Electrical Properties with a Four-Layer Ti–Au–Ti–Au Thin-Film Stack. J Low Temp Phys 193, 695–702 (2018). https://doi.org/10.1007/s10909-018-1910-7
Received:

Accepted:

Published:

Issue Date:
Keywords
SPT-3G

Transition-edge sensor

Proximity effect