Abstract
Kinetic inductance detectors (KIDs) are a promising technology for astronomical observations over a wide range of wavelengths in the mm and sub-mm regime. Simple fabrication, in as little as one lithographic layer, and passive frequency-domain multiplexing, with readout of up to \(\sim \)1000 pixels on a single line with a single cold amplifier, make KIDs an attractive solution for high-pixel-count detector arrays. We are developing an array that optimizes KIDs for optical frequencies near 100 GHz to expand their usefulness in mm-wave applications, with a particular focus on CMB B-mode measurement efforts in association with the QUBIC telescope. We have designed, fabricated, and tested a 20-pixel prototype array using a simple quasi-lumped microstrip design and pulsed DC reactive magnetron-sputtered TiN/Ti/TiN trilayer resonators, optimized for detecting 100 GHz (3 mm) signals. Here we present a discussion of design considerations for the array, as well as preliminary detector characterization measurements and results from a study of TiN trilayer properties.
Access options
Buy single article
Instant access to the full article PDF.
US$ 39.95
Tax calculation will be finalised during checkout.
Subscribe to journal
Immediate online access to all issues from 2019. Subscription will auto renew annually.
US$ 119
Tax calculation will be finalised during checkout.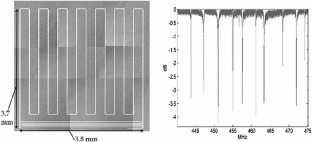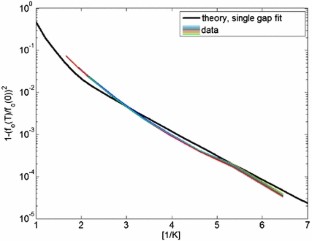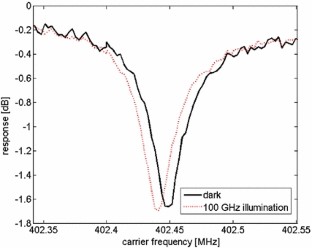 References
1.

P.K. Day, H.G. Leduc, B.A. Mazin, A. Vayonakis, J. Zmuidzinas, A broadband superconducting detector suitable for use in large arrays. Nature 425, 817 (2003)

2.

J. Zmuidzinas, Superconducting microresonators: physics and applications. Annu. Rev. Condens. Matter Phys. 3, 169 (2012)

3.

A.E. Lowitz, E.M. Barrentine, S.R. Golwala, P.T. Timbie, A comparison of fundamental noise in kinetic inductance detectors and transition edge sensors for millimeter-wave applications. JLTP 176, 3 (2014)

4.

A.E. Lowitz, A.D. Brown, S.R. Stevenson, P.T. Timbie, E.J. Wollack, Design, fabrication, and testing of lumped element kinetic inductance detectors for 3 mm CMB observations. Proc. SPIE 9153, 91532R (2014)

5.

M.R. Vissers, J. Gao, M. Sandberg, S.M. Duff, D.S. Wisbey, K.D. Irwin, D.P. Pappas, Proximity-coupled Ti/TiN multilayers for use in kinetic inductance detectors. Appl. Phys. Lett. 102, 232603 (2013)

6.

E. Battistelli, QUBIC collaboration et al., QUBIC: the QU bolometric interferometer for cosmology. Astropart. Phys. 34, 705 (2011)
Acknowledgments
This work was supported by a NASA Space Technology Research Fellowship.
About this article
Cite this article
Lowitz, A.E., Brown, A.D., Mikula, V. et al. Design, Fabrication, and Testing of a TiN/Ti/TiN Trilayer KID Array for 3 mm CMB Observations. J Low Temp Phys 184, 627–633 (2016). https://doi.org/10.1007/s10909-016-1584-y
Received:

Accepted:

Published:

Issue Date:
Keywords
Kinetic inductance detector

CMB

Titanium nitride

Trilayer