Abstract
We present a detailed study of structural transitions of an electron system on liquid helium in quasi-1D confinement geometry. The structural transitions are experimentally observed as current oscillations in transport measurements with changing electrostatic confinement parameters. Finite element modelling and Monte Carlo simulations were used to investigate the electron configuration. With increasing electron density, the single chain of electrons splits into a two-, three- and so on row configuration. A proliferation of defects accompanies each structural transition. We find a good agreement between the observed current modulation and the evolution of the electron row configuration predicted by our calculations.
Access options
Buy single article
Instant access to the full article PDF.
USD 39.95
Price excludes VAT (USA)
Tax calculation will be finalised during checkout.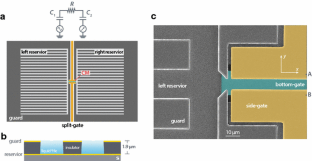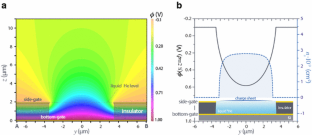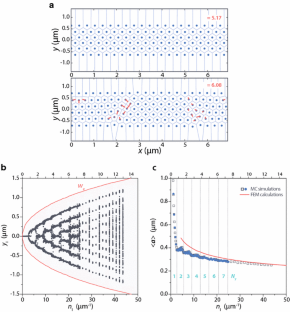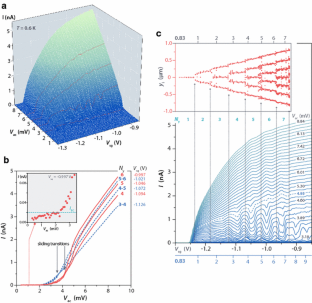 Notes
The variational formulation of the problem with Dirichlet boundary conditions were used for calculations.
References
E.Y. Andrei, Two-Dimensional Electron Systems on Helium and Other Cryogenic Substrates (Kluwer Academic Publishers, Dordrecht, 1997)

Y.P. Monarkha, K. Kono, Two-Dimensional Coulomb Liquids and Solids (Springer, Berlin, 2004)

K. Shirahama, S. Ito, H. Suto, K. Kono, J. Low Temp. Phys. 101, 433 (1995)

R.S. Crandall, R. Williams, Phys. Lett. A 34, 404 (1971)

C.C. Grimes, G. Adams, Phys. Rev. Lett. 42, 12 (1979)

Y.P. Monarkha, V. Shikin, Zh Eksp, Teor. Phys. 68, 1423 (1975)

D.S. Fisher, B.I. Halperin, P.M. Platzman, Phys. Rev. Lett. 42, 798 (1979)

M.I. Dykman, Y.G. Rubo, Phys. Rev. Lett. 78, 25 (1997)

W.F. Vinen, J. Phys. Conf. Ser. 11, 9709 (1999)

H. Ikegami, H. Akimoto, K. Kono, Phys. Rev. Lett. 102, 046807 (2009)

V.V. Deshpande, M. Bockrath, L.I. Glazman, A. Yacoby, Nature 464(7286), 209 (2010)

J.S. Meyer, K. Matveev, J. Phys. Condens. Matter 21, 023203 (2009)

D.G. Rees, I. Kuroda, C. Marrache-Kikuchi, M. Hofer, P. Leiderer, K. Kono, Phys. Rev. Lett. 106, 026803 (2011)

D.G. Rees, H. Totsuji, K. Kono, Phys. Rev. Lett. 108, 176801 (2012)

H. Ikegami, H. Akimoto, K. Kono, Phys. Rev. B 82, 201104(R) (2010)

I. Guillamón, R. Córdoba, J. Sesé, D.J. Teresa, Nat. Phys. 10, 851 (2014)

G. Piacente, I. Schweigert, J. Betouras, F. Peeters, Phys. Rev. B 69, 045324 (2004)

H. Ikegami, H. Akimoto, D.G. Rees, K. Kono, Phys. Rev. Lett. 109, 236802 (2012)

D.G. Rees, H. Ikegami, K. Kono, J. Phys. Soc. Jpn. 82, 124602 (2013)

F. Hecht, J. Numer. Math. 20, 251 (2012)

D. Marty, J. Phys. C 19, 6097 (1986)

N. Metropolis, A.W. Rosenbluth, M.N. Rosenbluth, A.H. Teller, E. Teller, J. Chem. Phys. 21(6), 1087 (1953)

M. Porto, J. Phys. A 33, 6211 (2000)

A.D. Klironomos, J.S. Meyer, Phys. Rev. B 84, 024117 (2011)
Acknowledgments
This work was supported by JSPS KAKENHI Grant Number 24000007 and was performed according to the Russian Government Program of Competitive Growth of Kazan Federal University.
About this article
Cite this article
Beysengulov, N.R., Rees, D.G., Lysogorskiy, Y. et al. Structural Transitions in a Quasi-1D Wigner Solid on Liquid Helium. J Low Temp Phys 182, 28–37 (2016). https://doi.org/10.1007/s10909-015-1344-4
Received:

Accepted:

Published:

Issue Date:

DOI: https://doi.org/10.1007/s10909-015-1344-4
Keywords
Electrons

Helium surface

Microchannels

Quasi-one dimensional

Finite-element modelling

Monte Carlo