Abstract
Specific High Electron Mobility Transistors (HEMTs) have been realized and characterized. At 4.2 K, with a drain-source current I ds of 1.55 mA and drain-source voltage V ds of 100 mV, the transistor has the following electrical characteristics: a transconductance and an output conductance of 69 and 3.8 mS, respectively, leading to an intrinsic voltage gain of 18; an input gate-source capacitance C gs of about 31 pF; and a gate leakage current less than 0.2 pA. An equivalent input noise voltage lower than 1 nV/Hz1/2 at 1 kHz has been achieved when I ds=1.55 mA at V ds=100 mV. Hence, our results show that the specific HEMTs should be a suitable transistor for future ultra-low noise deep cryogenic low-frequency high-impedance readout electronics.
Access options
Buy single article
Instant access to the full article PDF.
USD 39.95
Price excludes VAT (USA)
Tax calculation will be finalised during checkout.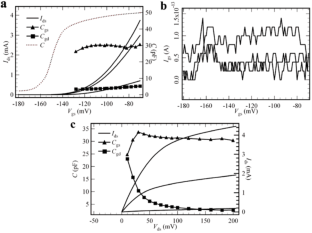 References
E.A. Gutierrez, D.M.J. Deen, C. Claeys, Low Temperature Electronics (Academic Press, New York, 2001), pp. 511–558

F. Balestra, G. Ghibaudo, Device and Circuit Cryogenic Operation for Low Temperature Electronics (Kluwer Academic, Dordrecht, 2001), pp. 85–125, 241–252

N. Oukhanski, M. Grajcar, E. Ilichev, H.G. Meyer, Rev. Sci. Instrum. 74, 1145 (2003)

N. Oukhanski, E. Hoenig, Appl. Phys. Lett. 85, 2956 (2004)

E. Grémion, A. Cavanna, Y.X. Liang, U. Gennser, M.C. Cheng, M. Fesquet, G. Chardin, A. Benoit, Y. Jin, J. Low Temp. Phys. 151, 971 (2008)

Y.X. Liang, Q. Dong, M.C. Cheng, U. Gennser, A. Cavanna, Y. Jin, Appl. Phys. Lett. 99, 113505 (2011)

Y.T. Yeow, IEEE Trans. Electron Devices 35, 2510 (1987)

C.T. Sah, Fundamentals of Solid-State Electronics (World Scientific, Singapore, 1991), Chap. 6

A. van der Ziel, Noise in Solid State Devices and Circuits (Wiley-Interscience, New York, 1986)
Acknowledgement
This work was partly supported by the Réseau RENATECH, "le RTRA Triangle de la Physique" grants N∘2008-015T and n∘2009-004T and European FP7-263455.
About this article
Cite this article
Liang, Y.X., Dong, Q., Gennser, U. et al. Input Noise Voltage Below 1 nV/Hz1/2 at 1 kHz in the HEMTs at 4.2 K. J Low Temp Phys 167, 632–637 (2012). https://doi.org/10.1007/s10909-012-0479-9
Received:

Accepted:

Published:

Issue Date:

DOI: https://doi.org/10.1007/s10909-012-0479-9
Keywords
Low temperature

Low frequency noise

Low powder

Transistors

HEMTs

Field-effected transistors