Abstract
The spotted lanternfly, Lycorma delicatula (White), is an orchard and forest pest native to China. Since its detection in Pennsylvania, USA in 2014, it has spread to other states as well. We conducted experiments to determine the flight capabilities of unmated vs. mated L. delicatula females to assess the relative threat posed by each type with regard to expanding the infestation area through their natural flight behaviors. Females were collected from mating pairs, captured on plants, and netted during flights averaging 24 m, then dissected and examined for male spermatophores, a diagnostic character for determining mating status. The weight, amount of yellow area on the abdomen, wing area, and body length and abdominal width was recorded from these females. Sedentary females on plants were selectively collected for their large and swollen abdomen. They were capable of only flying ~4 m when forcibly launched and were significantly heavier than the in-flight-captured females. More than 93% of these large, sedentary females had mated whereas <5% of the flight-captured females had mated. Spontaneously flying females weighed significantly less, and had significantly smaller and less yellowed abdomens than sedentary plant-captured females. We conclude that nearly all the observed spontaneously flying L. delicatula females were unmated and therefore pose a lower threat to spread the infestation than previously thought. We also hypothesize that these thinner, spontaneously flying females embark on these 10–50-m-long flights because they need to find new trees on which to feed to complete their egg maturation in order to oviposit successfully.
Access options
Buy single article
Instant access to the full article PDF.
US$ 39.95
Tax calculation will be finalised during checkout.
Subscribe to journal
Immediate online access to all issues from 2019. Subscription will auto renew annually.
US$ 79
Tax calculation will be finalised during checkout.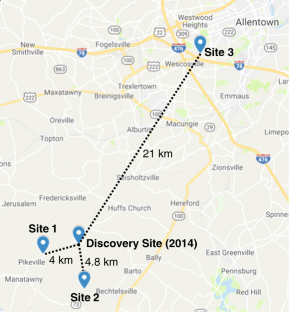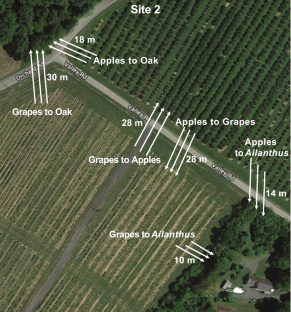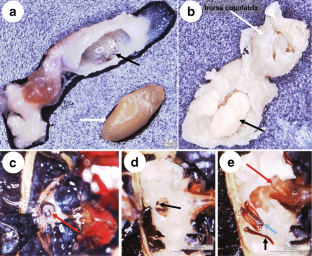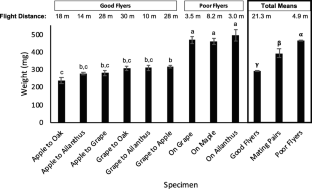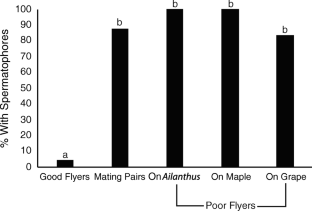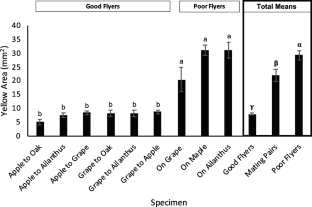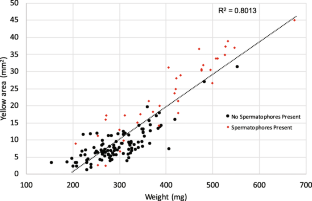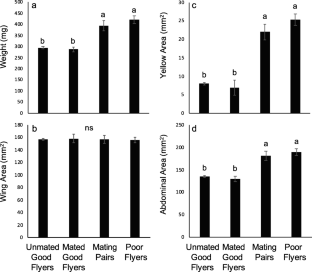 References
Baines CB, McCauley SJ, Rowe L (2015) Dispersal depends on body condition and predation risk in the semi-aquatic insect, Notonecta undulata. Ecol Evol 5:2307–2316

Baker TC, Smyers EC, Urban JM, Meng Z, Pagadala Damadaram KJ, Myrick AJ, Cooperband MF, Domingue MJ (2019) Progression of seasonal activities of adults of the spotted lanternfly, Lycorma delicatula, during the 2017 season of mass flight dispersal behavior in eastern Pennsylvania. J Asia-Pacific Entomol 22:705–713

Barringer LE, Donovall LR, Spichiger SE, Lynch D, Henry D (2015) The first new world record of Lycorma delicatula (Insecta: Hemiptera: Fulgoridae). Entomol News 125:20–23

Dara SK, Barringer L, Arthurs SP (2015) Lycorma delicatula (Hemiptera: Fulgoridae): a new invasive pest in the United States. J Integr Pest Manag 6:1–6

Domingue MJ, Baker TC (2019) Orientation of flight for physically disturbed spotted lanternflies, Lycorma delicatula, (Hemiptera, Fulgoridae). J Asia Pac Entomol 22:117–120

Kennedy JS (1951) The migration of the desert locust, (Schistocerca gregaria). I. the behavior of swarms. II. A theory of long-range migrations. Philos Trans R Soc Lond B 235:163–290

Myrick AJ, Baker TC (2019) Analysis of anemotactic flight tendencies of the spotted lanternfly (Lycorma delicatula) during the 2017 mass dispersal flights in Pennsylvania. J Insect Behav 32:11–23

Pennsylvania Department of Agriculture (August 6, 2019) https://www.agriculture.pa.gov/Plants_Land_Water/PlantIndustry/Entomology/spotted_lanternfly/quarantine/Documents/PA%20NJ%20DE%20MD%20VA%20Q%20Map%20with%20County%206-25-19.pdf. Accessed 25 June 2019
Acknowledgments
We thank the owners of the residence at Site 1, the proprietors of the commercial fruit farm at Site 2, and the commercial amusement park at Site 3 for allowing us to work on their land. We also thank the Lehigh County Penn State Extension Office for allowing us to work in and store our field equipment in their office space. This research was funded on a grant to TCB through a Cooperative Agreement AP18PPQS&T00C198 between USDA-APHIS-PPQ and The Pennsylvania State University. Support for this project was also provided by McIntire-Stennis funds from the Penn State College of Agricultural Sciences to TCB.
Additional information
Publisher's Note
Springer Nature remains neutral with regard to jurisdictional claims in published maps and institutional affiliations.
Electronic supplementary material
About this article
Cite this article
Wolfin, M.S., Binyameen, M., Wang, Y. et al. Flight Dispersal Capabilities of Female Spotted Lanternflies (Lycorma delicatula) Related to Size and Mating Status. J Insect Behav 32, 188–200 (2019). https://doi.org/10.1007/s10905-019-09724-x
Received:

Revised:

Accepted:

Published:

Issue Date:
Keywords
Flight dispersal behavior

flight capability

Invasive species

Lycorma delicatula

spotted lanternfly

spermatophore