Abstract
Dispersal ability is among the key factors affecting the survival of species in today's fragmented landscapes. One of the most straightforward methods to provide direct measures of animal dispersal is telemetry. Despite its merits, this method has rarely been used for saproxylic beetles. In this study, we examined dispersal ability of the Great Capricorn beetle Cerambyx cerdo (Coleoptera: Cerambycidae), an endangered veteran oak specialist. Using a radio-tracking approach, we tracked 26 individuals (15 males and 11 females) equipped with transmitters for 4 to 17 days (median 14). We observed no disturbance of movements or flight problems due to the transmitter. The daily probability of movement by an individual was 64% and the longest displacement in one day was 1498 m for males and 1080 m for females. For 15% of all individuals, the tracking distance covered was >2200 m. Our results indicate that C. cerdo individuals often move among trees over an area of several kilometres. Such findings contrast with previous results based on a mark-recapture study. The relatively high mobility of the species should be reflected in strategies aiming at its conservation.
Access options
Buy single article
Instant access to the full article PDF.
US$ 39.95
Tax calculation will be finalised during checkout.
Subscribe to journal
Immediate online access to all issues from 2019. Subscription will auto renew annually.
US$ 79
Tax calculation will be finalised during checkout.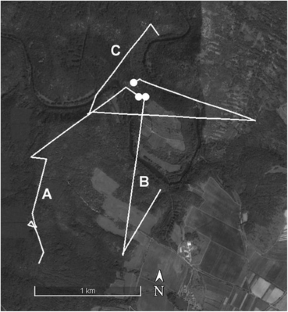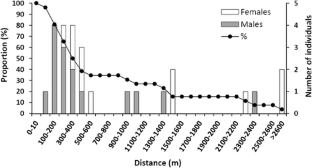 References
Beaudoin-Ollivier L, Bonaccorso F, Aloysius M, Kasiki M (2003) Flight movement of Scapanes australis australis (Boisduval) (Coleoptera: Scarabaeidae: Dynastinae) in Papua New Guinea: a radio telemetry study. Aust J Entomol 42:367–372

Chiari S, Carpaneto GM, Zauli A, Zirpoli GM, Audisio P, Ranius T (2013) Dispersal patterns of a saproxylic beetle, Osmoderma eremita, in Mediterranean woodlands. Insect Conserv Diver 6:309–318

Council of the European Communities (1992) Council directive 92/43/EEC of 21 may 1992 on the conservation of natural habitats and of wild fauna and flora. The Member States, OJ L 206

Drag L, Cizek L (2014) Successful reintroduction of an endangered veteran tree specialist: conservation and genetics of the great Capricorn beetle (Cerambyx cerdo). Conserv Genet 16:267–276

Drag L, Hauck D, Pokluda P, Zimmermann K, Cizek L (2011) Demography and dispersal ability of a threatened saproxylic beetle: a mark-recapture study of the Rosalia longicorn (Rosalia Alpina). PLoS One 6

Dubois G, Vignon V (2008) First results on radio-tracking of hermit beetle, Osmoderma Eremita (Coleoptera: Cetoniidae) in chestnut orchards of the northwest of France. Rev Ecol Terre Vie 63:123–130

Elek Z, Drag L, Pokluda P, Cizek L, Berces S (2014) Dispersal of individuals of the flightless grassland ground beetle, Carabus hungaricus (Coleoptera: Carabidae), in three populations and what they tell us about mobility estimates based on mark-recapture. Eur J Entomol 111:663–668

Etxebeste I, Sanchez-Husillos E, Alvarez G, Masi Gisbert H, Pajares J (2016) Dispersal of Monochamus galloprovincialis (Col.: Cerambycidae) as recorded by mark-release-recapture using pheromone traps. J Appl Entomol 140:485–499

Hedin J, Ranius T (2002) Using radio telemetry to study dispersal of the beetle Osmoderma eremita, an inhabitant of tree hollows. Comput Electron Agric 35:171–180

Hedin J, Ranius T, Nilsson G, Smith G (2008) Restricted dispersal in a flying beetle assessed by telemetry. Biodivers Conserv 17:675–684

Kissling WD (2015) Animal telemetry: follow the insects. Science 349:597

Kissling WD, Pattemore DE, Hagen M (2014) Challenges and prospects in the telemetry of insects. Biol Rev Camb Philos Soc 89:511–530

Miklín J, Hradecký J (2015) Confluence of the Morava and Dyje rivers: a century of landscape changes in maps. J Maps 12:630–638

Ranius T (2006) Measuring the dispersal of saproxylic insects: a key characteristic for their conservation. Popul Ecol 48:177–188

Rink M, Sinsch U (2007) Radio-telemetric monitoring of dispersing stag beetles (Lucanus cervus L.): implications for conservation. J Zool 272:235–243

Smith MT, Bancroft J, Li G, Gao R, Teale S (2001) Dispersal of Anoplophora Glabripennis (Cerambycidae). Environ Entomol 30:1036–1040

Torres-Vila LM (2017) Reproductive biology of the great capricorn beetle, Cerambyx cerdo (Coleoptera: Cerambycidae): a protected but occasionally harmful species. Bull Entomol Res 11:1–13

Torres-Vila LM, Mendiola-Diaz FJ, Sánchez-González A (2017) Dispersal differences of a pest and a protected Cerambyx species (Coleoptera: Cerambycidae) in oak open woodlands: a mark-recapture comparative study. Ecol Entomol 42:18–32
Acknowledgements
We would like to thank to D. Hauck, O. Konvička, F. Kostanjšek, F. Šálek, and L. Dembicky for assistance with radio-tracking, and S. Segar for manuscript review and language correction. We also thank anonymous reviewers for helpful comments on the manuscript. The study and its authors were supported by the Czech Science Foundation (17-21082S), the program of Regional Cooperation between the Regions and the Institutes of the Czech Academy of Sciences in 2017 (R200961702) and by the institutional support (RVO: 60077344).
About this article
Cite this article
Drag, L., Cizek, L. Radio-Tracking Suggests High Dispersal Ability of the Great Capricorn Beetle (Cerambyx cerdo). J Insect Behav 31, 138–143 (2018). https://doi.org/10.1007/s10905-018-9669-x
Revised:

Accepted:

Published:

Issue Date:
Keywords
Population ecology

species protection

coleoptera

flight

oak woodlands