Abstract
Insect parasitoids are often manipulated to improve biological control programs for various arthropod pests. Volatile compounds can be a relevant cue used by most parasitoid hymenoptera for host or host microhabitat location. Here, we studied olfactory responses of the braconid Asobara japonica Belokobylskij, an Asiatic endoparasitoid of the invasive pest Drosophila suzukii (Matsumura), toward its host and host substrates. Adult A. japonica displayed an innate attraction to undescribed volatile cues from infested host fruits irrespectively of the juvenile rearing experience, i.e. they respond to a novel cue subsequently used for microhabitat selection. These data suggest that A. japonica parasitoids mass-reared on artificial diet and factitious host (D. melanogaster) can successfully locate their hosts. Naïve female parasitoids did not show a preference towards any of the tested host media. However, the enforced adult experience with the rearing host medium modified the olfactory preference patterns toward non-natal host fruits. These findings provide evidence of associative learning during the adult stage of A. japonica, and demonstrate its plasticity in exploiting the volatiles from various fruits infested by D. suzukii.
Access options
Buy single article
Instant access to the full article PDF.
USD 39.95
Price excludes VAT (USA)
Tax calculation will be finalised during checkout.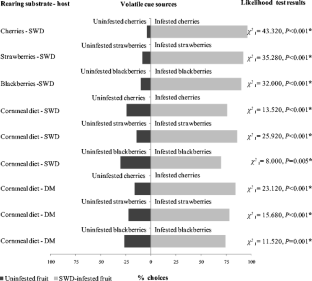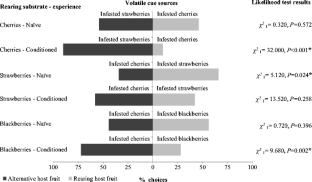 References
Arnó J, Solà M, Riudavets J, Gabarra R (2016) Population dynamics, non-crop hosts and fruit susceptibility of Drosophila suzukii in Northeast Spain. J Pest Sci 89:713–723

Asplen MK, Anfora G, Biondi A et al (2015) Invasion biology of spotted-wing drosophila (Drosophila suzukii): a global perspective and future priorities. J Pest Sci 88:469–494

Benelli G, Pacini N, Conti B, Canale A (2013) Following a scented beetle: larval faeces as a key olfactory cue in host location of Stegobium paniceum (Coleoptera: Anobiidae) by Lariophagus distinguendus (hymenoptera: Pteromalidae). Chemoecology 23:129–136

Benelli G, Messing RH, Wright MG et al (2014) Cues triggering mating and host-seeking behavior in the aphid parasitoid Aphidius colemani (hymenoptera: Braconidae: Aphidiinae): implications for biological control. J Econ Entomol 107:2005–2022

Biondi A, Zappalà L, Desneux N et al (2015) Potential toxicity of α-cypermethrin-treated net on Tuta absoluta (Lepidoptera: Gelechiidae). J Econ Entomol 108:1191–1197

Biondi A, Zappalà L, Di Mauro A et al (2016) Can alternative host plant and prey affect phytophagy and biological control by the zoophytophagous mirid Nesidiocoris tenuis? BioControl 61:79–90

Briem F, Eben A, Gross J, Vogt H (2016) An invader supported by a parasite: mistletoe berries as a host for food and reproduction of spotted wing drosophila in early spring. J Pest Sci 89:749–759

Canale A, Benelli G (2012) Impact of mass-rearing on the host seeking behaviour and parasitism by the fruit fly parasitoid Psyttalia concolor (Szépligeti) (hymenoptera: Braconidae). J Pest Sci 85:65–74

Canale A, Geri S, Benelli G (2014) Associative learning for host-induced fruit volatiles in Psyttalia concolor (hymenoptera: Braconidae), a koinobiont parasitoid of tephritid flies. Bull Entomol Res 104:774–780

Daane KM, Wang XG, Nieto DJ et al (2015) Classic biological control of olive fruit fly in California, USA: release and recovery of introduced parasitoids. BioControl 60:317–330

Daane KM, Wang XG, Biondi A et al (2016) First foreign exploration for Asian parasitoids of Drosophila suzukii. J Pest Sci 89:823–835

Dalton DT, Walton VM, Shearer PW, Walsh DB, Caprile J, Isaacs R (2011) Laboratory survival of Drosophila suzukii under simulated winter conditions of the Pacific northwest and seasonal field trapping in five primary regions of small and stone fruit production in the United States. Pest Manag Sci 67:1368–1374

Dekker T, Revadi S, Mansourian S et al (2015) Loss of drosophila pheromone reverses its role in sexual communication in Drosophila suzukii. Proc R Soc B Biol Sci 282(1804):20143018

Dicke M, Sabelis MW (1988) Infochemical terminology: based on cost-benefit an analysis rather than origin of com-pounds? Funct Ecol 2:131–139

Diepenbrock LM, Swoboda-Bhattarai KA, Burrack HJ (2016) Ovipositional preference, fidelity, and fitness of Drosophila suzukii in a co-occurring crop and non-crop system. J Pest Sci 89:761–769

Garantonakis N, Varikou K, Birouraki A (2016) Spread of Drosophila suzukii in orchards of Crete. Entomol Gen 36:63–70

Gariepy V, Boivin G, Brodeur J (2015) Why two species of parasitoids showed promise in the laboratory but failed to control the soybean aphid under field conditions. Biol Control 80:1–7

Giunti G, Canale A, Messing RH et al (2015) Parasitoid learning: current knowledge and implications for biological control. Biol Control 90:208–219

Godfray HCJ (1994) Parasitoids: behavioral and evolutionary ecology. Princeton University Press, Princeton

Goldson SL, Wratten SD, Ferguson CM et al (2014) If and when successful classical biological control fails. Biol Control 72:76–79

Guerrieri E, Giorgini M, Cascone P et al (2016) Species diversity in the parasitoid genus Asobara (hymenoptera: Braconidae) from the native area of the fruit fly pest Drosophila suzukii (Diptera: Drosophilidae). PLoS One 11(2):e0147382

Gutierrez AP, Ponti L, Dalton DT (2016) Analysis of the invasiveness of spotted wing drosophila (Drosophila suzukii) in North America, Europe, and the Mediterranean. Biol Invasions 18:3647–3663

Hamby KA, Becher PG (2016) Current knowledge of interactions between Drosophila suzukii (Diptera: Drosophilidae) and microbes, and their potential utility for pest management. J Pest Sci 89:621–630

Hamby KA, Bellamy D, Chiu JC et al (2016) Biotic and abiotic factors impacting development, behavior, phenology, and reproductive biology of Drosophila suzukii. J Pest Sci 89:605–619

Haye T, Fischer S, Zhang J, Gariepy T (2015) Can native egg parasitoids adopt the invasive brown marmorated stink bug, Halyomorpha halys (Heteroptera: Pentatomidae), in Europe? J Pest Sci 88:693–705

Haye T, Girod P, Cuthbertson AGS et al (2016) Current SWD IPM tactics and their practical implementation in fruit crops across different regions around the world. J Pest Sci 89:643–651

Hedlund K, Vet LEM, Dicke M (1996) Generalist and specialist parasitoid strategies of using odours of adult drosophilid flies when searching for larval hosts. Oikos 77:390–398

Hogg BN, Nelson EH, Mills NJ, Daane KM (2011) Floral resources enhance aphid suppression by a hoverfly. Entomol Exp Appl 141:138–144

Ideo S, Watada M, Mitsui H, Kimura MT (2008) Host range of Asobara japonica (Hym.: Braconidae), a larval parasitoid of drosophilid flies. Entomol Sci 11:1–6

Jervis M (2005) Insects as natural enemies: a practical perspective. Springer Science & Business Media, Dordrecht

Kaplan I (2012) Trophic complexity and the adaptive value of damage-induced plant volatiles. PLoS Biol 10:e1001437

Kaser JM, Heimpel GE (2015) Linking risk and efficacy in biological control host–parasitoid models. Biol Control 90:49–60

Kenis M, Tonina L, Eschen R et al (2016) Non-crop plants used as hosts by Drosophila suzukii in Europe. J Pest Sci 89:735–748

Lin QC, Zhai YF, Zhang AS et al (2014) Comparative developmental times and laboratory life tables for Drosophila suzukii and Drosophila melanogaster (Diptera: Drosophilidae). Fla Entomol 97:1434–1442

Lof ME, De Gee M, Dicke M et al (2013) Exploitation of chemical signaling by parasitoids: impact on host population dynamics. J Chem Ecol 39:752–763

Mazzetto F, Marchetti E, Amiresmaeili N et al (2016a) Drosophila parasitoids in northern Italy and their potential to attack the exotic pest Drosophila suzukii. J Pest Sci 89:837–850

Mazzetto F, Gonella E, Crotti E et al (2016b) Olfactory attraction of Drosophila suzukii by symbiotic acetic acid bacteria. J Pest Sci 89:783–792

Mitsui H, van Achterberg K, Nordlander G, Kimura MT (2007) Geographical distributions and host associations of larval parasitoids of frugivorous Drosophilidae in Japan. J Nat Hist 41:1731–1738

Pelton E, Gratton C, Isaacs R et al (2016) Earlier activity of Drosophila suzukii in high woodland landscapes but relative abundance is unaffected. J Pest Sci 89:725–733

Pérez-Hedo M, Urbaneja-Bernat P, Jaques JA et al (2015) Defensive plant responses induced by Nesidiocoris tenuis (Hemiptera: Miridae) on tomato plants. J Pest Sci 88:543–554

Sørensen JG, Addison MF, Terblanche JS (2012) Mass-rearing of insects for pest management: challenges, synergies and advances from evolutionary physiology. Crop Prot 38:87–94

Turlings TCJ, Wäckers FL, Vet LEM et al (1993) Learning of host-finding cues by hymenopterous parasitoids. In: Papaj DR, Lewis AC (eds) Insect learning. Ecology and evolutionary perspectives. Chapman & Hall, New York, pp 51–78

Van Lenteren JC (2012) The state of commercial augmentative biological control: plenty of natural enemies, but a frustrating lack of uptake. BioControl 57:1–20

Vet LEM (2001) Parasitoid searching efficiency links behaviour to population processes. Appl Entomol Zool 36:399–408

Vet LEM, Dicke M (1992) Ecology of infochemical use by natural enemies in a tritrophic context. Annu Rev Entomol 37:141–172

Vet LEM, Groenewold AW (1990) Semiochemicals and learning in parasitoids. J Chem Ecol 16:3119–3135

Vet LEM, van Opzeeland K (1984) The influence of conditioning on olfactory microhabitat and host location in Asobara tabida (Nees) and A. rufescens (Foerester) (Braconidae: Alysiinae) larval parasitoids of Drosophlidae. Oecologia 63:171–177

Wang XG, Stewart TJ, Biondi A et al (2016) Population dynamics and ecology of Drosophila suzukii in Central California. J Pest Sci 89:701–712

Wäschke N, Hardge K, Hancock C et al (2014) Habitats as complex odour environments: how does plant diversity affect herbivore and parasitoid orientation? PLoS One 9(1):e85152

Wertheim B, Vet LEM, Dicke M (2003) Increased risk of parasitism as ecological costs of using aggregation pheromones: laboratory and field study of Drosophila-Leptopilina interaction. Oikos 100:269–282

Wiman NG, Dalton DT, Anfora G et al (2016) Drosophila suzukii population response to environment and management strategies. J Pest Sci 89:653–665

Zappalà L, Biondi A, Alma A et al (2013) Natural enemies of the south American moth, Tuta absoluta, in Europe, North Africa and Middle East, and their potential use in pest control strategies. J Pest Sci 86:635–647
Acknowledgments
We thank the California Cherry Board, USDA APHIS (Farm bill, fund 14-8130-0463), National Institute of Food and Agriculture USDA Specialty Crops Research Initiative (No. 2015-51181-24252), University of California Agricultural and Natural for partially funding this study, the Italian Ministry of Education, University and Research (PRIN project GEISCA, 2010CXXHJE_004); foreign exploration was funded by a USDA-NIFA (2010-51181-21167). We thank Kees van Achterberg (National Museum of Natural History, Leiden, The Netherlands) and Emilio Guerrieri (Institute for Sustainable Plant Protection, CNR, Portici, Italy) for the confirmation of the parasitoid specific identification; Hiromi Murata and John Hutchins (University of California, Berkeley) for their assistance during the bioassays and preliminary colony maintenance, respectively. Antonio Biondi received funding from the People Programme (Marie Curie Actions) of the European Union's Seventh Framework Programme FP7/2007-2013/ under REA grant agreement 318246.
Ethics declarations
Conflict of Interests
The authors declare that there is no conflict of interests regarding this paper and that they have no competing financial interests.
About this article
Cite this article
Biondi, A., Wang, X., Miller, J.C. et al. Innate Olfactory Responses of Asobara japonica Toward Fruits Infested by the Invasive Spotted Wing Drosophila. J Insect Behav 30, 495–506 (2017). https://doi.org/10.1007/s10905-017-9636-y
Revised:

Accepted:

Published:

Issue Date:

DOI: https://doi.org/10.1007/s10905-017-9636-y
Keywords
Biological control

chemical ecology

conditioning

host location

invasive pest

learning