Abstract
Recruitment-related behaviours such as waggle dances enable honey bee foragers to inform their nestmates about the location of important resources. However, it is still not known how the information contained in a dance performed in the darkness of the nest is transferred to followers. Although, there are findings indicating that dancing honey bees produce airborne sounds which may convey the information, there has only been indirect evidence that moving wings are the source of these airborne sounds. In this study, honey bee dances were recorded using a high-speed camera in order to directly observe and precisely measure the frequency of wing beats and abdomen wags of dancers. Dancing bees moved their wings for 40.4% of the duration of a waggle run and for only 8.1% of the duration of a circle run. The episodes of wing movements consisted of one to five wing beats and were separated by intervals of motionless wings. The mean frequency of wing beats was 167.0 Hz and significantly differed depending on the number of wing beats in one episode (p < 0.001) and the position of the wings (p = 0.007). The mean frequency of abdomen wags was 14.6 Hz. The mean number of followers was 7.9 and significantly more of them gathered around the abdomens of dancers than around their heads and thoraxes (p = 0.001). The results of this study support the assumption that moving wings are the source of airborne sounds emitted during honey bee dances.
Access options
Buy single article
Instant access to the full article PDF.
USD 39.95
Price excludes VAT (USA)
Tax calculation will be finalised during checkout.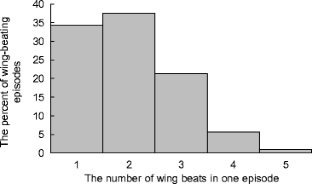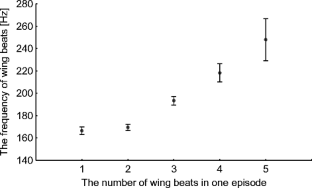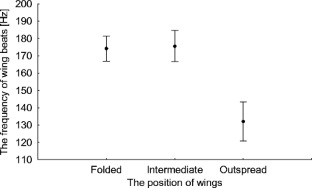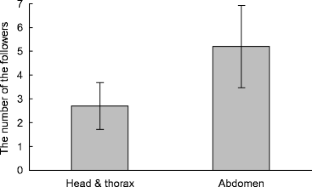 References
Altshuler DL, Dickson WB, Vance JT, Roberts SP, Dickson MH (2005) Short-amplitude high-frequency wing strokes determine the aerodynamics of honeybee flight. Proc Nat Acad Sci 102:18213–18218. doi:10.1073/pnas.0506590102

Balbuena MS, Molinas J, Farina WM (2012) Honeybee recruitment to scented food sources: correlations between in-hive social interactions and foraging decisions. Behav Ecol Sociobiol 66:445–452. doi:10.1007/s00265-011-1290-3

Bennet-Clark HC (1999) Resonators in insect sound production: how insects produce loud pure-tone songs. J Exp Biol 202:3347–3357

Chadwick LE, Williams CM (1949) The effects of atmospheric pressure and composition on the flight of drosophila. Biol Bull 97:115–137

Dreller C, Kirchner WH (1993) Hearing in honeybees: localization of the auditory sense organ. J Comp Physiol A 173:275–279. doi:10.1007/BF00212691

Esch H (1961) Über die schallerzeugung beim werbetanz der honigbiene. Z Vergl Physiol 45:1–11. doi:10.1007/BF00297754

Esch H (1963) Auswirkung der futterplatzqualität auf die schallerzeugung im werbanz der honigbiene. Verh Deut Z 26:302–309

Esch H (1964) Beiträge zum Problem der Entfernungsweisung in den Schwänzeltänzen der Honigbiene. Z Vergl Physiol 48:534–546. doi:10.1007/BF00348847

Esch H, Wilson D (1967) The sounds produced by flies and bees. Z Vergl Physiol 54:256–267. doi:10.1007/BF00298031

Farina WM (1996) Food-exchange by foragers in the hive - a means of communication among honey bees? Behav Ecol Sociobiol 35:59–64. doi:10.1007/s002650050217

Free JB, Williams IH (1983) Scent-marking of flowers by honeybees. J Apic Res 22:86–90. doi:10.1080/00218839.1983.11100564

von Frisch K (1967) The dance language and orientation of bees. Harvard University Press, Cambridge, MA

von Frisch K, Jander R (1957) Über die Schwänzeltanz der Bienen. Z Vergl Physiol 40:239–263. doi:10.1007/BF00340570

Gerula D, Tofilski A, Węgrzynowicz P, Skowronek W (2009) Computer-assisted discrimination of honeybee subspecies used for breeding in Poland. J Apic Sci 53:105–114

Hrncir M, Barth FG, Tautz J (2006) Vibratory and airborne-sound signals in bee communication (Hymenoptera). Insect sounds and communication. In: Srosopoulos S, Claridge MF (eds) Insect sounds and communication: Physiology, behaviour, ecology, and evolution. CRC Press, pp 421–436

Hrncir M, Gravel AI, Schorkopf DLP, Schmidt VM, Zucchi R, Barth FG (2008) Thoracic vibrations in stingless bees (Melipona seminigra): resonances of the thorax influence vibrations associated with flight but not those associated with sound production. J Exp Biol 211:678–682. doi:10.1242/jeb.013920

Hrncir M, Maia-Silva C, Mc Cabe SI, Farina WM (2011) The recruiter's excitement - features of thoracic vibrations during the honey bee's waggle dance related to food source profitability. J Exp Biol 214:4055–4064. doi:10.1242/jeb.063149

Judd TM (1995) The waggle dance of the honey bee: which bees following a dancer successfully acquire the information? J Insect Behav 8:343–354. doi:10.1007/BF01989363

Kirchner WH (1994) Hearing in honeybees: the mechanical response of the bee's antenna to near field sound. J Comp Physiol A 175:261–265. doi:10.1007/BF00192985

Kirchner WH, Deller C (1993) Acoustical signals in the dance language of the giant honeybee, Apis dorsata. Behav Ecol Sociobiol 33:67–72. doi:10.1007/BF00171657

Kirchner WH, Lindauer M (1988) Honeybee dance communication. Naturwissenschaften 75:629–630. doi:10.1007/BF00366482

Kirchner WH, Sommer K (1992) The dance language of the honeybee mutant diminutive wings. Behav Ecol Sociobiol 30:181–184. doi:10.1007/BF00166701

Kirchner WH, Dreller C, Grasser A, Baidya D (1996) The silent dances of the Himalayan honeybee, Apis labriosa. Apidologie 27:331–339. doi:10.1051/apido:19960501

Landgraf T, Rojas R, Nguyen H, Kriegel F, Stettin K (2011) Analysis of the waggle dance motion of honeybees for the design of a biomimetic honeybee robot. PLoS One 6:e21354. doi:10.1371/journal.pone.0021354

Michelsen A (2003) Signals and flexibility in the dance communication of honeybees. J Comp Physiol A 189:165–174. doi:10.1007/s00359-003-0398-y

Michelsen A, Andersen BB (1989) Honeybees can be recruited by a mechanical model of a dancing bee. Naturwissenschaften 76:277–280. doi:10.1007/BF00368642

Michelsen A, Kirchner WH, Lindauer M (1986) Sound and vibrational signals in the dance language of the honeybee, Apis mellifera. Behav Ecol Sociobiol 18:207–212. doi:10.1007/BF00290824

Michelsen A, Towne WF, Kirchner WH, Kryger P (1987) The acoustic near field of a dancing honeybee. J Comp Physiol A 161:633–643. doi:10.1007/BF00605005

Michelsen A, Andersen BB, Storm J, Kirchner WH, Lindauer M (1992) How honeybees perceive communication dances, studied by means of a mechanical model. Behav Ecol Sociobiol 30:143–150. doi:10.1007/BF0016696

Nieh JC, Tautz J (2000) Behaviour-locked analysis reveals weak 200-300 Hz comb vibrations during the honeybee waggle dance. J Exp Biol 203:1573–1579

Reinhard J, Srinivasan MV (2009) The role of scents in honey bee foraging and recruitment. In: Jarau S, Hrncir M (eds) Food exploitation by social insects: ecological, behavioral, and theoretical approaches. CRC Press, pp 155–172. doi:10.1201/9781420075618.ch9

Rinderer TE, Beaman LD (1995) Genic control of honey bee dance language dialect. Theor Appl Genet 91:727–732. doi:10.1007/BF00220950

Roeder KD (1951) Movements of the thorax and potential changes in the thoracic muscles of insects during flight. Biol Bull 100:95–106

Rohrseitz K, Tautz J (1999) Honey bee dance communication: waggle run direction coded in antennal contacts? J Comp Physiol A 184:463–470. doi:10.1007/s003590050346

Seeley TD (1995) The wisdom of the hive. The social physiology of honey bee colonies. Cambridge, MA: Harvard University Press

Seeley TD (1998) Thoughts on information and integration in honey bees colonies. Apidologie 29:67–80. doi:10.1051/apido:19980104

Seeley TD, Tautz J (2001) Worker piping in honey bees swarms and its role in preparing for liftoff. J Comp Physiol A 187:667–676. doi:10.1007/s00359-001-0243-0

Spangler HG (1991) Do honey bees encode distance information into the wing vibrations of the waggle dance. J Insect Behav 4:15–20. doi:10.1007/BF01092547

Statsoft, Inc. (2013) Statistica (data analysis software system), version 12.0. http://www.statsoft.com. Accessed 23 June 2016

Tanner D, Visscher K (2009) Does the body orientation of waggle dance followers affect the accuracy of recruitment? Apidologie 40:55–62. doi:10.1051/apido:2008074

Tautz J (1996) Honeybee waggle dance: recruitment success depends on the dance floor. J Exp Biol 199:1375–1381

Tautz J (2009) The buzz about bees. Biology of a superorganism. Springer-Verlag, Berlin Heidelberg, pp 109–113

Tautz J, Rohrseitz K (1998) What attracts honeybees to a waggle dancer? J Comp Physiol A 183:661–667. doi:10.1007/s003590050289

Tautz J, Sandeman DC (2003) Recruitment of honeybees to non-scented food sources. J Comp Physiol A 189:293–300. doi:10.1007/s00359-003-0402-6

Thom C, Gilley DC, Hooper J, Esch HE (2007) The scent of the waggle dance. PLoS Biol 5:e228. doi:10.1371/journal.pbio.0050228

Towne WF (1985) Acoustic and visual cues in the dances of four honey bee species. Behav Ecol Sociobiol 16:185–187. doi:10.1007/BF00295154

Towne WF, Kirchner WH (1989) Hearing in honey bees: detection of air-particle oscillations. Science 244:686–688. doi:10.1126/science.244.4905.686

Tsujiuchi S, Sivan-Loukianova E, Eberl DF, Kitagawa Y, Kadowaki T (2007) Dynamic range compression in the honey bee auditory system toward waggle dance sounds. PLoS One 2:e234. doi:10.1371/journal.pone.0000234

Vision Research, Inc. (2015) PCC software, version 2.6. http://www.visionresearch.net. Accessed 23 June 2016

Wenner AM (1962) Sound production during the waggle dance of the honey bee. Anim Behav 10:79–95. doi:10.1016/0003-3472(62)90135-5

Wenner AM, Wells PH, Rohlf FJ (1967) An analysis of the waggle dance and recruitment in honey bees. Physiol Zool 40:317–344
Acknowledgments
We would like to thank Łukasz Bednarz from EC Test Systems for technical assistance. We also thank the anonymous reviewers for their suggestions and comments. This study was funded by the National Science Centre under grant UMO-2013/10/E/NZ9/00682.
Ethics declarations
Funding
This study was funded by the National Science Centre under grant UMO-2013/10/E/NZ9/00682.
Conflict of Interest
The authors declare that they have no conflict of interest.
Ethical Approval
All applicable international, national, and/or institutional guidelines for the care and use of animals were followed.
Electronic supplementary material
The recordings of honey bees moving their wings during waggle dances (AVI 325416 kb)
About this article
Cite this article
Łopuch, S., Tofilski, A. Direct Visual Observation of Wing Movements during the Honey Bee Waggle Dance. J Insect Behav 30, 199–210 (2017). https://doi.org/10.1007/s10905-017-9610-8
Revised:

Accepted:

Published:

Issue Date:

DOI: https://doi.org/10.1007/s10905-017-9610-8
Keywords
Airborne sounds

honey bees

waggle dance

high-speed camera