Abstract
Well-controlled electromagnetic exposure conditions were set up at a representative societal GSM radiation intensity level, 1.5 V/m, which is the legally allowed level in Brussels. Two nests of the ant species Myrmica sabuleti were repeatedly irradiated during 10 min. before their behavior was observed, based on the analysis of the ant trajectories. Under these exposure conditions, behavioral effects were detected. The ants' locomotion slightly changed. The ants' orientation towards their attractive alarm pheromone statistically became of lower quality. The ants still presented their trail following behavior but less efficiently. In this controversial issue, ants could be considered as possible bioindicators.
Access options
Buy single article
Instant access to the full article PDF.
US$ 39.95
Tax calculation will be finalised during checkout.
Subscribe to journal
Immediate online access to all issues from 2019. Subscription will auto renew annually.
US$ 79
Tax calculation will be finalised during checkout.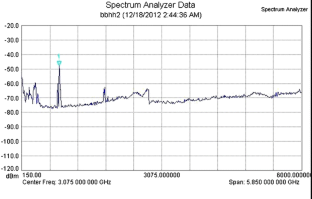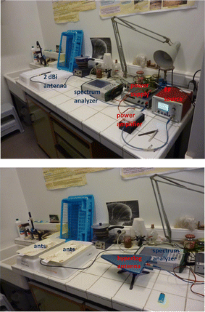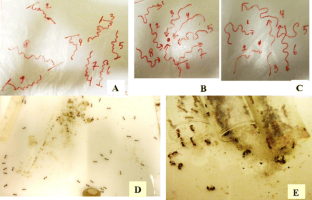 References
Adang D, Campo B, Vander Vorst A (2006) Has a 970 MHz pulsed exposure an effect on the memory related behaviour of rats? Wireless Technology, Browser Conference Publications, Manchester, pp 135–138

Benlaidi FZ, El Kharroussi M (2011) Les effets des ondes électromagnétiques générées par le GSM sur la mémoire et le comportement chez le rat (Effects of electromagnetic waves generated by GSM on the memory and behavior of rats). https://sites.google.com/site/gdrineuro/r%C3%A9sum%C3%A9s6

Bourthoumieu S, Joubert V, Marin B, Collin A, Leveque P, Terro F, Yardin C (2010) Cytogenetic studies in human cells exposed in vitro to GSM-900 MHz radiofrequency radiation using R-banded karyotyping. Radiat Res 174:712–718

Cammaerts M-C, Debeir O, Cammaerts R (2011) Changes in Paramecium caudatum (Protozoa) near a switched-on GSM telephone. Electromagn Biol Med 30:57–66

Cammaerts M-C, Morel F, Martino F, Warzée N (2012a) An easy and cheap software-based method to assess two-dimensional trajectories parameters. Belg J Zool 142:145–151

Cammaerts M-C, De Doncker P, Patris X, Bellens F, Rachidi Z, Cammaerts D (2012b) GSM 900 MHz radiations inhibits ants' association between food sites and encountered cues. Electromagn Biol Med 31:151–165

Cammaerts M-C, Rachidi Z, Bellens F, De Doncker P (2013) Food collection and responses to pheromones in an ant species exposed to electromagnetic radiation. Electromagn Biol Med 32:315–332

Caraglia M, Marra M, Mancinelli F, d'Ambrosio G, Massa R, Giordano A, Budillon A, Abbruzzese A, Bismuto E (2005) Electromagnetic fields at mobile phone frequency induce apoptosis and inactivation of the multi-chaperone complex in human epidermoid cancer cells. J Cell Physiol 204:539–548

Clarke D, Whitney H, Sutton G, Robert D (2013) Detection and learning of floral electric fields by bumblebees. Science 340:66–69, www.bristol.ac.uk/news/2013/9163.html

Cucurachi S, Tamis WL, Vijver MG, Peijnenburg WJ, Bolte JF, de Snoo GR (2013) A review of the ecological effects of radiofrequency electromagnetic fields (RF-EMF). Environ Int 51:116–140

Everaert J, Bauwens D (2007) A possible effect of electromagnetic radiation from mobile phone base stations on the number of breeding house sparrows (Passer domesticus). Electromagn Biol Med 26:63–72

Favre D (2011) Mobile phone-induced honeybee worker piping. Apidologie 42:270–279

Haggerty K (2010) Adverse influence of radio frequency background on trembling aspen seedlings: preliminary observations. Int J For Res. article ID 836278, 7 p., doi:10.1155/2010/836278

Joubert V, Leveque P, Rametti A, Collin A, Bourthoumieu S, Yardin C (2006) Microwave exposure of neuronal cells in vitro: study of apoptosis. Int J Radiat Biol 82:267–275

Liu YX, Tai JL, Li GQ, Zhang ZW, Xue JH, Liu HS, Zhu H, Cheng JD, Liu YL, Li AM, Zhang Y (2012) Exposure to 1950-MHz TD-SCDMA electromagnetic fields affects the apoptosis of astrocytes via caspase-3-dependent pathway. PLoS One. 7(8) doi:10.1371/journal.pone.0042332

Nicholls B, Racey PA (2009) The aversive effect of electromagnetic radiation on foraging bats – a possible means of discouraging bats from approaching wind turbines. PLoS One 2009:4(7). doi:10.1371/journal.pone.0006246

Pall ML (2013) Electromagnetic fields act via activation of Voltage-gated calcium channels to produce beneficial or adverse effects. J Cell Mol Med. doi:10.1111/jcmm.12088, http://onlinelibrary.wiley.com/doi/10.1111/jcmm.12088/pdf

Panagopoulos DJ (2012) In: Spindler-Barth M (ed) Gametogenesis, embryonic and post-embryonic development of Drosophila melanogaster, as a model system for the assessment of radiation and environmental genotoxicity. Drosophila melanogaster, life cycle, genetics. Nova, New York, pp 1–38

Passera L, Aron S (2005) Les fourmis: comportement, organisation sociale et évolution. NRC Research Press, Ottawa, 480 pp

Riveros A, Srygley R (2008) Do leafcutter ants, Atta colombica, orient their path-integrated home vector with a magnetic compass? Anim Behav 74:1273–1281

Roux D, Vian A, Girard S, Bonnet P, Paladian F, Davies E, Ledoigt G (2008) High frequency (900 MHz) low amplitude (5 V/m) electromagnetic field: a genuine environmental stimulus that affects transcription, translation, calcium and energy charge in tomato. Planta 227:883–891

Salford LG, Brun AE, Eberhardt JL, Malmgren K, Persson BRR (2003) Nerve cell damage in mammalian brain after exposure to microwaves from GSM mobile phones. Environ Health Perspect 111:881–883

Sharma VP, Kumar NR (2010) Changes in honeybee behavior and biology under the influence of cellphone radiations. Curr Sci 98:1376–1378

Siegel S, Castellan NJ (1989) Nonparametric statistics for the behavioural sciences. McGraw-Hill Book Company, Singapore, 396 pp

Sivani S, Sudarsanam D (2012) Impacts of radio-frequency electromagnetic field (RF-EMF) from cell phone towers and wireless devices on biosystem and ecosystem – a review. Biol Med 4:202–216

Vignera SL, Condorelli RA, Vicari ED et al (2012) Effects of the exposure to mobile phones on male reproduction: a review of the literature. J Androl 33:350–356

Volkow ND, Tomasi D, Wang G, Vaska P, Fowler JS, Telang F, Alexoff D, Logan J, Wong C (2011) Effects of cell phone radiofrequency signal exposure on brain glucose metabolism. JAMA 305(8):808–813. doi:10.1001/jama.2011.186

Wajnberg E et al (2010) Magnetoreception in eusocial insects: an update. J R Soc Interface 7(Suppl 2):S207–S225

Wang L, Peng R, Hu X et al (2009) Abnormality of synaptic vesicular associated proteins in cerebral cortex and hippocampus after microwave exposure. Synapse (New York) 63:1010–1016

Warnke U (2009) Bees, birds and mankind – Destroying nature by electrosmog. Kempten, 47 pp

Witthöft M, Rubin GJ (2013) Are media warnings about the adverse health effects of modern life self-fulfilling? An experimental study on idiopathic environmental intolerance attributed to electromagnetic fields (IEI-EMF). J Psychosom Res 74:206–212
About this article
Cite this article
Cammaerts, MC., Vandenbosch, G.A.E. & Volski, V. Effect of Short-Term GSM Radiation at Representative Levels in Society on a Biological Model: The Ant Myrmica sabuleti . J Insect Behav 27, 514–526 (2014). https://doi.org/10.1007/s10905-014-9446-4
Revised:

Accepted:

Published:

Issue Date:
Keywords
Electromagnetic waves

radiation

mobile phone

the ant Myrmica sabuleti

radiation norms

exposure levels