Abstract
The behavioral responses of the potato psyllid, Bactericera cockerelli (Sulc) to dimethyl disulfide (DMDS) and to 12 plant essential oils were examined in a glass Y-tube olfactometer. DMDS at doses of 0.5, 1, 2 and 5 g showed a significant repellent effect on the psyllids. Cedar wood, lime, savory, thyme and tea tree oils significantly repelled adults over a wide range of doses tested (1, 10, 100, 500, 1,000 and 2,000 μl). The oils of clove and peppermint also had a significant repellent effect on adults at all doses except at the lowest dose (1 μl). The residual effect of 1 g of DMDS persisted for 10 consecutive days whereas five oils (thyme, tea tree, peppermint, savory and clove) remained repellent for the 20-day longevity residual trial.
Access options
Buy single article
Instant access to the full article PDF.
USD 39.95
Price includes VAT (USA)
Tax calculation will be finalised during checkout.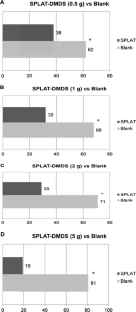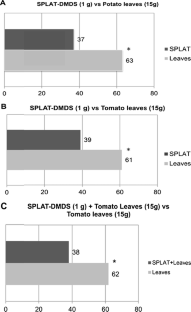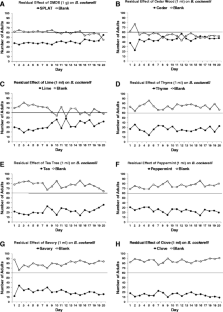 References
Adorjan B, Buchbauer G (2010) Biological properties of essential oils: an updated review. Flavour Frag J 25:407–426

Al-Jabr AM, Whitney SC (2007) Trapping tomato psyllid, Bactericera cockerelli (Sulc) (Hemiptera: Psyllidae), in greenhouses. Southwest Entomol 32:25–30

Borges M, Mori K, Costa MLM, Sujii ER (1998) Behavioural evidence of methyl-2,6,10-trimethyltridecanoate as a sex pheromone of Euschistus heros (Het., Pentatomidae). J Appl Entomol 122:335–338

Davidson MM, Perry NB, Larsen L, Green VC, Butler RC, Teulon DAJ (2008) 4-Pyridyl Carbonyl compounds as thrips lures: effectiveness for Western flower thrips in Y-tube bioassays. J Agric Food Chem 56:6554–6561

Egigu MC, Ibrahim MA, Yahya A, Holopainen JK (2010) Yeheb (Cordeauxia edulis) extract deters feeding and oviposition of Plutella xylostella and attracts its natural enemy. Biocontrol 55:613–624

Gharalari AH, Nansen C, Lawson DS, Gilley J, Munyaneza JE, Vaughn K (2009) Knockdown, mortality, repellency, and residual effects of insecticides for control of Bactericera cockerelli adult (Hemiptera: Psyllidae). J Econ Entomol 102:1032–1038

Gökçe A, Steilinski LL, Whalon ME (2005) Behavioral and Electrophysiological Responses of Leafroller Moths to Selected Plant Extracts. Environ Entomol 34:1426–1432

Goolsby JA, Adamczyk J, Bextine B, Lin D, Munyaneza JE, Bester G (2007) Development of an IPM program for management of the potato psyllid to reduce incidence of zebra chip disorder in potatoes. Subtrop Pl Sci 59:85–94

Guedot C, Millar JC, Horton DR, Landholt PJ (2009) Identification of a sex attractant pheromone for male winterform pear psylla, Cacopsylla pyricola. J Chem Ecol 35:1437–1447

Hansen AK, Trumble JT, Stouthamer R, Paine TD (2008) A new Huanglongbing species, "Candidatus Liberibacter psyllaurous", found to infect tomato and potato, is vectored by the psyllid Bactericerca cockerelli (Sulc). Appl Environ Microbiol 74:5862–5865

Hardie J, Holyoak M, Nicholas J, Nottingham SF, Pickett JA, Wadhams LJ, Woodcock CM (1990) Aphid sex pheromone components: age-dependent release by females and species-specific male response. Chemoecology 1:63–68

Isman MB (2006) Botanical insecticides, deterrents, and repellents in modern agriculture and an increasingly regulated world. Ann Rev Entomol 51:45–66

Kainulainen P, Nissinen A, Piirainen A, Tiilikkala K, Holopainen JK (2002) Essential oil composition in leaves of carrot varieties and preference of specialist and generalist sucking insect herbivores. Agr Forest Entomol 4:211–216

Koschier EH, Sedy KA (2003) Labiate essential oils affecting host selection and acceptance of Thrips tabaci Lindeman. Crop Prot 22:929–934

Koschier EH, de Kogel WJ, Visser JH (2000) Assessing the attractiveness of volatile plant compounds to western flower thrips Frankliniella occidentalis. J Chem Ecol 26:2643–2655

Liefting LW, Perez-Egusquiza XC, Clover GRG (2008) A new 'Candidatus Liberibacter' species in Solanum tuberosum in New Zealand. Plant Dis 92:1474

Liefting LW, Southerland PW, Ward LI, Paice KL, Weir BS, Clover GRG (2009) A new "Candidatus Liberibacter" species associated with diseases of solanaceous crops. Plant Dis 93:208–214

Liu DG, Trumble JT (2005) Interactions of plant resistance and insecticides on the development and survival of Bactericerca cockerelli [Sulc] (Homoptera: Psyllidae). Crop Prot 24:111–117

Liu DG, Trumble JT (2006) Ovipositional preferences, damage thresholds, and detection of the tomato-potato psyllid Bactericera cockerelli (Homoptera: Psyllidae) on selected tomato accessions. Bull Ent Res 96:197–204

Liu DG, Trumble JT (2007) Comparative fitness of invasive and native populations of the potato psyllid Bactericerca cockerelli. Entomol Exp Appl 123:35–42

Mann RS, Rouseff RL, Smoot JM, Castle WS, Stelinski LL (2011) Sulfur volatiles from Allium spp. affect Asian citrus psyllid, Diaphorina citri Kuwayama (Hemiptera: Psyllidae), response to citrus volatiles. Bull Ent Res 101:89–97

Moharramipour S, Taghizadeh A, Meshkatalsadat MH, Talebi AA, Fathipour Y (2008) Repellent and fumigant toxicity of essential oil from Thymus persicus against Tribolium castaneum and Callosobruchus maculatus. Commun Agric Appl Biol Sci 73:639–642

Munyaneza JE (2010) Psyllids as vectors of emerging bacterial diseases of annual crops. Southwest Entomol 35:471–477

Munyaneza JE, Crosslin JM, Upton EJ (2007a) Association of Bactericera cockerelli (Homoptera: Psyllidae) with "Zebra Chip", a new potato disease in Southwestern United States and Mexico. J Econ Entomol 100:656–663

Munyaneza JE, Goolsby JA, Crosslin JM, Upton EJ (2007b) Further evidence that Zebra Chip potato disease in the Lower Rio Grande Valley of Texas is associated with Bactericera cockerelli. Subtrop Pl Sci 59:30–37

Munyaneza JE, Buchman JL, Upton JE, Goolsby JA, Crosslin JM, Bester G, Miles GP, Sengoda VG (2008) Impact of different potato psyllid populations on Zebra Chip disease incidence, severity, and potato yield. Subtrop Pl Sci 60:27–37

Munyaneza JE, Sengoda VG, Crosslin JM, Rosa-Lozano GD, Sanchez A (2009) First report of Candidatus Liberibacter psyllaurous in potato tubers with Zebra Chip disease in Mexico. Plant Dis 93:552

Nehlin G, Valterová I, Borg-Karlson AK (1994) Use of conifer volatiles to reduce injury caused by carrot psyllid, Trioza apicalis, Förster (Homoptera, Psylloidea). J Chem Ecol 20:771–783

Nerio LS, Olivero-Verbel J, Stashenko E (2010) Repellent activity of essential oils: a review. Bioresour Technol 101:372–378

Nissinen A, Ibrahim M, Kainulainen P, Tiilikkala K, Holopainen JK (2005) Influence of carrot psyllid (Trioza apicalis) feeding or exogenous limonene or methyl jasmonate treatment on composition of carrot (Daucus carota) leaf essential oil and headspace volatiles. J Agric Food Chem 53:8631–8638

Onagbola EO, Rouseff RL, Smoot JM, Stelinski LL (2011) Guava leaf volatiles and dimethyl disulphide inhibit response of Diaphorina citri Kuwayama to host plant volatiles. J Appl Entomol 135:404–414

Rodriguez-Saona C, Poland TM, Miller JR, Stelinski LL, Grant GG, de Groot P, Buchan L, MacDonald L (2006) Behavioral and electrophysiological responses of the emerald ash borer, Agrilus planipennis, to induced volatiles of Manchurian ash, Fraxinus mandshurica. Chemoecology 16:75–86

SAS Institute (2003) SAS/STAT user's guide, version 9.1.3. SAS institute, Cary

Teulon DAJ, Workman PJ, Thomas KL, Nielsen MC (2009) Bactericera cockerelli: incursion, dispersal and current distribution on vegetable crops in New Zealand. N Z Plant Protection 62:136–144

Turlings TCJ, Davison AC, Tamo C (2004) A six-arm olfactometer permitting simultaneous observation of insect attraction and odour trapping. Physiol Entomol 29:45–55

Valterová I, Nehlin G, Borg-Karlson AK (1997) Host plant chemistry and preferences in egg-laying Trioza apicalis (Homoptera, Psylloidea). Biochem Syst Ecol 25:477–491

Yang NW, Li AL, Wan FH, Liu WX, Johnson D (2010a) Effects of plant essential oils on immature and adult sweetpotato whitefly, Bemisia tabaci biotype B. Crop Prot 29:1200–1207

Yang XB, Zhang YM, Hua L, Peng LN, Munyaneza JE, Trumble JT, Liu TX (2010b) Repellency of selected biorational insecticides to potato psyllid, Bactericera cockerelli (Hemiptera: Psyllidae). Crop Prot 29:1320–1324

Zaka SM, Zeng XN, Holford P, Beattie GAC (2010) Repellent effect of guava leaf volatiles on settlement of adults of citrus psylla, Diaphorina citri Kuwayama, on citrus. Insect Sci 17:39–45
Acknowledgments
We thank Greg Kund, Beatriz Gonzalez, Bill Carson, Steve McElfresh, Deborah De La Riva, Kristen Hladun, Christina Mogren, Nichole Drew, Sammuel Gilbert, Khoa Tran (Chris), Kristine Gilbert and Lindsay Johnson for helping in different aspects of this study. Agenor Mafra-Neto and Lyndsie Stoltman (ISCA Technologies, Riverside, CA). This research was partially funded by a USDA SCRI grant (2009-34381-20036), a USDA RAMP grant (2009-51101-05892) and the California Potato Board. Mention of trade names or commercial products in this publication is solely for the purpose of providing specific information and does not imply recommendation or endorsement by the U.S. Department of Agriculture or the University of California-Riverside.
About this article
Cite this article
Diaz-Montano, J., Trumble, J.T. Behavioral Responses of the Potato Psyllid (Hemiptera: Triozidae) to Volatiles from Dimethyl Disulfide and Plant Essential Oils. J Insect Behav 26, 336–351 (2013). https://doi.org/10.1007/s10905-012-9350-8
Revised:

Accepted:

Published:

Issue Date:
Keywords
Bactericera Cockerelli

behavior

olfactometer

repellents