Abstract
Polyacrylamide bentonite nanocomposites were prepared in an aqueous suspension. The suspension was obtained by mixing the dispersion of both bentonite and acrylamide in bidistilled water, and followed by adiabatic processes of radical polymerization with ammonium persulfate as initiator. The percentage by weight of bleaching clay (BC) was fixed at 1%, 3% and 5%. Thin films were obtained using an evaporation solution (thickness of films was in the range 100–300 μm). X-ray diffraction (XRD), scanning electron microscopy (SEM), differential scanning calorimetry (DSC) and micro-indentation technique were used to characterize the obtained films. SEM micrographs show an exfoliated structure in polymer composites that originates from the nature and method of polymerization used (a radical adiabatic polymerization under neutral condition). DSC measurements reveal that the glass transition temperature increases with percentage in weight of BC. The mechanical tests confirm that the obtained materials have high values of hardness. We conclude that our materials have a special nano-structure that determines the good mechanical properties. It is also shown that average micro-hardness decreases with increasing amount of BC which implies some changes from the initial structure.
This is a preview of subscription content, log in to check access.
Access options
Buy single article
Instant access to the full article PDF.
US$ 39.95
Price includes VAT for USA
Subscribe to journal
Immediate online access to all issues from 2019. Subscription will auto renew annually.
US$ 99
This is the net price. Taxes to be calculated in checkout.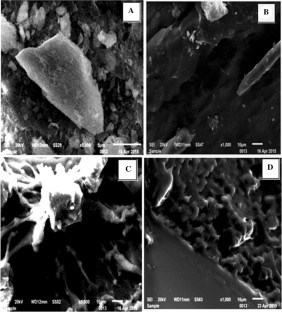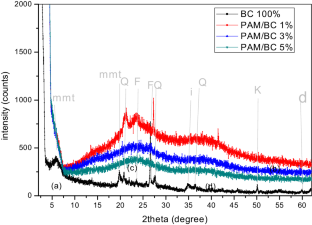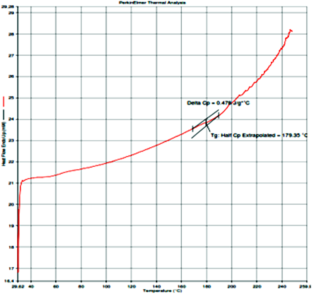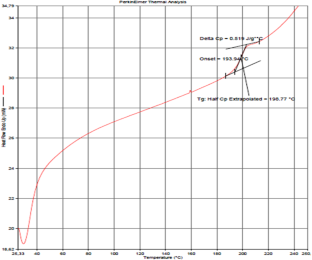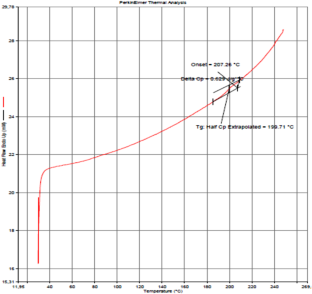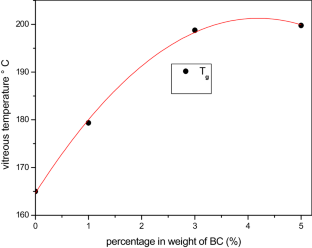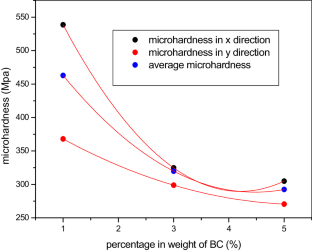 References
1.

Z. Orolinoa, A. Mockovčiaková, S. Dolinská, J. Briančin, Arhiv za Tehnicke Nauke 7, 49 (2012)

2.

A. Lopez-Galindo, C. Veseras, P. Cerezo, Appl. Clay Sci. 36, 51 (2007)

3.

T.S. Anirudhan, P.S. Suchithra, Chem. Eng. J. 156, 146 (2010)

4.

G.H. Michler, F.J. Baltá-Calleja, 1st Eds. (CRC Press, Taylor and Francis Group, Boca Raton, 2005)

5.

F.J. Baltá-Calleja, Adv. Polym. Sci. 66, 117 (2005)

6.

F.J. Baltá-Calleja, Trends Polym. Sci. 2, 419 (1994)

7.

L. Chun-Ki, C. Hoi-Yan, L. Kin-Tak, Z. Li-Min, H. Man-Wai, D. Huib, Composites B 36, 263 (2005)

8.

F. Fu. Shao-Yun, L. Xi-Qiao, Bernd, Y.-W. Mai, Composites B 39, 933 (2008)

9.

B. Long, C. Wang, W. Lin, Y. Huang, J. Sun, Compos. Sci. Technol. 67, 2770 (2007)

10.

Y. Hua, L. Shen, H. Yang, M. Wang, T. Liu, T. Lianga, J. Zhanga, Polym. Testing 25, 492 (2006)

11.

T.Y. Tsai, M.J. Lin, Y.C. Chuang, P.C. Chou, Mater. Chem. Phys. 138, 230 (2013)

12.

F. Djavanroodi, A.A. Zolfaghari, M. Ebrahimi, K. Nikbin, Acta Metall. Sin. (Engl. Lett) 27, 95 (2014)

13.

B. Bouras, A. Mansri, L. Tennouga, B. Grassl, Res. Chem. Intermed. 41, 5839 (2015)

14.

Z. Zhu, O. Jian, S. Paillet, J. Eur. Polym. J. 43, 824 (2007)

15.

S. Belkaid, K. Tebbji, A. Mansri, A. Chetouani, B. Hammouti, Res. Chem. Intermed. 38, 2309 (2012)

16.

A. Mansri, A. Beladraoua, B. Bouras, J. Mater. Environ. Sci. 7, 808 (2016)

17.

A. Mansri, S. Ramdani, Res. Chem. Intermed. 41, 1765 (2015)

18.

H. Haiyan, P. Mingwang, L. Xiucuo, S. Xudong, Z. liuchang, Polym. Int. 53, 225 (2004)

19.

E.P. Giannelis, R. Krishnamoorti, E. Manias, Adv. Polym. Sci. 138, 107 (1999)

20.

A.B. Morgan, J.W. Gilman, Appl. Polym. 87, 1329 (2003)

21.

X. Zhao, Q. Zhang, D. Chen, Macromolecules 43, 2357 (2010)

22.

J. Dandurand, V. Samouillan, C. Lacabane, A. Pepe, B. Bochicchio, J. Therm. Anal. Calorim. 120, 1 (2015)

23.

M.N.A. Perez, Doctorate Thesis. Institut National Polytechnique de Grenoble France (2008)

24.

M.F. Mina, G.H. Michler, F.J. Baltá-Calleja, J. Bangladesh Acad. Sci. 33, 15 (2009)

25.

F. Ania, G. Broza, M.F. Mina, K. Schulte, Z. Roslaniec, F.J. Baltá-Calleja, Compos. Interfaces 13, 33 (2006)
Acknowledgements
The authors thank the National Agency for the Development of University Research (ANDRU) in Algeria for financial support. S. K. is also indebted to IEM-CSIC (Madrid, Spain) and Dr. Fernando Ania for hosting her at the Macromolecular Physics Department during the performance of the surface mechanical experiments.
Additional information
Publisher's Note
Springer Nature remains neutral with regard to jurisdictional claims in published maps and institutional affiliations.
About this article
Cite this article
Khobzaoui, S., Tennouga, L., Benabadji, I.K. et al. Preparation of Rigid Bentonite/PAM Nanocomposites by an Adiabatic Process: Influence of Load Content and Nano-structure on Mechanical Properties and Glass Transition Temperature. J Inorg Organomet Polym 29, 1111–1118 (2019). https://doi.org/10.1007/s10904-019-01073-8
Received:

Accepted:

Published:

Issue Date:
Keywords
Polyacrylamide (PAM)

Bleaching clay BC

Adiabatic processes

Micro-indentation

Glass temperature