Abstract
Novel doped polystyrene (PS)/porous silicon (PSi) heterojunction photodetector prepared by solution cast and electrochemical techniques is proposed here. The structural and optical properties of polystyrene film and porous silicon surface were investigated using X-ray diffraction (XRD), scanning electron microscope, Fourier transformed infrared (FT-IR), and UV–Vis spectrophotometer. XRD data confirmed that the PS film was amorphous in nature and the porous silicon was nanocrystalline. The optical properties showed that the average optical transmittance and the optical energy gap of PS film were 80% and 3.2 eV, respectively. The electrical properties revealed that the electrical resistivity and mobility of the doped polystyrene film were 3 × 104 Ω cm and 4.5 × 10−5 cm2 V−1 s−1, respectively. Photoluminescence PL of porous silicon was investigated. Dark I–V characteristics revealed that the PS/PSi heterojunctions prepared with an etching time of 5 min exhibited better-rectifying properties than that of PS/PSi heterojunction prepared at 10 min. The figures of merit of the photodetectors such as spectral responsivity, external quantum efficiency, and detectivity were investigated and compared with Au/PSi Schottky photodetectors. Minority carrier lifetime of the photodetectors was measured using open circuit voltage decay method.
This is a preview of subscription content, log in to check access.
Access options
Buy single article
Instant access to the full article PDF.
US$ 39.95
Price includes VAT for USA
Subscribe to journal
Immediate online access to all issues from 2019. Subscription will auto renew annually.
US$ 99
This is the net price. Taxes to be calculated in checkout.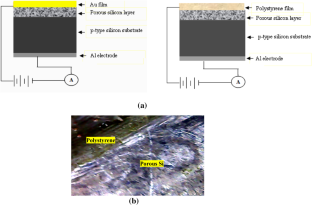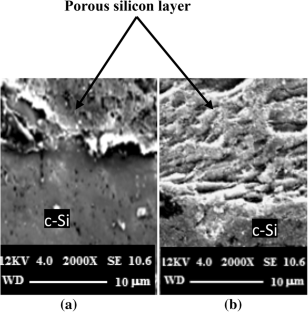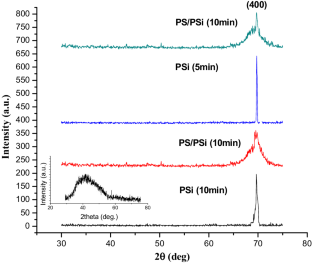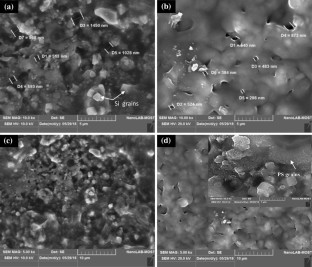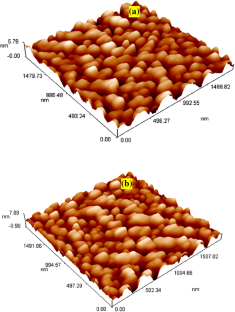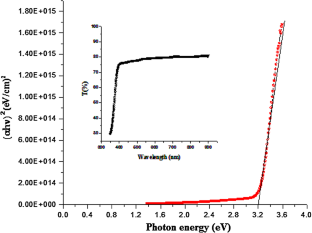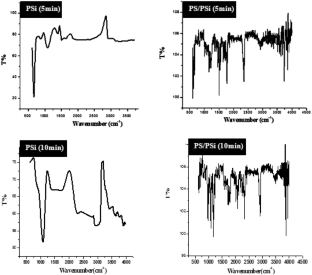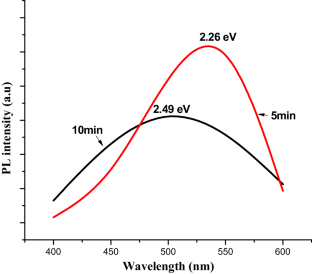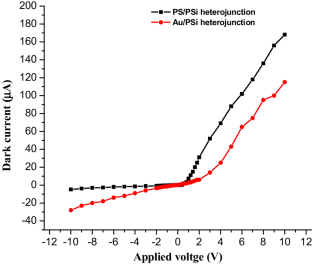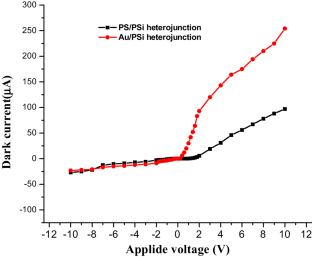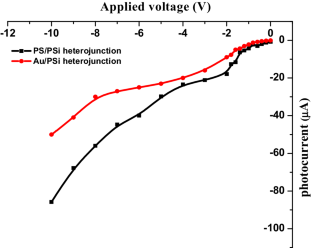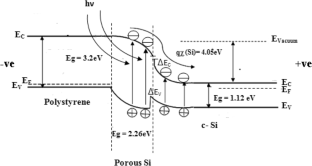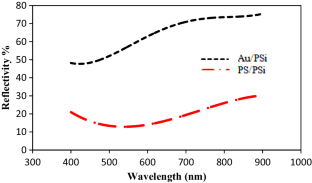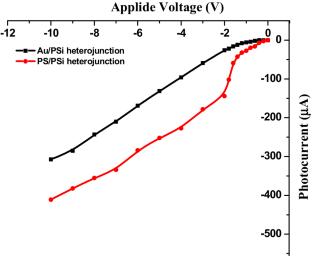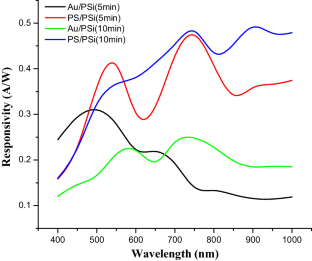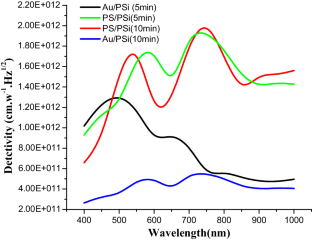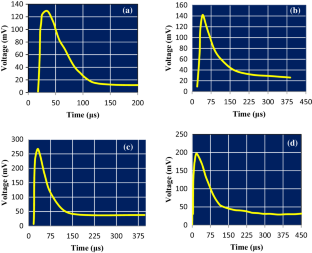 References
1.

R. Dubey, D. Gautam, J. Opto. Electr. Biomed. Mater. 1, 8e14 (2009)

2.

M. Ramesh, H. Nagaraja, Mater. Today Chem. 3, 10e14 (2017)

3.

J. Estevez, J. Arriaga, A. Mendez-Blas, J. Appl. Phys. 111, 013103 (2012)

4.

R. Ismail, Mod. Phys. Lett. B 27, 1350217 (2013)

5.

A. Abd Rahim, N. Sah, I. Hamzah, S. Sulaiman, M. Zahidi, Appl. Mech. Mater. 815, 121 (2015)

6.

R. Ismail, K. Khashan, A. Alwan, Silicon 9, 321 (2017)

7.

N. Habubi, R. Ismail, A. Abd, W. Hamoudi, Indian J. Pure Appl. Phys. 53, 718 (2015)

8.

N. Naderi, M. Hashim, J. Alloy. Compd. 552, 356 (2013)

9.

L. Martínez, O. Ocampo, Y. Kumar, V. Agarwal, Nanoscale Res. Lett. 9, 437 (2014)

10.

S. Dhar, S. Chakrabarti, Semicond. Sci. Technol. 15, L39 (2000)

11.

R. Ismail, e-J. Surf. Sci. Nanotechnol. 8, 388 (2010)

12.

R. Ismail, A. Alwan, A. Ahmed, Appl. Nanosci. 7, 9 (2017)

13.

J. Spurgeon, S. Boettcher, M. Kelzenberg, B. Brunschwig, H. Atwater, N. Lewis, Adv. Mater. 22, 3277 (2010)

14.

J. Kim, S. Joo, K. Lee, J. Kim, D. Shin, S. Kim, S. Choi, ACS Appl. Mater. Interfaces 6, 20880 (2014)

15.

V. Dhyani, P. Dwivedi, S. Dhanekar, S. Das, Appl. Phys. Lett. 111, 191107 (2017)

16.

Y. Chen, Y. Guo, S. Batra, E. Wang, Y. Wang, X. Liu, Y. Wang, M. Cakmak, Nanoscale 7, 37 (2015)

17.

Z. Rymansaib, P. Iravani, E. Emslie, M. Medvidović-Kosanović, M. Sak-Bosnar, R. Verdejo, F. Marken, Electroanalysis 28, 1517 (2016)

18.

R. Ismail, N. Almashhadani, R. Sadik, Appl. Nanosci. 7, 109 (2017)

19.

P. Ding, B. Qu, J. Appl. Polym. Sci. 101, 3758 (2006)

20.

S. Aziz, S. Hussein, A. Hussein, S. Saeed, Int. J. Met. 2013, 1 (2013)

21.

V. Sangawar, M. Golchha, Int. J. Sci. Eng. Res. 4, 2700 (2013)

22.

M. Ligeon, F. Mullen, R. Romestain, J. Vial, J. Lumin. 57, 111 (1993)

23.

H. Yorikawa, S. Muramatsu, J. Lumin. 87–89, 423 (2000)

24.

A. EI-Agramy, A. Shabaka, Polym. Degrad. Stab. 37, 159 (1992)

25.

H. Roghani-Mamaqani, V. Haddadi-Asl, K. Khezrii, M. Salami -Kalajahi, RSC Adv. 4, 24439 (2014)

26.

Y. Liu, B. Park, Y. Kim, H. Choi, J. Mater. Chem. 21, 17396 (2011)

27.

E. Biazar, R. Zeinali, N. Montazeri, et al., Int. J. Nanomed. 9, 549 (2010)

28.

R. Ismail, A. Ali, K. Hasson, Micro Nano Lett. 7, 536 (2012)

29.

D. Halliday, J. Eggleston, P. Adams, I. Pentland, A. Monkman, Synth. Met. 85, 1245 (1997)

30.

H. Hadi, R. Ismail, N. Habubi, Indian J. Phys. 88, 59 (2014)

31.

R. Ismail, S. Al-Jawad, N. Hussein, Appl. Phys. A 117, 1977 (2014)

32.

R. Ismail, A. Al-Samarai, A. Ali, Optik 168, 302 (2018)

33.

H. Hadi, F. Zain Al-Abedeen, Int. J. Emerg. Res. Manag. Technol. 3, 166 (2014)

34.

F. Fonthal, T. Trifonov, Á Rodríguez, J. Pallarès, J. Ferré-Borrull, J. Pallarès, Conference: Eurosensor XIX 2005, At: Barcelona, Vol. 1, Sep. 2005

35.

M. Vaqueiro-Contreras. V. Markevich. J. Mullins. M. Halsall. L. Murin. R. Falster. J. Binns. J. Coutinho. A.R. Peaker, J. Appl. Phys. 123, 161415 (2018)

36.

R. Ismail, W. Hamoudi, K. Saleh, Mater. Sci. Semicond. Process. 21, 194 (2014)
Additional information
Publisher's Note
Springer Nature remains neutral with regard to jurisdictional claims in published maps and institutional affiliations.
About this article
Cite this article
Hadi, H.A., Ismail, R.A. & Almashhadani, N.J. Preparation and Characteristics Study of Polystyrene/Porous Silicon Photodetector Prepared by Electrochemical Etching. J Inorg Organomet Polym 29, 1100–1110 (2019). https://doi.org/10.1007/s10904-019-01072-9
Received:

Accepted:

Published:

Issue Date:
Keywords
Porous silicon

Polystyrene

Electrochemical etching

Photodetector