Abstract
In this study, wet chemical co-precipitation method was employed for the synthesis of pure and doped nickel ferrite nanoparticles at low temperature whereas the concentration of nickel varies from 2, 4, 6 and 8%. Optical absorption and transmission, Surface morphology, and structural properties of material are characterized by Fourier-transform infrared spectrometer, ultra-violet visible spectroscopy, scanning electron microscopy and powder X-ray diffraction respectively. It is observed that the transmission, size and band gap energy increases by increasing the amount of nickel. Red shift of the peaks is observed in the UV–visible spectra which is associated with the increase in size of the nickel ferrite. It can be used to fabricate devices intended to store data, for the classification of inorganic materials which plays a very important role in the different aspects of life due to their outstanding magnetic, electronic and optical properties.
This is a preview of subscription content, log in to check access.
Access options
Buy single article
Instant access to the full article PDF.
US$ 39.95
Price includes VAT for USA
Subscribe to journal
Immediate online access to all issues from 2019. Subscription will auto renew annually.
US$ 99
This is the net price. Taxes to be calculated in checkout.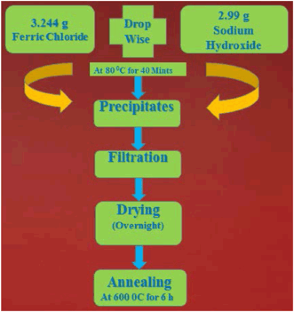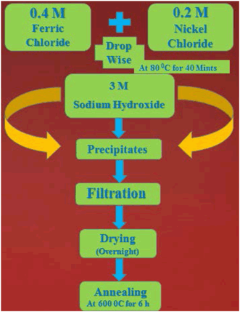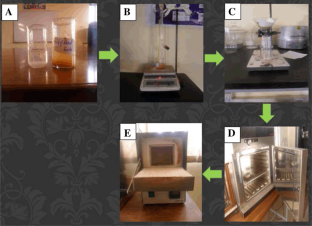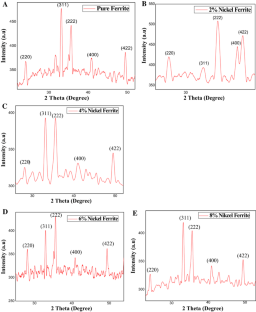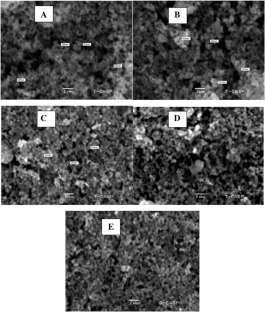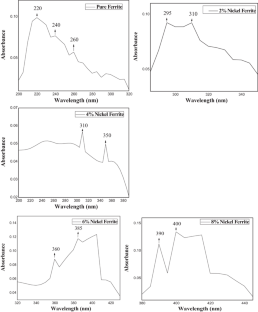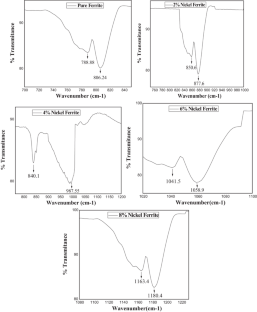 References
1.

M. Dariel, L.H. Bennett, D.S. Lashmore, J. Appl. Phys. 61, 4067 (1987)

2.

W.D. Williams, N. Giordano, Phys. Rev. B 33, 8146 (1986)

3.

T.M. Whitney, J.S. Jiang, P.C. Searson, Science 261, 1316 (1986)

4.

L. Piraux, J.M. George, J.F. Despres, C. Leroy, Appl. Phys. Lett. 65, 2484 (1994)

5.

J. Yang, S.B. Park, H.G. Yoon, Y.M. Huh, S. Haam, Int. J. Pharm. 324, 185–190 (2006)

6.

F.X. Hu, K.G. Neoh, E.T. Kang, Biomaterials 27, 5725–5733 (2006)

7.

Y.L. Luo, L.H. Fan, F. Xu, Y.S. Chen, C.H. Zhang, Q.B. Wei, Mater. Chem. Phys. 120, 590–597 (2010)

8.

K.V.P.M. Shafi, Y. Koltypin et al., J. Phys. Chem. B 101, 6409 (1997)

9.

M. Khaldi, A. Benyoucef, C. Quijada, A. Yahiaoui, E. Morallon, J. Inorg. Organomet. Polym. Mater. 24, 267–274 (2014)

10.

Z. Cai, C.R. Martin, J. Am. Chem. Soc. 111, 4138 (1989)

11.

S.K. Chakarvarti, J. Vetter, Nucl. Instrum. Methods Phys. Res. B 62, 109 (1991)

12.

S.K. Chakarvarti, J. Vetter, J. Micromech. Microeng. 3, 57 (1993)

13.

S. Larumbe, C.G. Polo, J.I.P. Landazábal, A.G. Prieto, J. Nanosci. Nanotechnol. 12, 1–9 (2012)

14.

S. Benykhlef, A. Bekhoukh, R. Berenguer, E. Morallon, Colloid Polym. Sci. 294, 1877–1885 (2016)

15.

I. Radja, H. Djelad, E. Morallon, A. Benyoucef, Synth. Met. 202, 25–32 (2015)

16.

M. Kooti, A.N. Sedeh, J. Mater. Sci. Technol. 29, 34–38 (2013)

17.

F.S. Tehrani, V. Daadmehr, A.T. Rezakhani, J. Supercond. Novel Magn. 25, 2443–2455 (2012)

18.

M.H. Sousa, F. Augusta, J. Phys. Chem. 105, 1168–1175 (2001)

19.

F. Chouli, I. Radja, E. Morallon, A. Benyoucef, Polym. Compos. (2015)

20.

R. Galindo, E. Mazario, S. Gutiérrez, M.P. Morales, P. Herrasti, J. Alloys Compd., 536S, S241–S244, (2012)

21.

G. Fan, Z. Yang, L. Li, J. Chem. Eng. 155, 534 (2009)

22.

S.Y. Vilar, M.S. Andujar, C.G. Aguirrea, J. Mira, M.A.S. Rodrıguez, J. Solid State Chem. 182, 2685–2690 (2009)

23.

R.H. Kodama, J. Magn. Magn. Mater. 200, 359 (1999)

24.

S. Prasad, N.S. Gajbhiye, J. Alloys Compd. 265, 87 (1998)

25.

S. Son, M. Taheri, E. Carpenter, J. Appl. Phys. 91, 7589 (2002)

26.

F.Z. Dahou, M.A. Khaldi, A. Zehhaf, A. Benyoucef, M.I. Ferrahi, Adv. Polym. Technol. 35, 1–8 (2016)

27.

S.K.E. Islam, P. Sharma, J. Nano Electron. Phys. 6, 1–4 (2014)

28.

R. Asokarajan, A.M.F. Benial, K. Neyvasagam, Int. J. Nanosci. Nanotechnol. 4, 113–120 (2013)

29.

P.H. Gomez, J.M. Munoz, M.A. Valente, C. Torres, C. de Francisco, Eur. Phys. J. Conf. 40, 170031–170034 (2013)

30.

V.R. Cosovic, N.M. Talijan, A.R. Cosovic, J. Trends Dev. Mach. Assoc. Technol. 18, 115–118 (2014)

31.

R. Suresh, P. Moganavally, M. Deepa, Int. J. ChemTech Res. 8, 113–116 (2015)

32.

Z.P. Cherkezova-Zheleva, K.L. Zaharieva, V.S. Petkova, B.N. Kunev, I.G. Mitov, Bulg. Chem. Commun. 44, 24–29 (2012)

33.

K. Maaz, S. Karim, S.K. Mumtaz, Hasanain, J. Liu, L. Duan, J. Magn. Magn. Mater. 321, 1838–1842 (2009)

34.

A. Gatelyte, D. Jasaitis, A. Beganskiene, A. Kareiva, Mater. Sci. 17, 302–307 (2011)

35.

S. Omprakash, A.S. Roy, P.S. Naik, Int. J. Basic Appl. Res. 1, 17–23 (2011)

36.

K. Rafeekali, M. Maheem, E.M. Mohammed, Int. J. Eng. Sci. Innov. Technol. 4, 194–198 (2015)

37.

E. Perez, C.G. Polo, S. Larumbe, J.I.P. Landazabal, V. Sagredo, Revista Mexicana de Fisica S, 58, 104–107 (2012)

38.

M.P. Reddy, W. Madhuri, K. Sadhana, J. Sol-Gel. Sci. Technol. 70, 400–404 (2014)

39.

B.P. Jacob, A. Kumar, R.P. Pant, S. Singh, E.M. Mohammed, Bull. Mater. Sci. 34, 345–1350 (2011)

40.

K. Nejati, R. Zabihi, Chem. Cent. J. 6, 1–6 (2012)

41.

S. Diodati, L. Pandolfo, A. Caneschi, S. Gialanella, Nano Res. 7, 1027–1042 (2014)

42.

N. Kasapoglu, A. Baykal, M.S. Toprak, Y. Koseoglu, H. Bayrakdar, Turk. J. Chem. 31, 659–666 (2007)

43.

F. Chouli, A. Zehhaf, A. Benyoucef, Macromol. Res. 22, 26–31 (2014)

44.

Z.H. Zhou, J.M. Xue, J. Wang, J. Appl. Phys. 91, 6015–6020 (2002)

45.

R. Gopal, S.C. Singh, R.K. Swarnkar, Nano Sci. Technol. Inst. 1, 166–169 (2009)

46.

H. Kavas, N. Kasapoglu, A. Baykal, Y. Koseoglu, Chem. Pap. 63, 450–455, (2009)

47.

H.R. Ghorbani, A.A. Safekordi, H. Attar, S.M. Rezayat Sorkhabadi, Chem. Biochem. Eng. Q. 25, 317–326 (2011)

48.

A.B. Seabra, N. Durán, Metals 5, 934–975 (2015)

49.

P.S. Foner, Rev. Sci. Instrum. 30, 548–557 (1959)

50.

C. Suryanarayana, M.G. Norton, X-Ray Diffraction: A Practical Approach, 1st edn. (Springer Science + Business Media, New York, 1998)

51.

A.R. West, Basic Solid State Chemistry, 2nd edn. (Wiley, New York, 1987)

52.

A. Dey, A.K. Mukhopadhyay, S. Gangadharan, M.K. Sinha, J. Therm. Spray Technol. 18, 578 (2009)

53.

J. Singh, M. Srivastava, A. Roychoudhury, D.W. Lee, S.H. Lee, B.D. Malhotra, J. Phys. Chem. B 117, 141 (2013)

54.

S. Kumar, P. Sharma, V. Sharma, J. Appl. Phys. 111, 113510 (2012)

55.

R. Asokarajan, Int. J. Nanosci. Nanotechnol. 4, 113–120 (2013)

56.

R. Das, M.E. Ali, S.B.A. Hamid, Rev. Adv. Mater. Sci. 38, 95–109 (2014)
About this article
Cite this article
Tahir, M.B., Iqbal, T., Hassan, A. et al. Wet Chemical Co-precipitation Synthesis of Nickel Ferrite Nanoparticles and Their Characterization. J Inorg Organomet Polym 27, 1430–1438 (2017). https://doi.org/10.1007/s10904-017-0598-5
Received:

Accepted:

Published:

Issue Date:
Keywords
Nanoparticles

Concentration

Nickel

Inorganic materials