Abstract
Latino immigrant dairy workers face significant challenges. Dairy's employment of immigrants is recent compared to other sectors, though today immigrants account for over half of US dairy workers. This study applies the Migrant Farmworker Stress Inventory to dairy for the first time. Interviews of 173 workers were conducted using the MFWSI, augmented with dairy specific indictors. Bivariate analysis identified associations between dairy worker characteristics and stress. Findings were compared to other studies using the MFWSI. Average stress was 74.6/156 points, with 36.5% at risk for clinically significant stress. Vermont ranked eighth among 11 MFWSI studies, and fourth of seven studies for significant stress. Primary stressors differed from studies of fruit and crop workers. Over a third of Vermont immigrant dairy workers risk debilitating stress. The MFWSI underestimates dairy farmworker stress and should be modified for this sector. Identified stressors indicate Spanish-language, dairy safety training may be beneficial.
Access options
Buy single article
Instant access to the full article PDF.
US$ 39.95
Tax calculation will be finalised during checkout.
Subscribe to journal
Immediate online access to all issues from 2019. Subscription will auto renew annually.
US$ 79
Tax calculation will be finalised during checkout.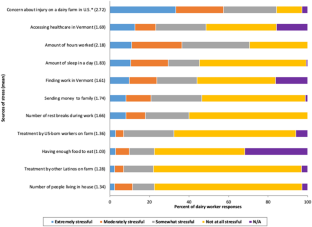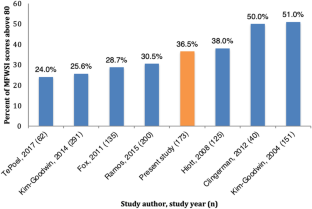 References
1.

Adcock F, Anderson D, Rosson P. The economic impacts of immigrant labor on U.S. Dairy farms. Arlington, VA: National Milk Producers Federation; 2015. https://www.nmpf.org/wp-content/uploads/2018/12/immigration-survey-090915.pdf. Accessed 26 May 2020.

2.

Baker D. Latino dairy workers in Vermont. Communities and banking. Spring ed: Federal Reserve Bank of Boston; 2013:5–7. https://www.bostonfed.org/publications/communities-and-banking/2013/spring/latino-dairy-workers-in-vermont.aspx. Accessed 26 May 2020

3.

Shea E. Vermont farmworker demographics. Paper presented at: Vermont Dairy Labor Forum; 12 Sep 2018; Burlington, VT.

4.

Grzywacz JG, Quandt SA, Early J, Tapia J, Graham CN, Arcury TA. Leaving family for work: ambivalence and mental health among Mexican migrant farmworker men. J Immigr Minor Health. 2006;8(1):85–97.

5.

Vega W, Warheit G, Palacio R. Psychiatric symptomatology among Mexican American farmworkers. Soc Sci Med. 1985;20(1):39–45.

6.

Winkelman SB, Chaney EH, Bethel JW. Stress, depression and coping among Latino migrant and seasonal farmworkers. Int J Environ Res Public Health. 2013;10(5):1815–30.

7.

Hanson E, Donohoe M. Health issues of migrant and seasonal farmworkers. J Health Care Poor Underserved. 2003;14(2):153–64.

8.

Carvajal S, Kibor C, McClelland D, et al. Stress and sociocultural factors related to health status among US-Mexico border farmworkers. J Immigr Minor Health. 2014;16(6):1176–82.

9.

Hovey JD, Hurtado G, Seligman LD. Findings for a CBT Support Group for Latina Migrant Farmworkers in Western Colorado. Curr Psychol. 2014;33(3):271–81.

10.

Crain R, Grzywacz JG, Schwantes M, Isom S, Quandt SA, Arcury TA. Correlates of mental health among Latino farmworkers in North Carolina. J Rural Health. 2012;28(3):277–85.

11.

Hurtado-de-Mendoza A, Gonzales F, Serrano A, Kaltman S. Social isolation and perceived barriers to establishing social networks among Latina immigrants. Am J Community Psychol. 2014;53(1–2):73–82.

12.

Pulgar CA, Trejo G, Suerken C, Ip EH, Arcury TA, Quandt SA. Economic hardship and depression among women in Latino farmworker families. J Immigr Minor Health. 2015;18(3):497–504.

13.

Hovey JD, Seligman LD. The mental health of agricultural workers. In: Lessenger JE, editor. Agricultural medicine: a practical guide. New York, NY: Springer; 2006. p. 282–99.

14.

Dickens S, Dotter E, Handy M, Waterman L. Reducing stress to minimize injury: the nation's first Employee Assistance Program for dairy farmers. J Agromedicine. 2014;19(2):103–6.

15.

Day A, Brasher K, Bridger R. Accident proneness revisited: the role of psychological stress and cognitive failure. Accid Anal Prev. 2012;49:532–5.

16.

US Department of Agriculture. Farm labor. Washington, DC: US department of agriculture; 2020. Available at: https://www.ers.usda.gov/topics/farm-economy/farm-labor. Accessed 26 May 2020

17.

Becerra D. They say we are criminals: the stress, fears, and hopes of migrant dairy workers as a result of US immigration policies. J Poverty. 2019;24:389–407.

18.

Reid A, Schenker MB. Hired farmworkers in the US: demographics, work organisation, and services. Am J Ind Med. 2016;59(8):644–55.

19.

Keller JC, Gray M, Harrison JL. Milking workers, breaking bodies: health inequality in the dairy industry. New Labor Forum. 2016;26(1):36–44.

20.

Ward L, Tanner A. Psychosocial stress and health-related quality of life for Latino migrant farmworkers. South Online J Nurs Res. 2010;10(1):1–15.

21.

Mares T. Life on the other border: farmworkers and food justice in Vermont. Oakland, CA: University of California Press; 2019.

22.

Grout L, Baker MG, French N, Hales S. A review of potential public health impacts associated with the global dairy sector. Geohealth. 2020;4(2):e2019GH000213.

23.

Wolcott-MacCausland N, Shea E. Ag labor management with a latino workforce: migration, cultural considerations, labor management and community resources. St. Albans, VT: University of Vermont Extension; 2011. https://www.uvm.edu/sites/default/files/aglabor_management_latinoworkforce_workbook.pdf. Accessed 7 Aug 2020

24.

Baker D, Chappelle D. Health status and needs of Latino dairy farmworkers in Vermont. J Agromedicine. 2012;17(3):277–87.

25.

Migrant Justice. Farmworkers document abuse & propose solution: milk with dignity. Burlington, VT: Migrant Justice; 2015. https://migrantjustice.net/sites/default/files/FinalSurveyMay2015.pdf. Accessed 26 May 2020

26.

Meyer I. Prejudice, social stress, and mental health in lesbian, gay, and bisexual populations: conceptual issues and research evidence. Psychol Bull. 2003;129(5):674–97.

27.

Hill CM, Williams EC, Ornelas IJ. Help wanted: mental health and social stressors among Latino day laborers. Am J Mens Health. 2019;13(2):1–12.

28.

Organista KC, Jung W, Neilands TB. Working and living conditions and psychological distress in Latino migrant day laborers. Health Educ Behav. 2019;46(4):637–47.

29.

Hovey JD. Migrant Farmworker Stress Inventory (MFWSI). 4 ed; 2000. http://www.psimh.com/research-clinical-instruments. Accessed 21 May 2015

30.

Hovey JD. Correlates of migrant farmworker stress among migrant farmworkers in Michigan. Migrant Health Newsline. 2001;18(4):5–6.

31.

Caplan S. Latinos, acculturation, and acculturative stress: a dimensional concept analysis. Policy Polit Nurs Pract. 2007;8(2):93–106.

32.

Kim-Godwin YS, Maume MO, Fox JA. Depression, stress, and intimate partner violence among Latino migrant and seasonal farmworkers in rural southeastern North Carolina. J Immigr Minor Health. 2014;16(6):1217–24.

33.

Negi NJ. Battling discrimination and social isolation: psychological distress among Latino day laborers. Am J Community Psychol. 2013;51(1–2):164–74.

34.

Rhodes SD, Mann L, Simán FM, Eunyoung S, Alonzo J, Downs M, Lawlor E, et al. The impact of local immigration enforcement policies on the health of immigrant Hispanics/Latinos in the United States. Am J Public Health. 2015;105(2):329–37.

35.

Hiott AE, Grzywacz JG, Davis SW, Quandt SA, Arcury TA. Migrant farmworker stress: mental health implications. J Rural Health. 2008;24:32–9.

36.

Hovey JD, Magana CG. Exploring the mental health of Mexican migrant farm workers in the Midwest: psychosocial predictors of psychological distress and suggestions for prevention and treatment. J Psychol. 2002;136:493–513.

37.

Clingerman EM, Brown A. Stress in migrant farmworkers during premigration. Biol Res Nurs. 2012;14(1):27–37.

38.

Fox JA, Kim-Godwin YS. Stress and depression among Latina women in rural southeastern North Carolina. J Community Health Nurs. 2011;28(4):223–32.

39.

Kim-Godwin YS, Bechtel GA. Stress among migrant and seasonal farmworkers in rural southeast North Carolina. J Rural Health. 2004;20(3):271–8.

40.

Evancie A. Migrant workers, activists protest on-farm living conditions. Vermont Public Radio. 16 May 2014

41.

True M. Discrimination case highlights police bias towards immigrants, advocates say. VT Digger. 18 Dec 2015. http://vtdigger.org/2015/12/18/discrimination-case-highlights-police-bias-toward-immigrants-advocates-say/. Accessed 26 May 2020

42.

Boyle D, Gerberich SG, Gibson RW, et al. Injury from dairy cattle activities. Epidemiology. 1997;8(1):37–41.

43.

Ramos AK, Carlo G, Grant K, Trinidad N, Correa A. Stress, depression, and occupational injury among migrant farmworkers in Nebraska. Safety. 2016;2(4):23.

44.

Bacio G, Moore A, Karno M, Ray L. Determinants of problem drinking and depression among Latino day laborers. Subst Use Misuse. 2014;49(8):1039–48.

45.

Duke MR, Bourdeau B, Hovey JD. Day laborers and occupational stress: testing the migrant stress inventory with a Latino day laborer population. Cultur Divers Ethnic Minor Psychol. 2010;16(2):116.

46.

Duke MR, Cunradi CB. Measuring intimate partner violence among male and female farmworkers in San Diego County. CA Cultur Divers Ethnic Minor Psychol. 2011;17(1):59–67.

47.

Luksyte A, Spitzmueller C, Rivera-Minaya CY. Factors relating to wellbeing of foreign-born hispanic workers. J Manag Psychol. 2014;29(6):685–704.

48.

Nguyen HT, Quandt SA, Grzywacz JG, Chen H, Galvan L, Kitner-Triolo MH, Arcury TA. Stress and cognitive function in Latino farmworkers. Am J Ind Med. 2012;55(8):707–13.

49.

Ramos AK, Su D, Lander L, Rivera R. Stress factors contributing to depression among Latino migrant farmworkers in Nebraska. J Immigr Minor Health. 2015;17(6):1627–34.

50.

TePoel M, Rohlman D, Shaw M. The impact of work demand and gender on occupational and psychosocial stress in Hispanic farmworkers. J Agric Saf Health. 2017;23(2):109–23.

51.

Tran AN, Ornelas IJ, Kim M, Perez G, Green M, Lyn MJ, Corbie-Smith G. Results from a pilot promotora program to reduce depression and stress among immigrant Latinas. Health Promot Pract. 2014;15(3):365–72.

52.

Harper CR, Brookmeyer KA. Using the social-ecological model to improve access to care for adolescents and young adults. J Adolesc Health. 2018;62:641–64.

53.

Colding J, Barthel S. Exploring the social-ecological systems discourse 20 years later. Ecol Soc. 2019;24(1):2.

54.

World Health Organization. The ecological framework. Violence prevention alliance; 2020. https://www.who.int/violenceprevention/approach/ecology/en/. Accessed 6 Oct 2020

55.

Wold B, Mittelmark MB. Health-promotion research over three decades: the social-ecological model and challenges in implementation of interventions. Scand J Public Health. 2018;46(20):20–6.

56.

Vermont Criminal Justice Training Council. Model fair and impartial policing policy. http://vcjtc.vermont.gov/content/model-fair-and-impartial-policing-policy. Accessed 26 May 2020

57.

Douphrate DI, Nonnenmann MW, Hagevoort R, de Porras GDR. Work-related musculoskeletal symptoms and job factors among large-herd dairy milkers. J Agromedicine. 2016;21(3):224–33.

58.

Kolstrup CL. Work-related musculoskeletal discomfort of dairy farmers and employed workers. J Occup Med Toxicol. 2012;7:23.

59.

McDaniel CJ, Cardwell DM, Moeller RB, Gray GC. Humans and cattle: a review of bovine zoonoses. Vector Borne Zoonotic Dis. 2014;14(1):1–19.

60.

Sanguesa PB. Prevent zoonotic diseases on your dairy farm. East Lansing, MI: Michigan State University Extension; 2017. https://www.canr.msu.edu/news/prevent_zoonotic_diseases_on_your_dairy_farm. Accessed 26 Oct 2020

61.

Juárez-Carrillo PM, Liebman AK, Reyes IA, Ninco Sánchez YV, Keifer MC. Applying learning theory to safety and health training for Hispanic immigrant dairy workers. Health Promot Pract. 2017;18(4):505–15.

62.

Vermont Agency of Agriculture, Food and Markets. Health and safety. https://agriculture.vermont.gov/dbic/health. Accessed 17 Jan 2021

63.

Ulrich AJ, Molina YE, Briant KE, Onstad LE, Copeland WE, Holte SE, Thompson BE. Stress among Latinos: does it vary by occupation and agricultural season? J Occup Environ Med. 2018;60(9):810–4.

64.

Grzywacz JG, Quandt SA, Chen HY, Isom S, Kiang L, Vallejos Q, Arcury TA. Depressive symptoms among Latino farmworkers across the agricultural season: structural and situational influences. Cultur Divers Ethnic Minor Psychol. 2010;16:335–43.

65.

Castañeda H, Kline N, Dickey N. Health concerns of migrant backstretch workers at horse racetracks. J Health Care Poor Underserved. 2010;21(2):489–503.

66.

Bailey DN, Dougherty A. A nurse-led wellness program for migrant backstretch workers. Nurs Forum. 2014;49(1):30–8.

67.

Swanberg JE, Clouser JM, Westneat SC, March MW, Reed DB. Occupational injuries on thoroughbred horse farms: a description of Latino and non-Latino workers experiences. Int J Environ Res Public Health. 2013;10(12):6500–16.

68.

Rodriguez A, Hagevoort GR, Leal D, Pompeii L, Douphrate DI. Using mobile technology to increase safety awareness among dairy workers in the United States. J Agromedicine. 2018;23(4):315–26.

69.

Arcury TA, Sandberg JC, Talton JW, Laurienti PJ, Daniel SS, Quandt SA. Mental health among Latina farmworkers and other employed Latinas in North Carolina. J. Rural Ment. Health. 2018;42(2):89.
Additional information
Publisher's Note
Springer Nature remains neutral with regard to jurisdictional claims in published maps and institutional affiliations.
About this article
Cite this article
Baker, D., Kades, J., Kolodinsky, J. et al. Dairy is Different: Latino Dairy Worker Stress in Vermont. J Immigrant Minority Health 23, 965–975 (2021). https://doi.org/10.1007/s10903-021-01232-5
Accepted:

Published:

Issue Date:
Keywords
Dairy

Immigrant farmworker

Latino

Stress

Vermont