Abstract
The Rohingyas fled from their home to escape ethnic persecution. Due to their status as refugees they have difficulties in accessing healthcare leading to avoidable mortality and morbidity. Infectious diseases are reported to be among the causes. To ease access to healthcare, IMAM Response and Relief Team (IMARET) provides a free monthly clinic for them. The objective of this study is to determine the proportion of infectious diseases and appropriateness of antimicrobial usage among its pediatrics patients. It was conducted in 2017, through universal sampling. Information retrieved were via interviews and medical records. The majority diagnosis were infectious diseases (57.1%), which include respiratory infections (77.3%), skin (13.6%), gastrointestinal (4.5%), eye and ear infection (both 1%). Albendazole (40.7%) was the most prescribed. Only 7.4% were appropriately prescribed antimicrobials. Age (p = 0.005) and BMI (p = 0.006) were significantly associated with infections.
Access options
Buy single article
Instant access to the full article PDF.
US$ 39.95
Tax calculation will be finalised during checkout.
Subscribe to journal
Immediate online access to all issues from 2019. Subscription will auto renew annually.
US$ 79
Tax calculation will be finalised during checkout.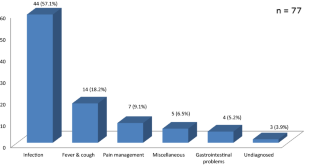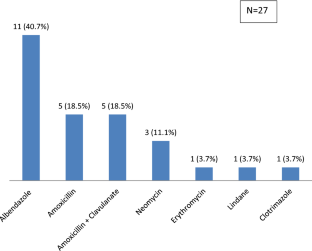 Availability of Data and Materials
All data and materials analysed are included in this article.
References
1.

UNHCR. The 1951 convention relating to the status of refugees and its 1967 protocol. Geneva, Switzerland: UNHCR; 2011.

2.

UNHCR. Convention and protocol relating to the status of refugees. Geneva, Switzerland: UNHCR; 2010.

3.

Khairi A. Managing the challenges of refugees and their rights in Malaysia. In Bangkok, Thailand; 2010. p. 1–12.

4.

Teng TS, Zalilah MS. Nutritional status of Rohingya children in Kuala Lumpur. Malays J Med Health Sci. 2011;7(1):41–9.

5.

Al Masud A, Ahmed S, Sultana MR, Alam SMI, Kabir R, Arafat SMY, et al. Health problems and health care seeking behaviour of Rohingya refugees. J Med Res Innov. 2017;1(1):1–9.

6.

Mahmood SS, Wroe E, Fuller A, Leaning J. The Rohingya people of Myanmar: health, human rights, and identity. The Lancet. 2017;389(10081):1841–50.

7.

Refugees UNHC for. Figures at a glance in Malaysia [Internet]. UNHCR. [cited 2020 Oct 18]. Available from: https://www.unhcr.org/en-my/figures-at-a-glance-in-malaysia.html.

8.

Kaur A. Refugees and refugee policy in Malaysia. UNEAC Asia Pap. 1962;2007(18):77–90.

9.

Hershey CL, Doocy S, Anderson J, Haskew C, Spiegel P, Moss WJ. Incidence and risk factors for malaria, pneumonia and diarrhea in children under 5 in UNHCR refugee camps: a retrospective study. Confl Health. 2011;5(1):24.

10.

Tahir ARM, Agussaiful N, Hisham SA, Rashid AA, Yahaya AY, Devaraj NK. Drug utilisation evaluation study on patients with diabetes mellitus among Rohingya refugees in IMARET Mobile Clinic. Malays J Med Health Sci. 2020;16:51–7.

11.

Schaible UE, Kaufmann SHE. Malnutrition and infection: complex mechanisms and global impacts. PLoS Med. 2007;4(5):0806–12.

12.

Kumar J, Shaik M, Kathi M, Deka A, Gambhir S. Prescribing indicators and pattern of use of antibiotics among medical outpatients in a teaching hospital of Central Nepal. J Coll Med Sci-Nepal. 2010;6(2):7–13.

13.

Clavenna A, Bonati M. Differences in antibiotic prescribing in pediatric outpatients. Arch Dis Child. 2011;96(6):590–5.

14.

Goossens H, Ferech M, Stichele RV, Elseviers M. Outpatient antibiotic use in Europe and association with resistance: a cross-national database study. Lancet. 2005;365:579–87.

15.

Gyssens IC. Quality measures of antimicrobial drug use. Int J Antimicrob Agents. 2001;17(1):9–19.

16.

Gold HS, Moellering RC, Jr. Antimicrobial-drug resistance. Drug Ther. 1996;335(19):1445–53.

17.

Parthasarathi G, Nyfort-Hansen K, Nahata MC. A text book of clinical pharmacy practice: essential concepts and skills. Orient Blackswan: Chennai, India; 2004. 520 p

18.

Bharathiraja R, Sridharan S, Chelliah LR, Suresh S, Senguttuvan M. Factors affecting antibiotic prescribing pattern in pediatric practice. Indian J Pediatr. 2005;72:877–9.

19.

Feleke M, Yenet W, Lenjisa J. Prescribing pattern of antibiotics in pediatric wards of Bishoftu Hospital, East Ethiopia. Int J Basic Clin Pharmacol. 2013;2(6):718.

20.

van Houten MA, Laseur M, Kimpen JLL. Shift in antibiotic prescribing patterns in relation to antibiotic expenditure in pediatrics. Eur J Pediatr. 1998;157(6):479–81.

21.

Knoppert D, Reed M, Benavides S, Totton S, Hoff D, Moffet B, et al. Pediatric age categories to be used in differentiating between listing on a model essential medicines list for children. Word Health Organization position paper 1.5; 2007.

22.

Ministry of Health Malaysia. National Antibiotic Guidelines 2014. Ministry of Health Malaysia; 2014.

23.

van Benten IJ, van Drunen CM, Koopman LP, van Middelkoop BC, Hop WCJ, Osterhaus ADME, et al. Age- and infection-related maturation of the nasal immune response in 0–2-year-old children. Allergy. 2005;60(2):226–32.

24.

Rodríguez L, Cervantes E, Ortiz R. Malnutrition and gastrointestinal and respiratory infections in children: a public health problem. Int J Environ Res Public Health. 2011;8(4):1174–205.

25.

Jain N, Lodha R, Kabra SK. Upper respiratory tract infections. Indian J Pediatr. 2001;68(12):1135–8.

26.

Arden KE, McErlean P, Nissen MD, Sloots TP, Mackay IM. Frequent detection of human rhinoviruses, paramyxoviruses, coronaviruses, and bocavirus during acute respiratory tract infections. J Med Virol. 2006;78(9):1232–40.

27.

Benediktsdóttir B. Upper airway infections in preschool children-frequency and risk factors. Scand J Prim Health Care. 1993;11(3):197–201.

28.

Barnett ED. Infectious disease screening for refugees resettled in the United States. Clin Infect Dis. 2004;39(6):833–41.

29.

Rouusounides A, Papaevangelou V, Hadjipanayis A, Panagakou S, Theodoridou M, Syrogiannopoulos G, et al. Descriptive study on parents' knowledge, attitudes and practices on antibiotic use and misuse in children with upper respiratory tract infections in Cyprus. Int J Environ Res Public Health. 2011;8(8):3246–62.

30.

Reflections on migrant and refugee health in Malaysia and the ASEAN region | BMC Proceedings | Full Text [Internet]. [cited 2020 Oct 18]. Available from: https://bmcproc.biomedcentral.com/articles/10.1186/s12919-018-0100-6.
Acknowledgements
We would like to thank the volunteers and patients involved in this study.
Ethics declarations
Conflict of interest
The authors declared to have no conflict of interests.
Additional information
Publisher's Note
Springer Nature remains neutral with regard to jurisdictional claims in published maps and institutional affiliations.
About this article
Cite this article
Tahir, A.R.M., Ee, X.W., Rashid, A.A. et al. The Proportion of Infectious Disease Cases, Its Associated Factors, and the Appropriateness of Antimicrobial Prescription Among Rohingya Refugee Pediatric Patients in IMARET Mobile Clinics. J Immigrant Minority Health (2021). https://doi.org/10.1007/s10903-021-01150-6
Keywords
Drug utilization evaluation

Antimicrobial agents

Pediatric

Refugees

Migrant health