Abstract
Poor mental health remains a significant source of morbidity and mortality in the Bhutanese refugee community. Mental Health First Aid (MHFA) is a promising intervention that has been used in other immigrant communities to prepare individuals to recognize and respond to mental health warning signs. This was a non-randomized program evaluation. Using pre- and post-training questionnaires developed for prior evaluations of MHFA, we examined the effectiveness of training offered with and without culturally-appropriate orientation to mental health terminology and concepts (N = 458). Pre- to post-training improvement in ability to recognize schizophrenia, ability to respond to schizophrenia and depression, and the overall mental health literacy was greater for Bhutanese refugees who attended orientation relative to other participants (P < 0.05). In scaling up MHFA training for other immigrant communities, we recommend developing and systematically evaluating culturally-appropriate orientation materials that introduce mental health vocabulary and contextualize mental health concepts.
Access options
Buy single article
Instant access to the full article PDF.
USD 39.95
Price includes VAT (USA)
Tax calculation will be finalised during checkout.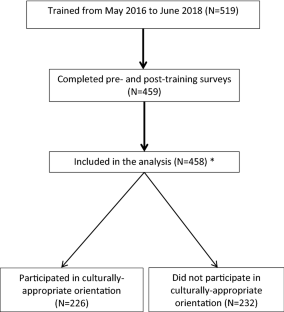 References
1.

UNHCR, The UN Refugee Agency. Global Trends—Forced displacement in 2017. 2018. https://www.unhcr.org/figures-at-a-glance.html. Published June 19, 2018. Accessed 24 Oct 2018

2.

Ao T, Shetty S, Sivilli T, et al. Suicidal ideation and mental health of Bhutanese refugees in the United States. J Immigr Minor Health. 2016;18(4):828–35.

3.

Steel Z, Chey T, Silove D, et al. Association of torture and other potentially traumatic events with mental health outcomes among populations exposed to mass conflict and displacement: a systematic review and meta-analysis. JAMA. 2009;302(5):537–49.

4.

Fazel M, Reed RV, Panter-Brick C, Stein A. Mental health of displaced and refugee children resettled in high-income countries: risk and protective factors. Lancet. 2012;379(9812):266–82.

5.

Fazel M, Wheeler J, Danesh J. Prevalence of serious mental disorder in 7000 refugees resettled in western countries: a systematic review. Lancet. 2005;365(9467):1309–14.

6.

Li SS, Liddell BJ, Nickerson A. The relationship between post-migration stress and psychological disorders in refugees and asylum seekers. Curr Psychiatry Rep. 2016;18(9):82.

7.

Porter M, Haslam N. Predisplacement and postdisplacement factors associated with mental health of refugees and internally displaced persons: a meta-analysis. JAMA. 2005;294(5):602–12.

8.

World Refugee Processing Center. Admission and arrivals. 2019. https://www.wrapsnet.org/admissions-and-arrivals. Published December 31, 2018. Accessed 6 Feb 2019.

9.

Cochran J, Geltman PL, Ellis H, et al. Suicide and suicidal ideation among Bhutanese refugees—United States, 2009–2012. MMWR. Morbidity and mortality weekly report. (2013);62(26):533.

10.

Ellis BH, Lankau EW, Ao T, et al. Understanding Bhutanese refugee suicide through the interpersonal-psychological theory of suicidal behavior. Am J Orthopsychiatry. 2015;85(1):43–55.

11.

Hagaman AK, Sivilli TI, Ao T, et al. An investigation into suicides among Bhutanese refugees resettled in the United States between 2008 and 2011. J Immigr Minor Health. 2016;18(4):819–27.

12.

Yun K, Paul P, Subedi P, et al. Help-seeking behavior and health care navigation by Bhutanese refugees. J Community Health. 2016;41(3):526–34.

13.

Administration for Children & Families, Office of Refugee Resettlement. 2015. Stories of Hope from Bhutanese refugees: moving from distress to wellness. 2016. https://www.youtube.com/watch?v=EYrXYYnUCJI&t=529s. Published March 31, 2015. Accessed 7 May 2016.

14.

Lam AY, Jorm AF, Wong DF. Mental health first aid training for the Chinese community in Melbourne, Australia: effects on knowledge about and attitudes toward people with mental illness. Int J Ment Health Syst. 2010;4:18.

15.

Minas H, Colucci E, Jorm AF. Evaluation of mental health first aid training with members of the Vietnamese community in Melbourne, Australia. Int J Ment Health Syst. 2009;3(1):19.

16.

Subedi P, Li C, Gurung A, et al. Mental health first aid training for the Bhutanese refugee community in the United States. Int J Ment Health Syst. 2015;9:20.

17.

Griffiths KM, Nakane Y, Christensen H, et al. Stigma in response to mental disorders: a comparison of Australia and Japan. BMC Psychiatry. 2006;6:21.

18.

Jorm AF, Kitchener BA, Mugford SK. Experiences in applying skills learned in a mental health first aid training course: a qualitative study of participants' stories. BMC Psychiatry. 2005;5:43.

19.

Saunders NR, Lebenbaum M, Lu H, et al. Trends in mental health service utilisation in immigrant youth in Ontario, Canada, 1996–2012: a population-based longitudinal cohort study. BMJ Open. 2018;8(9):e022647.

20.

Vonnahme LA, Lankau EW, Ao T, Shetty S, Cardozo BL. Factors associated with symptoms of depression among Bhutanese refugees in the United States. J Immigr Minor Health. 2015;17(6):1705–14.

21.

Bishop D, Altshuler M, Scott K, et al. The refugee medical exam: what you need to do. J Fam Pract. 2012;61(12):E1–E10.

22.

Lauber C, Rossler W. Stigma towards people with mental illness in developing countries in Asia. Int Rev Psychiatry. 2007;19(2):157–78.
Acknowledgements
We thank Anthony Francis Jorm, and Tomas Matza for their guidance, Keshav Acharya and Asmita Gurung for the data entry, and Bhutanese community leaders in the US for outreach and implementation of the survey. Dr. Yun was supported by NIH Grant 5K23HD082312. Mental Health First Aid training was supported by the Office of Refugee Resettlement and their local partners.
Ethics declarations
Conflict of interest
The authors report no conflict of interest, finance, or otherwise.
Ethical Approval
The intent of this project was to improve the effectiveness of an ongoing program and inform decisions about future program development, this project was found to be a program evaluation rather than human subjects research. While a formal determination that planned activities would not involve human subjects research was not sought, categorization of this project as program evaluation was made with guidance from staff in the Human Research Protection Office (HRPO) at the University of Pittsburgh.
Research Involving Human Participants and/or Animals
The intent of our project is to improve program effectiveness and to inform decisions about future program development using a questionnaire survey tool to check new knowledge and skills learned. Therefore, this study does not include humans' or animals' specimens for study.
Informed Consent
All participants were informed verbally and in writing that completing the questionnaires was voluntary and the survey would be used to calculate summary statistics. No identifying details such as names, date of birth, or identity number were collected.
Additional information
Publisher's Note
Springer Nature remains neutral with regard to jurisdictional claims in published maps and institutional affiliations.
Electronic supplementary material
Below is the link to the electronic supplementary material.
About this article
Cite this article
Gurung, A., Subedi, P., Zhang, M. et al. Culturally-Appropriate Orientation Increases the Effectiveness of Mental Health First Aid Training for Bhutanese Refugees: Results from a Multi-state Program Evaluation. J Immigrant Minority Health 22, 957–964 (2020). https://doi.org/10.1007/s10903-020-00986-8
Keywords
Bhutanese refugees

Cultural perspectives

Mental health terminology

Stigma