Abstract
Five years after a hunger strike of undocumented migrant workers, participants were interviewed to find out about the long term consequences and what the post-factum evaluation of their participation was. A longitudinal observational study was set up, interviewing 46 of the 100 ex-hunger strikers and combining quantitative and qualitative research. This grassroots study shows that one out of six did not derive any benefit from their participation. Half regretted their participation, especially the ones who lost again their legal permit, mentioning health consequences and the fact that their situation hadn't improved. Given the growing number of asylum seekers around the world who are being refused legal permits, hunger strikes will remain a pressing topic. Health professionals, confronted with this possible health and life threatening action, should be informed about the long term impact of voluntary fasting on body and mind of ex-participants.
This is a preview of subscription content, log in to check access.
Access options
Buy single article
Instant access to the full article PDF.
US$ 39.95
Price includes VAT for USA
Subscribe to journal
Immediate online access to all issues from 2019. Subscription will auto renew annually.
US$ 99
This is the net price. Taxes to be calculated in checkout.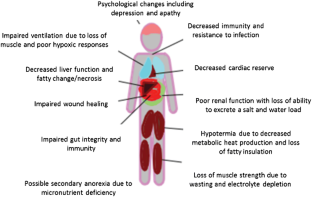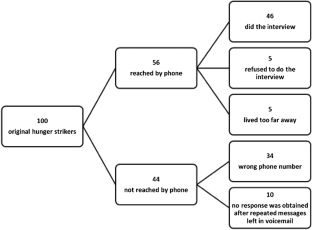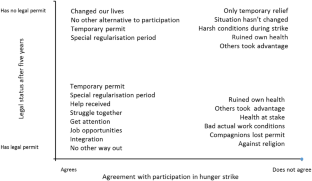 References
1.

Vanobberghen R, Louckx F, Depoorter A-M, Devroey D, Vandevoorde J. The role of physicians during hunger strikes of undocumented migrant workers in a non-custodial setting. Perspect Biol Med. 2019;62(1):111–30.

2.

Siméant J. La grève de la faim. Contester. (Presses de Science Po, ed.). Paris; 2009.

3.

Prévost M. Hors limite : sans-papiers en grève de la faim. Santé Conjug. 2009;48:30–3. https://www.maisonmedicale.org/Hors-limite-sans-papiers-en-greve.html.

4.

Prévost M. Que se passe-t-il lors d'une grève de la faim ? Santé Conjug. 2010;53:25-29. http://www.maisonmedicale.org/Que-se-passe-t-il-lors-d-une-greve,2266.html.

5.

Gétaz L, Rieder J-P, Nyffenegger L, Eytan A, Gaspoz J-M, Wolff H. Hunger strike among detainees: guidance for good medical practice. Swiss Med Wkly. 2012;142:w13675. https://doi.org/10.4414/smw.2012.13675.

6.

Allen SA, Reyes H. Clinical and operational issues in the medical management of hunger strikes. London; 2013. http://www.medicaljustice.org.uk.

7.

Chalela JA, Lopez JI. Medical management of hunger strikers. Nutr Clin Pract. 2013;28(1):128–35. https://doi.org/10.1177/0884533612462896.

8.

Dixon WC. Hunger strikes: preventing harm to students. J Am Coll Heal. 1999;48(2):87–90.

9.

García de Olalla P, Caylà JA, Milá C, et al. Tuberculosis screening among immigrants holding a hunger strike in churches. Int J Tuberc lung Dis. 2003;7(12 Suppl 3):S412-6. http://www.ncbi.nlm.nih.gov/pubmed/14677831.

10.

DH/Offender health. Guidelines for the clinical management of people refusing food in immigration removal centres and prisons. London; 2009. http://www.thelancet.com/cms/attachment/2000996268/2003692958/mmc1.pdf.

11.

Fessler DMT. The implications of starvation induced psychological changes for the ethical treatment of hunger strikers. J Med Ethics. 2003;29(4):243–7. http://www.ncbi.nlm.nih.gov/pmc/articles/PMC1733754/pdf/v029p00243.pdf.

12.

Peel M. Hunger strikes: understanding the underlying physiology will help doctors provide proper advice. BMJ. 1997;315(7112):829–30. https://doi.org/10.1136/bmj.315.7112.829.

13.

Başoğlu M, Yetimalar Y, Gürgör N, et al. Neurological complications of prolonged hunger strike. Eur J Neurol. 2006;13(10):1089–97. https://doi.org/10.1111/j.1468-1331.2006.01531.x.

14.

Chaari A, Chakroun O, Ksibi H, et al. Acute renal failure and rhabdomyolysis secondary to prolonged hunger strike a case report. La Rev Médecine Interne. 2009;30(10):914–6. https://doi.org/10.1016/j.revmed.2009.01.014.

15.

Malnick S, Abdul-Hai A, Abdullah A, et al. Bloody diarrhoea in a hunger striker: starvation colitis. Lancet. 2015;385(9978):1696. https://doi.org/10.1016/S0140-6736(15)60309-9.

16.

Creswell JW. Research design. qualitative, quantitative, and mixed methods approaches. In: Laughton CD, ed. second edi. Thousand Oaks: SAGE Publications, Inc.; 2003.

17.

Bryman A. Integrating quantitative and qualitative research: how is it done? Qual Res. 2006;6(1):97–113. https://doi.org/10.1177/1468794106058877.

18.

van Reenen M, Janssen B. EQ-5D-5L User Guide. Rotterdam; 2015. https://euroqol.org/wp-content/uploads/2016/09/EQ-5D-5L_UserGuide_2015.pdf.

19.

Keys A, Brozek J, Henschel A, Mickelsen O, Taylor HL. Experimental starvation in man. Minnesota: University of Minnesota; 1945.

20.

Guetzkow HS, Bowman PH. Men and hunger. Elgin: Brethren Publishing House; 1946.

21.

Kalm LM, Semba RD. They starved so that others be better fed : remembering ancel keys and the minnesota experiment. Am Soc Nutr Sci. 2005;135:1347–52.

22.

Eckert ED, Gottesman II, Swigart SE, Casper RC. A 57-year followup investigation and review of the minnesota study on human starvation and its relevance to eating disorders. Arch Psychol. 2018;2(3):1–19.
Additional information
Publisher's Note
Springer Nature remains neutral with regard to jurisdictional claims in published maps and institutional affiliations.
About this article
Cite this article
Vanobberghen, R., Louckx, F., Devroey, D. et al. Five Years Later: The Impact of a Hunger Strike on Undocumented Migrant Workers in Brussels. J Immigrant Minority Health 22, 392–398 (2020). https://doi.org/10.1007/s10903-019-00886-6
Keywords
Hunger strike/r/s

Undocumented immigrants

Decision making