Abstract
Immigrant health research has highlighted the relevance of socioeconomic, health services, and immigration-related factors in explaining disparities in health screening rates between native- and foreign-born individuals. This study advances knowledge in this area by investigating the explanatory strength of such factors for cardiovascular risk screening across eight immigrant groups. Using nationally representative data from the National Health Interview Survey, we test the hypothesis that known correlates of preventive healthcare seeking differ in their ability to predict screening behavior depending on region of origin. Results show that health service factors (lack of insurance and no place for care) are fairly consistent predictors of preventive screening while socioeconomic and immigration-related factors are less so. These findings surface the complex processes underlying observed differentials in health-seeking behaviors and illuminate potential targets for public health and clinical intervention.
Access options
Buy single article
Instant access to the full article PDF.
US$ 39.95
Tax calculation will be finalised during checkout.
Subscribe to journal
Immediate online access to all issues from 2019. Subscription will auto renew annually.
US$ 79
Tax calculation will be finalised during checkout.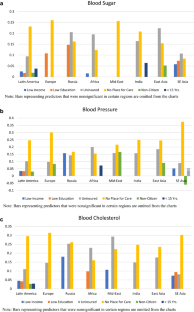 Notes
1.

In supplementary analysis, we fit all models with two alternative operationalizations of duration: fewer than 10 years and fewer than 5 years. For East Asians, use of shorter time spans generally pushed effects downward, either from non-significant to negative or from positive to non-significant. For all other groups, the coefficients for these alternatives did not differ significantly from those for fewer than 15 years. The special meaning of shorter stay durations for East Asians is an interesting empirical question for future consideration.
References
1.

Mozaffarian D, Benjamin EJ, Go AS, et al. Executive summary: heart disease and stroke statistics—2016 update: a report from the American Heart Association. Circulation. 2016;133(4):447–54.

2.

Rodriguez F, Hastings KG, Hu J, Lopez L, Cullen M, Harrington RA, Palaniappan LP. Nativity status and cardiovascular disease mortality among Hispanic adults. J Am Heart Assoc. 2017;6(12):1–9.

3.

Abraido-Lanza AF, Chao MT, Gammon MD. Breast and cervical cancer screening among Latinas and non-Latina whites. Am J Public Health. 2004;94:1393–8.

4.

Samuel PS, Pringle JP, James NW, Fielding SJ, Fairfield KM. Breast, cervical, and colorectal cancer screening rates amongst female Cambodian, Somali, and Vietnamese immigrants in the USA. Int J Equity Health. 2009;8(1):30.

5.

Erwin DO, Treviño M, Saad-Harfouche FG, Rodriguez EM, Gage E, Jandorf L. Contextualizing diversity and culture within cancer control interventions for Latinas: changing interventions, not cultures. Soc Sci Med. 2010;71(4):693–701.

6.

Swan J, Breen N, Graubard BI, et al. Data and trends in cancer screening in the United States. Cancer. 2010;116(20):4872–81.

7.

Rodriguez MA, Ward LM, Perez-Stable EJ. Breast and cervical cancer screening: impact of health insurance status, ethnicity and nativity of Latinas. Ann Fam Med. 2005;3(3):235–41.

8.

Barcellos SH, Goldman DP, Smith JP. Undiagnosed disease, especially diabetes, casts doubt on some of reported health "advantage" of recent Mexican immigrants. Health Aff (Millwood). 2012;31(12):2727–37.

9.

Zallman L, Himmelstein DH, Woolhandler S, Bor DH, Ayanian JZ, Wilper AP, McCormick D. Undiagnosed and uncontrolled hypertension and hyperlipidemia among immigrants in the US. J Immigr Minor Health. 2013;15(5):858–65. https://doi.org/10.1007/s10903-012-9695-2.

10.

Vargas Bustamante A, Chen J, Rodriguez HP, Rizzo JA, Ortega AN. Use of preventive care services among Latino subgroups. Am J Prev Med. 2010;38(6):610–9.

11.

Salinas JJ, Abdelbary B, Rentfro A, Fisher-Hoch S, McCormick J. Cardiovascular disease risk among the Mexican American population in the Texas-Mexico border region, by age and length of residence in United States. Prev Chronic Dis. 2014;11:E58.

12.

Ortega AN, Rodriguez HP, Bustamante AV. Policy dilemmas in Latino health care and implementation of the Affordable Care Act. Annu Rev Public Health. 2015;36:525–44.

13.

Mehrotra N, Gaur S, Petrova A. Health care practices of the foreign born Asian Indians in the United States: a community based survey. J Community Health. 2012;37(2):328–34.

14.

Green EH, Freund KM, Posner MA, David MM. Pap smear rates among Haitian immigrant women in eastern Massachusetts. Public Health Rep. 2005;120(2):133–9.

15.

Ivanov LL, Buck K. Health care utilization patterns of Russian-speaking immigrant women across age groups. J Immigr Health. 2002;4(1):17–27.

16.

De Alba I, Hubbell FA, McMullin JM, Sweningson JM, Saitz R. Impact of US citizenship status on cancer screening among immigrant women. J Gen Intern Med. 2005;20(3):290–6.

17.

Echeverria SE, Carrasquillo O. The roles of citizenship status, acculturation, and health insurance in breast and cervical cancer screening among immigrant women. Med Care. 2006;44(8):788–92.

18.

Saint-Jean G, Crandall LA. Utilization of preventive care by Haitian immigrants in Miami, Florida. J Immigr Health. 2005;7(4):283–92.

19.

Montealegre JR, Selwyn BJ. Healthcare coverage and use among undocumented Central American immigrant women in Houston, Texas. J Immigr Minor Health. 2014;16(2):204–10.

20.

Coronado GD, Woodall ED, Do H, Li L, Yasui Y, Taylor VM. Heart disease prevention practices among immigrant Vietnamese women. J Womens Health. 2008;17(8):1293–300. https://doi.org/10.1089/jwh.2007.0751.

21.

Rodriguez MA, Bustamante AV, Ang A. Perceived quality of care, receipt of preventive care, and usual source of health care among undocumented and other Latinos. J Gen Intern Med. 2009;24:508–13.

22.

The Centers for Disease Control/National Center for Health Statistics. 2017. Deaths, percent of total deaths, and death rates for the 15 leading causes of death: United States and each state, 2015. National Vital Statistics System, Mortality 2015.

23.

U.S. Department of Health and Human Services; National Heart, Lung and Blood Institute. 2017. Coronary heart disease risk factors. https://www.nhlbi.nih.gov/health-topics/coronary-heart-disease-risk-factors. Accessed 12 Dec 2017

24.

Reynolds MM, Chernenko A, Read JG. Region of origin diversity in immigrant health: moving beyond the Mexican case. Soc Sci Med. 2016;166(Supplement C):102–9.

25.

Venters H, Gany F. African immigrant health. J Immigr Minor Health. 2011;13(2):333–44.

26.

Farber HS, Levy H. Recent trends in employer-sponsored health insurance coverage: are bad jobs getting worse? J Health Econ. 2000;19(1):93–119.

27.

Flippen CA. Shadow labor: work and wages among immigrant Hispanic women in Durham, North Carolina. Ann Am Acad Pol Soc Sci. 2016;666(1):110–30. https://doi.org/10.1177/0002716216644423.

28.

Bideshi D, Kposowa AJ. African immigrants and capital conversion in the US labor market: comparisons by race and national origin. West J Black Stud. 2012;36(3):181.

29.

Oduro C, Connor SE, Litwin MS, Maliski SL. Barriers to prostate cancer care: affordable care is not enough. Qual Health Res. 2013;23(3):375–84.

30.

John DA, de Castro AB, Duran B, Martin DP. Nativity and occupational class disparities in uninsurance and routine preventive care use among Asian Americans. J Immigr Minor Health. 2013;15(6):1011–22.

31.

Calvo R, Jablonska-Bayro JM, Waters MC. Obamacare in action: how access to the health care system contributes to immigrants' sense of belonging. J Ethn Migr Stud. 2017;43(12):2020–36.

32.

Morrison TB, Wieland ML, Cha SS, Rahman AS, Chaudhry R. Disparities in preventive health services among Somali immigrants and refugees. J Immigr Minor Health. 2012;14(6):968–74.

33.

Pavlish CL, Noor S, Brandt J. Somali immigrant women and the American health care system: discordant beliefs, divergent expectations, and silent worries. Soc Sci Med. 2010;71(2):353–61.

34.

Matin M, LeBaron S. Attitudes toward cervical cancer screening among Muslim women: a pilot study. Women Health. 2004;39(3):63–77.

35.

Heintzman JD, Bailey SR, Muench J, Killerby M, Cowburn S, Marino M. Lack of lipid screening disparities in obese Latino adults at health centers. Am J Prev Med. 2017;52(6):805–9.

36.

Berk ML, Schur CL, Chavez LR, Frankel F. Health care use among undocumented Latino immigrants. Health Aff. 2000;19(4):51–65.

37.

Grol-Prokopczyk H, Freese J, Hauser HM. Using anchoring vignettes to assess group differences in general self-rated health. J Health Soc Behav. 2011;52(2):246–61.

38.

Jylhä M. What is self-rated health and why does it predict mortality? Towards a unified conceptual model. Soc Sci Med. 2009;69(3):307–16.

39.

Castañeda H. Is coverage enough? Persistent health disparities in marginalised Latino border communities. J Ethn Migr Stud. 2017;43(12):2003–19.

40.

Crawley LM, Ahn DK, Winkleby MA. Perceived medical discrimination and cancer screening behaviors of racial and ethnic minority adults. Cancer Epidemiol Biomarkers Prev. 2008;17(8):1937–44.

41.

Burgess D, Ding Y, Hargreaves M, van Ryn M, Phelan S. The association between perceived discrimination and underutilization of needed medical and mental health care in a multi-ethnic community sample. J Health Care Poor Underserved. 2008;19(3):894–911.
Funding
This research was supported by Grants to Dr. Reynolds from the National Institutes of Health's National Center for Advancing Translational Sciences (Award Number KL2TR001065) and the University of Utah's Consortium for Families and Health Research. Grant support was also provided Dr. Childers from the National Research Service Award Postdoctoral Traineeship from the National Institute of Mental Health sponsored by Cecil G. Sheps Center for Health Services Research, University of North Carolina at Chapel Hill, and the Department of Psychiatry and Behavioral Sciences, Duke University School of Medicine, Grant No: T32 MH019117.
Ethics declarations
Conflict of interest
The authors declare that they have no conflict of interest.
Additional information
Publisher's Note
Springer Nature remains neutral with regard to jurisdictional claims in published maps and institutional affiliations.
About this article
Cite this article
Reynolds, M.M., Childers, T.B. Preventive Health Screening Disparities Among Immigrants: Exploring Barriers to Care. J Immigrant Minority Health 22, 336–344 (2020). https://doi.org/10.1007/s10903-019-00883-9
Keywords
Immigrants

Nativity

Preventive health services

Health disparities