Abstract
Approximately 30–40 million undocumented immigrants worldwide suffer restricted health care. A scoping review was conducted to determine what is known about this population's palliative end-of-life care experiences. The scoping review followed Arksey and O'Malley's methodological framework. Databases searched included CINAHL, Medline, ProQuest, Scopus, and PHRED. Search terms included uninsured care, palliative care, undocumented immigrants, and terminally ill. The search revealed limited peer-reviewed and grey literature on the topic. A total of six articles met inclusion criteria, of which four were case descriptions. Barriers to palliative care included lack of advanced care planning, lack of health insurance, poverty, fear of deportation, and limited English ability. Undocumented immigrants were more likely to have delayed access to and inadequate palliative end-of-life care. If palliative care is a human right, it is imperative that further research be conducted and policies put in place to better serve this vulnerable population at end-of-life.
Access options
Buy single article
Instant access to the full article PDF.
USD 39.95
Price includes VAT (USA)
Tax calculation will be finalised during checkout.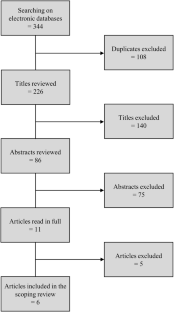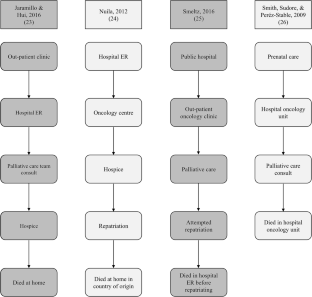 References
1.

Massey DS, Arango J, Hugo G, Kouaouci A, Pellegrino A, Taylor JE. Theories of international migration: a review and appraisal. Popul Dev Rev. 1993;19:431–466.

2.

Papademetriou DG. The global struggle with illegal migration: no end in sight. 2005. Retrieved from http://www.migrationinformation.org/feature/display.cfm?ID=336.

3.

Hoefer M, Rytina NF, Baker B. Estimates of the unauthorized immigrant population residing in the United States: January 2011. Washington, DC: Department of Homeland Security, Office of Immigration Statistics; 2012.

4.

OECD. International migration database. 2018. Retrieved from https://stats.oecd.org/Index.aspx?DatasetCode=MIG.

5.

Aery A, Cheff R. Sanctuary city: opportunities for health equity. Sanctuary City: Wellesley Institute; 2018.

6.

Magalhaes L, Carrasco C, Gastaldo D. Undocumented migrants in Canada: a scope literature review on health, access to services, and working conditions. J Immigr Minor Health 2010;12(1):132.

7.

Campbell RM, Klei A, Hodges BD, Fisman D, Kitto S. A comparison of health access between permanent residents, undocumented immigrants and refugee claimants in Toronto, Canada. J Immigr Minor Health 2014;16(1):165–176

8.

Preibisch K, Otero G. Does Citizenship Status Matter in Canadian Agriculture? Workplace Health and Safety for Migrant and Immigrant Laborers. Rural Sociol. 2014;79(2):174–199

9.

Simich L, Wu F, Nerad S. Status and health security: an exploratory study of irregular immigrants in Toronto. Can J Public Health. 2007;98(5):369–73.

10.

Bustamante AV, Fang H, Garza J, Carter-Pokras O, Wallace SP, Rizzo JA, Ortega AN. Variations in healthcare access and utilization among Mexican immigrants: the role of documentation status. J Immigr Minor Health. 2012;14(1):146–55.

11.

Schoevers MA, Leoffen MJ, van den Muijsenbergh ME, Lagro-Janssen AL. Health care utilisation and problems in accessing health care of female undocumented immigrants in the Netherlands. Int J Public Health. 2010;55(5):421–8.

12.

Berk ML, Schur CL. The effect of fear on access to care among undocumented Latino immigrants. J Immigr Health. 2001;3(3):151–6.

13.

Biswas D, Kristiansen M, Krasnik A, Norredam M. Access to healthcare and alternative health-seeking strategies among undocumented migrants in Denmark. BMC Public Health. 2011;11(1):560.

14.

Zilio M. Asylum-seeker surge at Quebec border chocking Canada's refugee system, data shows. Globe and Mail. 2018. Retrieved from https://www.theglobeandmail.com/politics/article-asylum-seeker-surge-at-quebec-border-choking-canadas-refugee-system/.

15.

World Health Organization. Cancer Key Facts. 2018. Retrieved from https://www.who.int/cancer/about/facts/en/.

16.

Canadian Cancer Society. Canadian Cancer Statistics Publication. 2018. Retrieved from http://www.cancer.ca/en/cancer-information/cancer-101/canadian-cancer-statistics-publication/?region=qc.

17.

Teno JM, Weitzen S, Fennell ML, Mor V. Dying trajectory in the last year of life: does cancer trajectory fit other diseases? J Palliat Med. 2001;4(4):457–64.

18.

World Health Organization. Definition of palliative care. 2018. Retrieved from https://www.who.int/cancer/palliative/definition/en/.

19.

Brennan F, Gwyther L, Harding R. Palliative care as a human right. London: Open Society Institute, Public Health Program; 2008.

20.

Gwyther L. Palliative care as a human right. Cancer Control. 2014;8:116–21.

21.

Khan F, Ahmad N, Anwar M. Palliative care is a human right. J Bangladesh Soc Anesthesiol. 2008;21(2):76–9.

22.

Gray NA, Boucher NA, Kuchibhatla M, Johnson KS. Hospice access for undocumented immigrants. JAMA Inter Med. 2017;177(4):579–80.

23.

Jaramillo S, Hui D. End-of-life care for undocumented immigrants with advanced cancer: documenting the undocumented. J Pain Symptom Manag. 2016;51(4):784–8.

24.

Nuila R. Home: palliation for dying undocumented immigrants. N Engl J Med. 2012;366(22):2047–8.

25.

Smeltz R. Elective repatriation for undocumented immigrants at end of life. Am J Hosp Palliat Care. 2016;18(2):92–7.

26.

Smith AK, Sudore RL, Pérez-Stable EJ. Palliative care for Latino patients and their families: whenever we prayed, she wept. JAMA. 2009;301(10):1047–57.

27.

Chavez LR. Undocumented immigrants and their use of medical services in Orange County, California. Soc Sci Med. 2012;74(6):887–93.

28.

Metchnikoff C, Naughton G, Periyakoil VS. End-of-life care for unauthorized immigrants in the US. J Pain Symptom Manag. 2018;55(5):1400–7.

29.

Arksey H, O'Malley L. Scoping studies: towards a methodological framework. Int J Soc Res Methodol. 2005;8(1):19–32.

30.

Mays N, Roberts E, Popay J. Synthesising research evidence. In: Fulop N, Allen P, Clarke A, Black N, editors. Studying the organization and delivery of health services: research methods. London: Routledge; 2001. p. 220.

31.

National Hospice and Palliative Care Organization. (2017). Hospice care. Retrieved from https://www.nhpco.org/about/hospice-care.

32.

Canadian Hospice Palliative Care Association. (2018). FAQs: what is hospice palliative care? Retrieved from http://www.chpca.net/family-caregivers/faqs.aspx.

33.

Gomes B, Calanzani N, Curiale V, McCrone P, Higginson IJ. Effectiveness and cost-effectiveness of home palliative care services for adults with advanced illness and their caregivers. Cochrane Database Syst Rev. 2013;6:1–279.

34.

Putre L. Fulfilling a final request. 2011.

35.

Cervantes L, Fischer S, Berlinger N, Zabalaga M, Camacho C, Linas S, Ortega D. The illness experience of undocumented immigrants with end-stage renal disease. JAMA Intern Med. 2017;177(4):529–35.

36.

Chernin G, Gal-Oz A, Schwartz IF, Shashar M, Schwartz D, Weinstein T. Care of undocumented-uninsured immigrants in a large urban dialysis unit. BMC Nephrol. 2012;13(1):112.

37.

Coritsidis GN, Khamash H, Ahmed SI, Attia AM, Rodriguez P, Kiroycheva MK, Ansari N. The initiation of dialysis in undocumented aliens: the impact on a public hospital system. Am J Kidney Dis. 2012;43(3):424–432

38.

Hogan AN, Fox WR, Roppolo LP, Suter RE. Emergent dialysis and its impact on quality of life in undocumented patients with end-stage renal disease. Ethn Dis. 2017;27(1):39–44.

39.

Wallen GR, Baker K, Stolar M, Miller-Davis C, Ames N, Yates J, Bolle J, Berger A. Palliative care outcomes in surgical oncology patients with advanced malignancies: a mixed methods approach. Qual Life Res. 2012;21:405–15.

40.

Canadian Press. Poll: Canadians are most proud of universal medicare. 2012. Retrieved from https://www.ctvnews.ca/canada/poll-canadians-are-most-proud-of-universal-medicare-1.1052929.

41.

Martin D, Miller AP, Quesnel-Vallee A, Caron NR, Vissandjee B, Marchildron GP. Canada's health care system: achieving it's potential. Lancet 2018;391(10131):1718–35.
Funding
Funding was provided by York University.
Additional information
Publisher's Note
Springer Nature remains neutral with regard to jurisdictional claims in published maps and institutional affiliations.
About this article
Cite this article
Seto Nielsen, L., Goldstein, Z., Leung, D. et al. A Scoping Review of Undocumented Immigrants and Palliative Care: Implications for the Canadian Context. J Immigrant Minority Health 21, 1394–1405 (2019). https://doi.org/10.1007/s10903-019-00882-w
Keywords
Undocumented immigrants

Palliative care

End-of-life

Access to care

Scoping review