Abstract
There is limited understanding of pain and its relationship to emotional eating among Latinos as well as knowledge about potential mechanisms that may underlie their association. We explored whether anxiety sensitivity (fear of the negative consequences of anxiety) explained the relation between pain intensity and emotional eating among a sample of Latinos. Participants were 79 (87.3% female; Mage = 42.04, SD = 12.01) predominately female Latino attendees of a Federally Qualified Health Center. As hypothesized, results indicated that pain intensity yielded a significant indirect effect through anxiety sensitivity for emotional eating. Alternative models wherein anxiety sensitivity served as the predictor and pain intensity as the indirect effect were also significant. Such novel data highlight the potential bi-directional relationship between pain intensity and anxiety sensitivity in terms of emotional eating. Overall, pain intensity and anxiety sensitivity may serve as mechanisms that underlie emotional eating among Latino adults.
This is a preview of subscription content, log in to check access.
Access options
Buy single article
Instant access to the full article PDF.
US$ 39.95
Price includes VAT for USA
Subscribe to journal
Immediate online access to all issues from 2019. Subscription will auto renew annually.
US$ 99
This is the net price. Taxes to be calculated in checkout.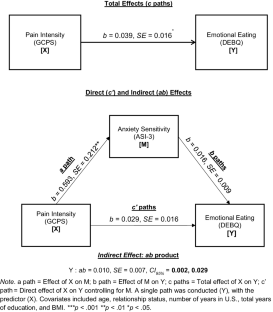 References
1.

Bureau U. S. C. Us summary: 2000. Washington, DC: Us Census Bureau, 2000

2.

Pérez-Escamilla R. Acculturation, nutrition, and health disparities in Latinos. Am J Clin Nutr. 2011;93(5):1163S–7S

3.

Sharma S. et al. Adherence to the food guide pyramid recommendations among African Americans and Latinos: results from the multiethnic cohort. J Am Diet Assoc. 2004;104(12):1873–7.

4.

Kolonel LN, et al. A multiethnic cohort in Hawaii and Los Angeles: baseline characteristics. Am J Epidemiol. 2000;151(4):346–57.

5.

Hubert HB, Snider J, And MA, Winkleby. Health status, health behaviors, and acculturation factors associated with overweight and obesity in Latinos from a community and agricultural labor camp survey. Prev Med. 2005;40(6):642–51.

6.

Pérez-Escamilla R, And P, Putnik. The role of acculturation in nutrition, lifestyle, and incidence of type 2 diabetes among Latinos. J Nutr. 2007;137(4):860–70.

7.

Jackson B, et al. Motivations to eat: scale development and validation. J Res Pers. 2003;37(4):297–318.

8.

Burgess EE, et al. Profiling motives behind hedonic eating. Preliminary validation of the palatable eating motives scale. Appetite. 2014;72:66–72.

9.

Van Strien T, et al. Emotional eating as a mediator between depression and weight gain. Appetite. 2016;100:216–24.

10.

Pompili S, Laghi F. Binge eating and binge drinking among adolescents: the role of drinking and eating motives. J Health Psychol. 2017. https://doi.org/10.1177/1359105317713359.

11.

Van Strien T, et al. The Dutch Eating Behavior Questionnaire (Debq) for assessment of restrained emotional, and external eating behavior. Int J Eating Disord. 1986;5(2):295–315.

12.

Ricca V, et al. Emotional eating in anorexia nervosa and bulimia nervosa. Compr Psychiatry. 2012;53(3):245–51.

13.

Ricca V, et al. Correlations between binge eating and emotional eating in a sample of overweight subjects. Appetite. 2009;53(3):418–21.

14.

Nguyen-Michel ST, Unger JB, And D, Spruijt-Metz. Dietary correlates of emotional eating in adolescence. Appetite. 2007;49(2):494–9.

15.

Rollins BY, et al. Psychometrics of the eating in Emotional Situations Questionnaire (Eesq) among low-income Latino elementary-school children. Eat Behav. 2011;12(2):156–9.

16.

Lopez-Cepero A, et al. Association of dysfunctional eating patterns and metabolic risk factors for cardiovascular disease among Latinos. J Acad Nutr Diet. 2018;118(5):849–56. https://doi.org/10.1016/j.jand.2017.06.007.

17.

Lynn R-RM, et al. Eating disorder symptomatology: prevalence among Latino college freshmen students. J Clin Psychol. 2010;66(6):666–79.

18.

Janke EA, And AT, Kozak, "The More Pain I Have, The More I Want To Eat": obesity in the context of chronic pain. Obesity. 2012;20(10):2027–34.

19.

Janke EA, et al. Catastrophizing and anxiety sensitivity mediate the relationship between persistent pain and emotional eating. Appetite. 2016;103(Supplement C):64–71.

20.

Meleger AL, Froude CK, Walker AJ. Nutrition and eating behavior in patients with chronic pain receiving long-term opioid therapy. PM&R. 2014;6(1)7–12.E1.

21.

Geliebter A, Carnell S, And ME, Gluck. Cortisol and ghrelin concentrations following a cold pressor stress test in overweight individuals with and without night eating. Int J Obes (Lond). 2013;37(8):1104–8.

22.

Gluck ME, et al. Cortisol, hunger, and desire to binge eat following a cold stress test in obese women with binge eating disorder. Psychosom Med. 2004;66(6):876–81.

23.

Green CR, et al. The unequal burden of pain: confronting racial and ethnic disparities in pain. Pain Med. 2003;4(3):277.

24.

Epps CD, Ware LJ, Packard AA. Ethnic wait time differences in analgesic administration in the emergency department. Pain Manag Nurs. 2008;9(1):26–32.

25.

Nguyen M, et al. Access to care for chronic pain: racial and ethnic differences. J Pain. 2005;6(5):301–14.

26.

Portenoy RK, et al. Population-based survey of pain in the United States: differences among White, African American, and hispanic subjects. J Pain, 2004;5(6):317–28.

27.

Berry PH, Dahl JL. The new JCAHO pain standards: implications for pain management nurses. Pain Manag Nurs. 2000;1(1):3–12.

28.

Vega WA, Lopez SR. Priority issues in Latino mental health services research. Ment Health Serv Res. 2001;3(4):189–200.

29.

Reiss S, McNally RJ. Expectancy model of fear-theoretical issues in behavior therapy. In: S Reiss, RR Bootsin, editors. Theoretical issues in behavior therapy. San Diego: Academic Press; 1985. pp. 107–121

30.

Otto MW. et al. Anxiety sensitivity and working memory capacity: risk factors and targets for health behavior promotion. Clin Psychol Rev. 2016;49:67–78.

31.

Ocañez KLS, Mchugh RK, MW Otto. A meta-analytic review of the association between anxiety sensitivity and pain. Depress Anxiety. 2010;27(8):760–7.

32.

Crombez G, et al. Fear-avoidance model of chronic pain: the next generation. Clin J Pain. 2012;28(6):475–83.

33.

Spoor ST, et al. Relations between negative affect, coping, and emotional eating. Appetite. 2007;48(3):368–76.

34.

Zvolensky MJ, Garey L, Bakhshaie J. Disparities in anxiety and its disorders. J Anxiety Disord. 2017;48:1–5.

35.

Wilson SM, et al. Predictors of emotional eating during adolescents' transition to college: does body mass index moderate the association between stress and emotional eating? J Am Coll Health. 2015;63(3):163–70.

36.

(Who), W.H.O. Obesity: preventing and managing the global epidemic. Switzerland: World Health Organization, 2000.

37.

Von Korff M, et al. Grading the severity of chronic pain. Pain. 1992;50(2):133–49.

38.

Smith BH, et al. The Chronic Pain Grade Questionnaire: validation and reliability in postal research. Pain. 1997;71(2):141–7.

39.

Rogers AH, et al. The explanatory role of insomnia in the relationship between pain intensity and posttraumatic stress symptom severity among trauma-exposed Latinos in a federally qualified health center. J Racial Ethn Health Disparities. 2018;5(6):1389–96. https://doi.org/10.1007/s40615-018-0489-7.

40.

Rogers AH, et al, Pain-related anxiety and opioid misuse in a racially/ethnically diverse young adult sample with moderate/severe pain. Cogn Behav Ther. 2018. https://doi.org/10.1080/16506073.2018.1436085.

41.

Ferrer-Peña R, et al. Adaptation and validation of the spanish version of the graded chronic pain scale. Reumatología Clínica (English Edition). 2016;12(3):130–8.

42.

Taylor S, et al. Robust dimensions of anxiety sensitivity: development and initial validation of the anxiety sensitivity index-3. Psychol Assess. 2007;19(2):176–88.

43.

Zvolensky MJ, et al. The role of anxiety sensitivity in the relation between experiential avoidance and anxious arousal. depressive, and suicidal symptoms among latinos in primary care. Cogn Ther Res. 2015;39(5):688–96.

44.

Zvolensky MJ, et al. Anxiety sensitivity and subjective social status in relation to anxiety and depressive symptoms and disorders among Latinos in primary care. J Anxiety Disord. 2015;32(Supplement C):38–45.

45.

Zvolensky MJ, et al. Interactive effect of negative affectivity and anxiety sensitivity in terms of mental health among Latinos in primary care. Psychiatry Res. 2016;243:35–42.

46.

Cebolla A, et al. Validation of the Dutch Eating Behavior Questionnaire (Debq) in a sample of Spanish women. Appetite. 2014;73(Supplement C):58–64.

47.

Hayes AF. Introduction to mediation, moderation, and conditional process analysis: a regression-based approach. methodology in the social sciences. New York: The Guilford Press; 2013.

48.

Preacher KJ, Hayes AF. SPSS and SAS procedures for estimating indirect effects in simple mediation models. Behav Res Methods Instrum Comput. 2004;36(4):717–731.

49.

Preacher KJ, Hayes AF. Asymptotic and resampling strategies for assessing and comparing indirect effects in multiple mediator models. Behav Res Methods. 2008;40(3):879–91.

50.

Hayes AF. Beyond Baron and Kenny: statistical mediation analysis in the new millennium. Commun Monogr. 2009;76(4):408–20.

51.

Zhao X, Lynch JG, Chen AQ. Reconsidering Baron and Kenny: myths and truths about mediation analysis. J Consum Res. 2010;37(2):197–206.

52.

Torres L, Mata-Greve F. Anxiety sensitivity as a predictor of Latino alcohol use: a moderated mediational model. J Lat Psychol. 2017;5(2):61–75.
Acknowledgments
Funding was provided by National Institute on Drug Abuse (Grant No. 1F31DA046127-01).
Additional information
Publisher's Note
Springer Nature remains neutral with regard to jurisdictional claims in published maps and institutional affiliations.
About this article
Cite this article
Kauffman, B.Y., Rogers, A.H., Bakhshaie, J. et al. Examining the Relationship Between Pain Intensity and Emotional Eating Among Latinos in a Federally Qualified Health Center: The Role of Anxiety Sensitivity. J Immigrant Minority Health 21, 1217–1223 (2019). https://doi.org/10.1007/s10903-019-00862-0
Keywords
Emotional eating

Pain

Anxiety

Latinos