Abstract
Korean-American mental health is poorly understood, and screening for sleep disturbances may be an effective means of identifying at-risk individuals. In partnership with a Korean-American church in Los Angeles, an online survey was administered. The study was conducted at a Korean-American church in Los Angeles, California. The sample consisted of 137 Korean-Americans drawn from the church congregation. Sleep disturbances were measured using a single ordinal variable, and mental health outcomes included nonspecific psychological distress, perceived stress, loneliness, suicidal ideation, hazardous drinking, treatment seeking behaviors, and perceived need for help. Multivariable logistic regression was used to estimate the associations between sleep disturbances and mental health outcomes, adjusting for age and sex. Results are presented as odds ratios (OR) and 95% confidence intervals. Almost a third of the sample reported moderate or severe sleep disturbances. After adjusting for age and sex, sleep disturbances were associated with greater odds of reporting probable mental illness, perceived need for treatment, and treatment-seeking behaviors. Sleep disturbances were also associated with higher levels of perceived stress and loneliness, but were not significantly associated with suicidal ideation or hazardous drinking. Sleep disturbances are associated with mental health problems and may be an important idiom of distress for Korean-Americans. Primary care providers and informal providers in the community (specifically churches) should work together to screen for sleep problems and refer at-risk individuals to appropriate levels of care.
This is a preview of subscription content, log in to check access.
Access options
Buy single article
Instant access to the full article PDF.
US$ 39.95
Price includes VAT for USA
Subscribe to journal
Immediate online access to all issues from 2019. Subscription will auto renew annually.
US$ 99
This is the net price. Taxes to be calculated in checkout.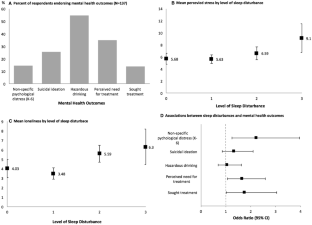 References
1.

Banks S, Dinges DF. Behavioral and physiological consequences of sleep restriction. J Clin Sleep Med. 2007;3(5):519–28.

2.

Benca RM, Obermeyer WH, Thisted RA, Gillin JC. Sleep and psychiatric disorders: a meta-analysis. Arch Gen Psychiatry. 1992;49(8):651–68.

3.

Bernert RA, Kim JS, Iwata NG, Perlis ML. Sleep disturbances as an evidence-based suicide risk factor. Curr Psychiatry Rep. 2015;17(3):15.

4.

Ford DE, Kamerow DB. Epidemiologic study of sleep disturbances and psychiatric disorders: an opportunity for prevention? JAMA. 1989;262(11):1479–84.

5.

Kim MT. Cultural influences on depression in Korean Americans. J Psychosoc Nurs Ment Health Serv. 1995;33(2):13–8.

6.

Pang KY, Lee MH. Prevalence of depression and somatic symptoms among Korean elderly immigrants. Yonsei Med J. 1994;35(2):155–61.

7.

Park S-Y, Bernstein KS. Depression and Korean American immigrants. Arch Psychiatr Nurs. 2008;22(1):12–9.

8.

Shin JK. Help-seeking behaviors by Korean immigrants for depression. Issues Ment Health Nurs. 2002;23(5):461–76.

9.

Social P, Trends D. The rise of Asian Americans. Washington, DC: Pew Social & Demographic Trends; 2012.

10.

Thakkar MM, Sharma R, Sahota P. Alcohol disrupts sleep homeostasis. Alcohol. 2015;49(4):299–310.
Funding
This study was funded by National Institute on Alcohol Abuse and Alcoholism (award number T32AA014125).
Additional information
Publisher's Note
Springer Nature remains neutral with regard to jurisdictional claims in published maps and institutional affiliations.
Electronic supplementary material
Below is the link to the electronic supplementary material.
About this article
Cite this article
Oh, H., Ko, J. & Waldman, K. Church-Based Sleep Screenings to Detect Mental Health Problems Among Korean-Americans. J Immigrant Minority Health 21, 1440–1443 (2019). https://doi.org/10.1007/s10903-019-00861-1
Keywords
Korean-Americans

Sleep disturbances

Mental health

Churches

Screenings