Abstract
Developing culturally appropriate diabetes nutrition interventions for immigrants could be facilitated knowing what is successful in the home country and other relevant countries. The primary purpose of this scoping review was to identify the design and delivery methods of nutrition interventions for Chinese populations with type 2 diabetes, in their home countries and as immigrants to western countries. A total of 14 articles was retrieved and included. Overall, the approaches used in China often were modelled on intensive lifestyle programs although alternative strategies were also identified. Most interventions were not focussed solely on nutrition, and only a few were conducted in community settings. Most of the interventions were delivered in a group format, while those conducted in China also included individual counselling, particularly for nutrition. In addition, the diabetes and nutrition-related outcomes, cultural relevance and acceptability, and other factors that influenced protocol compliance were considered. Improvements in blood glucose control were observed in participants in all interventions where it was measured. Participants reported increased nutritional knowledge but nutritional behaviour was generally not well documented. Trials conducted in the United States emphasized the importance of cultural adaptation of intervention programs, particularly with respect to dietary patterns and specific foods. Practice-transferable characteristics are highlighted. Research gaps included trials conducted in community settings with pragmatic implementation and evaluation, comparative trials of interventions to gauge relative effectiveness, and measuring and reporting dietary outcomes for better understanding of the impact on dietary behaviours and their relationship to health outcomes.
This is a preview of subscription content, log in to check access.
Access options
Buy single article
Instant access to the full article PDF.
US$ 39.95
Price includes VAT for USA
Subscribe to journal
Immediate online access to all issues from 2019. Subscription will auto renew annually.
US$ 99
This is the net price. Taxes to be calculated in checkout.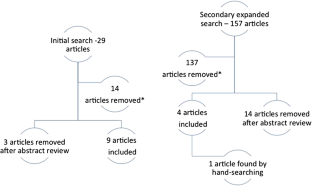 References
1.

Castro F, Barrera M, Holleran Steiker L. Issues and challenges in the design of culturally adapted evidence-based interventions. Ann Rev Clin Psychol. 2010;6:213–39.

2.

Osei-Assibey G, Kyrou I, Adi Y, Kumar S, Matyka K. Dietary and lifestyle interventions for weight management in adults from minority ethnic/non-White groups: a systematic review. Obes Rev. 2010;11(11):769–76.

3.

International Diabetes Federation Clinical Guidelines Task Force. Global guideline for type 2 diabetes. Brussels: International Diabetes Federation Clinical Guidelines Task Force; 2012.

4.

American Diabetes Association. Lifestyle management: standards of meical care in diabetes—2018. Diabet Care. 2018;41(Suppl 1):38–50.

5.

Sievenpiper J, Chan CB, Dworatzek PD, Freeze C, Williams SL. Nutrition therapy. Can J Diabet. 2018;42(Suppl 1):64–79.

6.

Sanou D, O'Reilly E, Ngnie-Teta I, et al. Acculturation and nutritional health of immigrants in Canada: a scoping review. J Immigr Minor Health. 2014;16(1):24–34. https://doi.org/10.1007/s10903-013-9823-7.

7.

Deng F, Zhang A, Chan CB. Acculturation, diet acceptability, and diabetes management among Chinese in North America. Front Endocrinol. 2013;4:108. https://doi.org/10.3389/fendo.2013.00108.

8.

Perez MA, Luquis RR. Cultural competence in health education and health promotion. San Francisco: Wiley; 2008.

9.

Holm L, Hoff A, Erichsen L, Mohl M, Toubro S, Astrup A. Social and cultural acceptability of fat reduced diets among Danish overweight subjects: high-protein versus high-carbohydrate diets. Food Qual Prefer. 2008;19(1):43–50.

10.

Lawton J, Ahmad N, Hanna L, Douglas M, Bains H, Hallowell N. 'We should change ourselves, but we can't': accounts of food and eating practices among British Pakistanis and Indians with type 2 diabetes. Ethn Health. 2008;13(4):305–19.

11.

Chowdhury AM, Helman C, Greenhalgh T. Food beliefs and practices among British Bangladeshis with diabetes: implications for health education. Anthropol Med. 2000;7(2):209–26.

12.

Australian Bureau of Statistics. Migration, Australia, 2015-16: Australia's population by country of birth. Canberra: Commonwealth of Australia; 2017.

13.

Stats New Zealand. Internet: http://archive.stats.govt.nz/Census/2013-census/profile-and-summary-reports/ethnic-profiles.aspx?request_value=24737&parent_id=24726&tabname=-24737. Accessed 24 May 2018.

14.

Statistics Canada. Immigration and ethnocultural diversity in Canada. Ottawa: Government of Canada; 2013.

15.

United States Census Bureau. Internet: https://www.census.gov/quickfacts/fact/table/US/RHI425216-viewtop.

16.

Office for National Statistics. Internet: https://www.ons.gov.uk/peoplepopulationandcommunity/culturalidentity/ethnicity/articles/ethnicityandnationalidentityinenglandandwales/2012-12-11. Accessed 24 May 2018.

17.

Alangh A, Chiu M, Shah BR. Rapid increase in diabetes incidence among Chinese Canadians between 1996 and 2005. Diabet Care. 2013;36(10):3015–7.

18.

Yang J, Nijjar A, Quan H, et al. Utilization of health resources in South Asian, Chinese and white patients with diabetes mellitus. Prim Care Diabet. 2014;8(2):165–70.

19.

Shah BR, Hwee J, Anand SS, Austin PC, Manuel DG, Hux JE. Family physician ethnicity influences quality of diabetes care for Chinese but not South Asian patients. Prim Care Diabet. 2015;9(6):432–8.

20.

Centers for Disease Control and Prevention. National diabetes statistics report, 2017: estimates of diabetes and its burden in the United States. Atlanta: Centers for Disease Control and Prevention; 2017.

21.

Diabetes UK. Internet: https://www.diabetes.org.uk/resources-s3/2017-11/diabetes-key-stats-guidelines-april2014.pdf. Accessed 24 May 2018.

22.

Diabetes Canada. Internet: https://www.diabetes.ca/diabetes-and-you/healthy-living-resources/multicultural-resources/diabetes-in-the-chinese-community. Accessed 15 Aug 2017.

23.

American Diabetes Association. Internet: http://www.diabetes.org/in-my-community/awareness-programs/aanhpi/. Accessed 25 May 2018.

24.

The Joanna Briggs Institute. Joanna Briggs Institute reviewers' manual: 2015 edition/supplement. Adelaide: The Joanna Briggs Institute; 2015.

25.

Sun J, Wang Y, Chen X, et al. An integrated intervention program to control diabetes in overweight Chinese women and men with type 2 diabetes. Asia Pac J Clin Nutr. 2008;17(3):514–24.

26.

Qi L, Feng L, Tang W, et al. A community-based comprehensive intervention program for 7200 patients with type 2 diabetes mellitus in Chongqing (China). Int J Environ Res Public Health. 2014;11:11450–63.

27.

Liu H, Zhang M, Wu X, Wang C, Li Z. Effectiveness of a public dietitian-led diabetes nutrition intervention on glycemic control in a community setting in China. Asia Pac J Clin Nutr. 2015;24(3):525–32.

28.

Fu M, Hu J, Cai X. Effectiveness of a community-based diabetes self-management intervention for Chinese adults with type 2 diabetes: a pilot study. Int J Nurs Pract. 2015;21(Suppl 2):132–40.

29.

Pan X-R, Li G-W, Hu Y-H, et al. Effects of diet and exercise in preventing NIDDM in people with impaired glucose tolerance: the Da Qing IGT and Diabetes Study. Diabet Care. 1997;20:537–44.

30.

Xu DF, Sun QJ, Chen M, et al. Effects of lifestyle intervention and meal replacement on glycaemic and body-weight control in Chinese subjects with impaired glucose regulation: a 1-year randomised controlled trial. Br J Nutr. 2013;109:487–92.

31.

Yu R, Yan LL, Wang H, et al. Effectiveness of a community-based indiviudalized lifestyle intervention among older adults with diabetes and hypertension, Tianjin, China, 2008–2009. Prev Chronic Dis. 2014;11:120333.

32.

Yang X, Tian H, Zhang F, et al. A randomised translational trial of lifestyle intervention using a 3-tier shared care approach on pregnancy outcomes in Chinese women with gestational diabetes mellitus but without diabetes. J Transl Med. 2014;12:290.

33.

Sun Y, Zhao H. The effectiveness of lifestyle intervention in early pregnancy to prevent gestational diabetesmellitus in Chinese overweight and obese women: a quasi-experimental study. Appl Nurs Res. 2016;30:125–30.

34.

Shek NWM, Ngai CSW, Lee CP, Chan JYC, Lao TTS. Lifestyle modifications in the development of diabetes mellitus and metabolic syndrome in Chinese women who had gestational diabetes mellitus: a randomized nterventional trial. Arch Gynecol Obstet. 2014;289:319–27.

35.

Wang C-Y, Chan SMA. Culturally tailored diabetes education program for Chinese Americans. Nurs Res. 2005;54(5):347–53.

36.

Sun AC, Tsoh JY, Saw A, Chan JL, Cheng JW. Effectiveness of a culturally tailored diabetes self-management program for Chinese Americans. Diabet Educ. 2012;38(5):685–94.

37.

Chesla CA, Chun KM, Kwong Y, et al. Cultural adaptation of the group lifestyle balance program for Chinese Americans. Diabet Educ. 2016;42(6):686–96.

38.

Yeh M-C, Heo M, Suchday S, et al. Translation of the diabetes prevention program for diabetes risk reduction in Chinese immigrants in New York City. Diabet Med. 2016;33(4):547–51.

39.

The Diabetes Prevention Program Research Group. The diabetes prevention program (DPP): description of lifestyle intervention. Diabet Care. 2002;25(12):2165–71.

40.

Ryan DH, Espeland MA, Foster GD, et al. Look AHEAD (Action for Health in Diabetes): design and methods for a clinical trial of weight loss for the prevention of cardiovascular disease in type 2 diabetes. Control Clin Trials. 2003;24(5):610–28.

41.

UK Department of Health. Internet: https://www.gov.uk/government/uploads/system/uploads/attachment_data/file/566251/FoP_Nutrition_labelling_UK_guidance.pdf. Accessed 22 Sept 2017.

42.

Xu Y, Toobert D, Savage C, Pan W, Whitmer K. Factors influencing diabetes self-management in Chinese people with type 2 diabetes. Res Nurs Health. 2008;31:613–25.

43.

Toobert DJ, Hampson SE, Glasgow RE. The summary of diabetes self-care activities measure: results from 7 studies and a revised scale. Diabet Care. 2000;23(7):943–50. https://doi.org/10.2337/diacare.23.7.943.

44.

Crowther CA, Hiller JE, Moss JR, et al. Effect of treatment of gestational diabetes mellitus on pregnancy outcomes. N Engl J Med. 2005;352:2477–86.

45.

American Diabetes Association. Diagnosis and classification of diabetes mellitus. Diabet Care. 2007;30(suppl_1):42–7. https://doi.org/10.2337/dc07-S042.

46.

Chinese Diabetes Society. Chinese guidelines for the management of type 2 diabetes. Nat Med J China. 2008;88:1227–45.

47.

Chinese Nutrition Society. Dietary guidelines for Chinese. Beijing: Chinese Nutrition Society; 2008.

48.

Nanditha A, Ma RCW, Ramachandran A, et al. Diabetes in Asia and the Pacific: implications for the global epidemic. Diabet Care. 2016;39(3):472–85.

49.

Cradock KA, O'Laighin GO, Finucane FM, Gainforth HL, Quinlan LR, Martin Ginis KA. Behaviour change techniques targeting both diet and physical activity in type 2 diabetes: a systematic review and meta-analysis. Int J Behav Nutr Phys Act. 2017;14:18.

50.

Diabetes Prevention Program Research Group. Description of lifestyle intervention. Diabet Care. 2002;25:2165–71.

51.

Kramer MK, Kriska AM. Venditti EM, et al. Translating the diabetes prevention program: a comprehensive model for prevention training and program delivery. Am J Prev Med. 2009;37(6):505–11.

52.

Odgers-Jewell K, Ball L, Kelly J, Isenring E, Reidlinger D, Thomas R. Effectiveness of group-based self-management education for individuals with type 2 diabets: a systematic review with meta-analyses and meta-regression. Diabet Med. 2017;34(8):1027–39.

53.

Wong CKH, Fung CSC, Siu SC, et al. A short message service (SMS) intervention to prevent diabetes in Chinese professional drivers with pre-diabetes: a pilot single-blinded randomized controlled trial. Diab Res Clin Pract. 2013;102:158–66.

54.

Canadian Telehealth Forum. Canadian telehealth report (public version). Toronto: Canadian Telehealth Forum; 2013.

55.

Jang M, Lee E, Woo K. Income, language, and citizenship status: factors affecting the health care access and utilization of Chinese Americans. Health Soc Work. 1998;23(2):136–45.

56.

Chesla CA, Chun KM. Accommodating type 2 diabetes in the Chinese American family. Qual Health Res. 2005;15(2):240–55. https://doi.org/10.1177/1049732304272050.

57.

Nam S, Janson SL, Stotts NA, Chesla C, Kroon L. Effect of culturally tailored diabets education in ethnic minorities with type 2 diabetes: a meta-analysis. J Cardiovasc Nurs. 2012;27(6):505–18.

58.

Berry TR, Anders S, Chan CB, Bell RC. Communicating diabetes best practices to clients: a preliminary investigation of educator perspectives. Health Promot Pract. 2011;13:388–94.

59.

Berry TR, Chan CB, Bell RC, Walker J. Collective knowledge: using a consensus conference approach to develop recommendations for physical activity and nutrition programs for persons with type 2 diabetes. Front Endocrinol 2012;3:161.

60.

James D. Factors influencing food choices, dietary intake, and nutrition-related attitudes among African Americans: application of a culturally sensitive model. Ethn Health. 2004;9(4):349–67.

61.

Coe C, Boardman S. From temple to table: an innovative community health and lifestyle intervention aimed at a South Asian community. Ethn Inequal Health Soc Care. 2008;3(2):27–31.

62.

Azar KMJ, Chen E, Holland AT, Palaniappan LP. Festival foods in the immigrant diet. J Immigr Minor Health. 2013;15(5):953–60.

63.

Satia JA. Dietary acculturation and the nutrition transition: an overview. Appl Physiol Nutr Metab. 2010;35(2):219–23. https://doi.org/10.1139/h10-007.

64.

Nield L, Moore H, Hooper L, et al. Dietary advice for treatment of type 2 diabetes mellitus in adults. Cochrane Database Syst Rev 2007;3:CD004097.
Funding
This study was funded by China Scholarship Council and also provided a stipend to FD.
Additional information
Publisher's Note
Springer Nature remains neutral with regard to jurisdictional claims in published maps and institutional affiliations.
About this article
Cite this article
Deng, F., Zhang, A. & Chan, C. Nutrition Interventions for Type 2 Diabetes in Chinese Populations: A Scoping Review. J Immigrant Minority Health 21, 1416–1431 (2019). https://doi.org/10.1007/s10903-018-0845-z
Keywords
Immigrant

Chinese

Type 2 diabetes

Nutrition

Intervention