Abstract
Despite high overweight/obesity rates in children of Australian immigrants, the risk factors are unknown. We investigated behavioural risk factors and their association with overweight/obesity in 4–11 year-old children by immigrant status. We conducted cross-sectional and longitudinal analysis of 8 years data from the longitudinal study of Australian children. Immigrant children from low-and-middle-income-countries had higher overweight/obesity rates across all ages. These children had higher vegetables and sugar-sweetened-beverages intake, higher sedentary activities and lower organized-sports participation than immigrant children from high-income-countries or Australian-children. Organized-sports participation and screen-time converged to the Australian norms in 10–11 year-old boys, but not in girls. Preference for sedentary activities and screen-time explained the differences in overweight/obesity by maternal immigrant status in boys but not in girls. The difference in drivers of overweight/obesity amongst immigrant children from low-and-middle-income-countries suggest more nuanced age, sex and culturally sensitive preventive health messages for immigrants.
This is a preview of subscription content, log in to check access.
Access options
Buy single article
Instant access to the full article PDF.
US$ 39.95
Price includes VAT for USA
Subscribe to journal
Immediate online access to all issues from 2019. Subscription will auto renew annually.
US$ 99
This is the net price. Taxes to be calculated in checkout.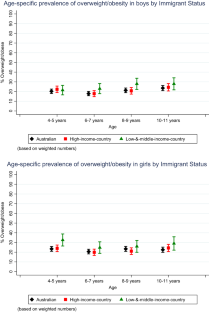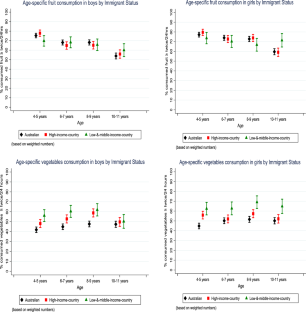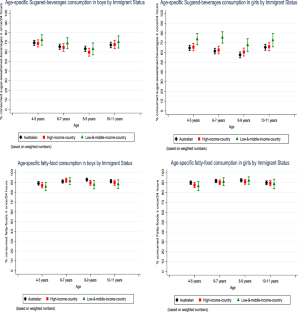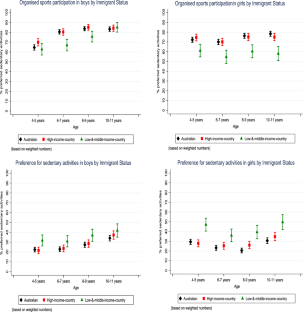 Data Availability
The data that support the findings of this study are available from the Australian Institute of Family Studies, but restrictions apply to the availability of these data, which were used under license for the current study, and so are not publicly available. Data are however available from the authors upon reasonable request and with permission of the Australian Institute of Family studies.
References
1.

Bray G, Kim K, Wilding J. Obesity: a chronic relapsing progressive disease process. A position statement of the World Obesity Federation. Obes Rev. 2017;18(7):715–723.

2.

Dietz WH. Health consequences of obesity in youth: childhood predictors of adult disease. Pediatr. 1998;101(Supplement 2):518–25.

3.

Australian Bureau of Statistics. National Health Survey. First Results, 2014-15. Australian Bureau of statistics, Canberra, ACT. 2015. http://www.abs.gov.au/ausstats/abs@.nsf/mf/4364.0.55.001. Accessed 4364.0.55.001.

4.

Australian Bureau of Statistics. 2016 Census QuickStats. Canberra ACT. 2017. http://www.censusdata.abs.gov.au/census_services/getproduct/census/2016/quickstat/036. Accessed 10 Oct 2017.

5.

Besharat Pour M, Bergstrom A, Bottai M, Kull I, Wickman M, Hakansson N, et al. Effect of parental migration background on childhood nutrition, physical activity, and body mass index. J Obes. 2014;2014:406529. https://doi.org/10.1155/2014/406529.

6.

Pour MB, Bergström A, Bottai M, Magnusson J, Kull I, Wickman M, et al. Body mass index development from birth to early adolescence; Effect of perinatal characteristics and maternal migration background in a Swedish cohort. PLoS ONE. 2014;9(10):e109519

7.

Millar L, Rowland B, Nichols M, Swinburn B, Bennett C, Skouteris H, et al. Relationship between raised BMI and sugar sweetened beverage and high fat food consumption among children. Obes (Silver Spring). 2014;22(5):E96–103. https://doi.org/10.1002/oby.20665.

8.

Wheaton N, Millar L, Allender S, Nichols M. The stability of weight status through the early to middle childhood years in Australia: a longitudinal study. BMJ Open. 2015;5(4):e006963. https://doi.org/10.1136/bmjopen-2014-006963.

9.

Leech RM, McNaughton SA, Timperio A. Clustering of diet, physical activity and sedentary behaviour among Australian children: cross-sectional and longitudinal associations with overweight and obesity. Int J Obes. 2015;39(7):1079–85. https://doi.org/10.1038/ijo.2015.66.

10.

Australian Institute of Family Studies. Longitudinal Study of Australian Children Data User Guide—November 2015. Melbourne: Australian Institute of Family Studies; 2015.

11.

Soloff C, Lawrence D, Johnstone R. LSAC technical paper no. 1: Sample design. Melbourne: Australian Institute of Family Studies; 2005.

12.

Cole TJ, Bellizzi MC, Flegal KM, Dietz WH. Establishing a standard definition for child overweight and obesity worldwide: international survey. BMJ. 2000;320(7244):1240.

13.

Australian Bureau of statistics. 2017 Cultural Diversity in Australia; Reflecting a Nation: Stories from the 2011 Census, 2012–2013 2012. http://www.abs.gov.au/ausstats/abs@.nsf/Lookup/2071.0main+features902012-2013. Accessed 10 Oct 2017.

14.

United Nations Development Programme. Human development report 2016. Human development for everyone. New York: United Nations; 2016.

15.

Blakemore T, Strazdins L, Gibbings J. Measuring family socioeconomic position. Aust Soc Policy. 2009;8:121–68.

16.

Jeffrey MW. Econometric analysis of crosssection and panel data. Cambridge: The MIT Press; 2004.

17.

Satia JA. Dietary acculturation and the nutrition transition: an overview. Appl Phys, Nutr, Metab. 2010;35(2):219–23.

18.

Akbulut G, Yildirim M, Sanlier N, van Stralen MM, Acar-Tek N, Bilici S, et al. Comparison of energy balance-related behaviours and measures of body composition between Turkish adolescents in Turkey and Turkish immigrant adolescents in the Netherlands. Pub Health Nutr. 2014;17(12):2692–9. https://doi.org/10.1017/s1368980013003388.

19.

Cataldo F, Pacchin M, Accomando S, Pitarresi N, Salvioli GP, Gabrielli O, et al. Dietary habits in children of immigrant families from developing countries: An Italian multicentre study. Ital J Pediatr. 2006;32(5):288–95.

20.

Bjelland M, Brantsaeter AL, Haugen M, Meltzer HM, Nystad W, Andersen LF. Changes and tracking of fruit, vegetables and sugar-sweetened beverages intake from 18 months to 7 years in the Norwegian Mother and Child Cohort Study. BMC Public Health. 2013;13:793. https://doi.org/10.1186/1471-2458-13-793.

21.

Chen HJ, Wang Y. Do weight status and television viewing influence children's subsequent dietary changes? A National Longitudinal Study in the United States. Int J Obes. 2015;39(6):931–8. https://doi.org/10.1038/ijo.2015.16.

22.

Gualdi-Russo E, Manzon VS, Masotti S, Toselli S, Albertini A, Celenza F, et al. Weight status and perception of body image in children: the effect of maternal immigrant status. Nutr J. 2012;11:85. https://doi.org/10.1186/1475-2891-11-85.

23.

Daraganova G, Thornton L. Eating behaviour: socio-economic determinants and parental influence. The Longitudinal Study of Australian Children Annual Statistical Report 2013. 2013.

24.

Renzaho AM, Green J, Smith BJ, Polonsky M. Exploring Factors Influencing Childhood Obesity Prevention Among Migrant Communities in Victoria, Australia: A Qualitative Study. J Immigr Minor Health. 2017;20(4):1–19.

25.

Renzaho AM, McCabe M, Swinburn B. Intergenerational differences in food, physical activity, and body size perceptions among African migrants. Qual Health Res. 2012;22(6):740–54. https://doi.org/10.1177/1049732311425051.

26.

Portes A, Rumbaut RG. Legacies: the story of the immigrant second generation. NewYork: University of California Press; 2001.

27.

Singh GK, Yu SM, Siahpush M, Kogan MD. High levels of physical inactivity and sedentary behaviors among US immigrant children and adolescents. Arch Pediatr Adolesc Med. 2008;162(8):756–63. https://doi.org/10.1001/archpedi.162.8.756.

28.

Suárez-Orozco C, Qin DB. Gendered perspectives in psychology: Immigrant origin youth. Int Migr Rev. 2006;40(1):165–98.

29.

Hruby A, Hu FB. The epidemiology of obesity: a big picture. Pharmacoeconomics. 2015;33(7):673–89.

30.

Manios Y, Moschonis G, Androutsos O, Filippou C, Van Lippevelde W, Vik FN, et al. Family sociodemographic characteristics as correlates of children's breakfast habits and weight status in eight European countries. The ENERGY (EuropeaN Energy balance Research to prevent excessive weight Gain among Youth) project. Public Health Nutr. 2015;18(5):774–83. https://doi.org/10.1017/s1368980014001219.

31.

Eng S, Wagstaff DA, Kranz S. Eating late in the evening is associated with childhood obesity in some age groups but not in all children: the relationship between time of consumption and body weight status in US children. Int J Behav Nutr Phys Act. 2009;6(1):27.

32.

Baker EH, Rendall MS, Weden MM. Epidemiological paradox or immigrant vulnerability? Obesity among young children of immigrants. Demography. 2015;52(4):1295–1320

33.

Popkin BM, Udry JR. Adolescent obesity increases significantly in second and third generation US immigrants: the National Longitudinal Study of Adolescent Health. J Nutr. 1998;128(4):701–6.
Acknowledgements
The Longitudinal Study of Australian Children is conducted in partnership between the Department of Families, Housing, Community Services and Indigenous Affairs (FaHCSIA), the Australian Institute of Family Studies (AIFS) and the Australian Bureau of Statistics (ABS). The findings and views reported in this paper are those of the authors and are not endorsed by FaHCSIA, AIFS or the ABS. We thank all the parents and children for their continuing support and participation in the LSAC.
Funding
No funding was received for this research.
Ethics declarations
Conflict of interest
All the authors declare no conflict of interest.
Additional information
Publisher's Note
Springer Nature remains neutral with regard to jurisdictional claims in published maps and institutional affiliations.
Electronic supplementary material
Below is the link to the electronic supplementary material.
About this article
Cite this article
Zulfiqar, T., Strazdins, L., Dinh, H. et al. Drivers of Overweight/Obesity in 4–11 Year Old Children of Australians and Immigrants; Evidence from Growing Up in Australia. J Immigrant Minority Health 21, 737–750 (2019). https://doi.org/10.1007/s10903-018-0841-3
Keywords
Immigrants

Childhood obesity

Diet

Sedentary activities