Abstract
This study examined maternal and reproductive health (MRH) access of Somali refugees in the U.S. across four access dimensions (willingness to seek care, gaining entry to the health system, seeing a primary provider and seeing a specialist). We conducted a cross-sectional survey of 427 Somali refugee reproductive-age women in Franklin County, Ohio. Following descriptive statistics of demographics, we conducted multivariate analyses to test associations between demographics and the four access dimensions. Most Somali refugee women were married (68%), attained primary education (92%), employed (64%) and were circumcised (82%). Young (OR 2.61, 95% CI 1.25–5.60), single (OR 1.78, 95% CI 1.15–2.78), and minors upon arrival (OR 2.36, 95% CI 1.44–3.90) were more willing to seek care. Lack of insurance, limited language fluency and being circumcised limited access to care across all dimensions. Barriers to access need to be systematically addressed. Deconstructing beliefs regarding health systems may improve access, especially among older Somali women.
Access options
Buy single article
Instant access to the full article PDF.
US$ 39.95
Tax calculation will be finalised during checkout.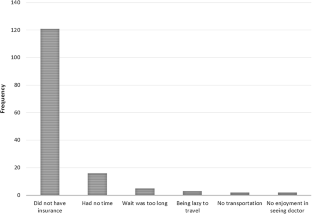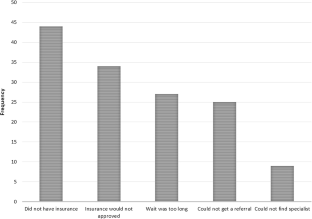 References
1.

Refugee Processing Center. Admissions & Arrivals [Internet]. Reports. 2018. http://www.wrapsnet.org/admissions-and-arrivals/. Accessed 14 April 2018.

2.

The White House. Executive Order Protecting the Nation from Foreign Terrorist Entry into the United States [Internet]. United States of America; 2017. https://www.whitehouse.gov/presidential-actions/executive-order-protecting-nation-foreign-terrorist-entry-united-states/.

3.

Davidson PM, Mbaka-Mouyeme F. The refugee crisis: we cannot ignore this for much longer. Health Care Women Int. 2016;37(9):945–5.

4.

Department Homeland Security. United States Department of Homeland Security. Washington, DC; 2010.

5.

Caulford P, Vali Y. Providing health care to medically uninsured immigrants and refugees. Can Med Assoc J. 2006;174(9):1253–4.

6.

Keygnaert I, Vettenburg N, Temmerman M. Hidden violence is silent rape: sexual and gender-based violence in refugees, asylum seekers and undocumented migrants in Belgium and the Netherlands. Cult Health Sex. 2012;14(5):505–20.

7.

Aptekman M, Rashid M, Wright V, Dunn S. Unmet contraceptive needs among refugees. Can Fam Physician. 2014;60(12):e613–9.

8.

Banke-Thomas A, Gieszl S, Nizigiyimana J, Johnson-Agbakwu C. Experiences of refugee women in accessing and utilizing a refugee-focused prenatal clinic in the United States: a mixed methods study. Glob Women's Health. 2017;1(1):14–20.

9.

Khanlou N, Haque N, Skinner A, Mantini A, Kurtz Landy C. Scoping review on maternal health among immigrant and refugee women in Canada: prenatal, intrapartum, and postnatal care. J Pregnancy. 2017;2017:1–14.

10.

WHO. Packages of interventions for family planning, safe abortion care, maternal, newborn and child health. Geneva: WHO; 2010.

11.

Small R, Gagnon A, Gissler M, Zeitlin J, Bennis M, Glazier R, et al. Somali women and their pregnancy outcomes postmigration: data from six receiving countries. BJOG. 2008;115(13):1630–40.

12.

Deacon Z, Sullivan C. Responding to the complex and gendered needs of refugee women. Affilia. 2009;24(3):272–84.

13.

UNICEF. Female genital mutilation/cutting: a statistical overview and exploration of the dynamics of change [Internet]. New York; 2013. pp. 1–194. http://data.unicef.org/wp-content/uploads/2015/12/FGMC_Lo_res_Final_26.pdf.

14.

WHO. Care of girls and women living with female genital mutilation: a clinical handbook [Internet]. Geneva, Switzerland: World Health Organization; 2018. p. 1–458. http://apps.who.int/iris/bitstream/handle/10665/272429/9789241513913-eng.pdf?ua=1.

15.

Gulliford M, Figueroa-Munoz J, Morgan M, Hughes D, Gibson B, Beech R, et al. What does "access to health care" mean? J Health Serv Res Policy. 2002;7(3):186–8.

16.

Institute of Medicine. Access to Health Care in America [Internet]. Millman M, editor. Access to Health Care in America. Washington DC: National Academies Press (US); 1993. pp. 1–240. http://www.ncbi.nlm.nih.gov/pubmed/25144064. Accessed 6 May 2018.

17.

Toubia N. Female genital mutilation: a full color quick reference chart. New York: Research, action and information network for bodily integrity of women (RAINBO); 1999.

18.

Lee C-C, Li D, Arai S, Puntillo K. Ensuring cross-cultural equivalence in translation of research consents and clinical documents: a systematic process for translating English to Chinese. J Transcult Nurs. 2009;20(1):77–82.

19.

Johnson CE, Ali SA, Shipp MP-L. Building community-based participatory research partnerships with a somali refugee community. Am J Prev Med. 2009;37(6S1):230–6.

20.

Department of Health and Human Services. U.S. federal poverty guidelines used to determine financial eligibility for certain federal programs [Internet]. Poverty guidelines. 2018. https://aspe.hhs.gov/poverty-guidelines. Accessed 20 Nov 2017

21.

Gele AA, Johansen EB, Sundby J. When female circumcision comes to the West: attitudes toward the practice among Somali Immigrants in Oslo. BMC Public Health. 2012;12:697.

22.

Kim W, Keefe RH. Barriers to healthcare among Asian Americans. Soc Work Public Health. 2010;25(3–4):286–95.

23.

Morris MD, Popper ST, Rodwell TC, Brodine SK, Brouwer KC. Healthcare barriers of refugees post-resettlement. J Community Health. 2009;34(6):529–38.

24.

Fang ML, Sixsmith J, Lawthom R, Mountian I, Shahrin A. Experiencing "pathologized presence and normalized absence"; understanding health related experiences and access to health care among Iraqi and Somali asylum seekers, refugees and persons without legal status. BMC Public Health. 2015;15:923.

25.

Riggs E, Davis E, Gibbs L, Block K, Szwarc J, Casey S, et al. Accessing maternal and child health services in Melbourne, Australia: reflections from refugee families and service providers. BMC Health Serv Res. 2012;12:117.

26.

Bulman KH, McCourt C. Somali refugee women's experiences of maternity care in west London: a case study. Crit Public Health. 2002;12(4):365–80.

27.

Kita S, Minatani M, Hikita N, Matsuzaki M, Shiraishi M, Haruna M. A systematic review of the physical, mental, social, and economic problems of immigrant women in the perinatal period in Japan. J Immigr Minor Health. 2015;17(6):1863–81.

28.

Yoong W, Kolhe S, Karoshi M, Ullah M, Nauta M. The obstetric performance of United Kingdom asylum seekers from Somalia: a case-control study and literature review. Int J Fertil Womens Med. 2005;50(4):175–9.

29.

Hamid A, Grace KT, Warren N. A Meta-synthesis of the birth experiences of African immigrant women affected by female genital cutting. J Midwifery Womens Health. 2018;63(2):185–95.

30.

Lazar JN, Johnson-Agbakwu CE, Davis OI, Shipp MP-L. Providers' perceptions of challenges in obstetrical care for somali women. Obstet Gynecol Int. 2013;2013:149640.

31.

Pavlish CL, Noor S, Brandt J. Somali immigrant women and the American health care system: discordant beliefs, divergent expectations, and silent worries. Soc Sci Med. 2010;71(2):353–61.

32.

Brown E, Carroll J, Fogarty C, Holt C. "They get a c-section… they gonna die": Somali women's fears of obstetrical interventions in the United States. J Transcult Nurs. 2010;21(3):220–7.

33.

Carroll J, Epstein R, Fiscella K, Volpe E, Diaz K, Omar S. Knowledge and beliefs about health promotion and preventive health care among Somali women in the United States. Health Care Women Int. 2007;28(4):360–80.

34.

Herrel N, Olevitch L, DuBois DK, Terry P, Thorp D, Kind E, et al. Somali refugee women speak out about their needs for care during pregnancy and delivery. J Midwifery Womens Health. 2004;49(4):345–9.

35.

Small R, Roth C, Raval M, Shafiei T, Korfker D, Heaman M, et al. Immigrant and non-immigrant women's experiences of maternity care: a systematic and comparative review of studies in five countries. BMC Pregnancy Childbirth. 2014;14:152.

36.

Grove NJ, Zwi AB. Our health and theirs: Forced migration, othering, and public health. Soc Sci Med. 2006;62(8):1931–42.

37.

Johnson JL, Bottorff JL, Browne AJ, Grewal S, Hilton BA, Clarke H. Othering and being othered in the context of health care services. Health Commun. 2004;16(2):255–71.

38.

Johnson-Agbakwu CE, Helm T, Killawi A, Padela AI. Perceptions of obstetrical interventions and female genital cutting: insights of men in a Somali refugee community. Ethn Health. 2014;19(4):440–57.

39.

UNHCR. Convention and protocol relating to the status of refugees. Geneva: UNHCR 2010.
Acknowledgements
This study was funded by the Robert Wood Johnson Foundation Clinical Scholars Program and the University of Michigan, Department of Obstetrics & Gynecology. Data analysis and manuscript development was supported by the Research Education and Training Core (RETC) of the Southwest Interdisciplinary Research Center (SIRC) at Arizona State University and the Early Career Faculty Fellowship from the National Institute on Minority Health and Health Disparities of the National Institutes of Health (NIMHD/NIH), award P20 MD002316 (F. Marsiglia, P.I.). We would like to thank Dr. Lubayna Fawcett for providing technical support, data entry error checking and data cleaning. The content is solely the responsibility of the authors and does not necessarily represent the official views of the NIMHD or the NIH.
Ethics declarations
Ethical Approval
Ethics approval for this study was obtained from the ethics committee of the University of Michigan Institutional Review Board (IRB) (HUM00009502).
Informed Consent
Participants' written informed consent was obtained using an informed consent form, which had been reviewed and approved by the IRB. For those participants who could not read and write, the enumerators read out the research information sheet and the informed consent form, and their thumbprint was taken as proof of consent. All participation was voluntary, and participants were allowed to exit the survey if they desired.
About this article
Cite this article
Banke-Thomas, A., Agbemenu, K. & Johnson-Agbakwu, C. Factors Associated with Access to Maternal and Reproductive Health Care among Somali Refugee Women Resettled in Ohio, United States: A Cross-Sectional Survey. J Immigrant Minority Health 21, 946–953 (2019). https://doi.org/10.1007/s10903-018-0824-4
Keywords
Refugee

Access

Somali

Maternal health

Reproductive health