Abstract
Interventions aiming to improve access to and retention in HIV care are optimized when they are tailored to clients' needs. This paper describes an initiative of interventions implemented by ten demonstration sites using a transnational framework to tailor services for Mexicans and Puerto Ricans living with HIV. Transnationalism describes how immigrants (and their children) exist in their "receiving" place (e.g., continental U.S.) while simultaneously maintaining connections to their country or place of origin (e.g., Mexico). We describe interventions in terms of the strategies used, the theory informing design and the tailoring, and the integration of transnationalism. We argue how applying the transnational framework may improve the quality and effectiveness of services in response to the initiative's overall goal, which is to produce innovative, robust, evidence-informed strategies that go beyond traditional tailoring approaches for HIV interventions with Latino/as populations.
This is a preview of subscription content, log in to check access.
Access options
Buy single article
Instant access to the full article PDF.
US$ 39.95
Price includes VAT for USA
Subscribe to journal
Immediate online access to all issues from 2019. Subscription will auto renew annually.
US$ 99
This is the net price. Taxes to be calculated in checkout.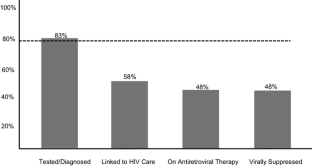 References
1.

McCree DB, Beer L, Prather C, Gant Z, Harris N, Sutton M, Sionean C, Dunbar E, Smith J, Wortley P. An approach to achieving the health equity goals of the National HIV/AIDS Strategy for the United States among racial/ethnic minority communities. Public Health Rep. 2016;131:526–30.

2.

Sheehan DM, Mauck DE, Fennie KP, Cyrus EA, Maddox LM, Lieb S, Trepka MJ. Black–White and country of birth disparities in retention in HIV care and viral suppression among Latinos with HIV in Florida, 2015. Int J Environ Res Public Health. 2017;14:120.

3.

Qiang X, Lazar R, Bernard MA, McNamee P, Daskalakis DC, Torian LV, Braunstein SL. New York City achieves the UNAIDS 90-90-90 targets for HIV-infected Whites but not Latinos/Hispanics and Blacks. J Acquir Immune Defic Syndr. 2016;73:e59–e62.

4.

Brummer S, Reyes I, Martin ML, Walker LU, Heron SL. Racial/ethnic health care disparities and inequities: historical perspectives. In: Martin ML, Heron SL, Moreno-Walton L, Jones AW, editors. Diversity and inclusion in quality patient care. Cham: Springer International Publishing; 2016. pp. 11–21.

5.

CDC. HIV Surveillance Report. 2014; vol. 26. Accessed August 2017 from: http://www.cdc.gov/hiv/library/reports/surveillance/. Published November 2015.

6.

CDC. HIV among Hispanics/Latinos. 2017. Accessed August 2017 from: https://www.cdc.gov/nchhstp/newsroom/docs/factsheets/cdc-hiv-latinos-508.pdf.

7.

United States. National HIV/AIDS Strategy for the United States: updated to 2020. Washington, D.C.: White House Office of National AIDS Policy.

8.

HIV Continuum of Care, U.S., 2014; Overall and by age race, ethnicity. transmission route, and sex. NCHHSTP Newsroom – 2017 Press Releases. July, 27, 2017. Access August, 2017. https://www.cdc.gov/nchhstp/newsroom/2017/HIV-Continuum-of-Care.html.

9.

Herbst JH, Kay LS, Passin WF, Lyles CM, Crepaz N, Marin BV. A systematic review and meta-analysis of behavioral interventions to reduce HIV risk behaviors of Hispanics in the United States and Puerto Rico. AIDS Behav. 2007;11(1):25–47.

10.

Motel S, Patten E. Hispanic origin profiles. Pew Hispanic center. Accessed October, 2016 from: http://www.pewhispanic.org/2012/06/27/country-of-origin-profiles/. Published June, 2012.

11.

Taylor P, Lopez MH, Martínez JH, Velasco G. When labels don't fit: Hispanics and their views of identity. Pew Hispanic center. Accessed October, 2016 from: http://www.pewhispanic.org/2012/04/04/when-labels-dont-fit-hispanics-and-their-views-of-identity/. Published April, 2012.

12.

Marín G, Marín BV. Research with Hispanic populations. Newbury Park: Sage.

13.

Añez LM, Paris M, Bedregal LE, Davidson L, Grilo CM. Application of cultural constructs in the care of first generation Latino clients in a community mental health setting. J Psychiatr Pract. 2005;11:221–30.

14.

Caban A, Walker EA. A systematic review of research on cultural relevant issues for Hispanics with diabetes. Diabetes Educ. 2006;32:584–95.

15.

Marín BV. HIV prevention in the Hispanic community: sex, culture, and empowerment. J Transcult Nurs. 2003;14:186–92.

16.

Mikawa JK, Morones PA, Gomez A, Case HL, Olsen D, Gonzales-Huss MJ. Cultural practices of Hispanics: Implications for the prevention of AIDS. Hisp J Behav Sci. 1992;14:421–33.

17.

Abraído-Lanza AF, Viladrich A, Flórez KR, Céspedes A, Aguirre AN, De La Cruz AA. Commentary: fatalismo reconsidered: a cautionary note for health-related research and practice with Latino populations. Ethn Disparities. 2007;17(1):153–8.

18.

Keese MS, Natale AP, Curiel HF. HIV positive Hispanic/Latinos who delay HIV care: analysis of multilevel care engagement barriers. Soc Work Health Care. 2012;51:457–78.

19.

Gonzales JS, Hendriksen ES, Collins EM, Durán RE, Safren SE. Latinos and HIV/AIDS: examining factors related to disparity and identifying opportunities for psychosocial intervention research. AIDS Behav. 2009;13:582–602.

20.

Gómez CA, Marín BV. Gender, culture, and power: barriers to HIV-prevention strategies for women. J Sex Res. 1996;33:355–62.

21.

Neff JA, Hoppe SK. Race/ethnicity, acculturation, and psychological distress: fatalism and religiosity as cultural resources. J Community Psychol. 1993;21:3–20.

22.

Earnshaw VA, Bogart LM, Dovidio JF, Williams DR. Stigma and racial/ethnic HIV disparities: moving toward resilience. Am Psychol. 2013;68:225–36.

23.

Hunt LM, Schneider S, Comer B. Should "acculturation" be a variable in health research? A critical review of research on US Hispanics. Soc Sci Med. 2004;59:973–86.

24.

Carrillo H. Sexual culture, structure, and change: a transnational framework for studies of Latino/a migration and HIV. In: Organista KC, editor. HIV prevention with latinos: theory, research, and practice. New York: Oxford; 2012. pp. 41–61.

25.

Villarruel AM, Jemmot LS, Jemmott JB III. Designing a culturally based intervention to reduce HIV sexual risk for Latino adolescents. J Assoc Nurses AIDS Care. 2005;16:23–31.

26.

Rhodes SD, McCoy TP, Vissman AT, DiClemente RJ, Duck S, Hergenrather KC, Long Foley K, Alonzo J, Bloom FR, Eng E. A randomized controlled trial of a culturally congruent intervention to increase condom use and HIV testing among heterosexually active immigrant Latino men. AIDS Behav. 2011;15:1764–75.

27.

Grieb SD, Flores-Miller A, Page K. ¡Sólo Se Vive Una Vez! (You Only Live Once): a pilot evaluation of individually tailored video modules aiming to increase HIV testing among foreign-born Latino men. J Acquir Immune Defic Syndr. 2017;74:S104–S112.

28.

Organista KC, Carillo H, Ayala G. HIV prevention with Mexican migrants: review, critique and recommendations. J Acquir Immune Defic Syndr. 2004;37:S227–S239.

29.

Schiller NG, Basch L, Blanc-Szanton C. Towards a definition of transnationalism: introductory remarks and research questions. Ann N Y Acad Sci. 1992;645:ix-xiv.

30.

Smith R. Mexican New York: transnational lives of new immigrants. Berkeley: University of California Press; 2006.

31.

Vertovec S. Transnationalism and identity. J Ethn Migr Stud. 2001;27:573–82.

32.

Concannon K, Lomelí FA, Priewe M. Imagined transnationalism: U.S. Latino/a literature, culture, and identity. New York: Palgrave MacMillian; 2009.

33.

Levitt P, Jaworsky N. Transnationalism migration studies: past developments and future trends. Annu Rev Sociol. 2007;33:129–56.

34.

Levitt P. The transnational villagers. Berkeley: University of California Press; 2001.

35.

Waldinger R: Between here and there: How attached are Latino immigrants to their native country? Pew Hispanic center. Accessed October, 2016 from: http://www.pewhispanic.org/2007/10/25/between-here-and-there-how-attached-are-latino-immigrants-to-their-native-country/. Published October, 2007.

36.

Vertovec S. Cheap calls: the social glue of migrant transnationalism. Glob Netw. 2004;4:219–24.

37.

Remittances to Latin America grow, but Mexico bucks the trend faced with the US slowdown. The World Bank—Who We Are – News. Published October 8, 2013. From http://www.worldbank.org/en/news/feature/2013/10/04/remesas-latinoamerica-crecimiento-mexico-caida.

38.

Vega WA, Rodriguez MA, Gruskin E. Health disparities in the Latino population. Epidemiol Rev. 2009;31:99–112.

39.

Levitt P. Social remittances: migration driven local-level forms of cultural diffusion. Int Migr Rev. 1998;32:926–48.

40.

Alcántara C, Chen C, Alegría M. Transnational ties and past-year major depressive episodes among Latino immigrants. Cultur Divers Ethnic Minor Psychol. 2015;21:486–95.

41.

Murphy EJ, Mahalingam R. Transnational ties and mental health of Caribbean immigrants. J Immigr Minor Health. 2004;6(4):167–78.

42.

Deren S, Kang S, Colón HM, Andia JF, Robles RR, Oliver-Velez D, Finlinson A. Migration and HIV risk behaviors: Puerto rican drug injectors in New York City and Puerto Rico. Am J Public Health. 2003;93:812–6.

43.

Kessing KL, Norredam M, Kvernrod A, Mygind A, Kristiansen M. Contexualising migrants' health behavior—a qualitative study of transnational ties and their implications for participation in mammography screening. BMC Public Health. 2013;13:431.

44.

Zhou YR, Coleman WD, Huang Y, Sinding C, Wei W, Gahagan J, Micollier E, Su HH. Exploring the intersections of transnationalism, sexuality, and HIV risk. Cult Health Sex. 2017;645–52.

45.

Villa-Torres L, González-Vázquez T, Fleming PJ, González- González EL, Infante-Xibille C, Chavez R, Barrington C. Transnationalism and health: a systematic review on the use of transnationalism in the study of health practices and behaviors of migrants. Soc Sci Med. 2017;183:70–9.

46.

Health Resources and Service Administration (HRSA). Performance measure Portfolio – core measures. Accessed November, 2017 from: https://hab.hrsa.gov/clinical-quality-management/performance-measure-portfolio.

47.

Wilson BDM, Miller RL. Examining strategies for culturally grounded HIV prevention: a review. AIDS Educ Prev. 2003;15:184–202.

48.

Marín G. AIDS prevention among Hispanics: needs, risk behaviors, and cultural values. Public Health Rep. 1989;104:411–5.

49.

McKleroy VS, Galbraith JS, Cummings B, et al. Adapting evidence–based behavioral interventions for new settings and target populations. AIDS Educ Prev. 2006;18:59–73.

50.

Bowen DJ, Kreuter M, Spring B. How we design feasibility studies. AM J Prevent Med. 2009;36:452–7.

51.

Rivera JO, Ortiz M, Gonzalez-Stuart A, Hughes H. Bi-national evaluation of herbal product use on the United States/Mexico border. J Herb Pharmacother. 2007;7:91–103.

52.

Gelberg L, Andersen RM, Leake BD. The behavioral model for vulnerable populations: application to medical care use and outcomes for homeless people. Health Serv Res. 2000;34:1273–302.

53.

Griner D, Smith TB. Culturally adapted mental health interventions: a meta-analytic review. Psychother: Theory Res Pract Train. 2006;34:531–48.

54.

Crepaz N, Tang T, Marks G, et al. Durable viral suppression and transmission risk potential among persons with diagnosed HIV infection: United States, 2012–2013. Clin Infect Dis. 2016;63:967–83.

55.

Salgado de Synder VN, de Jesus Diaz-Perez M, Maldonado M, Bautista EM. Pathways to mental health services among inhabitants of a Mexican village. Health Soc Work. 1998;23:250–61.

56.

Koehn PH, Swick HM. Medical education for a changing world: moving beyond cultural competence into transnational competence. Acad Med. 2006;81:548–56.

57.

Sears KP. Improving cultural competence education: the utility of an intersectional framework. Med Educ. 2012;46:545–51.

58.

Koehn PH. Health-care outcomes in ethno-culturally discordant medical encounters: the role of physician transnational competence in consultation with asylum seekers. J Immigr Minor Health. 2006;8:137–47.

59.

Gardner L, Metsch LR, Anderson-Mahoney P, et al. Efficacy of a brief case management intervention to link recently diagnosed HIV-infected persons to care. AIDS. 2005;19:423–31.

60.

Rodriguez-Diaz CE. Maria in Puerto Rico: natural disasters in a colonial archipelago. Am J Public Health. 2018;1:30–2.
Ethics declarations
Conflict of interest
The authors declare that they have no competing interests.
Appendix
Appendix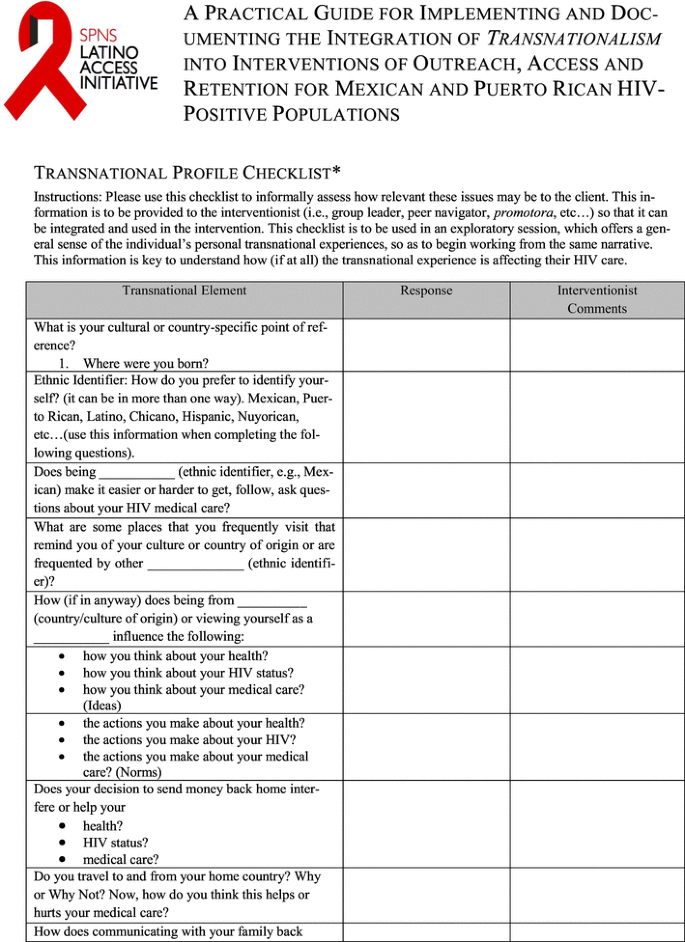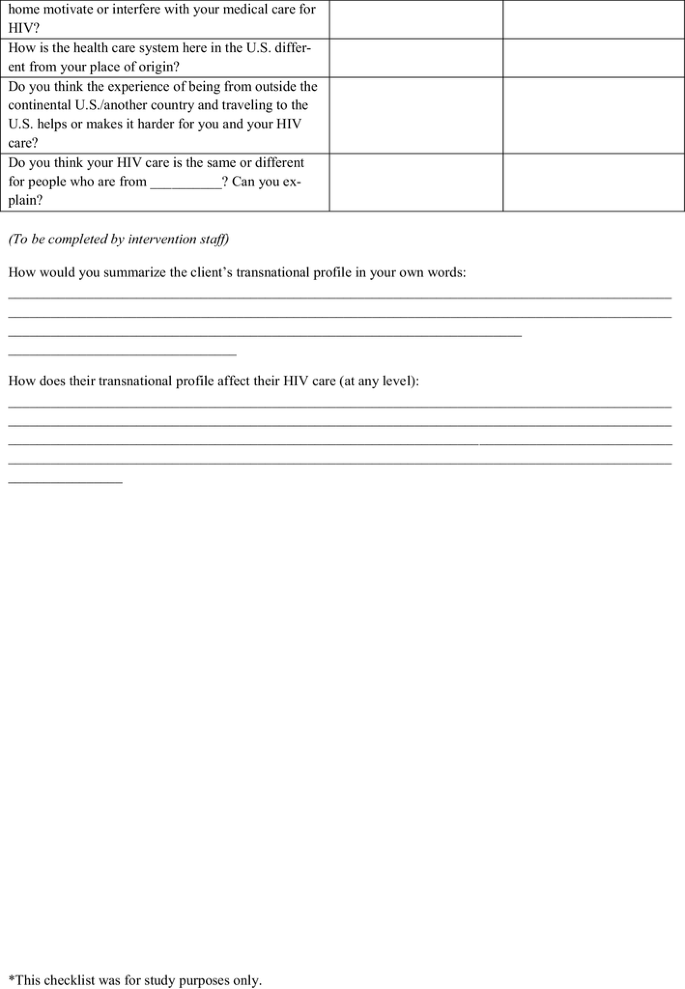 About this article
Cite this article
Sauceda, J.A., Brooks, R.A., Xavier, J. et al. From Theory to Application: A Description of Transnationalism in Culturally-Appropriate HIV Interventions of Outreach, Access, and Retention Among Latino/a Populations. J Immigrant Minority Health 21, 332–345 (2019). https://doi.org/10.1007/s10903-018-0753-2
Keywords
HIV

Latino

Transnationalism

Health disparities

Implementation science

Health service