Abstract
Research is limited on the health of foreign-born Blacks (FBBs), who are often grouped with African Americans. This study compared obesity and diabetes odds in FBBs and US-born Blacks (USBBs) in NYC. Analyzing the 2009–2013 NYC Community Health Survey (3701 FBBs and 6297 USBBs), weighted multivariate logistic regression examined odds of obesity and diabetes, adjusting for age, gender, education, income, marital status, children < 18, BMI (for diabetes only) and duration of residence. FBBs had lower odds of obesity [OR  0.62 (95% CI 0.54, 0.72)] and greater odds of diabetes [OR 1.24 (95% CI 1.01, 1.52)] compared to USBBs. FBBs had 1.4 times the odds of diabetes at overweight status, compared to USBBs [OR  1.40 (95% CI 1.01, 1.95)]. Living in the US ≥ 10 years was not associated with odds of obesity and diabetes. Future research should seek to uncover unique risk profiles of sub-ethnic groups in the African diaspora.
Access options
Buy single article
Instant access to the full article PDF.
US$ 39.95
Tax calculation will be finalised during checkout.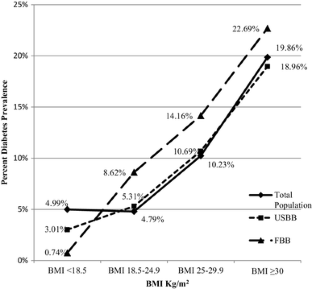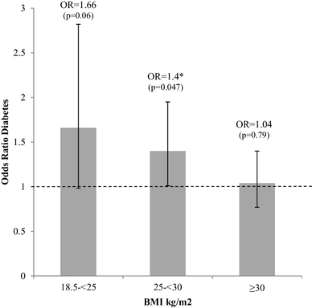 References
1.

Anderson M. Rising share of the U.S. Black population is foreign born. Washington, DC: Pew Research Center; 2015. http://www.pewsocialtrends.org/2015/04/09/a-rising-share-of-the-u-s-black-population-is-foreign-born/.

2.

The Newest New Yorkers. Characteristics of the City's Foreign Born Population. New York: Department of City Planning City of New York; 2013. https://www1.nyc.gov/assets/planning/download/pdf/data-maps/nyc-population/nny2013/nny_2013.pdf.

3.

Colby S, Ortman J. Projections of the size and composition of the U.S. population: 2014 to 2060. Washington, DC: U.S. Census Bureau; 2014.

4.

Mehta N, Elo I, Ford N, Siegel K. Obesity among U.S.- and foreign-born Blacks by region of birth. Am J Prev Med. 2015;49(2):269–73.

5.

Ford ND, Narayan KM, Mehta NK. Diabetes among US- and foreign-born Blacks in the USA. Ethn Health. 2016;21(1):71–84.

6.

Lundy De La Cruz N, Jessup J, Murray L. Health of Black New Yorkers by country of birth. New York City. New York: New York City Department of Health and Mental Hygiene; 2016. https://www1.nyc.gov/assets/doh/downloads/pdf/epi/databrief79.pdf.

7.

Goel M, McCarthy EP, Phillips RS, Wee CC. Obesity among US immigrant subgroups by duration of residence. JAMA. 2004;292(23):2860–7.

8.

Sanchez-Vaznaugh EV, Kawachi I, Subramanian SV, Sánchez BN, Acevedo-Garcia D. Differential effect of birthplace and length of residence on body mass index (BMI) by education, gender and race/ethnicity. Soc Sci Med. 2008;67(8):1300–10.

9.

Park Y, Neckerman KM, Quinn J, Weiss C, Rundle A. Place of birth, duration of residence, neighborhood immigrant composition and body mass index in New York City. Int J Behav Nutr Phys Act. 2008;5(19):1–11.

10.

[Dataset]. Community Health Survey 2002-2013. New York: New York City Department of Health and Mental Hygiene; 2002–2013.

11.

National Diabetes Statistics Report. Estimates of diabetes and its burden in the United States, 2014. Atlanta: Centers for Disease Control and Prevention; 2014.

12.

Motala AA, Omar MAK, Pirie FJ. Epidemiology of type 1 and type 2 diabetes in Africa. J Cardiovasc Risk. 2003;10(2):77–83.

13.

Bennett NR, Francis DK, Ferguson TS, Hennis AJ, Wilks RJ, Harris EN, et al. Disparities in diabetes mellitus among Caribbean populations: a scoping review. Int J Equity Health. 2015;14:23.

14.

International Diabetes Federation. IDF Diabetes Atlas, 8th edn. Brussels, Belgium: International Diabetes Federation; 2015. http://www.diabetesatlas.org.

15.

Commodore-Mensah Y, Himmelfarb CD, Agyemang C, Sumner AE. Cardiometabolic health in African immigrants to the United States: a call to re-examine research on African-descent populations. Ethn Dis. 2015;25(3):373–80.

16.

O'Connor MY, Thoreson CK, Ricks M, Courville AB, Thomas F, Yao J, et al. Worse cardiometabolic health in African immigrant men than African American men: reconsideration of the healthy immigrant effect. Metab Syndr Relat Disord. 2014;12(6):347–53.

17.

Paxton A, Pillai A, Phelan KPQ, Cevette N, Bah F, Akabas S. Dietary acculturation of recent immigrants from West Africa to New York City. Face à face. 2016(13) [online]. http://journals.openedition.org/faceaface/1023.

18.

Henry F. Obesity prevention: the key to non-communicable disease control. West Indian Med J. 2011;60:446–51.

19.

Hawkes C. Uneven dietary development: linking the policies and processes of globalization with the nutrition transition, obesity and diet-related chronic diseases. Global Health. 2006;2:1–18.

20.

Ferguson GM, Bornstein MH. Remote acculturation: the "Americanization" of Jamaican Islanders. Int J Behav Dev. 2012;36(3):167–77.

21.

Lovasi GS, Hutson MA, Guerra M, Neckerman KM. Built environments and obesity in disadvantaged populations. Epidemiol Rev. 2009;31(1):7–20.

22.

Ogden C, Carroll M, McDowell M, Flegal K. Obesity among adults in the United States—no statistically significant change since 2003-2004. In: NCHS Data Brief No. 1. Hyattsville: National Center for Health Statistics; 2008.

23.

Ogden CL, Lamb MM, Carroll MD, Flegal KM. Obesity and socioeconomic status in adults: United States 1988–1994 and 2005–2008. Hyattsville: National Center for Health Statistics; 2010.

24.

Dinsa G, Goryakin Y, Fumagalli E, Suhrcke M. Obesity and socioeconomic status in developing countries: a systematic review. Obes Rev. 2012;13(11):1067–79.

25.

Fezeu L, Minkoulou E, Balkau B, Kengne A-P, Awah P, Unwin N, et al. Association between socioeconomic status and adiposity in urban Cameroon. Int J Epidemiol. 2006;35(1):105–11.

26.

Popkin BM, Paeratakul S, Zhai F, Ge K. A review of dietary and environmental correlates of obesity with emphasis on developing countries. Obes Res. 1995;3(S2):145s–53s.

27.

Thorpe LE, Upadhyay UD, Chamany S, Garg R, Mandel-Ricci J, Kellerman S, et al. Prevalence and control of diabetes and impaired fasting glucose in New York City. Diabetes Care. 2009;32(1):57–62.

28.

Kwak SH, Park KS. Recent progress in genetic and epigenetic research on type 2 diabetes. Exp Mol Med. 2016;48(3):e220.

29.

Wong RJ, Chou C, Sinha SR, Kamal A, Ahmed A. Ethnic disparities in the association of body mass index with the risk of hypertension and diabetes. J Community Health. 2014;39(3):437–45.

30.

Zallman L, Himmelstein D, Woolhandler S, Bor DH, Ayanian JZ, Wilper AP, et al. Undiagnosed and uncontrolled hypertension and hyperlipidemia among immigrants in the US. J Immigr Minor Health. 2013;15(5):858–65.

31.

Percival J. Return migration in later life: international perspectives. Bristol: Policy Press at the University of Bristol; 2013.

32.

Dumont JS, Spielvogel G. International migration outlook SOPEMI – 2008 edition. Part III: return migration: organisation for economic co-operation and development (OECD); 2008. https://www.oecd.org/migration/mig/43999382.pdf.

33.

Hamilton-Henry J, Russell B. Transnational migration: the elderly and healthcare. In: Matthews L, editor. English-speaking Caribbean immigrants: transnational identities. Lanham: University Press of America; 2013. pp. 73–9.

34.

Sargent C, Larchanché S. Transnational migration and global health: the production and management of risk, illness, and access to care. Annu Rev Anthropol. 2011;40(1):345–61.

35.

Turra CM, Elo IT. The impact of salmon bias on the Hispanic mortality advantage: new evidence from social security data. Popul Res Policy Rev. 2008;27(5):515–30.

36.

Keith SW, Fontaine KR, Pajewski NM, Mehta T, Allison DB. Use of self-reported hight and weight biases the body mass index-mortality association. Int J Obes. 2011;35(3):401–8.

37.

Sastre F, Rojas P, Cyrus E, De La Rosa M, Khoury AH. Improving the health status of Caribbean people: recommendations from the triangulating on health equity summit. Glob Health Promot. 2014;21(3):19–28.
Ethics declarations
Conflict of interest
The authors declare that they have no conflicts of interest.
Ethical Approval
Study procedures were in accordance with the ethical standards of The City University of New York Central Human Research Protection Program and with the 1964 Helsinki declaration and its later amendments or comparable ethical standards.
Informed Consent
For this type of study formal consent is not required.
About this article
Cite this article
Horlyck-Romanovsky, M.F., Wyka, K., Echeverria, S.E. et al. Foreign-Born Blacks Experience Lower Odds of Obesity but Higher Odds of Diabetes than US-Born Blacks in New York City. J Immigrant Minority Health 21, 47–55 (2019). https://doi.org/10.1007/s10903-018-0708-7
Keywords
Obesity

Diabetes

Black

Immigrant

Duration of residence