Abstract
This study investigated refugee access to primary care physicians (PCP) in San Antonio, Texas. Catholic Charities of San Antonio (CCSA) is the primary agency responsible for connecting refugees to a PCP. Data on refugees were collected from CCSA between May to September 2013 (N = 547). PCPs information was accessed at the Texas Medicaid and Healthcare Partnership (TMHP) website. The 2SFCA method was used in geographic information systems (GIS) to analyze the ratio of healthcare providers relative to refugees within varying walking distances. The highest concentration of accessibility was at 20 min distance in the Medical Center area. The highest concentration of accessibility at all walking distances were also in the Medical Center area. The univariate and multivariate analyses did not result in significant findings for the association between demographic variables and the accessibility scores. These findings recommend building new and more relationships with healthcare providers where PCPs access is low.
This is a preview of subscription content, log in to check access.
Access options
Buy single article
Instant access to the full article PDF.
US$ 39.95
Price includes VAT for USA
Subscribe to journal
Immediate online access to all issues from 2019. Subscription will auto renew annually.
US$ 99
This is the net price. Taxes to be calculated in checkout.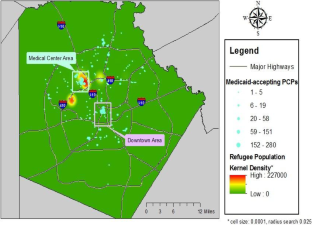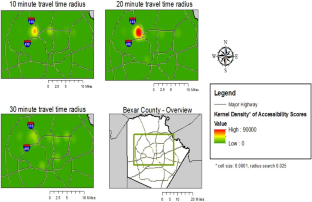 References
1.

Texas Department of State Health Services (DSHS). Refugee Health Statistics 2013. http://www.dshs.state.tx.us/idcu/health/refugee_health/statistics.

2.

Catholic Charities. Archdiocese of San Antonio, Inc. Refugee & Immigration Services. https://ccaosa.org/refugee-immigration-services.

3.

Refugee Health Technical Assistance Center. Access to Care. 2011. http://refugeehealthta.org/access-to-care.

4.

Allotey PA, Reidpath DD. Refugee intake: reflections on inequality. Aust N Z J Public Health. 2003;27(1):12–6.

5.

Steel Z, Chey T, Silove D, Marnane C, Bryant RA, van Ommeren M. Association of torture and other potentially traumatic events with mental health outcomes among populations exposed to mass conflict and displacement: a systematic review and meta-analysis. JAMA. 2009;302(5):537–49.

6.

Kaczorowski JA, Williams AS, Smith TF, Fallah N, Mendez JL, Nelson–Gray R. Adapting clinical services to accommodate needs of refugee populations. Prof Psychol: Res Pract. 2011;42(5):361.

7.

Barnes GW, Stoll HW, Barnes MS, Tiwari AD. The autoimmune response to male reproductive tissues of rabbits. IV. Induction of autosensitization to central accessory tissue by the intraabdominal release of endogenous secretions. Invest Urol. 1976;14(1):47–53.

8.

Brouwer K. Assessment of community member attitudes towards health needs of refugees in San Diego. Retrieved July. (2007);8:2009.

9.

Feldman R. Primary health care for refugees and asylum seekers: a review of the literature and a framework for services. Public Health. 2006;120(9):809–16.

10.

Cote S, Geltman P, Nunn M, Lituri K, Henshaw M, Garcia RI. Dental caries of refugee children compared with US children. Pediatrics. 2004;114(6):e733-40.

11.

Texas Medicaid and Healthcare Partnership. TMHP - Basic Provider Search 2013. http://opl.tmhp.com/ProviderManager/AdvSearch.aspx.

12.

Penchansky R, Thomas JW. The concept of access: definition and relationship to consumer satisfaction. Med Care. 1981;19(2):127–40.

13.

Fortney JC, Maciejewski ML, Warren JJ, Burgess JF. Jr. Does improving geographic access to VA primary care services impact patients' patterns of utilization and costs? Inquiry. 2005;42(1):29–42.

14.

Guagliardo MF, Ronzio CR, Cheung I, Chacko E, Joseph JG. Physician accessibility: an urban case study of pediatric providers. Health Place. 2004;10(3):273–83.

15.

Kim M, Kotz D, Kim S, editors. Extracting a mobility model from real user traces. INFOCOM 2006 25th IEEE International Conference on Computer Communications Proceedings; 2006: IEEE.

16.

Moussaïd M, Perozo N, Garnier S, Helbing D, Theraulaz G. The walking behaviour of pedestrian social groups and its impact on crowd dynamics. PLoS ONE. 2010;5(4):e10047.

17.

Hill T, Lewicki P. Statistics methods and applications. Tulsa: Statsoft; 2007.

18.

Barnes DM, Harrison CL. Refugee women's reproductive health in early resettlement. J Obstet Gynecol Neonatal Nurs. 2004;33(6):723–8.

19.

Fazel M, Wheeler J, Danesh J. Prevalence of serious mental disorder in 7000 refugees resettled in western countries: a systematic review. Lancet. 2005;365(9467):1309–14.

20.

Stauffer WM, Kamat D, Walker PF. Screening of international immigrants, refugees, and adoptees. Prim Care. 2002;29(4):879–905.

21.

Yun K, Fuentes-Afflick E, Desai MM. Prevalence of chronic disease and insurance coverage among refugees in the United States. J Immigr Minor Health. 2012;14(6):933–40.
Acknowledgements
The team sincerely thanks the Catholic Charities of San Antonio for their work and help in conducting this research.
Funding
This study was not funded by any source.
Ethics declarations
Conflict of interest
Authors have not received research grants from any source and have no conflict of interest. This study proposal has undergone review by the University of Texas Health Science Center Committee for Protection of Human Subjects and the Institutional Review Board (HCS-SPH-13-0824).
Ethical Approval
This article does not contain any studies with human participants performed by any of the authors. This was a secondary data analyses and no individual identifier is there to identify the subjects.
Informed Consent
Informed consent was not necessary to obtain from all individual participants included in the study.
Additional information
Publisher's Note
Springer Nature remains neutral with regard to jurisdictional claims in published maps and institutional affiliations.
About this article
Cite this article
Wong, N.J., Chien, L. & Alamgir, H. Geospatial Analysis of Refugee Access to Primary Care Physicians in San Antonio, Texas. J Immigrant Minority Health 21, 1349–1355 (2019). https://doi.org/10.1007/s10903-018-00854-6
Keywords
Refugee

Health care access

Primary care physician access

San Antonio

Texas