Abstract
Mental health status may vary by nationality among expatriate workers; no conclusive data is available in Saudi Arabia. We invited expatriate nurses employed in governmental hospitals in Al-Qassim, Saudi Arabia to fill out an electronic survey that contained questions on demography (including nationality), lifestyle, job, depression, anxiety, and stress (assessed with DASS-21 scale). We categorized each outcome into normal, mild to moderate, and severe, and used adjusted multinomial logistic regressions for analyses. Nurses (n = 999) were from India (54.1%), the Philippines/Indonesia (37.0%), Pakistan (4.9%) and Arab countries (4.0%). Indian nurses were three times (OR = 2.93; 95% CI 1.84, 4.67), Pakistani nurses were 2.5 times (OR = 2.54; 95% CI 1.07, 6.00), and Arab nurses were five times (OR = 5.65; 95% CI 2.40–13.31) more likely to suffer from severe depression compared to Filipino/Indonesian nurses (reference group). Results were similar for stress. Depression and stress varied significantly by nationality among expatriate nurses.
This is a preview of subscription content, log in to check access.
Access options
Buy single article
Instant access to the full article PDF.
US$ 39.95
Price includes VAT for USA
Subscribe to journal
Immediate online access to all issues from 2019. Subscription will auto renew annually.
US$ 99
This is the net price. Taxes to be calculated in checkout.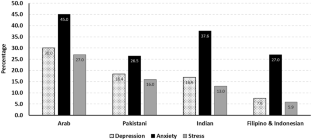 References
1.

Silvey R. Transnational migration and the gender politics of scale: Indonesian domestic workers in Saudi Arabia. Singap J Trop Geogr. 2004;25(2):1–15.

2.

Farnandez B. Household help? Ethiopian women domestic workers' labor migration to the Gulf countries. Asian Pac Migr J. 2004;20:433–57.

3.

Alsulaimani AA. Practical competency of Filipino nurses working in Taif city, Kingdom of Saudi Arabia. Saudi J Health Sci. 2014;3(2):85.

4.

Alghamdi MG, Urden LD. Transforming the nursing profession in Saudi Arabia. J Nurs Manag. 2016;24(1).

5.

Almalki M, Fitzgerald G, Clark M. Health care system in Saudi Arabia: an overview. East Mediterr Health J. 2011;17(10):784–93.

6.

Tsai Y-C, Liu C-H. Factors and symptoms associated with work stress and health-promoting lifestyles among hospital staff: a pilot study in Taiwan. BMC Health Serv Res. 2012;12(1):199.

7.

Lindert J, Schouler-Ocak M, Heinz A, Priebe S. Mental health, health care utilisation of migrants in Europe. Eur Psychiatry. 2008;23:14–20.

8.

Zahid M, Fido A, Razik M, Mohsen M, El-Sayed A. Psychiatric morbidity among housemaids in Kuwait. Med Princ Pract. 2004;13(5):249–54.

9.

AbuMadini MS, Rahim SI. Psychiatric admission in a general hospital. Patients profile and patterns of service utilization over a decade. Saudi Med J. 2002;23(1):44–50.

10.

Al Madni OM, Kharoshah MA, Zaki MK, Ghaleb SS. Hanging deaths in Dammam, Kingdom of Saudi Arabia. J Forensic Leg Med. 2010;17(5):265–8.

11.

Al Ansari A, Hamadeh RR, Ali MK, El Offi A. Suicide in Bahrain in the last decade. Crisis. 2007;28(1):11–5.

12.

Al-Maskari F, Shah SM, Al-Sharhan R, Al-Haj E, Al-Kaabi K, Khonji D, et al. Prevalence of depression and suicidal behaviors among male migrant workers in United Arab Emirates. J Immigr Minor Health. 2011;13(6):1027–32.

13.

Nadim W, AlOtaibi A, Al-Mohaimeed A, Ewid M, Sarhandi M, Saquib J, et al. Depression among migrant workers in Al-Qassim, Saudi Arabia. J Affect Disord. 2016;206:103–8.

14.

Henry JD, Crawford JR. The short-form version of the Depression Anxiety Stress Scales (DASS-21): construct validity and normative data in a large non-clinical sample. Br J Clin Psychol. 2005;44(2):227–39.

15.

Norton PJ. Depression Anxiety and Stress Scales (DASS-21): psychometric analysis across four racial groups. Anxiety Stress Coping. 2007;20(3):253–65.

16.

Crawford JR, Henry JD. The Depression Anxiety Stress Scales (DASS): normative data and latent structure in a large non-clinical sample. Br J Clin Psychol. 2003;42(Pt 2):111–31.

17.

Sarwani SAAL, Abdulla KB, Mandeel MAJ. Prevalence of stress, anxiety and depression among expatriate workers. Bahrain Med Bull. 2013;158(749):1–4.

18.

Khalid S, Irfan U, Sheikh S, Faisal M. Frequency of stress and depression in female nurses working in a teaching hospital. Kust Med J. 2010;2:10–4.

19.

Badil B, Shah H, Ali SA, Siddiqui A. Occupational stress among nurses of tertiary care hospitals in Karachi, Pakistan. J Dow Univ Health Sci. 2016;10(3).

20.

Kane PP. Stress causing psychosomatic illness among nurses. Indian J Occup Environ Med. 2009;13(1):28.

21.

World Health Organization. Depression and other common mental disorders: global health estimates. Geneva: WHO; 2017.
Acknowledgements
The authors thank the administrators and the staff of General Directorate of Ministry of Health in the Al-Qassim region for facilitating the distribution of this survey to nurses working in the hospitals. We are also grateful to the nurses who took the time to participate in this study. The authors thank Ms. Erin Strotheide for her editorial contributions to this manuscript.
Funding
This study was funded by the Deanship of Research at Qassim University, but it had no involvement in the collection, analysis or interpretation of data, in the writing of the report, or in the decision to submit the article for publication.
Ethics declarations
Conflict of interest
The authors declare that we have no conflict of interest.
Ethical Approval
This study was approved by the Qassim Ethics Research Committee.
Additional information
Publisher's Note
Springer Nature remains neutral with regard to jurisdictional claims in published maps and institutional affiliations.
About this article
Cite this article
Zaghloul, M.S., Saquib, J., AlMazrou, A. et al. Mental Health Status of Expatriate Nurses in Northcentral Saudi Arabia. J Immigrant Minority Health 21, 1233–1240 (2019). https://doi.org/10.1007/s10903-018-00853-7
Keywords
Depression

Anxiety

Stress

Nationality

Nurses

Saudi Arabia