Abstract
Using a cross-sectional sample of 534 Latino students from middle and high schools in a large North Carolina school district, we examined the relation of general and ethnic-biased bullying to depression and the indirect pathways through depression to suicidal ideation and substance use outcomes. A structural equation model tested the direct and indirect paths. The final model fit was excellent, χ2(90) = 127.6, p = .0056, RMSEA = 0.028, CFI = 0.974, TLI = 0.961. Ethnic-biased and verbal or relational bullying had a direct effect on depression, but general and physical bullying did not. Indirect effects through depression were found for ethnic-biased and verbal or relational bullying in relation to suicidal ideation, alcohol, and illicit drug use. Child nativity was marginally associated with ethnic-biased bullying, indicating foreign-born students may experience greater ethnic-biased bullying. Implications for future research and bullying prevention are discussed.
This is a preview of subscription content, log in to check access.
Access options
Buy single article
Instant access to the full article PDF.
US$ 39.95
Tax calculation will be finalised during checkout.
Subscribe to journal
Immediate online access to all issues from 2019. Subscription will auto renew annually.
US$ 79
Tax calculation will be finalised during checkout.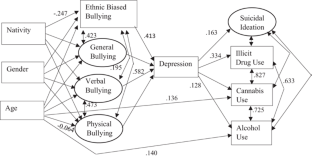 Notes
1.

The original sample included 4150 youth. However, inconsistent responders such as participants who: (a) endorsed lifetime or 30-day use of a fictitious drug, (b) endorsed 30-day use but did not endorse lifetime use, (c) stated their age of initiation of a given substance was greater than their initial age, and (d) had data missing on all outcome variables (nondemographic variables) were removed from the sample.

2.

With a directional hypothesis, the path between nativity and ethnic-biased bullying would be significant, p = .035.

3.

With a directional hyptothesis, the indirect effect of child nativity on depression through ethnic-biased bullying would also be significant, p = .045.
References
1.

Maynard BR, Vaughn MG, Salas-Wright CP, Vaughn S. Bullying victimization among school-aged immigrant youth in the United States. J Adolesc Health. 2016;58(3):337–44. doi:10.1016/j.jadohealth.2015.11.013.

2.

Modecki KL, Minchin J, Harbaugh AG, Guerra NG, Runions KC. Bullying prevalence across contexts: a meta-analysis measuring cyber and traditional bullying. J Adolesc Health. 2014;55(5):602–11. doi:10.1016/j.jadohealth.2014.06.007.

3.

Hong JS, Espelage DL. A review of research on bullying and peer victimization in school: an ecological system analysis. Aggress Violent Behav. 2012;17(4):311–22. doi:10.1016/j.avb.2012.03.003.

4.

Bradshaw CP, Waasdorp TE, Goldweber A, Johnson SL. Bullies, gangs, drugs, and school: understanding the overlap and the role of ethnicity and urbanicity. J Youth Adolesc. 2013;42(2):220–34. doi:10.1007/s10964-012-9863-7.

5.

Kodish T, Herres J, Shearer A, Atte T, Fein J, Diamond G. Bullying, depression, and suicide risk in a pediatric primary care sample. Crisis. 2016;37:241–6. doi:10.1027/0227-5910/a000378.

6.

Russell ST, Sinclair KO, Poteat VP, Koenig BW. Adolescent health and harassment based on discriminatory bias. Am J Public Health. 2012;102(3):493–5. doi:10.2105/AJPH.2011.300430.

7.

Reed KP, Nugent W, Cooper RL. Testing a path model of relationships between gender, age, bullying victimization and violent behavior, substance abuse, depression, suicidal ideation, and suicide attempts in adolescents. Child Youth Serv Rev. 2015;55:128–37. doi:10.1016/j.childyouth.2015.05.016.

8.

Sampasa-Kanyinga H, Roumeliotis P, Xu H. Associations between cyberbullying and school bullying victimization and suicidal ideation, plans and attempts among Canadian schoolchildren. PLoS ONE. 2014;9:e102145. doi:10.1371/journal.pone.0102145.

9.

Bauman S, Toomey RB, Walker JL. Associations among bullying, cyberbullying, and suicide in high school students. J Adolesc. 2013;36(2):341–50. doi:10.1016/j.adolescence.2012.12.001.

10.

Pew Research Center. Hispanic trends: state and county databases: Latinos as percent of population, by state, 2011. 2011. http://www.pewhispanic.org. Accessed 25 Aug 2015.

11.

Calzada E, Barajas-Gonzalez RG, Huang KY, Brotman L. Early childhood internalizing problems in Mexican- and Dominican-origin children: the role of cultural socialization and parenting practices. J Clin Child Adolesc Psychol. 2015. doi:10.1080/15374416.2015.1041593.

12.

Vervoort MHM, Scholte RHJ, Overbeek G. Bullying and victimization among adolescents: the role of ethnicity and ethnic composition of school class. J Youth Adolesc. 2010;39:1–11. doi:10.1007/s10964-008-9355-y.

13.

Nansel TR, Overpeck M, Pilla RS, Ruan WJ, Simons-Morton B, Scheidt P. Bullying behaviors among US youth: prevalence and association with psychosocial adjustment. JAMA. 2001;285(16):2094–100. doi:10.1001/jama.285.16.2094.

14.

Juvonen J, Graham S, Schuster MA. Bullying among young adolescents: the strong, the weak, and the troubled. Pediatrics. 2003;112(6):1231–7.

15.

Sulkowski ML, Bauman S, Wright S, Nixon C, Davis S. Peer victimization in youth from immigrant and non-immigrant US families. Sch Psychol Int. 2014;35(6):649–69. doi:10.1177/0143034314554968.

16.

Peskin MF, Tortolero SR, Markham CM, Addy MA, Baumler ER. Bullying and victimization and internalizing symptoms among low-income black and Hispanic students. J Adolesc Health. 2007;40(4):372–5. doi:10.1016/j.jadohealth.2006.10.010.

17.

Brietzke M, Perreira K. Stress and coping: Latino youth coming of age in a new Latino destination. J Adolesc Res. 2016. doi:10.1177/0743558416637915.

18.

Dierker LC, Avenevoli S, Goldberg A, Glantz M. Defining subgroups of adolescents at risk for experimental and regular smoking. Prev Sci. 2004;5(3):169–83. doi:10.1023/B:PREV.0000037640.66607.6b.

19.

Cardoso JB, Goldbach JT, Cervantes RC, Swank P. Stress and multiple substance use behaviors among Hispanic adolescents. Prev Sci. 2016;17(2):208–17. doi:10.1007/s11121-015-0603-6.

20.

Appleyard K, Egeland B, van Dulmen MHM, Sroufe LA. When more is not better: the role of cumulative risk in child behavior outcomes. J Child Psychol Psychiatry. 2005;46(3):235–45. doi:10.1111/j.1469-7610.2004.00351.x.

21.

Kann L, McManus T, Harris WA, Shanklin SL, Flint KH, Hawkins J, et al. Youth risk behavior surveillance—United States, 2015. 2016. https://www.cdc.gov/mmwr/volumes/65/ss/pdfs/ss6506.pdf. Accessed 10 Sept 2016.

22.

Zayas LH, Lester RJ, Cabassa LJ, Fortuna LR. Why do so many Latina teens attempt suicide? A conceptual model for research. Am J Orthopsychiatry. 2005;75(2):275–87. doi:10.1037/0002-9432.75.2.275.

23.

Johnston LD, O'Malley PM, Mieh RA, Bachman JG, Schulenberg JE. 2013 overview: key findings on adolescent drug use. Ann Arbor, MI: Institute for Social Research; 2015.

24.

Harker K. Immigrant generation, assimilation, and adolescent psychological well-being. Soc Forces. 2001;79(3):969–1004. doi:10.1353/sof.2001.0010.

25.

Centers for Disease Control and Prevention. 2016 youth risk behavior survey questionnaire. 2016. https://www.cdc.gov/healthyyouth/data/yrbs/questionnaires.htm. Accessed 9 Sept 2016.

26.

Substance Abuse and Mental Health Services Administration. Communities that care youth survey. Rockville, MD: Substance Abuse and Mental Health Services Administration; 2004.

27.

WestEd. California healthy kids survey. San Francisco: WestEd; 2015.

28.

Björgvinsson T, Kertz SJ, Bigda-Peyton JS, McCoy KL, Aderka IM. Psychometric properties of the CES-D-10 in a psychiatric sample. Assessment. 2013;20(4):429–36. doi:10.1177/1073191113481998.

29.

Radloff LS. The CES-D scale. A self-report depression scale for research in the general population. Appl Psychol Meas. 1977;1(3):385–401. doi:10.1177/014662167700100306.

30.

Raghunathan TE, Lepkowski JM, Van Hoewyk J, Solenberger P. A multivariate technique for multiply imputing missing values using a sequence of regression models. Surv Methodol. 2001;27(1):85–96.

31.

Muthén L, Muthén BO. Mplus: statistical analysis with latent variables. Los Angeles, CA: Muthén & Muthén; 2010.

32.

Sinclair KR, Cole DA, Dukewich T, Felton J, Weitlauf AS, Maxwell MA, et al. Impact of physical and relational peer victimization on depressive cognitions in children and adolescents. J Clin Child Adolesc Psychol. 2012;41(5):570–83. doi:10.1080/15374416.2012.704841.

33.

Meyer IH. Prejudice as stress: conceptual and measurement problems. Am J Public Health. 2003;93(2):262–5. doi:10.2105/AJPH.93.2.262.

34.

Cervantes RC, Goldbach JT, Varela A, Santisteban DA. Self-harm among Hispanic adolescents: investigating the role of culture-related stressors. J Adoles Health. 2014;55(5):633–9. doi:10.1016/j.jadohealth.2014.05.017.

35.

Luk JW, Wang J, Simons-Morton BG. Bullying victimization and substance use among U.S. adolescents: mediation by depression. Prev Sci. 2010;11(4):355–9. doi:10.1007/s11121-010-0179-0.

36.

Sangalang CC, Tran AGTT, Ayers SL, Marsiglia FF. Bullying among urban Mexican-heritage youth: exploring risk for substance use by status as a bully, victim, and bully-victim. Child Youth Serv Rev. 2016;61:216–21. doi:10.1016/j.childyouth.2015.12.019.

37.

Lorenzo-Blanco EI, Unger JB, Oshri A, Baezconde-Garbanati L, Soto D. Profiles of bullying victimization, discrimination, social support, and school safety: links with Latino/a youth acculturation, gender, depressive symptoms, and cigarette use. Am J Orthopsychiatry. 2016;86(1):37–48. doi:10.1037/ort0000113.

38.

Cervantes RC, Goldbach JT. Adapting evidence-based prevention approaches for Latino adolescents: the Familia Adelante program–revised. Psychosoc Interv. 2012;21(3):281–90. doi:10.5093/in2012a25.
Ethics declarations
Conflict of interest
None of the authors report a conflict of interest, either actual or perceived.
Ethical Approval
All procedures performed in studies involving human participants were in accordance with the ethical standards of the institutional or national research committee and the 1964 Helsinki declaration and its later amendments or comparable ethical standards.
Informed Consent
Informed consent was obtained for research with human subjects.
About this article
Cite this article
Cardoso, J.B., Szlyk, H.S., Goldbach, J. et al. General and Ethnic-Biased Bullying Among Latino Students: Exploring Risks of Depression, Suicidal Ideation, and Substance Use. J Immigrant Minority Health 20, 816–822 (2018). https://doi.org/10.1007/s10903-017-0593-5
Keywords
Bullying

Ethnic-biased bullying

Depression

Suicidal ideation

Substance use

New immigrant destinations