Abstract
Italy has a universal health care system that covers, in principle, the whole resident population, irrespective of citizenship and legal status. This study calculates the prevalence of unmet need for medical care among Italian citizens, regular and irregular immigrants and estimates logistic regression models to assess whether differences by citizenship and legal status hold true once adjusting for potential confounders. The analysis is based on two Surveys on Income and Living Conditions of Italian households and households with foreigners. Controlling for various factors, the odds of experiencing unmet need for medical care are 27% higher for regular immigrants than for Italian citizens and 59% higher for irregular immigrants. The gaps by citizenship and legal status are even more striking among those with chronic illnesses. These results reveal the high vulnerability of immigrants in Italy and the need to develop more effective policies to achieve health care access for all residents.
Access options
Buy single article
Instant access to the full article PDF.
USD 39.95
Price excludes VAT (USA)
Tax calculation will be finalised during checkout.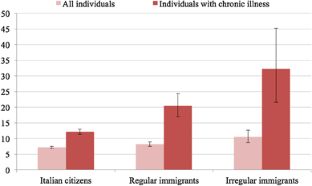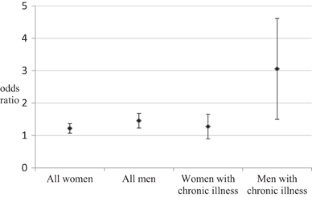 References
Romero-Ortuno R. Access to health care for illegal immigrants in the EU: should we be concerned? Eur J Health Law. 2004;11:245–72.

European Union. Agency for Fundamental Rights. Migrants in an irregular situation: access to healthcare in 10 European Union Member States. Luxembourg: Publications Office of the European Union; 2011.

Marceca M, Geraci S, Baglio G. Immigrants' health protection: political, institutional and social perspectives at international and Italian level. Ital J Public Health. 2012;9(3):e7498-1-11.

OECD. Unmet health care needs. Health at a Glance 2014: OECD Indicators. OECD Publishing 2014.

Cavalieri M. Geographical variation of unmet medical needs in Italy: a multivariate logistic regression analysis. Int J Health Geogr. 2013;12:27.

Tognetti M. Health inequalities: access to Services by immigrants in Italy. Open J Soc Sci 2015;3:8.

Tognetti M, Bordogna M, editors. Immigrazione e disuguaglianza di salute. Franco Angeli, Milan 2008.

Nuti S, Maciocco G, Barsani S, editors Immigrazione e salute. Percorsi d'integrazione sociale. Il Mulino, Bologna 2012.

ISTAT. Sanità: Statistiche in breve, Salute e ricorso ai servizi sanitari della popolazione straniera residente in Italia. 11 December 2008.

Giannoni M. Migrants inequalities in unmet need for access to health care in Italy. Paper presented at 15° Aies Conference–Moncalieri (TO) 2010.

Marceca M, Geraci S, Martino A. Esperienza migratoria, salute e disuguaglianze. Osservatorio Italiano sulla Salute Globale—OISG. In: A caro prezzo. Secondo rapporto sulle disuguaglianze. Pisa: VETS; 2006. p. 304–318.

Bianco ML. L'Italia delle disuguaglianze. Rome: Carocci; 2001.

De Luca G, Ponzo M, Andrés AR. Health care utilization by immigrants in Italy. Int J Health Care Finance Econ. 2013;13:1–31.

WHO Regional Office for Europe. How health systems can address health inequities linked to migration and ethnicity. Copenhagen: WHO Regional Office; 2010.

Bollini P, Sien H. No real progress towards equity: health of migrants and ethnic minorities on the eve of the year 2000. Soc Sci Med. 1995;41:819–28.

Razum O. Commentary: of salmon and time travellers—musing on the mystery of migration mortality. Int J Epidemiol. 2006;34:919–21.

Razum O, Zeeb H, Rohrmann S. The healthy migrant effect—not merely a fallacy of inaccurate denominator figures. Int J Epidemiol. 2000;29:191–2.

IOM International Organisation for Migration. Migration health: better health for all in Europe. 2009. Final report.

Fernandes A, Miguel JP. Health and migration in the European Union: better health for all in an inclusive society. Lisboa: Instituto Nacional de Saúde Doutor Ricardo Jorge; 2007.

Istat. Survey on Income and Living Conditions (SILC) 2009.

Istat. Survey of Income and Living Conditions of households with foreigners 2009.

Busetta A. Foreigners in Italy: economic living conditions and unmet medical needs. Genus 2016;LXXI(2–3):157–175. ISSN: 2035–5556.

Cylus J, Papanicolas I. An analysis of perceived access to health care in Europe: how universal is universal coverage? Health Policy. 2015;119:1133–44.

Koolman X. Unmet need for health care in Europe. Comparative EU statistics on income and living conditions: issues and challenges. Proceedings of the EU-SILC conference. Helsinki: Eurostat; 2007.

Bryant T, Leaver C, Dunn J. Unmet healthcare need, gender, and health inequalities in Canada. Health Policy. 2009;91:24–32.

Rustgi SD, Doty MM, Collins SR. Women at risk: why many women are forgoing needed health care. Issue Brief, The Commonwealth Fund 2009.
Ethics declarations
Conflict of interest
All authors declare that they have no conflict of interest.
Research Involving Human and Animal Participants
This article does not contain any studies with human participants or animals performed by any of the authors.
About this article
Cite this article
Busetta, A., Cetorelli, V. & Wilson, B. A Universal Health Care System? Unmet Need for Medical Care Among Regular and Irregular Immigrants in Italy. J Immigrant Minority Health 20, 416–421 (2018). https://doi.org/10.1007/s10903-017-0566-8
Published:

Issue Date:

DOI: https://doi.org/10.1007/s10903-017-0566-8
Keywords