Abstract
Although a robust literature describes the intergenerational effects of traumatic experiences in various populations, evidence specific to refugee families is scattered and contains wide variations in approaches for examining intergenerational trauma. Using the Preferred Reporting Items for Systematic Reviews and Meta-Analyses (PRISMA) criteria, the purpose of this systematic review was to describe the methodologies and findings of peer-reviewed literature regarding intergenerational trauma in refugee families. In doing so we aimed to critically examine how existing literature characterizes refugee trauma, its long-term effects on descendants, and psychosocial processes of transmission in order to provide recommendations for future research. The results highlight populations upon which current evidence is based, conceptualizations of refugee trauma, effects of parental trauma transmission on descendants' health and well-being, and mechanisms of transmission and underlying meanings attributed to parental trauma in refugee families. Greater methodological rigor and consistency in future evidence-based research is needed to inform supportive systems that promote the health and well-being of refugees and their descendants.
Access options
Buy single article
Instant access to the full article PDF.
US$ 39.95
Tax calculation will be finalised during checkout.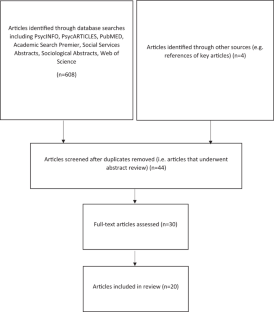 References
1.

United Nations High Commissioner on Refugees (UNHCR): population statistics. UNCHR, 2015. Available from http://www.unhcr.org.

2.

Fazel M, Reed RV, Panter-Brick C, Stein A. Mental health of displaced and refugee children resettled in high-income countries: risk and protective factors. Lancet. 2012;379(9812):266–82.

3.

Kirmayer LJ, Narasiah L, Munoz M, Rashid M, Ryder AG, Guzder J, Hassan G, Rousseau C, Pottie K. Common mental health problems in immigrants and refugees: general approach in primary care. Can Med Assoc J. 2011;183(12):E959–E967.

4.

Marshall GN, Schell TL, Elliott MN, Berthold SM, Chun CA. Mental health of Cambodian refugees 2 decades after resettlement in the United States. JAMA. 2005;294(5):571–9.

5.

Weine S, Muzurovic N, Kulauzovic Y, Besic S, Lezic A, Mujagic A, Muzurovic J, Spahovic D, Feetham S, Ware N, Knafl K, Pavkovic I. Family consequences of refugee trauma. Fam Process. 2004;43(2):147–60.

6.

Dekel R, Goldblatt H. Is there intergenerational transmission of trauma? The case of combat veterans' children. Am J Orthopsychiatry. 2008;78(3):281.

7.

Bezo B, Maggi S. Living in "survival mode:" Intergenerational transmission of trauma from the Holodomor genocide of 1932–1933 in Ukraine. Soc Sci Med. 2015;134:87–94.

8.

Han M. Relationship among perceived parental trauma, parental attachment, and sense of coherence in Southeast Asian American college students. J Fam Soc Work. 2005;9(2):25–45.

9.

George M. A theoretical understanding of refugee trauma. Clin Soc Work J. 2010;38(4):379–87.

10.

Hein J. Refugees, immigrants, and the state. Annu Rev Sociol. 1993;43–59.

11.

Moher D, Liberati A, Tetzlaff J, Altman DG. Preferred reporting items for systematic reviews and meta-analyses: the PRISMA statement. Ann Intern Med. 2009;151(4):264–9.

12.

Braga LL, Mello MF, Fiks JP. Transgenerational transmission of trauma and resilience: a qualitative study with Brazilian offspring of Holocaust survivors. BMC Psychiatry. 2012;12(1):134–44.

13.

Lev-Wiesel R. Intergenerational transmission of trauma across three generations: a preliminary study. Qual Soc Work. 2007;6(1):75–94.

14.

Fridman A, Bakermans-Kranenburg MJ, Sagi-Schwartz A, Van IJzendoorn MH. Coping in old age with extreme childhood trauma: aging Holocaust survivors and their offspring facing new challenges. Aging & Ment. Health (London). 2011;15(2):232–42.

15.

Kellermann NPF. Perceived parental rearing behavior in children of Holocaust survivors. Isr J Psychiatry Relat Sci. 2015;38(1):58–68.

16.

Letzter-Pouw S, Shrira A, Ben-Ezra M, Palgi Y. Trauma transmission through perceived parental burden among Holocaust survivors' offspring and grandchildren. Psychol Trauma. 2013;6(4):420–9.

17.

Sagi-Schwartz A, Van Ijzendoorn MH, Grossmann KE, Joels T, Grossmann K, Scharf M, Koren-Karie N, Alkalay S. Attachment and traumatic stress in female Holocaust child survivors and their daughters. Am J Psychiatry. 2003;160(6):1086–92.

18.

Shrira A, Palgi Y, Ben-Ezra M, Shmotkin D. Transgenerational effects of trauma in midlife: evidence for resilience and vulnerability in offspring of Holocaust survivors. Psychol Trauma. 2012;3(4):394–402.

19.

Shrira A. Transmitting the sum of all fears: Iranian nuclear threat salience among offspring of Holocaust survivors. Psychol Trauma. 2015;7(4):364–71.

20.

Wiseman H, Metzl E, Barber JP. Anger, guilt, and intergenerational communication of trauma in the interpersonal narratives of second generation Holocaust survivors. Am J Orthopsychiatry. 2006;76(2):176–84.

21.

Wiseman H. On failed intersubjectivity: recollections of loneliness experiences in offspring of Holocaust survivors. Am J Orthopsychiatr. 2008;78(3):350–8.

22.

Giladi L, Bell TS. Protective factors for intergenerational transmission of trauma among second and third generation Holocaust survivors. Psychol Trauma. 2012;5(4):384–91.

23.

Yehuda R, Halligan SL, Grossman R. Childhood trauma and risk for PTSD: relationship to intergenerational effects of trauma, parental PTSD, and cortisol excretion. Dev Psychopathol. 2001;13(3):733–53.

24.

Yehuda R, Bell A, Bierer LM, Schmeidler J. Maternal, not paternal, PTSD is related to increased risk for PTSD in offspring of Holocaust survivors. J Psychiatr Res. 2008;42(13):1104–11.

25.

Weinberg MK, Cummins RA. Intergenerational effects of the Holocaust: subjective well-being in the offspring of survivors. J Intergener Relatsh. 2013;11(2):148–61.

26.

Vaage AB, Thomsen PH, Rousseau C, Wentzel-Larsen T, Ta TV, Hauff E. Paternal predictors of the mental health of children of Vietnamese refugees. Child Adolesc Psychiatr Ment Health. 2011;5(2):1–11.

27.

Spencer JH, Le TN. Parent refugee status, immigration stressors, and Southeast Asian youth violence. J Immigr Minor Health. 2006;8(4):359–68.

28.

Lin NJ, Suyemoto KL, Kiang PNC. Education as catalyst for intergenerational refugee family communication about war and trauma. Commun Disord Q. 2009;30(4):195–207.

29.

Daud A, Skoglund E, Rydelius PA. Children in families of torture victims: transgenerational transmission of parents' traumatic experiences to their children. Int J Soc Welf. 2005;14(1):23–32.

30.

Daud A, Klinetberg B, Rydelius PA. Resilience and vulnerability among refugee children of traumatized and non-traumatized parents. Child Adolesc Psychiatr Mental Health. 2008;2(7).

31.

Ellis BH, MacDonald HZ, Lincoln AK, Cabral HJ. Mental health of Somali adolescent refugees: the role of trauma, stress, and perceived discrimination. J Consult Clin Psychol. 2008;76(2):184–93.

32.

Miller KE, Rasmussen A. War exposure, daily stressors, and mental health in conflict and post-conflict settings: bridging the divide between trauma-focused and psychosocial frameworks. Soc Sci Med. 2010;70(1):7–16.

33.

Fazel M, Wheeler J, Danesh J. Prevalence of serious mental disorder in 7000 refugees resettled in western countries: a systematic review. Lancet. 2005;365(9467):1309–14.

34.

Van Ijzendoorn MH, Bakermans-Kranenburg MJ, Sagi-Schwartz A. Are children of Holocaust survivors less well-adapted? A meta-analytic investigation of secondary traumatization. J Trauma Stress. 2003;16(5):459–69.

35.

Hollifield M, Eckert V, Warner TD, Jenkins J, Krakow B, Ruiz J, Westermeyer J. Development of an inventory for measuring war-related events in refugees. Compr Psychiatry. 2005;46(1):67–80.

36.

Eisenbruch M. From post-traumatic stress disorder to cultural bereavement: diagnosis of Southeast Asian refugees. Soc Sci Med. 1991;33(6):673–80.

37.

Pedersen D. Political violence, ethnic conflict, and contemporary wars: broad implications for health and social well-being. Soc Sci Med. 2002;55(2):175–90.

38.

Hollifield M, Warner TD, Lian N, Krakow B, Jenkins JH, Kesler J, Stevenson J, Westermeyer J. Measuring trauma and health status in refugees: a critical review. JAMA. 2002;288(5):611–21.

39.

Taku K, Cann A, Calhoun LG, Tedeschi RG. The factor structure of the posttraumatic growth inventory: a comparison of five models using confirmatory factory analysis. J Trauma Stress. 2008;21(2):158–64.

40.

Weingarten K. Witnessing the effects of political violence in families: mechanisms of intergenerational transmission and clinical interventions. J Marital Fam Ther. 2004;30(1):45–59.
Ethics declarations
Conflict of Interest
All listed authors have reviewed and approved this manuscript, report no conflicts of interest, and will accept responsibility for its content.
About this article
Cite this article
Sangalang, C.C., Vang, C. Intergenerational Trauma in Refugee Families: A Systematic Review. J Immigrant Minority Health 19, 745–754 (2017). https://doi.org/10.1007/s10903-016-0499-7
Keywords
Intergenerational trauma

Refugees

Families