Abstract
Low levels of physical activity have been reported in South Asian Muslim women. Mosques could be beneficial in providing physical activity opportunities for Muslim women. This study examined the feasibility, acceptability and effectiveness of a mosque-based physical activity program for South Asian Muslim women in Canada. Sixty-two South Asian Muslim women participated in a 24-week mosque-based exercise intervention. Feasibility, acceptability and effectiveness of the program was evaluated by pre-post survey questions from the Duke Activity Status Index (DASI) and International Physical Activity Questionnaire among 28 women who consented to the research data collection. Nineteen women were assessed pre-and post-intervention. The women demonstrated increase in median scores of self-efficacy (90 pre vs. 100 post; p = 0.004) and the importance of engaging in regular physical activity (90 pre vs. 100 post; p = 0.01). Fewer participants were classified as inactive at the end of the intervention (42 % pre vs. 10 % post; p = 0.006). There was a mean increase in DASI scores (39.2 pre vs. 44.6 post; p = 0.06) reflecting an improvement in peak aerobic capacity and functional quality of life. Culturally relevant structured networks such as mosques are important assets when designing healthy lifestyle interventions for South Asian Muslim women.
This is a preview of subscription content, log in to check access.
Access options
Buy single article
Instant access to the full article PDF.
US$ 39.95
Price includes VAT for USA
Subscribe to journal
Immediate online access to all issues from 2019. Subscription will auto renew annually.
US$ 99
This is the net price. Taxes to be calculated in checkout.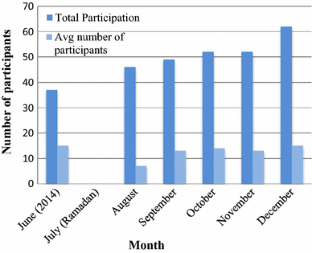 References
1.

Statistics Canada. Canada's ethnocultural mosaic, 2006 Census: findings (Catalogue No. 97-562-X). Ottawa: Statistics Canada; 2008.

2.

Statistics Canada. Immigration and ethnocultural diversity in Canada. National Household Survey (Catalogue 99-010-X2011001). Ottawa: Statistics Canada; 2013.

3.

Meadows LM, Thurston WE, Melton C. Immigrant women's health. Soc Sci Med. 2001;52(9):1451–8.

4.

McDonald JT, Kennedy S. Insights into the 'healthy immigrant effect': health status and health service use of immigrants to Canada. Soc Sci Med. 2004;59(8):1613–27.

5.

Banning M, Hafeez H. Perceptions of breast health practices in Pakistani Muslim women. Asian Pac J Cancer Prev APJCP. 2009;10(5):841–7.

6.

Reitmanova S, Gustafson DL. "They can't understand it": maternity health and care needs of immigrant Muslim women in St. John's, Newfoundland. Matern Child Health J. 2008;12(1):101–11.

7.

Anand SS, Yusuf S, Vuksan V, Devanesen S, Teo KK, Montague PA, Kelemen L, Yi C, Lonn E, Gerstein H, et al. Differences in risk factors, atherosclerosis, and cardiovascular disease between ethnic groups in Canada: the Study of Health Assessment and Risk in Ethnic groups (SHARE). The Lancet. 2000;356(9226):279–84.

8.

Chiu M, Austin PC, Manuel DG, Tu JV. Cardiovascular risk factor profiles of recent immigrants vs long-term residents of Ontario: a multi-ethnic study. Can J Cardiol. 2012;28(1):20–6.

9.

Matin M, LeBaron S. Attitudes toward cervical cancer screening among Muslim women: a pilot study. Women Health. 2004;39(3):63–77.

10.

Grewal S, Bottorff JL, Hilton BA. The influence of family on immigrant South Asian women's health. J Fam Nurs. 2005;11(3):242–63.

11.

Sriskantharajah J, Kai J. Promoting physical activity among South Asian women with coronary heart disease and diabetes: what might help? Fam Pract. 2007;24(1):71–6.

12.

Boule NG, Haddad E, Kenny GP, Wells GA, Sigal RJ. Effects of exercise on glycemic control and body mass in type 2 diabetes mellitus: a meta-analysis of controlled clinical trials. JAMA. 2001;286(10):1218–27.

13.

Chudyk A, Petrella RJ. Effects of exercise on cardiovascular risk factors in type 2 diabetes: a meta-analysis. Diabetes Care. 2011;34(5):1228–37.

14.

Yoo JS, Lee SJ. A meta-analysis of the effects of exercise programs on glucose and lipid metabolism and cardiac function in patients with type II diabetes mellitus. Taehan Kanho Hakhoe Chi. 2005;35(3):546–54.

15.

Banerjee AT, Gupta M, Singh N. Patient characteristics, compliance, and exercise outcomes of South Asians enrolled in cardiac rehabilitation. J Cardiopulm Rehabil Prev. 2007;27(4):212–8.

16.

Bryan SN, Tremblay MS, Perez CE, Ardern CI, Katzmarzyk PT. Physical activity and ethnicity: evidence from the Canadian Community Health Survey. Can J Public Health. 2006;97(4):271–6.

17.

Williams ED, Stamatakis E, Chandola T, Hamer M. Physical activity behaviour and coronary heart disease mortality among South Asian people in the UK: an observational longitudinal study. Heart. 2011;97(8):655–9.

18.

Carroll R, Ali N, Azam N. Promoting physical activity in South Asian Muslim women through "exercise on prescription". Health Technol Assess. 2002;6(8):1–101.

19.

Caperchione CM, Kolt GS, Mummery WK. Examining physical activity service provision to culturally and linguistically diverse (CALD) communities in Australia: a qualitative evaluation. PLoS One. 2013;8(4):e62777.

20.

Caperchione CM, Kolt GS, Tennent R, Mummery WK. Physical activity behaviours of Culturally and Linguistically Diverse (CALD) women living in Australia: a qualitative study of socio-cultural influences. BMC Public Health. 2011;11:26.

21.

Caperchione CM, Kolt GS, Mummery WK. Physical activity in culturally and linguistically diverse migrant groups to Western society: a review of barriers, enablers and experiences. Sports Med. 2009;39(3):167–77.

22.

Lawton J, Ahmad N, Hanna L, Douglas M, Hallowell N. 'I can't do any serious exercise': barriers to physical activity amongst people of Pakistani and Indian origin with Type 2 diabetes. Health Educ Res. 2006;21(1):43–54.

23.

Lip GY, Cader MZ, Lee F, Munir SM, Beevers DG. Ethnic differences in pre-admission levels of physical activity in patients admitted with myocardial infarction. Int J Cardiol. 1996;56(2):169–75.

24.

Campbell MK, Hudson MA, Resnicow K, Blakeney N, Paxton A, Baskin M. Church-based health promotion interventions: evidence and lessons learned. Annu Rev Public Health. 2007;28:213–34.

25.

Banerjee AT, Boyle MH, Anand SS, Strachan PH, Oremus M. The relationship between religious service attendance and coronary heart disease and related risk factors in Saskatchewan, Canada. J Relig Health. 2014;53(1):141–56.

26.

Banerjee AT, Strachan PH, Boyle MH, Anand SS, Oremus M. Attending religious services and its relationship with coronary heart disease and related risk factors in older adults: a qualitative study of church pastors' and parishioners' perspectives. J Relig Health. 2014;53(6):1770–85.

27.

Price J, Landry M, Rolfe D, Delos-Reyes F, Groff L, Sternberg L. Women's cardiac rehabilitation: improving access using principles of women's health. Can J Cardiovasc Nurs. 2005;15(3):32–41.

28.

Choudhry UK, Jandu S, Mahal J, Singh R, Sohi-Pabla H, Mutta B. Health promotion and participatory action research with South Asian women. J Nurs Scholarsh Off Publ Sigma Theta Tau Int Honor Soc Nurs. 2002;34(1):75–81.

29.

Giachello AL, Arrom JO, Davis M, Sayad JV, Ramirez D, Nandi C, Ramos C. Chicago Southeast Diabetes Community Action C: reducing diabetes health disparities through community-based participatory action research: the Chicago Southeast Diabetes Community Action Coalition. Public Health Rep. 2003;118(4):309–23.

30.

Bhutta ZA. Beyond informed consent. Bull World Health Organ. 2004;82(10):771–7.

31.

Warburton DE, Katzmarzyk PT, Rhodes RE, Shephard RJ. Evidence-informed physical activity guidelines for Canadian adults. Can J Public Health. 2007;98(Suppl 2):S16–68.

32.

Horner S, Rew L, Torres R. Enhancing intervention fidelity: a means of strengthening study impact. J Spec Pediatric Nurs. 2006;11(2):80–9.

33.

Burton NW, Pakenham KI, Brown WJ. Feasibility and effectiveness of psychosocial resilience training: a pilot study of the READY program. Psychol Health Med. 2010;15(3):266–77.

34.

Marcus BH, Owen N. Motivational readiness, self-efficacy and decision-making for exercise. J Appl Soc Psychol. 1992;22:3–16.

35.

Hlatky MA, Boineau RE, Higginbotham MB, Lee KL, Mark DB, Califf RM, Cobb FR, Pryor DB. A brief self-administered questionnaire to determine functional capacity (the Duke Activity Status Index). Am J Cardiol. 1989;64(10):651–4.

36.

Craig CL, Marshall AL, Sjostrom M, Bauman AE, Booth ML, Ainsworth BE, Pratt M, Ekelund U, Yngve A, Sallis JF, et al. International physical activity questionnaire: 12-country reliability and validity. Med Sci Sports Exerc. 2003;35(8):1381–95.

37.

Nelson CL, Herndon JE, Mark DB, Pryor DB, Califf RM, Hlatky MA. Relation of clinical and angiographic factors to functional capacity as measured by the Duke Activity Status Index. Am J Cardiol. 1991;68(9):973–5.

38.

Kahan D. Adult physical inactivity prevalence in the Muslim world: analysis of 38 countries. Prev Med Rep. 2015;2:71–5.

39.

Thomson JL, Goodman MH, Tussing-Humphreys L. Diet quality and physical activity outcome improvements resulting from a church-based diet and supervised physical activity intervention for rural, southern, African American adults: delta body and soul III. Health Promot Pract. 2015;16:677–88.

40.

Tussing-Humphreys L, Thomson JL, Mayo T, Edmond E. A church-based diet and physical activity intervention for rural, lower Mississippi Delta African American adults: delta body and soul effectiveness study, 2010–2011. Prev Chronic Dis. 2013;10:E92.

41.

Young DR, Stewart KJ. A church-based physical activity intervention for African American women. Fam Community Health. 2006;29(2):103–17.

42.

Resnicow K, Jackson A, Braithwaite R, DiIorio C, Blisset D, Rahotep S, Periasamy S. Healthy body/healthy spirit: a church-based nutrition and physical activity intervention. Health Educ Res. 2002;17(5):562–73.

43.

Kanu M, Baker E, Brownson RC. Exploring associations between church-based social support and physical activity. J Phys Activity Health. 2008;5(4):504–15.

44.

Banerjee AT, Grace SL, Thomas SG, Faulkner G. Cultural factors facilitating cardiac rehabilitation participation among Canadian South Asians: a qualitative study. Heart Lung. 2010;39(6):494–503.

45.

Peterson JA. Evaluation of the heart and soul physical activity program by African American women. ABNF J Off J Assoc Black Nurs Fac Higher Educ Inc. 2011;22(3):64–72.

46.

Peterson JA, Cheng AL. Heart and soul physical activity program for African American women. West J Nurs Res. 2011;33(5):652–70.

47.

Warburton DE, Nicol CW, Bredin SS. Health benefits of physical activity: the evidence. Can Med Assoc J. 2006;174(6):801–9.

48.

Dishman RK, Buckworth J. Increasing physical activity: a quantitative synthesis. Med Sci Sports Exerc. 1996;28(6):706–19.

49.

Fallon EA, Wilcox S, Ainsworth BE. Correlates of self-efficacy for physical activity in African American women. Women Health. 2005;41(3):47–62.

50.

Eyler AA, Brownson RC, Donatelle RJ, King AC, Brown D, Sallis JF. Physical activity social support and middle- and older-aged minority women: results from a US survey. Soc Sci Med. 1999;49(6):781–9.

51.

Eyler AA, Baker E, Cromer L, King AC, Brownson RC, Donatelle RJ. Physical activity and minority women: a qualitative study. Health Educ Behav Off Publ Soc Public Health Educ. 1998;25(5):640–52.

52.

Bowen DJ, Beresford SA, Vu T, Feng Z, Tinker L, Hart A Jr, Christensen CL, McLerran D, Satia-Abouta J, Campbell M. Baseline data and design for a randomized intervention study of dietary change in religious organizations. Prev Med. 2004;39(3):602–11.

53.

Welsh AL, Sauaia A, Jacobellis J, Min SJ, Byers T. The effect of two church-based interventions on breast cancer screening rates among Medicaid-insured Latinas. Prev Chronic Dis. 2005;2(4):A07.

54.

Stillman FA, Bone LR, Rand C, Levine DM, Becker DM. Heart, body, and soul: a church-based smoking-cessation program for Urban African Americans. Prev Med. 1993;22(3):335–49.

55.

Viswanathan M, Ammerman A, Eng E, Garlehner G, Lohr KN, Griffith D, Rhodes S, Samuel-Hodge C, Maty S, Lux L, et al. Community-based participatory research: assessing the evidence. Evid Rep Technol Assess. 2004;99:1–8.

56.

Wilcox S, Laken M, Bopp M, Gethers O, Huang P, McClorin L, Parrott AW, Swinton R, Yancey A. Increasing physical activity among church members: community-based participatory research. Am J Prev Med. 2007;32(2):131–8.

57.

Mensah GA. Eliminating disparities in cardiovascular health: six strategic imperatives and a framework for action. Circulation. 2005;111(10):1332–6.
Acknowledgments
This study was funded by Women's XChange at Women's College Hospital to the first and last author. Dr. Banerjee was supported by a Post-doctoral Fellowship Award from the Canadian Institute of Health Research during the time of the study. The authors thank Kinesiologists—Maha Zawi, Farida Nurgat and Community Member—Noreen Gilani for leading the exercise sessions at the mosque. We thank Wei Wu for analyzing our study data. Lastly, the study team is indebted to the mosque council members and female exercise participants for their significant contribution to the study.
About this article
Cite this article
Banerjee, A.T., Landry, M., Zawi, M. et al. A Pilot Examination of a Mosque-Based Physical Activity Intervention for South Asian Muslim Women in Ontario, Canada. J Immigrant Minority Health 19, 349–357 (2017). https://doi.org/10.1007/s10903-016-0393-3
Keywords
Physical activity promotion

South Asian Muslim women

Mosque

Intervention