Abstract
The literature currently contains no comprehensive sex education (CSE) interventions targeting the African immigrant population. African immigrant mothers have been inhibited by several factors from providing their daughters with CSE. The primary aim of this study was to identify attitudes and beliefs of Sub-Saharan immigrant mothers living in the United States towards providing comprehensive sex education to their daughters aged 12–17 years. The study utilized a one-time anonymous nine-question survey. Fifteen women who met the inclusion criteria completed the study survey online or via paper format. African immigrant mothers are willing to allow comprehensive sex to be taught in schools and at home. Accepted education appears to range from religious and moral teaching to some factual information. This research will potentially assist in the designing of more culturally appropriate comprehensive sex education programs for African immigrant mothers and their daughters.
Access options
Buy single article
Instant access to the full article PDF.
US$ 39.95
Tax calculation will be finalised during checkout.
Subscribe to journal
Immediate online access to all issues from 2019. Subscription will auto renew annually.
US$ 79
Tax calculation will be finalised during checkout.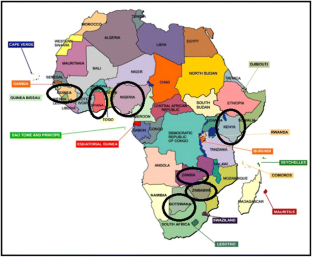 References
1.

Hutchinson MK, Montgomery AJ. Parent communication and sexual risk among African Americans. West J Nurs Res. 2007;29(6):691–707.

2.

Meneses LM, Orrell-Valente JK, Guendelman SR, Oman D, Irwin CE. Racial/ethnic differences in mother–daughter communication about sex. J Adolesc Health. 2006;39(1):128–31.

3.

Jones SG, Silitsky C. Mothers' voices: culturally diverse mothers' experiences talking with their children about HIV/AIDS. J Cult Divers. 2004;11(2):58–64.

4.

Doswell WM, Portis S, Jemison T, Kaufmann J, Braxter B, Green L. The NIA Group. Building a sense of purpose in preadolescent African American girls: a novel approach to nursing leadership in community health. Nurs Lead Forum. 2004;8(3):95–100.

5.

Centers of Disease Control and Prevention: sexually transmitted diseases: HPV vaccine information for young women-fact sheet 2011; https://doi.org/www.cdc.gov/std/hpv/stdfact-hpv-vaccine-young-women.htm

6.

Centers for Disease Control and Prevention. Vital signs: teen pregnancy, 1991–2009. Morb Mortal Wkly Rep. 2011;60(13):414–20.

7.

Centers for Disease Control and Prevention: 2009 sexually transmitted diseases surveillance, STDs in racial and ethnic minorities. 2011; https://doi.org/www.cdc.gov/std/stats09/minorities.htm

8.

Kirby DB. The impact of abstinence and comprehensive sex and STD/HIV education programs on adolescent sexual behaviour. Sex Res Soc Policy. 2008;5(3):18–27.

9.

Dreweke J. Review of key findings of "Emerging Answers 2007" report on sex education programs. New York: Guttmacher Institute; 2007; https://doi.org/www.guttmacher.org/media/evidencecheck/2007/11/07/Advisory_Emerging_Answers_2007.pdf

10.

Agbemenu K, Schlenk EA. An integrative review of comprehensive sex education for adolescent girls in Kenya. J Nurs Scholarsh. 2011;43(1):54–63.

11.

Dilorio C, McCarty F, Denzmore P, Landis A. The moderating influence of mother–adolescent discussion on early and middle African–American adolescent sexual behavior. Res Nurs Health. 2007;30:193–202.

12.

Hannan M, Happ MB, Charron-Prochowik D. Mothers' perspectives about reproductive health discussions with adolescent daughters with diabetes. TDE. 2009;35(2):265–73.

13.

McKee MD, O'Sullivan LF, Weber CM. Perspectives on confidential care for adolescent girls. Ann Fam Med. 2006;4(6):519–26.

14.

Akers AY, Schwarz EB, Borrero S, Corbie-Smith G. Family discussions about contraception and family planning: a qualitative exploration of black parent adolescent perspectives. Perspect Sex Reprod Health. 2010;42(3):160–7.

15.

Crichton J, Ibisomi L, Gyimah S. Mother–daughter communication about growing up: experiences and perspectives of women and girls in an informal settlement in Nairobi. African Population and Health Research Center 2010; Kenya.

16.

Mbugua N. Factors inhibiting educated mothers in Kenya from giving meaningful sex-education to their daughters. Soc Sci Med. 2007;64(5):1079–89.

17.

Lefkowitz ES, Boone TL, Fong-Au TK, Sigman M. No sex or safe sex? Mothers' and adolescents' discussions about sexuality and AIDS/HIV. Health Educ Res. 2001;18(3):341–51.

18.

Wilson EK, Dalberth BT, Koo HP, Gard JC. Parents' perspectives on talking to preteenage children about sex. Perspect Sex Repro Health. 2010;42(1):56–63.

19.

Centers for Disease Control and Prevention: Black or African American Populations 2013; https://doi.org/www.cdc.gov/minorityhealth/populations/REMP/black.html

20.

Precaution Adoption Process Model N.D. https://doi.org/www.ux1.eiu.edu/~jcdietz/HST%203700/PAPM.ppt

21.

Mogobe KD, Seboni N, Brown MS, Ntsayagae E, Sebego M, Sabone M. HIV/AIDS education, prevention and control course (BNS101): the way forward. J Assoc Nurses AIDS Care. 2007;18(6):22–31.

22.

Weinstein ND. The precaution adoption process. Healthy Psychol. 1988;7(4):355–86.

23.

Nganda S. Sex education: do our teens need it? Paper presented at Kenyatta University, Department of Psychology, Nairobi, Kenya 2008; https://doi.org/www.arsrc.org/downloads/uhsss/nganda.pdf
About this article
Cite this article
Agbemenu, K., Terry, M.A., Hannan, M. et al. Attitudes and Beliefs of African Immigrant Mothers Living in the US Towards Providing Comprehensive Sex Education to Daughters Aged 12–17 Years: A Pilot Study. J Immigrant Minority Health 18, 1053–1059 (2016). https://doi.org/10.1007/s10903-015-0292-z
Keywords
Africa south of the Sahara

Emigration and immigration

Mothers

Adolescents

Sex education

STIs