Abstract
This study documents generational differences in the impact of acculturation related factors on anxiety and alcohol use behaviors between adult Latino mothers and adult daughters. Findings indicate that for mothers (n = 144) and daughters (n = 149), self-reported anxiety levels decreased from baseline to follow up (p = 0.001). For mothers at follow up (n = 147), results indicate that affiliation to Latino culture is negatively associated with anxiety (p = 0.018). Conversely, employment and partner relationship stress are positively associated with anxiety (p = 0.05 and p = 0.016 respectively). In addition, self-reported anxiety is positively associated with alcohol intake (p = 0.002) and employment (p = 0.007). For daughters(n = 149), partner relationship stressors, anxiety and alcohol intake decreased significantly from baseline to follow up at a p = 0.01, p = 0.01, p = 0.05 respectively. In addition, for daughters at baseline (n = 160), affiliation to U.S. culture is positively associated with self-reported anxiety (p = 0.01). Employment is negatively associated with alcohol consumption (p = 0.027). At follow up (n = 152), daughters' partner relationship stress is positively associated with self- reported anxiety (p = 0.049). Findings in this study can be used to develop culturally appropriate interventions, support groups and individual therapy sessions by taking into consideration generational differences among Latino women.
This is a preview of subscription content, log in to check access.
Access options
Buy single article
Instant access to the full article PDF.
US$ 39.95
Price includes VAT for USA
Subscribe to journal
Immediate online access to all issues from 2019. Subscription will auto renew annually.
US$ 99
This is the net price. Taxes to be calculated in checkout.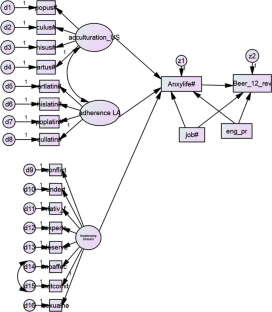 References
1.

De La Rosa M. Acculturation and latino adolescents'substance use: a research agenda for the future. Subst Use Misuse. 2002;37(4):429–56.

2.

Berry JW. Conceptual approaches to acculturation. American Psychological Association; 2003.

3.

Ehlers CL, et al. Acculturation stress, anxiety disorders, and alcohol dependence in a select population of young adult Mexican Americans. J Addic Med. 2009;3(4):227.

4.

Varela RE, et al. Anxiety reporting and culturally associated interpretation biases and cognitive schemas: a comparison of Mexican, Mexican American, and European American families. J Clin Child Adolesc Psychol. 2004;33(2):237–47.

5.

Valencia-Garcia D, et al. Social capital, acculturation, mental health, and perceived access to services among Mexican American women. J Consult Clin Psychol. 2012;80(2):177.

6.

Sarmiento IA, Cardemil EV. Family functioning and depression in low-income latino couples. J Marital Fam Ther. 2009;35(4):432–45.

7.

Fisher L, et al. Contributors to depression in Latino and European-American patients with type 2 diabetes. Diabetes Care. 2001;24(10):1751–7.

8.

Marsiglia FF, et al. The parent-child acculturation gap, parental monitoring, and substance use in Mexican heritage adolescents in Mexican neighborhoods of the Southwest US. J Commun Psychol. 2014;42(5):530–43.

9.

Unger JB, et al. Parent–child acculturation patterns and substance use among Hispanic adolescents: a longitudinal analysis. J Prim Prev. 2009;30(3–4):293–313.

10.

Birman D, Poff, M. Intergenerational Differences in Acculturation. Encyclopedia on Early Childhood Development; 2011: p. 1–8.

11.

Rogler LH, Cortes DE, Malgady RG. Acculturation and mental health status among Hispanics: convergence and new directions for research. Am Psychol. 1991;46(6):585.

12.

Cabassa LJ. Measuring acculturation: where we are and where we need to go. Hisp J Behav Sci. 2003;25(2):127–46.

13.

Cuellar I, Arnold B, Maldonado R. Acculturation rating scale for Mexican Americans-II: a revision of the original ARSMA scale. Hisp J Behav Sci. 1995;17(3):275–304.

14.

Villar ME, Concha M, Zamith R. Health beliefs and attitudes of Latino immigrants: rethinking acculturation as a constant. J Immigr Minor Health. 2012;14(5):885–9.

15.

Redfield R, Linton R, Herskovits MJ. Memorandum for the study of acculturation. Am Anthropol. 1936;38(1):149–52.

16.

Felix-Ortiz M, Newcomb MD, Myers H. A multidimensional measure of cultural identity for Latino and Latina adolescents. Hisp J Behav Sci. 1994;16(2):99–115.

17.

De Anda RM. Chicanas and Chicanos in contemporary society. Lanham: Rowman & Littlefield; 2004.

18.

Gonzales NA, et al. Acculturation and the mental health of Latino youths: an integration and critique of the literature. Latino children and families in the United States: Current research and future directions; 2002. p. 45–74.

19.

Martinez CR. Effects of differential family acculturation on latino adolescent substance use*. Fam Relat. 2006;55(3):306–17.

20.

Leidy MS, Guerra NG, Toro RI. Positive parenting, family cohesion, and child social competence among immigrant Latino families. J Lat Psychol. 2012;1:3–13.

21.

Lara M, et al. Acculturation and Latino health in the United States: a review of the literature and its sociopolitical context. Annu Rev Public Health. 2005;26:367–97.

22.

Ortega AN, et al. Acculturation and the lifetime risk of psychiatric and substance use disorders among Hispanics. J Nerv Ment Dis. 2000;188(11):728–35.

23.

Negy C, et al. The importance of addressing acculturative stress in marital therapy with Hispanic immigrant women. Int J Clin Health Psychol. 2010;10(1):5–21.

24.

Prigerson HG, Maciejewski PK, Rosenheck RA. The effects of marital dissolution and marital quality on health and health service use among women. Med Care. 1999;37(9):858–73.

25.

Cordero A, Kurz B. Acculturation and the mental health of Latina women in the women, infant, and children program. Affilia. 2006;21(1):46–58.

26.

Jenkins, S.R., Acculturation, Acculturative Stress, and Anxiety Among Hispanic Undergraduates, University of North Texas; 2011.

27.

Glover SH, et al. Anxiety symptomatology in Mexican-American adolescents. J Child Fam Stud. 1999;8(1):47–57.

28.

Roberts RE, Roberts CR, Xing Y. Prevalence of youth-reported DSM-IV psychiatric disorders among African, European, and Mexican American adolescents. J Am Acad Child Adolesc Psychiatry. 2006;45(11):1329–37.

29.

Black SA, Markides KS. Acculturation and alcohol consumption in Puerto Rican, Cuban-American, and Mexican-American women in the United States. Am J Public Health. 1993;83(6):890–3.

30.

Abraido-Lanza AF, Chao MT, Florez KR. Do healthy behaviors decline with greater acculturation?: implications for the Latino mortality paradox. Soc Sci Med. 2005;61(6):1243–55.

31.

Ai AL, Weiss SI, Fincham FD. Family factors contribute to general anxiety disorder and suicidal ideation among Latina Americans. Women's Health Issues. 2014;24(3):e345–52.

32.

Mills BA, Caetano R. Decomposing associations between acculturation and drinking in Mexican Americans. Alcohol Clin Exp Res. 2012;36(7):1205–11.

33.

University, F.I. The Life Course and Health Research Center; 2001.

34.

Billings AG, Cronkite RC, Moos RH. Social-environmental factors in unipolar depression: comparisons of depressed patients and nondepressed controls. J Abnorm Psychol. 1983;92(2):119.

35.

McCracken C, et al. Prevalence of dementia and depression among elderly people in black and ethnic minorities. Br J Psychiatry. 1997;171(3):269–73.

36.

Bollen KA. Structural equations with latent variables. London: John Wiley & Sons; 2014.

37.

Tomarken AJ, Waller NG. Structural equation modeling: strengths, limitations, and misconceptions. Annu Rev Clin Psychol. 2005;1:31–65.

38.

Sowa JE, Selden SC, Sandfort JR. No longer unmeasurable? A multidimensional integrated model of nonprofit organizational effectiveness. Nonprofit Volunt Sect Q. 2004;33(4):711–28.

39.

Shen B-J, Takeuchi DT. A structural model of acculturation and mental health status among Chinese Americans. Am J Community Psychol. 2001;29(3):387–418.

40.

Smokowski PR, Bacallao ML. Acculturation and aggression in Latino adolescents: a structural model focusing on cultural risk factors and assets. J Abnorm Child Psychol. 2006;34(5):657–71.

41.

Byrne BM. Structural equation modeling with EQS: basic concepts, applications, and programming. London: Routledge; 2013.

42.

Schreiber JB, et al. Reporting structural equation modeling and confirmatory factor analysis results: a review. J Educ Res. 2006;99(6):323–38.

43.

Pallant J. SPSS survival manual. UK: McGraw-Hill Education; 2013.

44.

Ai AL, et al. Racial/ethnic identity and subjective physical and mental health of Latino Americans: an asset within? Am J Community Psychol. 2014;53(1–2):173–84.

45.

Galanti G-A. The Hispanic family and male-female relationships: an overview. J Transcult Nurs. 2003;14(3):180–5.

46.

De La Rosa M, et al. Latina mother–daughter dyads: relations between attachment and sexual behavior under the influence of alcohol or drugs. Arch Sex Behav. 2010;39(6):1305–19.

47.

Arciniega GM, et al. Toward a fuller conception of Machismo: development of a traditional Machismo and Caballerismo Scale. J Couns Psychol. 2008;55(1):19.

48.

Gil RM, Vazquez CI. The Maria Paradox: How Latinas Can Merge Old World Traditions with New World Self-Esteem. New York: G. P. Putnam's Sons; 1996.

49.

Rosen-Grandon JR, Myers JE, Hattie JA. The relationship between marital characteristics, marital interaction processes, and marital satisfaction. J Couns Dev. 2004;82(1):58–68.

50.

Alegria M, et al. Understanding differences in past year psychiatric disorders for Latinos living in the US. Soc Sci Med. 2007;65(2):214–30.

51.

Savage JE, Mezuk B. Psychosocial and contextual determinants of alcohol and drug use disorders in the National Latino and Asian American Study. Drug Alcohol Depend. 2014;139:71–8.

52.

Sanchez M, et al. Pre-to postimmigration alcohol use trajectories among recent Latino immigrants. Psychol Addict Behav. 2014;28(4):990.

53.

Buckner JD, Eggleston AM, Schmidt NB. Social anxiety and problematic alcohol consumption: the mediating role of drinking motives and situations. Behav Ther. 2006;37(4):381–91.

54.

Kushner MG, et al. Follow-up study of anxiety disorder and alcohol dependence in comorbid alcoholism treatment patients. Alcohol Clin Exp Res. 2005;29(8):1432–43.

55.

Caldwell TM, et al. Patterns of association between alcohol consumption and symptoms of depression and anxiety in young adults. Addiction. 2002;97(5):583–94.

56.

Pilver CE, et al. Exposure to American culture is associated with premenstrual dysphoric disorder among ethnic minority women. J Affect Disord. 2011;130(1):334–41.

57.

Farley T, et al. Stress, coping, and health: a comparison of Mexican immigrants, Mexican-Americans, and non-Hispanic whites. J Immigr Health. 2005;7(3):213–20.

58.

Kessler RC, Üstün TB. The world mental health (WMH) survey initiative version of the world health organization (WHO) composite international diagnostic interview (CIDI). Int J Methods Psychiatr Res. 2004;13(2):93–121.

59.

Jackson DL. Revisiting sample size and number of parameter estimates: some support for the N: q hypothesis. Struct Equ Model. 2003;10(1):128–41.

60.

Jaccard J, Wan CK. LISREL approaches to interaction effects in multiple regression. Beverley Hills: Sage; 1996.

61.

Kline RB. Principles and practice of structural equation modeling. New York: Guilford; 2005.

62.

Alegria M, et al. Prevalence of mental illness in immigrant and non-immigrant US Latino groups. Am J Psychiatry. 2008;165(3):359–69.

63.

Vega WS. Understanding the Hispanic health paradox through a multi-generation lens: a focus on behavior disorders. In: Carlo GC, Carranza MA, editors. Health disparities in youth and families: research and applications. New York: Springer; 2011. p. 151–68.

64.

Vega WA, et al. Prevalence and age of onset for drug use in seven international sites: results from the international consortium of psychiatric epidemiology. Drug Alcohol Depend. 2002;68(3):285–97.
Acknowledgments
This study was supported by award number R01NR012150 from the National Institute of Nursing Research of the National Institutes of Health (NIH). The content is solely the responsibility of the authors and does not necessarily represent the official views of NINR or NIH.
About this article
Cite this article
Concha, M., Sanchez, M., Rojas, P. et al. Differences in Acculturation and Trajectories of Anxiety and Alcohol Consumption Among Latina Mothers and Daughters in South Florida. J Immigrant Minority Health 18, 886–895 (2016). https://doi.org/10.1007/s10903-015-0277-y
Keywords
Acculturation

Latina mothers and daughters

Anxiety

Alcohol consuption