Abstract
This study examined the relationships among the constructs of acculturative stress, depression, English language use, health literacy, and social support and the influence of these factors on health-seeking behaviors of Filipino Australians. Using a self-administered questionnaire, 552 respondents were recruited from November 2010 to June 2011. Structural equation modelling was used to examine relationships. A direct and negative relationship between health-seeking behaviors and depression, and an indirect relationship with acculturative stress, was observed mediated through depression. Social support had an important moderating influence on these effects. Although there was an inverse relationship between age and English language usage and depression, age was positively related to health-seeking behavior. Despite their long duration of stay, Filipino Australian migrants continue to experience acculturative stress and depression leading to lower health-seeking behaviors. This study highlights the importance of screening for acculturative stress and depression in migrants and fostering social support.
Access options
Buy single article
Instant access to the full article PDF.
US$ 39.95
Tax calculation will be finalised during checkout.
Subscribe to journal
Immediate online access to all issues from 2019. Subscription will auto renew annually.
US$ 79
Tax calculation will be finalised during checkout.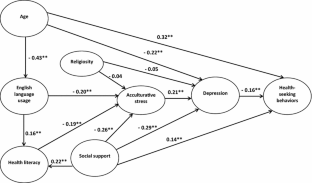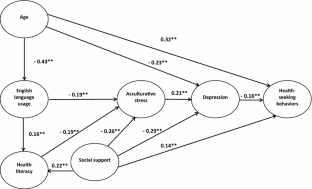 References
1.

Lassetter JH, Callister LC. The impact of migration on the health of voluntary migrants in Western societies: a review of the literature. J Transcult Nurs. 2009;20:93–104.

2.

Jatrana S, Pasupuleti SSR, Richardson K. Nativity, duration of residence and chronic health conditions in Australia: do trends converge towards the native-born population? Soc Sci Med. 2014;119:53–63.

3.

Cunningham S, Ruben JD, Venkat Narayan K. Health of foreign-born people in the United States: a review. Health Place. 2008;14:623–35.

4.

Hwang W-C, Ting JY. Disaggregating the effects of acculturation and acculturative stress on the mental health of Asian Americans. Cultur Divers Ethnic Minor Psychol. 2008;14:147.

5.

MacKian S. A review of health seeking behaviour: problems and prospects. Internal concept paper Health Systems Development Programme, London School of Hygiene and Tropical Medicine London. 2001.

6.

Choi JY. Reconstruction of health-seeking behaviors a comparative study of three Asian Pacific immigrant groups. Qual Health Res. 2013;23:517–30.

7.

Kwok C, Sullivan G. Health seeking behaviours among Chinese-Australian women: implications for health promotion programmes. Health (NY). 2007;11:401–15.

8.

Lorant V, Van Oyen H, Thomas I. Contextual factors and immigrants' health status: double jeopardy. Health Place. 2008;14:678–92.

9.

Serafica R. Concept analysis of acculturation in Filipino Immigrants within health context. Nurs Forum. 2011;46:128–36.

10.

David E. A colonial mentality model of depression for Filipino Americans. Cultur Divers Ethnic Minor Psychol. 2008;14:118.

11.

Australian Bureau of Statistics. 2004–2005 migration—Australia (3412.0). Canberra: ABS, Commonwealth of Australia; 2007.

12.

ABS Census. 2011 QuickStats Country of Birth (Philippines). In: 2011 ABS, ed. Canberra; 2011.

13.

Maneze D, Salamonson Y, Attwood N, Davidson PM. Acculturative stress in Filipino migrants with functional English: Implications for health promotion. Int J Cult Mental Health. 2013;7:1–13.

14.

Sorkin DH, Nguyen H, Ngo-Metzger Q. Assessing the mental health needs and barriers to care among a diverse sample of Asian American older adults. J Gen Intern Med. 2011;26:595–602.

15.

Sanchez F, Gaw A. Mental health care of Filipino Americans. Psychiatr Serv. 2007;58:810–5.

16.

Gentilucci U, Picardi A, Manfrini S, Khazrai Y, Fioriti E, Altomare M, et al. Westernization of the Filipino population resident in Rome: obesity, diabetes and hypertension. Diabetes Metab Res Rev. 2008;24:364–70.

17.

Aukst-Margetić B, Margetić B. Religiosity and health outcomes: review of literature. Coll Antropol. 2005;29:365–71.

18.

Stokols D. Translating social ecological theory into guidelines for community health promotion. Am J Health Promot. 1996;10:282–98.

19.

Estacio EV. Human exploitation Is NOT a joke—so don't laugh! J Health Psychol. 2009;14:627–37.

20.

Lueck K, Wilson M. Acculturative stress in Asian immigrants: the impact of social and linguistic factors. Int J Intercult Rel. 2010;34:47–57.

21.

Kroenke K, Spitzer RL, Williams JB. The Patient Health Questionnaire-2: validity of a two-item depression screener. Med Care. 2003;41:1284–92.

22.

Nho CR. Psychological well-being of Korean American and immigrant adolescents. New York: Columbia University; 2000.

23.

Hovey JD. Acculturative stress, depression, and suicidal ideation in Mexican immigrants. Cultur Divers Ethnic Minor Psychol. 2000;6:134.

24.

David E, Okazaki S. Colonial mentality: a review and recommendation for Filipino American psychology. Cultur Divers Ethnic Minor Psychol. 2006;12:1.

25.

Bausell C, Bausell R. The internal structure of health-seeking behavior. Eval Health Prof. 1987;10:460–75.

26.

Salamonson Y, Everett B, Koch J, Andrew S, Davidson P. English language acculturation predicts academic performance in nursing students who speak English as a second language. Res Nurs Health. 2008;31:86–94.

27.

Kang S-M. Measurement of acculturation, scale formats, and language competence: their implications for adjustment. J Cross Cult Psychol. 2006;37:669–93.

28.

Chew L, Bradley K, Boyko E. Brief questions to identify patients with inadequate health literacy. Health. 2004;11:12.

29.

Powers JR, Goodger B, Byles JE. Assessment of the abbreviated Duke Social Support Index in a cohort of older Australian women. Australas J Ageing. 2004;23:71–6.

30.

Tondo J. Popular religiosity and the transnational journey: inscribing Filipino identity in the Santo Niño Fiesta in New Zealand. Asia Pac J Anthropol. 2010;11:219–44.

31.

Koenig H, Büssing A. The Duke University Religion Index (DUREL): a five-item measure for use in epidemological studies. Religions. 2010;1:78–85.

32.

Tabachnick BG. Using multivariate statistics. Boston: Pearson; 2013.

33.

Byrne BM. Structural equation modeling with AMOS: basic concepts, applications, and programming. Boca Raton: CRC Press; 2009.

34.

Mossakowski KN. Are immigrants healthier? The case of depression among Filipino Americans. Soc Psychol Quart. 2007;70:290–304.

35.

Li HZ, Browne AJ. Defining mental illness and accessing mental health services: Perspectives of Asian Canadians. Can J Commun Ment Health. 2000;19:143–159.

36.

Becker CM, Arnold W. Health promoting behaviors of older Americans versus young and middle aged adults. Educ Gerontol. 2004;30:835–44.

37.

Mui AC, Kang S-Y. Acculturation stress and depression among Asian immigrant elders. Soc Work. 2006;51:243–55.

38.

Gill J, Johnson P. Research methods for managers. London: Sage; 2010.
About this article
Cite this article
Maneze, D., Salamonson, Y., Poudel, C. et al. Health-Seeking Behaviors of Filipino Migrants in Australia: The Influence of Persisting Acculturative Stress and Depression. J Immigrant Minority Health 18, 779–786 (2016). https://doi.org/10.1007/s10903-015-0233-x
Keywords
Acculturation

Health-seeking behavior

Filipino

Immigrant

Social support

Culture