Abstract
Postpartum depression (PPD) is a major disabling mood disorder that affects women during childbearing years. The purpose of this literature review is to identify the prevalence and risk factors for PPD among immigrant women in industrialized countries and compare it with prevalence and risk factors for PPD among Arab women in their home countries. 26 studies, published between 1995 and 2013 have been included. In this review, prevalence of PPD among Arab women in their countries ranged 10–37 %, and the prevalence of PPD among immigrant women in industrialized countries ranged 11.2–60 %. Lack of social support, stressful life events, low income, and intimate partner violence were risk factors associated with development of PPD among both Arab women and immigrant women. Immigration stress and lack of access to health care services were found among immigrant women. Lack of social support was more predominant in studies on immigrant women.
Access options
Buy single article
Instant access to the full article PDF.
USD 39.95
Price excludes VAT (USA)
Tax calculation will be finalised during checkout.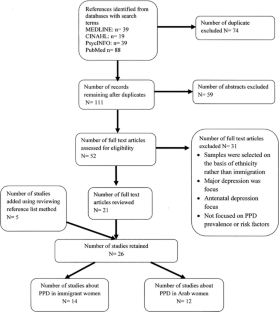 References
National Institute of Health Website. Understanding postpartum depression. Common but Treatable. http://newsinhealth.nih.gov/2005/December2005/docs/01features_02.htm Accessed May 12, 2013.

Centers for Disease Control and Prevention (CDC). Prevalence of self-reported postpartum depressive symptoms—17 states, 2004–2005. http://www.cdc.gov.proxy.lib.wayne.edu/mmwR/preview/mmwrhtml/mm5714a1.htm (2008).

O'Hara MW, McCabe JE. Postpartum depression: current status and future directions. Annu Rev Clin Psychol. 2013;9:6.1–6.30.

World Health Organization. The World health report: 2001: Mental health: new understanding, new hope.Geneva (2001).

Danaci A, Dinc G, Deveci A, Sen F, Icelli I. Postnatal depression in Turkey: epidemiological and cultural aspects. Soc Psychiatry Psychiatr Epidemiol. 2002;37(3):125–9.

Dankner R, Goldberg R, Fisch R, Crum R. Cultural elements of postpartum depression. A study of 327 Jewish Jerusalem women. J Reprod Med. 2000;45(2):97–104.

Glasser S, Barell V, Shoham A, Ziv A, Boyko V, Lusky A, Hart S. Prospective study of postpartum depression in an Israeli cohort: prevalence, incidence, and demographic risk factors. J Psychosom Obstet Gynaecol. 1998;9(3):155–64.

Ganann R, Sword W, Black M, Carpio B. Influence of maternal birthplace on postpartum health and health services use. J Immigr Minor Health. 2012;14(2):223–9.

Beck CT. A meta-analysis of the relationship between postpartum depression and infant temperament. Nurs Res. 1996;45(4):225–30.

Beck CT. A meta-analysis of predictors of postpartum depression. Nurs Res. 1996;45(5):297–303.

Beck CT. Revision of the postpartum depression predictors inventory. J Obstet Gynecol Neonatal Nurs. 2002;31(4):394–402.

Dennis C, Janssen P, Singer J. Identifying women at-risk for postpartum depression in the immediate postpartum period. Acta Psychiatr Scand. 2004;110(5):338–46.

Fung K, Dennis C. Postpartum depression among immigrant women. Curr Opin Psychiatry. 2010;23(4):342–8.

Arab American Institute. http://www.aaiusa.org/pages/arab-americans (2014).

Beck CT. Postpartum depression: a meta-synthesis. Qual Health Res. 2002;12(4):453–72.

Brand S, Brennan P. Impact of antenatal and postpartum maternal mental illness: how are the children? J Clin Gynecol Obstet. 2009;52(3):441–55.

Grace S, Evindar A, Stewart D. The effect of postpartum depression on child cognitive development and behavior: a review and critical analysis of the literature. Arch Womens Ment Health. 2003;6(4):263–74.

Goodman SH, Rouse MH, Connell AM, Broth MR, Hall CM, Heyward D. Maternal depression and child psychopathology: a meta-analytic review. Clin Child Family Psychol Rev. 2011;14(1):1–27.

Gump BB, Reihman J, Stewart P, Lonky E, Darvill T, Granger DA, Matthews K. Trajectories of maternal depressive symptoms over her child's life span: Relation to adrenocortical, cardiovascular, and emotional functioning in children. Dev Psychopathol. 2009;21(01):207–25.

Ban L, Gibson J, West J, Tata L. Association between perinatal depression in mothers and the risk of childhood infections in offspring: a population-based cohort study. BMC Pub Health. 2010;10:799–806.

US. Department of Homeland Security. Definition of terms. http://www.dhs.gov/definition-terms#15 (2012).

United State Census Bureau of the Census. Office of Management and Budget (OMB) standards on race and ethnicity. http://www.census.gov/population/race/about/ (2010).

Heilemann M, Frutos L, Lee K, Kury F. Protective strength factors, resources, and risks in relation to depressive symptoms among childbearing women of Mexican descent. Health Care Women Int J. 2004;25(1):88–106.

Lucero N, Beckstrand R, Callister LC, Birkhead A. The prevalence of postpartum depression in Hispanic immigrant women. J Am Acad Nurse Pract. 2012;24(12):726–34.

Shellman L, Beckstrand R, Callister L, Luthy K, Freeborn D. Postpartum depression in immigrant Hispanic women: a comparative community sample. J Am Assoc Nurse Pract. 2013;00:1–10.

Ghubash R, Eapen V. Postpartum mental illness: perspectives from an Arabian gulf population. Psychol Rep. 2009;105(1):127–36.

Nahas V, Amasheh N. Culture care meanings and experiences of postpartum depression among Jordanian Australian women: a transcultural study. J Transcult Nurs. 1999;10(1):37–45.

Stuchbery M, Matthey S, Barnett B. Postnatal depression and social supports in Vietnamese, Arabic and Anglo-celtic mothers. Soc Psychiatry Psychiatr Epidemiol. 1998;33(10):483–90.

Chien L, Tai C, Yeh M. Domestic decision-making power, social support, and postpartum depression symptoms among immigrant and native women in Taiwan. Nurs Res. 2012;61(2):103–10.

Huang YC, Mathers NJ. Postnatal depression and the experience of South Asian marriage migrant women in Taiwan: survey and semi-structured interview study. Int J Nurs Stud. 2008;45(6):924–31.

Mechakra-Tahiri S, Zunzunegui M, Seguin L. Self-rated health and postnatal depressive symptoms among immigrant mothers in Québec. Women Health. 2007;45(4):1–17.

Small R, Lumley J, Yelland J. Cross-cultural experiences of maternal depression: associations and contributing factors for Vietnamese, Turkish and Filipino immigrant women in Victoria Australia. Ethn Health. 2003;8(3):189–206.

Stewart D, Gagnon A, Saucier J, Wahoush O, Dougherty G. Postpartum depression symptoms in newcomers. Can J Psychiatry. 2008;53(2):121–4.

Sword W, Watt S, Krueger P. Postpartum health, service needs, and access to care experiences of immigrant and Canadian-born women. J Obstet Gynecol Neonatal Nurs. 2006;35(6):717–27.

Lansakara N, Brown S, Gartland D. Birth outcomes, postpartum health and primary care contacts of immigrant mothers in an Australian nulliparous pregnancy cohort study. Matern Child Health J. 2010;14(5):807–16.

Zelkowitz P, Saucier J, Wang T, Katofsky L, Valenzuela M, Westreich R. Stability and change in depressive symptoms from pregnancy to two months postpartum in childbearing immigrant women. Arch Womens Ment Health. 2008;11(1):1–11.

Stewart DE, Gagnon AJ, Merry LA, Dennis C. Risk factors and health profiles of recent migrant women who experienced violence associated with pregnancy. J Womens Health. 2012;21(10):1100–6.

Vega WA, Kolody B, Valle R, Hough R. Depressive symptoms and their correlates among immigrant Mexican women in the United States. Soc Sci Med. 1986;22:645–52.

Beck CT, Gable RK. Screening performance of the postpartum depression screening scale-Spanish version. J Transcult Nurs. 2005;16(4):331–8.

Abou-Saleh MT, Ghubash R. The prevalence of early postpartum psychiatric morbidity in Dubai: a transcultural perspective. Acta Psychiatr Scand. 1997;95(5):428–32.

Green K, Broome H, Mirabella J. Postnatal depression among mothers in the United Arab Emirates: socio-cultural and physical factors. Psychol Health Med. 2006;11(4):425–31.

Hamdan A, Tamim H. Psychosocial risk and protective factors for postpartum depression in the United Arab Emirates. Arch Womens Ment Health. 2011;14(2):125–33.

Agoub M, Moussaoui D, Battas O. Prevalence of postpartum depression in a Moroccan sample. Arch Womens Ment Health. 2005;8:37–43.

Alami K, Kadri N, Berrada S. Prevalence of psychosocial correlates of depressed mood during pregnancy and after childbirth in a Moroccan sample. Arch Womens Ment Health. 2006;9(6):343–6.

Mohammad K, Gamble J, Creedy D. Prevalence and factors associated with the development of antenatal and postnatal depression among Jordanian women. Midwifery. 2011;27(6):238–45.

Yehia D, Callister L, Mansour A. Prevalence and predictors of postpartum depression among Arabic muslim Jordanian women serving in the military. Perinat Neonatal Nurs. 2013;27(1):25–33.

Chaaya M, Campbell OMR, El Kak F, Shaar D, Harb H, Kaddour A. Postpartum depression: prevalence and determinants in Lebanon. Arch Womens Ment Health. 2002;5(2):65–72.

Al Dallal F, Grant I. Postnatal depression among Bahrain women: prevalence of symptoms and psychosocial risk factors. East Mediterranean Health J. 2012;18(5):439–45.

Saleh E, El-Bahei W, El-Hadidy M, Zayed A. Predictors of postpartum depression in a sample of Egyptian women. Neuropsychiatr Dis Treat. 2013;9:15–24.

Bener A, Burgut F, Ghuloum S, Sheikh J. A study of postpartum depression in a fast developing country: prevalence and related factors. Int J Psychiatry Med. 2012;43(4):325–37.

Glasser S, Tanous M, Shihab S, Goldman N, Ziv A, Kaplan G. Perinatal depressive symptoms among Arab women in northern Israel. Matern Child Health J. 2012;16(6):1197–205.

Ammermana R, Putnama F, Altayea M, Teetersa A, Stevensc J, Van Ginkela J. Treatment of depressed mothers in home visiting: impact on psychological distress and social functioning. Child Abuse Negl. 2013;37(8):544–54.

Balaji A, Claussen A, Smith D, Visser S, Morales M, Perou R. Social support networks and maternal mental health and well-being. J Womens Health. 2007;16(10):1386–96.

Zelkowitz P, Schinazi J, Katofsky L, Saucier J, Valenzuela M, Westreich R, Dayan J. Factors associated with depression in pregnant immigrant women. Transcult Psychiatry. 2004;41(4):445–64.

Almeida L, Caldas J, Campos D, Salcedo-Barrientos D, Dias S. Maternal healthcare in migrants: a systematic review. Matern Child Health J. 2013;17(8):1346–54.

Bhui K, Abdi A, Abdi M, Pereira S, Dualeh M, Robertson D, Sathyamoorthy G, Ismail H. Traumatic event, migration characteristics and psychiatric symptoms among Somali refugees. Soc Psychiatry Psychiatr Epidemiol. 2003;38(1):35–43.

Li H, Browne A. Defining mental illness and accessing mental health services: perspectives of Asian Canadians. Can J Community Ment Health. 2000;19(1):143–59.

Craig T, Jajua P, Warfa N. Mental healthcare needs of refugees. Psychiatry. 2009;8(9):351–4.

Miranda J, Siddique J, Der-Martirosian C, Belin T. Depression among Latina immigrant mothers separated from their children. Psychiatr Serv. 2005;56(6):717–20.

O'Mahonyl J, Donnelly T. :How does gender influence immigrant and refugee women's postpartum depression help-seeking experiences? J Psychiatr Ment Health Nurs. 2013;20:714–25.

Urquia ML, O'Campo P, Heaman M. Revisiting the immigrant paradox in reproductive health: The roles of duration of residence and ethnicity. Soc Sci Med. 2012;74(10):1610–21.

Miszkurka M, Goulet L, Zunzunegui M. Contributions of immigration to depressive symptoms among pregnant women in Canada. Can J Public Health. 2010;101(5):358–64.

Cox J, Holden J, Sagovsky R. Detection of postnatal depression: development of the 10-item Edinburgh postnatal depression scale. Br J Psychiatry. 1987;150:782–6.

Steele LS, Lemieux-Charles L, Clark JP, Glazier RH. The impact of policy changes on the health of recent immigrants and refugees in the inner city. A qualitative study of service providers' perspectives. Can J Public Health. 2002;93(2):118–22.

Katz D, Gagnon AJ. Evidence of adequacy of postpartum care for immigrant women. Can J Nurs Res. 2002;34(4):71–81.

Bender DE, Harbour C, Thorp J, Morris P. Tell me what you mean by ''si'': perceptions of quality of prenatal care among immigrant Latina women. Qual Health Res. 2001;11(6):780–94.

Martin SL, Mackie L, Kupper LL, Buescher PA, Moracco KE. Physical abuse of women before, during, and after pregnancy. J Am Med Assoc. 2001;285:1581–4.

American Psychiatric Association. Diagnostic and Statistical Manual of Mental Disorders. 5th ed. Arlington: American Psychiatric Association; 2013.
About this article
Cite this article
Alhasanat, D., Fry-McComish, J. Postpartum Depression Among Immigrant and Arabic Women: Literature Review. J Immigrant Minority Health 17, 1882–1894 (2015). https://doi.org/10.1007/s10903-015-0165-5
Published:

Issue Date:

DOI: https://doi.org/10.1007/s10903-015-0165-5
Keywords