Abstract
Many clinicians perform asylum evaluations yet no studies describe the motivation to perform them or their perceived rewards. The number of asylum seekers in the US is increasing and more clinicians are needed as evaluators. A survey to an asylum evaluators' network asked participants to qualitatively reflect on their experience and motivation. Answers were analyzed for themes and sentiment. Respondents cited commitment to humanistic and moral values, noted personal and family experiences, having skills, expertise, and career interests as drivers. They found the experience very rewarding personally and professionally, and in their perceived benefit to asylees. Negative sentiment was less frequent and centered on emotions related to client narratives. Process-oriented frustrations were also noted. This is the first published study describing clinicians' motivation and experience with asylum evaluations. It may illuminate clinicians' drive to volunteer, and serve as a resource for organizations for recruitment and education.
Access options
Buy single article
Instant access to the full article PDF.
USD 39.95
Price includes VAT (USA)
Tax calculation will be finalised during checkout.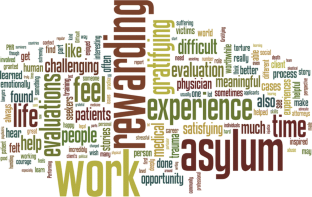 References
1.

Bjerneld M, Lindmark G, McSpadden LA, Garrett MJ. Motivations, concerns, and expectations of Scandinavian health professionals volunteering for humanitarian assignments. Disaster Manag Response. 2006;4(2):49–58.

2.

Kelly NA. Deciding to become an overseas volunteer. Hosp Physician. 2000;36(6):72–8.

3.

Woods JE, Kiely JM. Short-term international medical service. Mayo Clin Proc. 2000;75(3):311–3.

4.

Bartels-Rabb, L. To the service of humanity: volunteering in the third world. Bulletin. 1996;40:71–7 (Health Education Center, Institute for Research and Education, Health System Minnesota).

5.

Setness PA. A flood of rewards: volunteers set an example for all of us [editorial]. Postgrad Med. 1997;102:13–6.

6.

Elseed E. Volunteerism among physicians: motivational causes and reaped benefits. Outstanding Honors Theses. 2012. http://scholarcommons.usf.edu/honors_et/89

7.

Mitka M. Volunteering overseas gives physicians a measure of adventure and altruism. JAMA. 2005;294(6):671–2.

8.

Vu MT, Johnson TR, Francois R, Simms-Cendan J. Sustained impact of short-term international medical mission trips: resident perspectives. Med Teach. 2014;29:1–7.

9.

Roth K. Giving refuge: reflections on working with asylum seekers. J Pain Symptom Manage. 2010;40(1):149–54.

10.

Webber R. Evaluating asylum seekers: an interview with Dr. Arno Vosk | Sampsonia Way Magazine. http://www.sampsoniaway.org/blog/2013/05/09/evaluating-asylum-seekers-an-interview-with-dr-arno-vosk/

11.

Eisold B. Evaluating asylum seekers. http://www.apadivisions.org/division-39/publications/newsletters/activist/2012/04/evaluating-asylum-seekers.aspx

12.

Asgary R, Smith CL. Ethical and professional considerations providing medical evaluation and care to refugee asylum seekers. Am J Bioeth. 2013;13(7):3–12.

13.

Wild V, Heilinger J-C. Cosmopolitanism within borders: a normative foundation for health care for asylum seekers? Am J Bioeth. 2013;13(7):17–9.

14.

Asgary R. A call to teach medical students clinical human rights. Academic medicine. http://journals.lww.com/academicmedicine/Fulltext/2013/03000/A_Call_to_Teach_Medical_Students_Clinical_Human.9.aspx

15.

Asgary R, Saenger P, Jophlin L, Burnett DC. Domestic global health: a curriculum teaching medical students to evaluate refugee asylum seekers and torture survivors. Teach Learn Med. 2013;25(4):348–57.

16.

United Nations High Commissioner for Refugees. UNHCR Global Trends 2013. UNHCR. 2014. http://www.unhcr.org/5399a14f9.html

17.

Department of Homeland Security. Refugees and asylees 2012. Annual Flow Report, April 2013. http://www.dhs.gov/sites/default/files/publications/ois_rfa_fr_2012.pdf. Accessed 08 April 2014.

18.

United States Citizen and Immigration Services (USCIS): Refugee, Asylum, and International Operations Directorate—officer training. March, 2013. USCIS Publications.

19.

Mishori R, Mujawar I, Ravi N. Self-reported vicarious trauma in asylum evaluators: a preliminary survey. J Immigr Minor Health. 2013;16(6):1232–7.

20.

Lustig SL, Kureshi S, Delucchi KL, Iacopino V, Morse SC. Asylum grant rates following medical evaluations of maltreatment among political asylum applicants in the United States. J Immigr Minor Health. 2008;10(1):7–15.

21.

Mehta S. The asylum seeker. The New Yorker. 2011. http://www.newyorker.com/magazine/2011/08/01/the-asylum-seeker

22.

Dolnick S. Immigrants may be fed false stories to bolster asylum pleas. The New York Times. 2011 Jul 11. http://www.nytimes.com/2011/07/12/nyregion/immigrants-may-be-fed-false-stories-to-bolster-asylum-pleas.html

23.

Unger LS. Altruism as a motivation to volunteer. J Econ Psychol. 1991;12(1):71–100.

24.

Clary EG, Sydner M. The motivations to volunteer: theoretical and practical considerations. Curr Dir Psychol Sci. 1999;8:156.

25.

Clary EG, Snyder M, Ridge RD, Copeland J, Stukas AA, Haugen J, et al. Understanding and assessing the motivations of volunteers: a functional approach. J Pers Soc Psychol. 1998;74(6):1516–30.

26.

Haski-Leventhal D. Altruism and volunteerism: the perceptions of altruism in four disciplines and their impact on the study of volunteerism. J Theory Soc Behav. 2009;39(3):271–99.

27.

Tsuei SH, Tsai AP. Examining altruism in medical student volunteer work: a reply to pham's article. In-Training. http://in-training.org/examining-altruism-medical-student-volunteer-work-reply-phams-article-4293

28.

Clary EG, Snyder M, Ridge R. Volunteers' motivations: a functional strategy for the recruitment, placement, and retention of volunteers. Nonprofit Manag Leadersh. 1992;2(4):333–50.

29.

United Nations High Commissioner for Refugees (UNHCR). Children on the run. Division of International Protection. Geneva, Switzerland. March 2010. http://www.unhcrwashington.org/sites/default/files/UAC_UNHCR_Children%20on%20the%20Run_Full%20Report.pdf. Accessed 08 May 2014.
Acknowledgments
We would like to thank Christy Fujio, Kelly Holtz and Jillian Tuck for their assistance with survey distribution, and all the clinicians of the PHR asylum network who responded to the survey. We would like to thank Pamela Saunders PhD, for her review of the manuscript and her helpful comments.
About this article
Cite this article
Mishori, R., Hannaford, A., Mujawar, I. et al. "Their Stories Have Changed My Life": Clinicians' Reflections on Their Experience with and Their Motivation to Conduct Asylum Evaluations. J Immigrant Minority Health 18, 210–218 (2016). https://doi.org/10.1007/s10903-014-0144-2
Keywords
Asylum evaluation

Volunteerism

Asylum seekers

Human rights

Underserved care